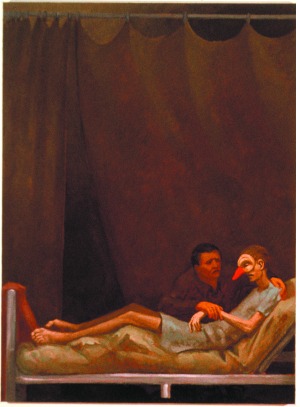 "Lamentation of Punchinello"
76" x 56", oil on linen, 1992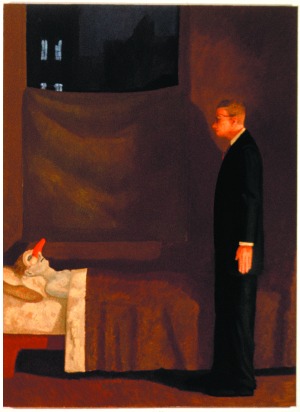 "By Punchinello's Bed"
76" x 56", oil on linen, 1992
". . . While [artist Patrick] Webb was working on the Punchinello cycle, his lover of 14 years died, unexpectedly, of AIDS-related causes. The paintings began to take on an autobiographical aspect. In two large, related paintings -- deathbed scenes -- the figures lose their generalized physiognomies and assume the physical characteristics of Webb and his boyfriend Chris. In Lamentation of Punchinello, the central figure's emaciated frame and ghostly pallor result from Webb's direct observation of a dying man. By Punchinello's Bed depicts Webb, dressed in mourning, standing in tense watch over the dead clown. The brown curtain that cut the couple off from the outside world in the Lamentation, here is dropped to show, at the top of the composition, a section of night sky, which promises both figures a sort of grim release from the claustrophobic space of the sickroom. . . ."

Courtesy of the artist. Photos by Michael Katchen.
Catalog essay by Nancy Grimes for Punchinello Paintings by Patrick Webb, Amos Eno Gallery, NYC, January 1993.
Advertisement
Back to the
July 2001
Issue of
Body Positive
Magazine.