AIDS Walk 2004
More than two dozen Body Positive staffers and supporters, as well as friends from Pace University, the New York Gay Hockey Club, joined Team BP at the NYC AIDS Walk on Sunday, May 16. Pledges made to participants in the 10K loop around Central Park set fundraising records for BP, which participates in the walk each year.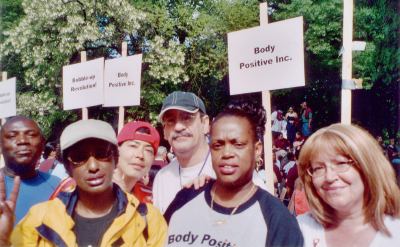 BP Board Member Pat Shelton (second from left) along with BP peer educators (left to right) Jomo Wright, Luz Hernandez, Olver Marquez, Colleen Blanchard, and Joanne Gale.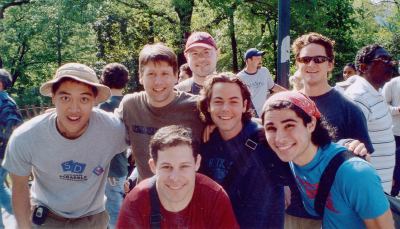 BP supporters from the NYC Gay Hockey Club along with friends.
Garden Gala XVII
BP's longest running tradition and most important annual fundraising event, Garden Gala XVII, was held once again at the gracious East Hampton home of Jerry Della Femina and Judy Licht on June 5. This year's James Revson Award, named for the founder of Garden Gala, was presented to actress and AIDS activist Marj Dusay of the CBS daytime program
Guiding Light
.
Advertisement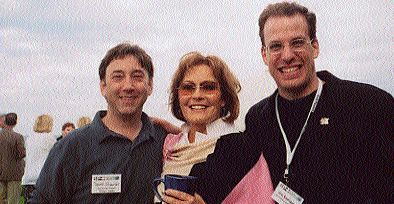 Marj Dusay with BP Executive Director Eric Rodriguez, right, and his partner David Shmerler.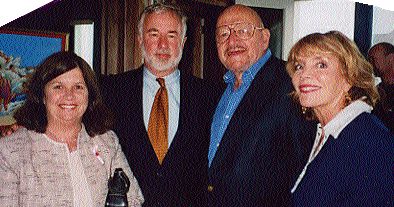 Garden Gala hosts Jerry Della Femina and Judy Licht (right) with Positive Citizen award recipient Congressman Timothy Bishop and his wife Kathryn.
Outreach at LGBT Pride
The Body Positive Peer Education team conducted outreach once again at this year's Lesbian, Gay, Bisexual and Transgender Pride March, held on June 27 on Fifth Avenue. The team reached more than 400 revelers with outreach packets with Helpline cards and condoms, as well as copies of
Body Positive Magazine
,
SIDAahora
, and other publications.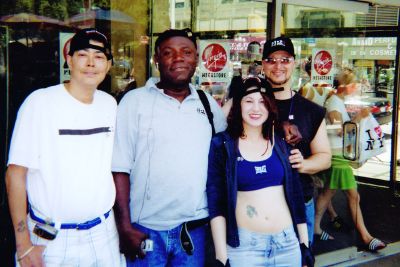 BP's Director of Community Outreach and Education Gloria Abitol (second from right) with BP peer educators Luz Hernandez, Jomo Wright, and Chris Bilcik.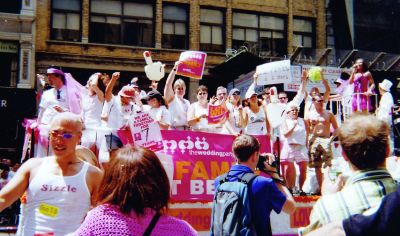 A parade float in support of same-sex marriage rights.