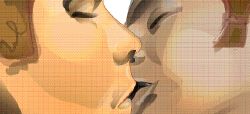 Carlos N. Molina 2004
The romantic cliche that defines many relationships -- the ideas that "opposites attract" -- is often quite literally true in the case of couples in which one partner is HIV-positive and the other is HIV-negative. However, many partners in such "serodiscordant" relationships find that they connect not due to their mixed HIV status, but rather in spite of it. Following is a dialogue between Body Positive Magazine contributor José-María Medellín and psychologist Robert H. Remien.
José-María Medellín: Could you tell us about your work with couples of mixed HIV status?
Robert Remien: At the HIV Center for Clinical and Behavioral Studies in New York City, we have conducted extensive research -- predating the combination antiretroviral therapies known as HAART -- on serodiscordant couples. Sexual risk behavior in serodiscordant male couples has concerned us for more than 10 years, and our first findings were reported in the journal AIDS Care in 1995. Some of our conclusions worthy of note are from a more recent study of risk for HIV transmission among male couples of mixed HIV status. Our cumulative results indicate that primary prevention efforts should place equal, if not more, emphasis on the behavior of men in relationships and in the context of "sex in the bedroom," as on sex outside of relationships. Our findings also suggest that the belief that insertive anal sex carries a small or non-existent risk for the penetrating partner may be prevalent in the gay community.
Advertisement
Currently, we are conducting a study known as "The SMART Couples Project," a four-year research study funded by the National Institute of Mental Health. "SMART" is an acronym for "Sharing Medical
Adherence
Responsibilities Together." The primary aim of the SMART Couples Project is to determine whether a brief, clinic-based counseling program for HIV-serodiscordant couples is effective in improving adherence to medication regimens and medical care for the HIV-positive partners in these relationships.
J.M: Have the issues faced by individuals and couples in these partnerships changed over the years? How would you compare and contrast before and after HAART?
RR: Many of the issues remain the same. For example, seropositive partners' concern about transmission of HIV, stigma, lack of support from friends and family for both partners, and avoidance of talking about emotionally charged issues. The biggest change is in the domain of care-taking issues and also future outlook. Since there have been significant improvements in medical treatment for HIV, fewer people are dealing with illness progression and "death and dying" issues. So, generally, both members of the couple are more optimistic now and there is less of a focus on care-taking issues.
Related to these changes, there are concerns among prevention workers that people think of HIV as "not so serious anymore" and that this has contributed to a decline in safer sex practices. For couples, this may mean that the negative partner is less afraid of getting HIV, the positive partner is less concerned about transmitting HIV, and that both may believe transmission is less likely when the positive partner is on antiretroviral therapy. Our research shows that, for the most part, people are not changing their risk behavior because of this "treatment optimism" but that for a relatively small subset of people there seems to be an association between certain beliefs (i.e., HIV is not so serious anymore and antiviral therapy reduces or prevents transmission) and their sexual risk behavior. One of my studies showed that the association between these beliefs or attitudes and a willingness to have unprotected sex was stronger for the HIV-negative partners in serodiscordant relationships. In these instances, it seems that the HIV-positive partner may be more acutely aware of how serious HIV/AIDS still is and the last thing they want to happen is to see their partner become infected. It may also be true that HIV-negative people are more willing to get involved with HIV-positive people because of all the encouraging changes in the treatment arena. While people are still getting sick and are dying from HIV disease, it is not as prevalent nor apparent as it used to be. And in reality there are good reasons to be more optimistic about longevity, when infected with HIV, than was true before the mid-90s. I think this also translates into people being less willing to remain in unhappy relationships "for the sake of the other person" when there is less concern about needing "to be taken care of" for the positive partner or the need "to take care of" for the negative partner.
JM: What clinical advice would you offer to serodiscordant couples?
RR: Do not avoid talking about the issues and all of your feelings with each other, no matter how sensitive or difficult that may feel. Consider seeking professional, supportive counseling, whenever you feel it may be helpful -- individually and/or as a couple. Keep things in perspective. While HIV status is a significant difference between the two of you that requires some attention, it does not define who you are. It is just one of many characteristics that describes who you are -- as individuals and as a couple. As in all loving relationships, find ways to take care of each other, treat each other well, be sensitive to each other's needs, and have fun.
José-María Medellín contributes regularly to Body Positive Magazine and to BP's Spanish-language magazine SIDAahora. Robert H. Remien, Ph.D. is a Research Scientist and Associate Professor of Clinical Psychology at the HIV Center for Clinical and Behavioral Studies at the NY State Psychiatric Institute and Columbia University. He is also a clinical psychologist in private practice in NYC.