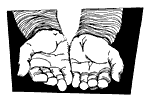 "I'm so lonely now." Peter's voice is low. "It is so weird that I am so lonely when I feel so healthy."
Peter
Peter is a 34-year-old gay male who has been living with HIV for sixteen years. "When I was first diagnosed I was 18 years old and I really did not want to even think about it -- to think about having HIV was way too depressing. I was young and just starting my life. I did not tell anyone about my HIV for years. Even when friends of mine told me of their HIV I kept quiet. Even when friends of mine died I kept silent about being HIV. I never attended a single support group. Eventually I moved away from where I was living because all my friends seemed to be either sick, or getting sick, or died. Now I have moved back and have no one. The loneliness I feel is even worse than having AIDS some days."
Peter is not unique in feeling alone with his HIV. As a long-term survivor he has experienced the loss of many friends. Now that he his doing well, he must reorganize his life and plan for his future, when he used to think he did not have one.
Advertisement
Peter is also not unique as a person who has lived with HIV for many years and is now experiencing a tremendous lack of support. " I know it is partly my fault for not reaching out earlier," he says, " but I guess I was feeling a little uppity, as if I did not need the advice from strangers, as if I were somewhat better than them and could handle my own problems on my own. I suppose I was a snob of sorts. Now I am a lonely snob, with no friends or support." Peter is now considering going to a support group for the very first time, but he feels as if he has had the virus for so long that he does not know either if he will be welcome or if there will be other people like him there. "I want to see if there are other people like me," he says, then asks, "Do you think they will accept me?"
Mark
According to Mark, a 39-year-old straight man who has been living with HIV for thirteen years, "Absolutely. It is always great to see new faces."
Mark shares his own experience going to support groups: "I have been going to HIV support groups on a weekly basis for the past thirteen years. Ever since I found out I was HIV I went to groups. I went partly because I wanted to live. I was scared that if I did not have the support I would die."
Mark describes his support group as somewhat like a family. "My group is what I call a 'home' group. Even if I go to other groups, I always have one group I fall back on. It's nice to know there is a place you can go on a weekly basis just to see a friendly and familiar face. I count on them and they count on me. Some support groups, we spend the entire time laughing. Other nights we really get into some serious stuff. Either way I leave feeling somewhat better. Just knowing I can help someone else out as a participant makes me feel good." When asked about new members coming in, Mark responds, "I would love it! Maybe it is a little selfish of me, but the new people who come in could help me out too!"
Mark continues: "I remember my first support group. I was scared like no tomorrow. I felt a tremendous amount of fear. I don't know where I got the courage to go, but I did. I think I feared seeing people who were sick or something like that. I think in the back of my mind they reminded me of me. But after a while my fears disappeared."
Over time, Mark became more sure of himself. "When I first went to support groups I rarely talked, but now I talk all the time and have really learned to listen. It's all about being real, and honest. It's actually about doing something positive for yourself, even if it is just once a month. I encourage all people living with HIV to try it out and give it a chance -- they may like it."
Why a Group?
Both Peter and Mark illustrate the need for support among people with HIV and AIDS. People like Peter and Mark can gather into groups to discuss their situations and learn from each other. They may learn new perceptions and ways of thinking that influence their solutions to the challenges presented by living with the virus. The beauty of such groups emerges when members discover how others are able to get problem-free times, motivating them to look for such techniques for themselves.
These discoveries empower the participants to look for other creative ways to deal with problems, leading them to trust themselves more to make positive changes in their lives. By identifying specific interactions, behaviors, and thinking that helped in past situations, group participants can learn to regard themselves as competent. They can then realize that they can solve their own problems with a minimum of assistance.
A support group is meant to be safe, confidential, and welcoming, to provide a space where people can feel comfortable expressing their fears, thoughts, and concerns. It is a place where participants not only receive emotional, psychological, and informational support, but where they give it as well.
It is all about sharing. It has been said that in sharing happiness joy is doubled and in sharing sadness pain is halved. Support groups have the potential to be extremely healing. Laughter can be as healing as tears and both may occur within the space of one session. Expressing emotions is possible because the support one gives and receives, ideally, is unconditional and accepting.
What Happens in a Group?
Support groups can feel scary and unsettling at first, like any new experience. The feeling can be like the butterflies in the stomach on your first day of school, or like starting a new job and not knowing if your coworkers will like you. At first, you may feel like you are going to a party where you don't know anybody, or going on a blind date.
The fears of being rejected or not listened to or ignored are like those other first times. The difference is that in a group everyone automatically has a shared interest. There is almost an immediate built-in support system. The purposes of a group are to let you know that you are not alone and to help you grow and develop in ways not quite possible without the group relationship. Groups are healing and dynamic. They can help their participants to understand themselves better through the insights of others.
People come to groups with prior expectations of what will occur, and they color their first perceptions with these expectations and their personal needs. They bring with them their individual histories and experiences in previous groups they may have attended. It is these factors that form the lens through which the group is perceived.
The first step is to become included in the group, and then to attempt to be relatively secure in an unknown situation. For most people, there is a time of waiting, of seeing what lies ahead, of sorting out potential dangers, and acting with caution. This is a period of data gathering and processing through the screen of our own previous experiences, biases and stereotypes.
In a 1977 article in the journal Group Organizational Studies, B. Tuckman and M. Jensen describe five basic stages of group development:
A first stage, forming, incorporates all the discomfort people feel in any new situation that involves them in new relationships.

This initial period of caution is followed by a period called storming, as individuals react to the demands of the situation and feel increasingly comfortable being themselves.

A third stage is dubbed norming, in which the rules of behavior appropriate and necessary for the group are established. These norms are not necessarily what the leader -- whether a professional facilitator or a peer -- may name as rules, but what the group has become and the expectations that follow.

Next comes a period of performing, in which participants are able to focus their energies on themselves, having worked through membership, orientation, and the roles of group members. The group is now free to develop creative working approaches to problems, and a climate of support tends to take root.

Finally, as the group nears completion, it moves into an adjourning phase, in which closure takes place and changes in relationships are anticipated.
Peter and Mark's Group
After Peter thought about what he needed in his life, he discovered he needed to relate to other individuals in meaningful and honest ways. He wanted to get to know other people who could relate to what he was going through in nonjudgmental and supportive ways. He needed to begin to develop a plan for his future, which included living with HIV in as healthy and informed a way as he could.
Peter was tired of being alone, but he no longer found the bars satisfactory places to meet people. He was tired of being tired all the time, even when his doctor told him his energy really should be higher. He wanted to stop drinking so much and to cut down on cigarettes. He thought he drank and smoked out of boredom anyway. Peter wanted an opportunity to get involved in a cause that could help people again; the thought of helping others exhilarated him.
Peter was referred to Mark's home group. With great anticipation, a bit of fear, and some excitement, he went.
As usual, Peter was early for his first meeting. When he walked into the meeting room he felt out of place. Even though it was cool out, he found himself sweating and breathing harder than usual. He was afraid that if someone came up to shake his hand it would be all clammy. He kept rubbing his hands on his shirt to dry them off. Finally, he just put his hands in his pockets and decided not to shake hands with anyone.
Peter was extremely quiet and feared any questions about his HIV status. He thought people would put him down or judge him harshly. Peter was ready to walk out the door and leave. Then Mark came up to him and said, "Hey, man, how ya doin'? I don't remember ever seeing you before. My name is Mark -- it is always great to meet new people." Instantly, Peter felt somewhat more comfortable. He still felt that all eyes were on him, but Mark explained that those feelings are really natural. Mark admitted that he had never said a word at first and told Peter to take his time. Just the fact that he was there was enough.
Peter went through a type of storming stage where he felt awkward and not sure if this was the group for him. He fought with himself about whether he needed to do this, but soon realized that his doubts were disappearing.
A phase of norming took over. Peter was really beginning to feel part of the group. Even though this group had been running for years, he was comfortable. People let him do whatever he needed to do on his own time.
The phases of performing and adjourning have not come for Peter yet. This particular group is an ongoing group, where termination issues are not really addressed unless someone leaves.
Peter's ability to perform, or to feel part of the group, goes in cycles. Some days he feels connected and other days he does not. Peter has been able to see a pattern in himself in how he relates to others and how that has affected his depression. This awareness has made Peter feel more in control of his life and of his destiny.
Time-limited groups have their advantages as well. In a time-limited group, issues can be dealt with much more quickly and solutions to those problems actively worked on in a shorter time. Some people like to go to two or more support groups during the same period, as Mark does.
Support Groups and HIV
Mark sometimes attends support groups other than his home group because he wants to support those groups. He knows that people will attend a support group if other people are actually attending. Sometimes he will go into a new support group to help get it started, while continuing to attend his home group at the same time. "Many of us who have had HIV for so long sometimes consider ourselves like volunteers," says Mark. "We know our participation means a lot, not only to ourselves but to other people too. It is important to give back."
We are now approaching the year 2000. It is hard for many people who have been working in the AIDS field and living with the virus themselves to believe that the virus is still with us as we enter a new century. When it first appeared in the early '80s, the thinking was that a cure would be found before the decade was over. Now we are almost through HIV's second decade.
People are more tired and need more support than ever, yet many support systems no longer exist. Many of the grassroots efforts at dealing with this virus disappeared because of lack of funding and the false perception that the crisis was over.
In the early days, there was an energy that said, "We can beat this thing!" Even more forcefully, "We can beat this thing together!" That energy propelled people to do great things, often with very limited resources. It offered hope when hope was hard to find but all we had. It encouraged people to go to support groups and get the emotional and psychological help they needed to remain as healthy as possible.
Many of those groups still exist, and more will be formed when the demand for them arises. Groups may now take on more of a wellness approach to living with HIV. But the problems of depression, anxiety, loneliness, fear, and unhappiness still exist, and can still reach crisis proportions in some people's life.
In Chinese, the word for "crisis" is the same as the word for "change," a linguistic expression of the universal recognition that crisis and grief can lead to personal growth. After a profound emotional shakeup, in which we overcome anxiety and confusion in order to meet new challenges, we are no longer the same as we were.
Let Peter and Mark be an example of courage, faith, and hope for a more fulfilling life to many newly diagnosed and long-time survivors of HIV. Take advantage of the support groups where you live. If there are no support groups near you, perhaps you can help start one. If the support group that was there is no longer running, perhaps you can help it get started again.
Please know you are not alone and that the support of others is a gift that you can give to yourself and that you can give back to them. That is what sharing is all about.
Elizabeth Sloan is the Clinical Supervisor of Body Positive's support groups. See "Body Postive FAQs" for information about the time-limited and ongoing support groups offered by Body Positive.
Illustration by Phil Graziano.
Back to the July 1999 Issue of Body Positive Magazine