The consolidation of Body Positive and the People with AIDS Coalition of New York didn't happen overnight. It was a long process involving investigation, comparison of programs and program approaches, and extensive negotiation and planning.
On March 16, the Executive Directors of the two organizations -- Doug Wirth of PWAC NY and Scott Cotenoff of BP -- sat down with Body Positive Editor Laura Engle to discuss how the two groups came together and what can be expected as PWAC's services are integrated into BP's program.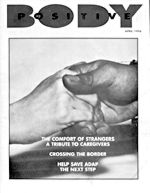 LAURA ENGLE: The AIDS funding situation is very rough right now, and everyone's feeling the pinch. How did you decide that consolidation was the best way to address the money issue?
DOUG WIRTH: For PWAC, this is a challenge that has existed for a great number of years. The original coalition started in 1985 and was forced to close for financial reasons in 1991 and 1992, and was reincorporated in 1993. Then in December of 1997 the City of New York relet its Ryan White portfolio and everybody got into that competition. The City gets $100 million of federal Ryan White Title I money, only about $1 million of which goes toward the kind of peer support services provided by Body Positive and PWAC. Also there was an impetus to fund some borough-specific programs, rather than just programs that operated citywide. So what had been maybe eight or nine contracts and about $1.5, $1.7 million shrank to $1 million and only five contracts. The City let four borough contracts and one citywide one, which went to Gay Men's Health Crisis.
Advertisement
Now there's a real movement of funding away from the kind of services we do -- peer-led, educational, low-threshold, come in and get what you need, we don't hang onto you. Our board looked at how we're going forward and realized that what was most important was our mission and our services. We looked at co-location -- sharing space with another agency -- as a way of reducing costs. We looked at service collaborations. Then we looked at consolidation, which eventually came out as the best possible solution for the long-term viability of the mission and the services.
SCOTT COTENOFF: When I was brought in to Body Positive in October of 1997, there were a few things on the front of my plate. One was to diversify our funding base. Another was to enhance and stabilize the funding for all of our publications, English-language and Spanish-language, and any others we might add. The third was to expand our services to boroughs other than those in which we we're already providing services, namely Manhattan, Staten Island, and the Bronx. We had also been part of more general conversations for several years about changes in the environment because of managed care, changes in funding, etc. So we were sensitive to the need to think creatively about joining forces and sharing expenses, trying to maximize bang for the buck.
LE: How did you choose each other as partners?
DW: At PWAC we began to look at who was out there, for either service collaboration or consolidation -- zeroing in on consolidation came pretty much in mid-1998. We looked, for example, at healthcare providers. There's a lack of adequate treatment information in healthcare settings, But when we started to talk to the people that we served, our magazine readers, they told us they wanted independent treatment information, counseling, and support. They didn't want our kinds of services in their healthcare settings, because we were seen as independent and not having a vested interest. People were skeptical about doctors and physicians prescribing a particular drug -- was there a relationship with a company, or did they just like one drug better than another? They wanted it independent, so that when they came away from a physician's visit where the doctor had said, "This is combination therapy," or, "You should be on combination therapy," they could go to a separate place that was seen as there for them and check things out and get more information.
So we started to rule out most healthcare providers -- clinics, hospitals, or primary care programs. Then we looked at trying to create sort of a one-stop-shopping setting. Some of the research data from Ryan White programs suggested that people who participated in mental health and substance abuse programs and who were also in peer-led support groups or received peer-provided services did better than people who only received services from professionals. So we started looking at and talking with mental health and substance abuse providers. Well, they have a particular mission and philosophy, and a particular kind of funding stream, usually Medicaid. Our fear was that if we tried to do something with one of these programs our mission would be jeopardized.
Then we looked at AIDS service organizations, all over the city. We looked for agencies who were not in Chelsea. It was pretty clear that anybody in that area was going to have to compete with GMHC, so we looked for places where our program participants were -- upper Manhattan, Brooklyn, South Bronx, certain areas in Queens -- and we found that most of these organizations were borough or sub-borough regional providers. We're a citywide provider; we have groups all over the city, and our magazine goes everywhere. When we started to talk to people in these organizations, it was clear that they wanted to do the work in their community and there wasn't any interest in our citywide services.
We started a second rethink of these general AIDS organizations and stated to look for groups who had like or similar missions, or where there was a niche, or where there was an emerging need. The two organizations that really stood out for us were MTS [Mobilizing Talents & Skills, an employment service for PWAs], around the emerging need for our back-to-work programming, and Body Positive, because of its mission and its history and its services.
SC: It was probably October of 1998 that Doug and I had the first of what was to be a long series of conversations about the possibility of BP taking on some or all of the services delivered by PWAC. Initially we talked about possibly pooling some of the services, and eventually it became clear that it made the most sense for us to take on all of the services. One reason was because of the similarity in the overall missions of the two agencies. Another was because of the similarity in our service menus, and a third was that some PWAC services that we did not provide would actually supplement our program nicely, round it out. Specifically, we'll be able to enhance the Helpline to almost double the time and two or three times the capacity.
LE: How are the two organizations' services similar and how are they different, and how will they be consolidated?
SC: We do support groups, Helpline, publications, educational workshops, including peer education. PWAC offers benefits counseling, not like case management but providing basic information and helping people negotiate the government's entitlement system, and that will be incorporated into the BP program. [See program description] We'll have a much more stable base for the publications, and BP will gain another full-time staff person, who will be dedicated to the Spanish-language magazine, which will improve the quality and the frequency of that publication. We can also build on the success of PWAC's which we will publish twice a year. And we'll continue to do the things that we have been doing that PWAC doesn't, like our street outreach and the more formal peer education program. [See the new BP service menu]
DW: PWAC has had a history of some of these activities but had to cut back when we were not refunded under Ryan White. We had an outreach contract when they were interested in funding those kinds of things. That portion of our services stopped when the funding stopped because our mission was empowerment services for people living with HIV and AIDS. General prevention and outreach were second in priority to direct services.
One of PWAC's programs that isn't done in a whole lot of places is the Prison Pen Pals program. Part of what has been unique about that has been that we've been successful in getting treatment information into prisons. We get so many letters from people who are still getting AZT monotherapy or who can't get access to viral load testing, or who have all kinds of issues and concerns about disclosing their HIV status in a prison setting. We've been answering letters from prisoners since the late '80s, especially since PWAC was reincorporated in 1993. This is a population of people that most AIDS organizations either don't care about or don't dedicate time to or don't see as a priority. [See program description.]
SC: Given that our magazines are distributed in prisons and that one of the target populations of our street outreach program is folks who are involved in the criminal justice system, we have a strong interest in picking up that program. Not only can people get the magazine, then they can get a letter with some more specifics to their situation.
LE: Do you have any problems with prisoners remaining in contact with you and your actually getting the information to them? We've heard things about people not being able to get our magazine in prison. Our January 1999 issue, which dealt with a lot of criminal justice issues, somehow didn't make it into some of these populations. Is that something you've run into?
DW: Absolutely. We did an AIDS in prisons issue of Newsline back in the fall, and we learned a lot about the difference between treatment information, providing general education, and taking a strong advocacy position about what's going on in the Department of Correctional Services. Taking a strong position about what was going on in DOCS meant that the magazines weren't distributed to people, and so people went without that issue. There's a high level of scrutiny by Corrections of both our magazines. They justify it for security reasons, which I don't quite understand.
LE: Perhaps they don't want to hear the word "empowerment."
DW: Exactly! Control is their mission, and we're about helping people choose policy for themselves. It sort of leads back to your earlier question, Why choose each other? We both produce magazines. There's a base cost to starting to run 5,000 or 10,000 magazines. One of the things that becomes possible out of us combining forces is that, with the existing money that we have for publications, we can actually print larger magazines and more copies. We can expand the circulation, probably even with less money, because we'll be doing one English magazine that combines the best practices of both English publications. We also eliminate a level of competition, when both PWAC and BP apply for funding for basically the same kind of services.
LE: How did the overall missions of the two organizations affect the decision to consolidate?
DW: A concern for a lot of agencies is that if they become too invested in their own autonomy they will ultimately jeopardize their mission and their services, and potentially put people in harm's way of going without anything. In looking at a variety of possible partnerships, I saw similar strength, commitment, and passion for the work in these two organizations. I sometimes didn't find that level of commitment where there were larger staffs and smaller volunteer groups. Both of us have rather small staffs and large volunteer corps, and I think that affects the way services are delivered.
SC: Something that you alluded to and that I think is really critical is that there be a continued strong voice for the notion of individual empowerment, and our approach is different from that of a healthcare provider or an agency that provides services primarily through professional staff but with a peer education component. That sends a very different message about the role of the peers and their importance. This is a central role in our organizations -- folks in the community providing services to the community.
We both reach a lot of people, thousands every month, and our combined staff is less than fifteen people. There's no way that we'd be able to reach that many people without the commitment of peer educators, folks from the community. They get support and assistance from the professional staff, but the folks that actually carry the load, for the most part, are people out in the community who do it because they're committed to the issues.
DW: Another reason we started this conversation with Body Positive is who our organizations are serving. I found out that BP was serving many of the same communities as we were. At PWAC, about 52 to 54 percent of the people who participate regularly in our support groups are women, and 85 percent over the course of a year are either African-American or Latino. About a third self-identify as gay, lesbian, bisexual, or men who have sex with men, and we've even had groups that have served the transgender community. When I started looking at information about Body Positive and talking with Scott about the people who were involved, I found we were basically serving the same communities. Sometimes we were even holding groups in the same location on different nights.
So, interestingly enough, both organizations were started largely by white gay men, for white gay men, about the same time that GMHC got its start, but our courses have been very different from GMHC's. We've stayed pretty much grass roots, smaller, essentially volunteer driven. And I'd say we have stayed at the forefront of where HIV was going, and we've stayed grounded in making sure that people who weren't served by the larger, more well-funded programs had a place to call home, to feel that they belonged, where they were respected for ability and their right to choose how to live with HIV. For us, that meant that this was the partnership to consider.
SC: We're coming full circle. The thumbnail history of BP is that the founder is identified as Michael Hirsch. He was also one of the early founders and participants in PWAC. PWAC was focused on people living with AIDS, and Michael and others realized that there was a need for services for people who were newly diagnosed, so Body Positive was sort of a spinoff.
Now, there are changes in treatments, and the distinction, or the significance of the distinction, between being positive and having an AIDS diagnosis has blurred. And the spectrum of people we serve has broadened, ours going from the newly diagnosed to people all along the continuum, and theirs from people with AIDS back to earlier along the progression.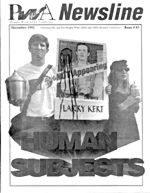 LE: Have both organizations been doing prevention education in at-risk communities?
DW: We had a strong component until the beginning of 1998 when those contract monies dried up. We lost $200,000 worth of government money at the same time that we were faced with the challenge of replacing the legacy and bequest money that -- we were very thankful -- had started to dry up. Our board and staff, our PWA advisory board, and our volunteers all took a look at our services and ranked them in tier priorities. They put prevention and general education programs in the third tier and focused mostly on direct services, which were seen as the heart and soul of our mission. So this consolidation provides an opportunity to come back and pick up some of the prevention and education pieces that we lost in early 1998.
LE: How do your priorities as separate organizations compare, and how will that affect BP's priorities after the consolidation?
SC: Through our peer education program we do primary prevention work, but also secondary prevention and education. It's sort of a spectrum, a mix of education and support, in addition to the publications. The traditional support groups around which BP was founded have shrunk in importance over the years, not because the service itself is less important but because of who was using it and where the epidemic is going. We found that communities of color did not respond to the traditional, let's-sit-around-in-a-circle-and-talk-about-how-we-feel support groups. It wasn't relevant for them. Now we run sort of psycho-educational support groups, where there's a piece of information that's provided and the remainder of the session is spent talking about ways to integrate that information into daily life. A discussion about condom use in a group of women, for example, would focus on how to negotiate their use -- "I've tried this and it doesn't work," and "I've tried this and it works," and "I get really scared when I do this" -- so that it's much more relevant to them.
LE: How does this compare with PWAC's approach?
DW: Our experience was very different in the communities of color where we were working. Take, for example, largely African-American women in Brooklyn, who did not see themselves as a part of a general AIDS community, who didn't identify with white gay male political perspectives, who were largely not openly HIV-positive in their communities and their families, who were not interested in coming into Manhattan for services, and who had little information available regarding treatment options, symptomatology, side effects. These women came together very powerfully to support one another and share information. These women, sitting together in those regular, ongoing support groups, started tracking side effects and symptomatology before any of that was documented in the literature. These women were noticing that they had the same kind of symptoms.
That was the beginning of our Sister to Sister support groups. We went out to women who were already organized and doing it and invited them to come in and belong at PWAC, help us replicate what they were doing and expand it to other women. So traditional peer-led support groups that met on an ongoing basis were the thrust of our support group development. For many people, they became a chosen family. Given the history of the early '90s and the isolation that people felt, and the attitude that AIDS was a gay white male disease, the groups became a place for people to get ongoing support and feel like they belonged and could talk about it.
LE: What about other priorities?
DW: We really have one priority -- to provide information and support to people who are living with HIV and AIDS so that they can make informed, educated, individually appropriate decisions about how to live with HIV and have a great life. Support groups offer help on a regular basis, and the hotline offers it as needed or in a crisis situation. The treatment forums provide a way to check in and find out what's going on with treatment. The magazines bring the information right to the users. So everything fits under that one priority.
SC: I would echo your overarching statement. That is at the core of the mission for both our organizations. The mission is empowerment, and our role in all of this is to put information into people's hands in a way that is accessible to them, and then to give them the support they need to make the decisions about how they want to live and how to do so in a healthy way.
DW: I've heard people talk about feeling judged for decisions they've made, not only in the general world, but in the AIDS community. "What do you mean, you're not using treatments and you're still into holistic practices?" And on the other end, a doctor saying, "What do you mean, you want to use that combination? This is far superior." That kind of judgment brings costs, in terms of people's ability to follow through on their choices, to feel empowered and able to make other decisions, about work, about relationships. When we question people's ability to decide what's right for them, we start down the slippery slope of really lost longevity, lost quality of life. We dehumanize people, and that's not what Body Positive or PWAC is about.
LE: What about services for people who are affected?
SC: A big piece of this that sometimes gets overlooked is the provision of services to individuals' support networks. We have helped people figure out who in their world can be a support system for them, and then we have provided information and support to those people in that support system -- partners, lovers, family, caregivers, and friends.
Some may see that as a throwaway, but it's actually vital to the quality of life of the person with HIV. If a decision is contrary to the generally accepted wisdom, it can be supported because the people around the person have information and some skills on how to be supportive.
DW: Along the same lines, one of the things that impressed me when I first came to PWAC was our Mothers' Time. We had specific time slots on our hotline when mothers were there to field calls and questions from people, whether they were newly diagnosed with HIV or had been living with AIDS, about talking with their families, particularly their parents.
These were the mothers of adult children, many of them mothers who had lost their sons and daughters. These moms would talk with people who were trying to figure out how to talk to their families about their HIV, and they'd role-play it. Then we started getting phone calls from moms who had heard this was going on and who wanted to talk to other moms who had had the experience. Particularly the mothers whose sons had come home to die were totally not equipped to deal with that experience, and being able to talk to another mom changed their lives.
We really need to be about serving people who come to us, and not deciding that they belong somewhere else, whether the person is positive, living with AIDS, or affected, a child or a parent or a brother or a partner.
One of the things we've tried to do with our groups is support couples. They used to talk about serodiscordant couples. Just think about the language of that. Imagine what that creates for a couple, discord. So we did an issue of Newsline on "magnetic couples." The idea was that there's a powerful attraction or bond between two human beings who decide to be together, and how do you support them in managing and dealing with the issues that come up around HIV, so that doesn't become the sole focus of the relationship? We found there was much more stress on the HIV-positive partner, worrying about the partner who was negative, taking care of yourself and then worrying about your partner. Those are the kind of things that programs have to allow for, to support people, because they show up with their lives.
SC: Another piece is that we decided about a year ago that there was a really intense need for provider education, especially about interacting with the people they assist. We have started to do larger conferences to provide specific information and updates -- treatment updates, adherence updates, complementary therapy updates.
The major piece of it is the symbolism of having consumers and providers in the same room getting the same information -- that everyone is entitled to the same level of respect and access to the same information. Part of the day is devoted to providers and consumers talking together, so that perspectives are shared back and forth. Dealing with partner notification, for example, a provider will say, "This is my understanding of what the law and my obligations are, and this is the perspective I'm coming from." Then a consumer will say, "This is my understanding, and when I come in and you start giving me this stuff, I'm going to decide not to come to you for service."
DW: I saw a great example of that at a conference for physicians. The organizers arranged bags of jelly beans to represent combination treatment. There was a different color jelly bean for each drug. Every physician got a bag, and then they got the treatment regimen. And through the course of the conference, they were to follow the treatment regimen -- some which you had to take with food, and some you couldn't take with food, and not two hours before, or two hours after, or not together, and no alcohol, and you should really exercise. About 85 percent of the physicians failed or gave up immediately, and of the other 15 percent who actually were serious about playing the game, half of them failed.
In the AIDS community, we've bashed pharmaceuticals and we've bashed government, and maybe we've bashed each other. We've bashed providers. We've bashed people with HIV who don't play nice and talk nice. Maybe part of what we need the most is to create common ground in a way that actually moves people to serve the needs of people with HIV and AIDS better, more responsively, more respectfully, honoring their choices more. I think provider education -- physicians, mental health providers -- is essential. It's incredibly powerful and empowering. The people who are providing that kind of education around the issues are people with HIV and AIDS who are dealing with the issues themselves, so people don't see it as some sort of intellectual exercise. It's real.
LE: What does the consolidation mean, concretely and immediately, for the consumer who has been used to receiving services either from Body Positive or from PWAC? Will changes happen overnight, or will they be phased in?
SC: Our agreement has been that the whole service menu will be integrated. No services will be terminated. That is in part because of the similarity of some of the services, but also because of their consistency with both BP's and PWAC's missions. I'm thinking particularly of benefits counseling, which Body Positive has been thinking about for a long time. This actually gives us access to a program that exists, that functions, that's effective.
The consolidation of the two agencies, which is still evolving, is being done with the aid of consultants, supported by a grant from the New York AIDS Coalition, with staff of programmatic and administrative areas meeting to discuss issues and generate ideas and suggestions.
LE: What voice do peers and consumers have in what services are kept and how they are delivered?
SC: Most of the programs run by both BP and PWAC are peer-based. That is, we rely less on full-time staff and more on peers and volunteers to deliver services. Thus the peers and volunteers have constant input into how services are run and what they look like. Also, we expect that during the first few months after the consolidation we will be assessing each program to make sure it is accessible and relevant. Consumer input will be critical at that point to help us determine whether and what refinements are needed.
DW: Some of the changes have been being phased in over the past several weeks. By the time people receive this magazine, PWAC will have ceased to exist and everything will have moved over to BP. Our aim has been to make a smooth transition, so that people do not get lost. It's critical that people know where to call and where their groups are, when the hotline is open and what its phone number is, all the nuts and bolts.
In concrete terms, the idea has been to decide which are the best practices and put them together in a way where we are giving people choices. Ultimately, as organizations and needs and people change, services change. There are a lot of different ways to run groups. The idea is that there will be little or no disruption in services for people. And, if people choose, we will totally support a group if it decides it wants to spin off on its own, and meet privately, and not continue to be part of the organization. As always, we are committed to offering choice.
LE: So in concrete terms, the entire service menu will be integrated, there won't be any sea change right off the bat, and the idea is to be as nondisruptive as possible to people who are already using either agency's services.
SC: We expect to integrate the entire menu of PWAC services with those of Body Positive. We'll start with the telephone hotlines, which will be combined in early June. Our Helpline will then be open from 10:00 A.M. to 6:00 P.M. Monday through Friday. Starting in July, we will combine the publications, continuing to produce Body Positive monthly and SIDAahora every other month.
We are also hoping to begin integrating the support groups in July. Much of that depends on whether the individual PWAC groups wish to become part of BP. Prior to associating with PWAC, these groups ran independently. In the spirit of keeping power in the hands of the people using the service, we will provide them with information about how BP operates, and they will decide whether to join with us.
We will also be integrating the Benefits Counseling and Prison Pen Pals Programs, both beginning in July. Finally, we will enhance our ability to provide treatment education by hiring someone to fill a coordinator position we will be integrating from PWAC.
LE: Realistically, while everyone is trying to be nondisruptive, there will be a shakedown period. How will the new BP deal with the unexpected problems that are sure to arise?
DW: Any change requires people's willingness to adapt. That creates anxiety and questions. What we've said to everybody is that it's important to stay in communication about what's going on and what you like and what you don't like, to participate in the decision-making process. Then, if people disagree ultimately with the decision, they can make an informed, empowered choice about where they want to be.
I think it's helpful to keep in mind that if Body Positive and PWAC did not adapt and solidify the single strongest funding base in the next three to five years, people would be faced not with a change that is not exactly perfect but with a serious void. What's happening here is actually assuring people's choice -- does this fit with what I need and want right now? I'll go to the wall to make sure that people have that choice.
SC: The restructuring may be worrisome for some people who have participated in groups or have read one of the magazines for a long time. Because of the historic differences in some of the perspectives of each organization, there may be a sense of being more comfortable in a BP group or in a PWAC group. For some people, a lot of it is education and reeducation. For some people, PWAC could be seen as too radical and they'll think, "Omigod, there's going to be a sit-in." And some at PWAC might have a perspective of BP as too middle-class and think, "They'll just be sitting around in a room making nice-nice." But by and large, I think the bulk of the people just want good service, and they want it accessible to them. It's in their community, it's in their language, and it's a place they can get to. There's childcare if they need it.
DW: I think the people who face the greatest challenge are those whose lives have been significantly tied up with the histories of our individual organizations. It's like having a best friend. There's a level of loyalty and commitment, and then somebody else moves into the neighborhood. They may be great, but they're not your new best friend. Then you get to meet the person who's new, and discover that they like a lot of the same things that you like, they do a lot of the same things, they have similar needs, and then you build a relationship. The loyalty is still there to your best friend, but it doesn't limit your choices.
SC: You have two best friends.
DW: It will be hardest for people who've been around for years of Sister to Sister or who've written for the magazine or worked on the hotline forever. There's a whole challenge around what that means to them, seeing the People With AIDS Coalition disappear. And we have to honor and respect that grief and create options for people. That isn't necessarily easy.
SC: We must honor and respect the legacy of both organizations, which I think is critical to the success of this venture. I don't see this as BP coming over and swallowing and digesting PWAC. There's an amazing amount of history and resources and goodwill and blood, sweat, and tears that went into PWAC and that needs to be acknowledged, remembered, and honored. Ten years from now, we should be able to look back and say, "We all did the original PWAC folks and the original BP folks proud."
Back to the
July 1999
Issue of
Body Positive
Magazine.