Photographs are by Tomás Gaspar, whose work was featured in the Electric Blanket (Visual AIDS Artists' Caucus). In 1998 his AIDS photography received recognition at the World AIDS Conference in Geneva, Switzerland. His work is currently represented by bridgesgallery.com
.

A nurse was giving a talk to a group of teenagers about safer sex, and the topic turned to gay sex. One of the young women was having a difficult time understanding the subject matter and raised her hand. "How do they have sex?" she asked. The nurse answered, "They have it just like everybody else." Further question by the younger woman: "Yes, but where do they put their weenie?"
That is one question posed to many gay men -- and straight men, and women too -- who are older and are infected with the HIV virus. Not only "where," but "when" and even "if" become topics of speculation.
No one decides that at a certain age she or he will stop having sex. The desire, the need, doesn't go away because we get older, any more than it does in the face of an HIV diagnosis; it lasts a lifetime. I am particularly interested in this subject, being 64 years old and my body having been invaded by HIV. We need to begin to talk about it openly. Too often sex as a topic brings embarrassment, or at least an unwillingness to open up to a frank and open dialogue. This is especially true when the topic is sex among older people. Younger people do not want to think of Mommy or Daddy as even having any sexual desire, much less acting upon it. And as far as Granny is concerned -- UNTHINKABLE! It is as if we as a culture decided that anyone over the age of 30 is not a fit or decent sexual being. The concept of sex among seniors becomes almost obscene in its connotation.
Talking About It
Actually, many older gay men
are
open to talking about their practices with regard to sex. For example, I asked one gay man if he still had sex now that he is older and has the virus. He replied, "Do you mean with other people?"
For many, the combination of aging and AIDS has resulted in a very Spartan existence where sex is concerned. There is the stigma, of course, in the eyes of potential partners: "He (or she) has AIDS; I cannot take a chance on any intimacy." Then there is the internal fear of contaminating another person with a possibly deadly poison. So we decide it is better not to have sex with another person. We "choke the chicken" or "spank the monkey" or "pull our pud" or whatever euphemism we use for masturbation. Even that is a taboo topic only mentioned in low whispers or in the context of jokes -- never, of course, having to do with ourselves personally! Woe be to the public official who dares to broach that topic. Just look what happened to Dr. Jocelyn Elders, tarred and feathered and run out of town on a rail for attempting to initiate a sane and rational discussion of what is a healthy alternative to high-risk sexual intercourse.
Doing It
What do you do when you find out you are positive after having already learned that you are no longer the object of desire for much of the world you come into contact with, having turned 40 or 50 -- or that really dreadful 60 -- some time ago? Do you recede into a shell, like the man I encountered recently who does not even leave his room? He has only a buddy who comes in and talks with him, trying to reason with him to move from isolation and depression and enter into some social contact to counter the destructive mindset that he has nothing but horror to offer the world. He is gay, and he grew up in an era when being gay was considered a sin and treated as a crime. He now has acquired a virus that is often thought of as a punishment for bad behavior. He looks forward to death, yet does not have the inclination to kill himself. But he does not feel that life is worth living. Sitting alone in his room, he wonders what possible benefit there is to this existence, sleeping as much as he can, not being able to overcome years of internalized homophobia. What will become of him? He will eventually succumb to the virus or age or depression, and the inevitable will happen. He will die or he will kill himself out of remorse and despair. Sure, we all have to die sometime, but need we be so vilified at the end just for being old and gay?
Others navigate these rapids with greater health. Another gay man, 59 years old and positive since the age of 48, said he lost erectile function early in the disease process. He believes he contracted the virus on a night when for one of the few times in his life he was a bottom. After he was diagnosed, job security concerns and personal reasons kept him from disclosing his HIV status. So . . . no sex for years. (Even though he could not achieve full erection, he could still masturbate, except for the three years on medication that prevented even that pleasure.)
"Somewhere along the way," he says, "I decided my only hope for sex was to be a bottom. I feel that sex is a vital ingredient in 'marital' relationships, and I have been -- and remain -- apprehensive about living alone as I get older and possibly sicker. Since having a husband means having sex with him . . . I compromised. Then Viagra came along, and I have been able to be top again. So thanks to HIV, I am very versatile!
"Now comes the strange part. Generally in narcissistic gay society, older men are shunted aside, but in my case, I've been doing better in attracting sex partners in the past three years than ever before. I think the experience of having HIV has changed me greatly, and whatever the inner me is, it seems to be more attractive. God knows, I'm bald, wear hearing aids, and look like I've been rode hard and put away wet, so it's sure not the way I look!
"Right now I'm juggling relationships with four guys 26 to 38 years old. One lives in another city, one works nights and can only mess around daytimes, and I walk a tightrope balancing the other two.
"In a nutshell, I have been through extensive periods when I did not have any sex due to illness or due to fear of job compromise if I told anyone about my HIV status, but at age 59, I'm doing OK."
Another man is hanging in: "Well, to be honest with you, my sex life is pretty bleak. I am 52 and am told very handsome. I placed a couple of personals. One looked very promising until I told him I was positive, and then no performance on the bedroom front. The second turned up a wonderful man. We will see each other again.
"I must emphasize that I am more interested in finding another partner than I am in finding sex. If I want sex, I have my videos, my lube, and my hand. But a video can't go to dinner with you."
GAY MEN ARE NOT ALONE
Even though HIV/AIDS was first evidenced among gay men, at least in North America, it has jumped to other populations and flourished there as well. While it is not an epidemic in white Republicanville, it has been surging in other cultural groups for some time. The same distress over sex and how to negotiate it is just as pronounced in these other populations.
A seropositive heterosexual African-American woman who is married to a negative partner is particularly disturbed by the prospect of passing the virus to him. Recently a study of discordant heterosexual couples in Uganda, as reported in the New England Journal of Medicine, showed that not one partner who was positive had passed the virus to the other partner if the viral load was below 1500. She would not present this information to her husband because he at this time is not willing to be retested. Taking a lesson from Lysistrata, she is withholding her favors until he gets tested. He cannot explain why but it has been two years since he was last tested (negative). It is certainly causing a tremendous strain on their connubial bliss. There is a kind of gloom hanging over many such relationships, gay and straight, the result of guilt about having the virus in the first place and a legitimate fear of infecting a loved partner.
For all of us, disclosure is a major issue. I know a woman whose first husband, from whom she is now divorced, has AIDS and passed it along to her. She does not disclose to her current partner for fear that he will abandon her. He knows the ex-husband has AIDS and is in the terminal stage, and has asked her if she has tested positive. She told him no. They do not generally have unprotected sex, but on a few occasions they had sex without a condom. She harbors a great deal of guilt surrounding this, but still has not disclosed. The need for affection, for someone to share enjoyment with, is very great in all of us, and we as we approach our autumn years we need to reach out and have someone reach back to us and fulfill our very human desires.
Women are in a position of not being able to force a man to put on a condom. Yet they are much more vulnerable to transmission than their partners. One Latina woman I spoke to has a solution, at least for oral sex: Without her partner's knowledge, she puts the condom in her mouth and it unrolls as she works the man into her mouth. I was struck by the clever inventiveness of this technique and asked her to demonstrate -- which she adamantly refused to do -- and where she had learned it. She had taken a lesson from a sex worker, who must keep one step ahead in this arabesque called Sex in the Time of AIDS.
Getting It Up and Putting Its Hat On
The issue of condom use is a very serious one among older people, most of whom grew up with the attitude that "Having sex wearing a condom is like taking a shower with a raincoat on." Many older men who suffer from erectile dysfunction, as it's now called (at least by Bob Dole), like the gay man above, find that the condom is too much to deal with. "By the time I can get the damn thing on, the party's over," said one man.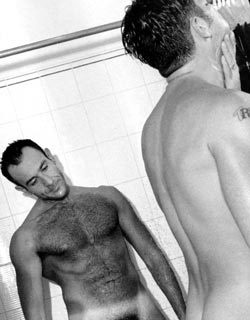 When asked about taking testosterone and possibly Viagra, one man responded, "I do not consider a healthy sex life to be recreational. I consider it to be an essential part of the definition of being in good health. The concept that having sex is an optional, recreational extra is, I think, foisted upon us by an American culture that is sex-negative and repressed. Many men living with the virus have encountered this problem repeatedly from medical providers. 'You should not be having sex with anyone anyway, so why are you asking for medical assistance for an improved sex life?'"
Another man who has trouble with Bob Dole syndrome says the only way he could have any feeling in his dick would be to slam a car door on it. An extremely painful image, but it does illustrate the very real problem faced by older men with AIDS and the burden of large quantities of chemicals being dumped into their bodies. What a massive force is necessary to lift IT up from its doldrums!
Another man who can and does get it up exemplifies another problem. He cannot find willing partners, or perhaps he prefers to solicit hustlers who satisfy his needs. As we get older, many of us find that attracting younger men becomes increasingly difficult, and we turn to the payment system, perhaps convincing ourselves that this is what we want. So this man goes to a favorite haunt where he can find readily available packaged goods. This is a very dangerous game, but perhaps that is precisely why he plays it. In any case, when he gets horny he chooses to engage someone who does not offer affection but rather merely sex in a hurry. Not only must he pay for sex in dollars, but often, he says, everything is done in such a hurry that the added hassle of putting on a condom falls by the wayside.
This man says that this is especially true when, as is often the case, drugs are part of the package. He says he does not use the drugs but only supplies them for his partner. How long will it be until he also turns to using drugs? Or does he already, and just won't admit it? I asked him if he disclosed his HIV status to these men, and he said it was not his responsibility if he is paying. In this case it's not "caveat emptor" but "caveat vendor" -- let the seller beware!
---
Negotiating sex in the time of AIDS is complicated and strange in many ways. HIV causes people to react in manners that are as varied as the people who carry the virus. When the physical limitations of age are added to the physical manifestations of the virus and the medications used to treat it, and when AIDS-phobia is compounded by ageism, the complexities multiply. But neither age nor illness diminishes our need for affection and intimacy, and sexual desire is powerful and hard to kill. We may find it harder to get hard, and perhaps our choice of partners is narrower, but sex is still a very important part of life, after HIV and after gray hair.

Vice-Chair of the New York Association on HIV Over Fifty, Tom Sentell is an activist who frequently writes and speaks on issues involving HIV among older Americans.
Back to the
June 2000
issue of
Body Positive
magazine.