As a counselor and researcher, I often work with individuals who are co-infected with HIV and the hepatitis C or hepatitis B viruses, as well as with their healthcare providers. I've learned a lot from them, not only about the many medical issues they face, but also how they have learned to cope emotionally and spiritually. I have tremendous respect for their positive outlook and bravery. And they've inspired me to do my own research to learn more about co-infection.
What I hear most from individuals facing a dual diagnosis is that the prospect of dealing with disease progression, symptoms, medications, and side effects feels like a long hard road up a too steep hill. If you're in this situation, you may be feeling the same way.
Being co-infected presents many challenges, the biggest one is learning about both these conditions so that you can take an active role in managing your own health and healthcare. There is a lot involved in getting to that point, and the first step -- deciding to take charge -- is often the hardest one.
The Double Whammy
I didn't realize how daunting co-infection could be until a client expressed it this way: "I finally adjusted to the idea of being HIV positive. I'm taking care of myself. I'm handling the meds. Then I get this second bomb dropped on me -- hep C. It feels like double whammy."
Advertisement
At that moment, I felt the same helplessness that he felt, and I didn't know what to say in return. This was a man in his forties, who I'll call Tom. After being diagnosed as HIV-positive a couple of years ago, Tom had recently been informed that he was co-infected.
I asked Tom what he had done so far. By his own admission, he had not been able to do much. "Right now, I'm working with my doctor, who I really trust," said Tom. "She's getting my HIV under control. My viral load is down but not where we want it to be. As for the hep C, my doctor says she has her eye on it. And that's enough for me right now."
Basically Tom was frozen in place, as he described it, feeling scared, feeling disappointed. And where his hepatitis C was concerned, hoping it might just go away. After all, it wasn't like he had any symptoms to worry about, or at least not that he was aware of.
I repeated to Tom the old cliché about HIV: knowing is better than not knowing. But where do you start, he wanted to know. And how do you even get to the point where you can motivate yourself to take charge? In other words, how do you power up when you feel powerless?
To help you get started, I have identified four key factors that are impacted by HIV and HCV co-infection -- your doctor, your body, your emotions, and your spirit -- along with resources that you can check out for further details.
Your Doctor
Co-infected individuals tell me they are actively monitoring their viral load and T cells, But many are not checking other indicators of their current health, like white blood cells, red blood cells, and cholesterol, unless they have already had related conditions, like anemia or low testosterone. All too often, those who are co-infected are not only ignoring their liver functions, but they don't even know what they should be looking at. Nor are they asking their physician what he or she is doing to monitor the current hepatitis status.
Don't let hepatitis be "the elephant in the room" when you are with your doctor. If he or she doesn't bring the topic up, you should. Ask questions. Do your own research. Ask more questions. Keep a journal of what you are learning, and how you are feeling, and bring it to your appointments. Partner with your doctor. And don't hesitate to request that a specialist, a gastroenterologist, be brought in for a second opinion, and to become part of your treatment team.
Physicians are also learning the best way to treat co-infection. While there are guidelines and treatments, the ultimate decision about treatment still comes down to the individual -- to you -- based on your health status, the progression of the hepatitis, how well controlled your HIV is, and your willingness to undergo a whole new treatment regimen focused on hepatitis B or C. Your physician can't make this decision alone. In fact, physicians tell me that, like in any good relationship, they appreciate it when their patients also take an active role.
To be an effective partner with your doctor, take time to do your own research. Information gathering can be great therapy. Rolling up your sleeves and hitting the Internet or the library can stimulate your brain. The unknown -- with all of the uncertainty and fear that goes along with it -- suddenly becomes known. This isn't to say what you learn won't confirm your concerns, or raise new ones, but educating yourself with the latest knowledge, the facts as they exist, gives you control that you don't have when you allow yourself to be the victim of rumors and myths. Arm yourself with the facts.
You can clip or print out articles you come across and share them with your doctor. Develop a strategy together. One resource to get you started is the HIV/HCV Co-Infection Center of Excellence, developed by the Mountain-Plains AIDS Education and Training Center, offers information as well as links to the sites of other organizations. This is a good starting place for learning more about co-infection (www.mpaetc.org/coe).
Also Brett Grodeck's book, The First Year: HIV, provides excellent guidance on all the issues that arise during the first year after being diagnosed, and includes a chapter on hepatitis co-infection.
Your Body
It has been estimated that approximately one-third of HIV-infected persons also have hepatitis, and treating both HIV and hepatitis is more complicated. You are probably aware that antiretroviral therapy can affect your liver. Hepatitis can, in turn, complicate HIV therapy; for instance, the direct effect of HCV on HIV is being studied. HIV, over time, can cause hepatitis to progress more rapidly. Furthermore, HIV itself can decrease the effectiveness of hepatitis therapy. And then there are the side effects of treatment.
There is no way to sugar coat this information: you need to stay on top of both conditions. That means not only monitoring viral load and T cells, but also your liver functions.
But there are also reasons for optimism. Research has identified protease inhibitors that are more likely to affect the liver, so that co-infected patients can choose others instead. The experiences of physicians in treating co-infected patients have resulted in a body of knowledge regarding treatment guidelines, and options, that did not exist a few years ago.
New treatments, and treatment regimens, are constantly being developed, including a more tolerable form of interferon to treat HCV. A Web site sponsored by the National Institutes of Health, described in the Resources section at the end of this article, offers a way to locate clinical trials. Pharmaceutical companies conduct their own trials as well as offer patient assistance programs to help cover the cost of expensive medications. You can learn more about what companies offer by going to their corporate Web sites or to Web sites focused on the specific medication. A search engine will get you to either one.
The "take care of yourself" message is nothing new if you have been living with HIV or hepatitis. But co-infection requires a greater level of vigilance. Anything that places a potential strain on your liver should be avoided. That means, in particular, not drinking alcohol. There is some evidence that diet can help to prevent the potential liver damage caused by hepatitis, so you certainly want to be eating healthy. Adequate rest and exercise are also important.
While we're on the subject of being diligent in taking care of yourself, you may also be wondering what you have to do to take care of others. There are many misperceptions and myths that surround hepatitis. How contagious is it? Is it passed through casual contact? Ultimately, questions about sexual contact also come up. Understanding the facts and the myths can strengthen your own coping skills as well as enable you to educate your friends and loved ones. The Web site www.aidsmeds.com is an excellent resource for comprehensive information about HIV and HCV, with guidelines on maintaining a healthy lifestyle. This site also hosts forums and blogs that you can sign up for.
Your Emotions
Just because you have dealt with one diagnosis, whether it is HIV or hepatitis, the second diagnosis isn't any easier to handle. As with Tom, the example I used earlier, the second diagnosis can be just as, or even more, devastating. Shock is the word that I hear most often when clients talk about the experience, followed by the question: "Why me?" The stigma and fears you might have experienced concerning HIV and hepatitis -- much of this the result of a lack of information -- are now directed at you. For those who are hit with both diagnoses at the same time, the initial shock can be especially devastating.
Tom was frozen in place. He was sitting with the unfairness of his dual diagnosis and hoping that his physician was watching over him. That's as much involvement as he wanted. While it is a common human reaction to feel numb when first hearing the news of a second life-threatening condition, remaining in that state was not helping Tom. It may seem that you have many reasons to swallow your feelings. Beyond the medical implications, which can be overwhelming enough, there is also stigma.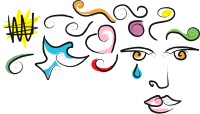 Even as our society has become more enlightened about HIV, co-infected individuals tell me they are concerned that people around them will fear that the hepatitis can be "caught." They may not even be sure themselves how dangerous they are to others. Stigma even exists in the HIV community. Co-infected clients often tell me that they feel isolated, as if the presence of hepatitis causes them to become second-class. Because co-infection, especially with the hepatitis C virus, is often related to past substance abuse, they feel labeled as "druggies," and this increases their feelings of isolation, which then has a negative impact on their self-esteem.
If you read any of the Harry Potter books, you are probably familiar with the phrase, "name your fear." When you do, you take its power away and return it to yourself. Sitting with fear, anger, sadness, or other uncomfortable emotions is no party. But struggling to avoid these feelings makes things worse, because the feelings are not going to go away. They just weigh you down until you finally tip over.
Give your emotions some breathing space. Let yourself feel however you are feeling, no matter how uncomfortable and scary your emotions may seem to you. Fear, anger, frustration, disappointment ... let your emotions flow through you without forcing them down. Find a safe place to cry, scream, or whatever you have to do to give your feelings expression. Don't be afraid of them; after all, they are just feelings. Experiencing the emotional effects of being diagnosed is like grieving for something that has been taken from us -- however complicated your life might have been before, a diagnosis of HIV and hepatitis introduces a whole new set of issues. Your life will never be the same.
So let yourself grieve, whether by yourself, with a friend, or with a professional. Local HIV organizations, or other community resources, offer low-cost counseling and support groups, or referrals to counseling resources in your area.
Your Spirit
I am including support here because my experiences have taught me that when we step outside ourselves and connect with others in a meaningful way, we gain a greater sense of being a part of the universe, and in touch with a power greater than ourselves.
This is simple multiplication. According to Zen philosophy, it is when we acknowledge the pain that others in similar situations are feeling that we "widen the circle of compassion" and, ultimately, develop a greater compassion for ourselves. Sharing provides an opportunity to release anger, self-blaming, and fear, leaving open space to be filled with hope and optimism.
Don't go through this alone. Find people who can support you emotionally, who can be available to spend time with you, to listen, and to help out when you need a favor. You may have friends and family who can be there for you. If not, there are a range of support groups, through local HIV and other community service organizations. Some religious organizations, churches or synagogues, offer support groups for people facing life-threatening illnesses. The recovery community where you live may offer a support group for people with HIV and/or hepatitis.
Depending on how you are feeling, volunteer work can be a great way to not only meet people but also an opportunity to step outside of yourself, and your own set of concerns, and offer a hand to someone else in need.
Finding support may not be easy. It can take time to feel comfortable opening up about co-infection. The fear of stigma, of being looked down on, or rejected, may keep you from risking disclosure. Talking with a counselor, or in a support group, is a good way to practice talking about your health status, and to learn coping strategies.
As much as you may sometimes feel like hiding in the shadows, remember that there are many others who are also co-infected, and who are actively coping with the same issues you are. Also keep in mind that hepatitis can cause depression, another reason to put a support system in place.
Taking quiet walks, praying or meditating, using affirmations, reading inspirational books, or joining a religious organization may also provide you with the kind of inner support you need.
I highly recommend reading When Things Fall Apart: Heart Advice for Difficult Times. Written by Pema Chodron, an American Buddhist nun, this book provides excellent advice for dealing with those times in which our world seems to come crashing down upon us. Also, the HEP-C Connection (www.hepc-connection.org) offers support, information, and even a helpline for individuals with Hepatitis C and Hepatitis C/HIV co-infection. Included on this site is a tool that will help you locate support in your community. While you're there, don't forget to take a look at the newsletter. It has great coverage of news on the latest medical as well as alternative treatments.
Your Future
If you or someone you care about is facing HIV and hepatitis, I encourage you to take whatever ideas make sense to you from this article and make use of them in your own life. Dial a number. Double click. Speak up. Reach out. And power up!
Additional Resources
The National Institutes of Health has developed the Web site www.aidsinfo.nih.gov to assist HIV patients in becoming educated on HIV and related issues, including hepatitis. The site includes not only information but also guidance on searching for clinical trials that you may be eligible for. The NIH also has a toll free number that you can call for information on clinical trials: 800-243-7644.
The Web site www.hivandhepatitis.com offers both content and links to articles that are relevant for both patients and physicians. An excellent feature of this site is a column, "The Doctor Is In," in which patients' questions are answered by leading medical experts.
Johns Hopkins University offers more detailed medical information at the Web site www.hopkins-hepc.org. It includes a page on HIV and Hepatitis C co-infection with treatment guidelines that you can print out and discuss with your physician.
The National AIDS Treatment Advocacy Project (www.natap.org) offers information directed toward health professionals and references patient assistance programs.
Gary R. McClain, Ph.D., is a counselor and researcher living in New York City. He maintains a Web site, www.garymcclain.com.