BP Visibility
June 1998
Body Positive
has been proud to have members of the gay, lesbian, bisexual, and transgender community involved in a variety of capacities with the organization. We have staff members, board members, volunteers, and people who have contributed to or been featured in our magazines and other publications who are representative of the sexual "minority" in the U.S. A few of them are featured in this pictorial essay. this year, as in previous years, we are planning to have a contingent participating in the annual Gay Pride March. See you there.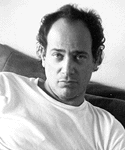 Howard "Kvetch" Shapiro was a comedy writer who wrote a regular column for Body Positive titled "Kvetch" from the early 1990's to 1996.
In reading through the BP files, I came across some newspaper articles and letters featuring Howard's letter writing activities to celebrities like Roseanne, Cher, Angelica Huston, and Mel Harris (formerly of the TV series "thirtysomething"), from whom he received replies. In a letter to a former editor of BP, he writes, "I just got a call from Kim Basinger, and she loves the columns I sent her. I'm thinking of turning straight!" Howard died from AIDS on May 18, 1996.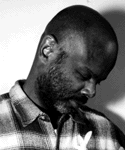 Robert Penn is a writer and AIDS activist who was featured in Body Positive's "Power of Example" column in the August 1996 issue written by Don Herron. According to the article, Robert ". . . was diagnosed HIV-positive in 1985. At the time, he was working with an international nonprofit organization and wasn't 'out' as a gay man . . . [in 1987], fueled by a number of deaths among close friends, Robert got a job with a feminist organization that dealt with U.S. domestic issues related to sex discrimination. For the first time, he let his co-workers know he was gay. Coming out in the workplace allowed Robert to grow as a gay man, and working with feminism helped him to look at his own internalized homophobia."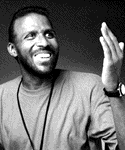 Advertisement


Enrique Andino was profiled in Body Positive's September 1996 issue in an article written by Karen A. Vicente. Enrique is a former recipient of the Puerto Rican Initiative to Develop Empowerment (P.R.I.D.E.) Award from the Latino Commission on AIDS for outstanding leadership in advocating for the Puerto Rican lesbian and gay community. According to the article, "This award was especially appropriate for Enrique because underlying all his work, volunteer and professional, is his firm belief in empowering the disenfranchised." He tested positive in 1990, and has been active as a public speaker and educator ever since. "It propelled me to action. I had no time to feel sorry for myself."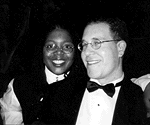 Yolanda Elbert is the administrative assistant at Body Positive, and it's very rare not to see her participating in events sponsored by the agency. In this photo, she is with Scott Cotenoff, the organization's executive director, attending the annual gala Night of a Thousand Gowns held in March by the Imperial Court of New York. Yolanda can usually be seen among the people partying at BP's popular annual River Cruise. For a young woman of 25 years of age, she has a full life: working for Body Positive, attending school, and dating (Yes, she's available).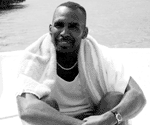 Allen Robinson is the most recent addition to the staff at Body Positive. His formal title is Receptionist, but he is a man of many talents -- personally and professionally. He was born in Charlotte, North Carolina on May 16, 1960 (that would make him a Taurus). Five and a half years ago, Allen came to grips with the disease of addiction running his life and became very active in 12-step recovery. He is also living with the "second" disease (people in recovery living with HIV call it the second disease). Allen stays very active doing recovery service work to help himself and other people in recovery stay free from alcohol and other drug use. He is currently attending classes to become a certified alcohol and substance abuse counselor.

Painter, illustrator, photographer, writer, humorist, and eater of cakes, pies, and sundry assorted pastries, fairly aptly describes Don Herron. Offer Don a fresh baked apple pie and he's yours for life (just kidding, Don). He has been a contributor to Body Positive during the past two years as a writer and photographer. Don maintains an apartment in New York City, and owns and is restoring an 1836 townhouse in upstate New York that was designed by Thornton Nivens in which Thomas Alva Edison once lived. He lives a relatively happy domestic existence with his two cats, Kitty Carlisle and Little Pearl.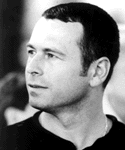 Once upon a time, not very long ago (during 1996-97), Greg Lugliani wrote the "News and Notes" column for Body Positive. Greg brought his activist sensibility and biting wit to the column that is sorely missed. While writing for the magazine, he was Director of Communications for San Francisco's NAMES Project Foundation, the sponsor of the AIDS Memorial Quilt. Currently, history is repeating itself, as Greg recently accepted a position as Director of Communications for Gay Men's Health Crisis, a department in which he served from 1988-94. He is also a contributing writer for POZ magazine.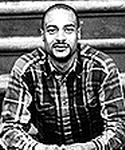 Jeff Haskins is a minister at the Unity Fellowship Church, a congregation accepting of all people regardless of their sexuality. Within the church, he is coordinator of a federally funded program called Breaking Ground. It provides education and support services to gay, lesbian, bisexual, and transgender young adults (ages 18-25) and their families. He is a former executiv director of People of Color in Crisis (POCC) a Brookyn-based prevention, referral, and support group program targeted at gay and bisexual African-American, Caribbean and West Indian men. Jeff was featured in BP's "Powers of Example" column in January 1997, written by Laura Engle.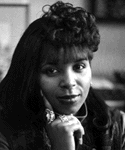 If you call her home, nine times out of 10, you will reach her answering machine because Nina Brown believes in living life to the fullest. Her HIV-positive status, recovery from drug addiction, and the challenges of dating have sometimes slowed her down, but not for long. Body Positive featured Nina in our June 1997 "Powers of Example" column written by Don Herron. Here is an excerpt: "I was bisexual, and I thought that maybe my being with another woman would create a more stable relationship." But her HIV status and her lover's fear of AIDS destroyed the relationship. "Now I'm just single. I've met possible lovers -- men and women -- but my main focus is just to raise my children and remain healthy."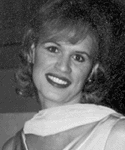 Marquesa was diagnosed HIV-positive five years ago. After going on full disability for a year, she became quite bored with all the time she had on her hands, and decided to take it upon herself to create a social outlet for the transgender community. She is the owner of Androgyny, located at 35 Crosby Street in New York City. Marquesa is usually a visible presence at Body Positive as a helpline volunteer. Due to participating in her new venture for the past month, she has not been able to volunteer at as much as usual. She plans to resume her volunteer activities in the near future as time allows.
Back to the June 1998 Issue of Body Positive Magazine.
---

This article was provided by
Body Positive
. It is a part of the publication
Body Positive
.
Advertisement