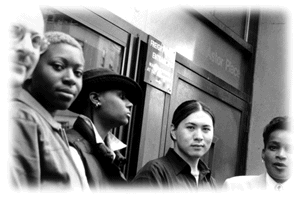 From left: Lou, Sheena, Vee, Austin and Verna
On a recent Spring day, a group of four young people gathered at an East Village institute for gay, lesbian, bisexual, and transgender youth: Sheena and Vee (lesbians), Austin (a gay male), and Carmen (a transgender person). They talked about pride, whether it's safe to be out, whether the media adequately represents them, how HIV impacts them, and what kind of support they would like from the larger sexually diverse community. Joining them to share his professional perspective on some of these issues was Lou Pansulla, a therapist at the Hetrick-Martin Institute. Major excerpts from that conversation are included in this article.
In this twentieth anniversary of Harvey Milk's call for the youth of the world to come out, we stand on the cusp of a new era for gay, lesbian, bisexual, and transgender youth. A new generation has come out since The New York Times first reported on a new cancer breaking out among homosexuals. Many have never known a world without AIDS. Yet, according to author Phillip Polate, "Few changes in American mores over the past 50 years have been as dramatic or as salutary as the nation's increased acceptance of homosexuals."
Months before he died, Paul Monette noted that he wrote his Pulitzer Prize winning memoir, Becoming a Man, so that, unlike himself, future generations of gay youth would be able to go to the library and actually find a book about their experience, even if they were not ready to come out. Today, young people actually can.
Advertisement
Pride and Being on the Out Side
For gay, lesbian, bisexual, and transgender youth, pride is something much larger than only identifying yourself within a sexual category. They want to be valued for other characteristics and talents in which they take pride beyond their sexuality; but for them, as for adults, this is an uphill battle. They believe that people who are out and have high visibility through the media (like celebrities) have it a bit easier in this respect.
Sheena: You hear about notorious gay people like Elton John or Ellen. They're more accepted because they are out there. I think it's harder for people to accept us as regular people because we don't have the money and we don't have the glamour. We're not fabulous. They say we are different, and I used to think that I was different, but then I go back to what's normal? People make this vast assumption that the majority of people are a certain way. They don't even know if that's true. So we're different. We are all different if you think about it. I don't like it when people categorize things or separate things. It's people's way of dealing with things they don't want to learn anything more about.
Austin: Well, my closest friends and my sister know, and they're all supportive, but I'm not "out" in school. I don't go around with a banner. I find that if you out yourself in school, people tend to automatically associate you with just that word [gay]. If I say, "I'm gay" people wouldn't be able to look at me in a different setting. I want people in my class -- and wherever I go -- to look at me on many different levels. Yeah, I'm gay but that's just one of the many sides of me. I can be gay and still be a hard- working student, and still hang out with all of my friends, and do everything else besides just being gay.
Vee: I'm very out with my sexuality. I have nothing to be embarrassed about. I'm very clear on who I am. I'm gay. I don't deal with men. That's who I am.

Lesbian identity tends to be a little more acceptable, less threatening than male same-sex relations within our society. Examples of this include Howard Stern's adage: lesbianism = ratings, movies like "Chasing Amy," and the Lesbian Chic phenomena.
Sheena: I'm out, and maybe that's because its a little easier for women. When I'm walking down the street I say, 'I'm a lesbian,' with spirit. But I think that's probably the way it's set up. I mean, if I were a gay male or a transgender then I would probably have a harder time. It's sad but people are quicker to accept lesbians. I guess that's why at every opportunity I get I say, 'I'm a lesbian. I'm a lesbian,' because it is easier.
Austin: Nowadays people think it's fashionable to be gay. The problem is fashions may come and go but people who consider themselves gay or lesbian will stay that way as time goes on. Sometimes I think it makes it harder for people to come out if they feel that they are not going to be supported and accepted if they do.
Lou Pansulla: I just watched a program on gays and lesbians and their spirituality. There was one segment on it with an African-American woman and her mom. This woman was an editor for the magazine Ebony. They interviewed both of them for an article on being out. In the interview, the mom said, 'I remember when I spoke to my daughter, and my daughter says to me (and I'll never forget these words), she said, 'Mommy, the closet is a dark and lonely place.' So when I go out to talk to parents, I tell them, 'Do you want your child living in a dark and lonely place?' I thought that was very profound.

In an era of AIDS and queer (i.e., gay, lesbian, bisexual, or transgender) bashing, creating a safe environment in which youth can feel pride in their sexuality difference becomes immensely important. Lou Pansulla suggests that acceptance and safety are central components. "As people of gay, lesbian, bisexual, transgender, and questioning orientations, we are always faced with safety issues, whether it's in our own neighborhood or holding our partner's hand on the street." (Editor's note: For more on safety, see the article titled, "Stand Together Against Violence")
Vee: There is no safe time. You just have to protect yourself. It's unsafe for us because other people don't understand us. They don't understand that they feel threatened by who we are. An actual physical space for queer youth is a logical and unique response to provide safety.

Therapist Lance Toma is Director of the Horizons Youth Services Program for gay and lesbian youth in Chicago. His program is a safe place where youth can discuss aspects of their lives without shame, and it advocates incorporating AIDS education into "a more holistic prevention model around strengthening the self in a variety of situations and broader issues." According to Toma, "All boundaries are for protection. So many youths go without this. Parents of gay [i.e., male and female] youth are not offering protective modeling." Youth are participating in unprotected activities as a result. "I have one client who was engaging in unsafe sex, and although we never discussed sex until very recently, he explained to me that he's had safe sex from the time he walked in the door here."
In New York, queer space as safe space has become a topic of much speculation. While crime on the whole is down, queer bashing is up in the city. Mayor Giuliani's Quality of Life Campaign appears to have neglected the spaces that we frequent and inhabit. In an era when the National Endowment for the Arts is under attack for financing homoerotic art, the expression of sexual diversity is under attack, and the spaces in which it may flourish become vital.
Although safety is an issue that youth must confront just like adults, Austin and Carmen plan to attend the Gay & Lesbian Pride festivities for the first time this year.
Austin: I've never gone to the parade before, but I would like to. I want to see what it's like to be around a lot of people who are just out there to celebrate their sexuality, to show it in a public and positive way on the street.
Sheena: I never went to Gay Pride, but I fantasize about it. I can just imagine everyone in the streets dancing, having fun, and feeling free. It will be a beautiful experience. I plan to go to everything they have planned this year.
Mixed-up Media
When the media represents sexual diversity, the images of same-sex attraction often appear contrived. Television, film actress, and comedian Ellen DeGeneres made a valid attempt to realistically represent the content of a lesbian's life in the context of her sitcom show, Ellen. Unfortunately, ABC did not continue to promote her show with the vigor that it promotes other sitcoms, some of which include spoofs around the gay theme. Clearly, there is a need for realistic and respectful representations of sexual diversity in the media.
Austin: They never have accurate portrayals of gay people. TV is still warming in my opinion. Even though there are more positive images of homosexuals in the media, it's only a small part of a whole spectrum of what's out there. I think it's up to people like me, and everyone else here [with me today], to know who they are. [The film adaptation of Manuel Puig's book Kiss of the Spider Woman came up. William Hurt's award-winning performance as a drag queen got a thumbs down.]
Carmen: I was a little disturbed to see her. I don't know. It was too much for me . . . another little drag queen movie on the transgender issue. I liked the movie, but I did not enjoy the character of William Hurt. I would want . . . someone like me. Okay? Not someone loud. Not someone that likes feathers and blue eye shadow. Someone that's like me. I like things that women like. I'm a woman. I feel like a woman. I act like a woman. I don't feel like a drag queen. I don't dress like a drag queen. That's what I would want to see. I despise gay men who dress up in women's clothing and look stupid. I hate that. It's disgusting. That's one of the reasons I am not out. When I walk into a place, people see me and they think 'there is a little girl.' As soon as I tell them my business, they switch on me. They call me a freak. So, I have issues with it. It's different because if you are a gay man, people know what you are. If you are a gay man (even if they do not know that you are gay), they know that you are a guy and all your things are together. When I go for a job interview, I have to tell them [the truth] because I can't fool them like that. I keep wishing things were very different.
Growing up in the Shadow of an Epidemic
Any discussion about queer identity has, as a backdrop, realities about growing up in the shadow of HIV and AIDS. This has to have an impact whether youth want to face it or not.
Carmen: I've seen lots of my friends go. It just makes you think . . . not about your sexuality . . . more about who you slept with, maybe.
Vee: Well, my father died from HIV when I was 12 years old. A lot of people around where I grew up have died. I became a peer educator so people can learn to take care of themselves better. It hasn't affected my sexuality any. I just know to be safer and prefer monogamous relationships. I have been married for four years. I want to be a counselor. I have a lot of skills to teach people.
Austin: It's hard to think about being gay when people always, right away, associate HIV with people who are gay even though anybody can get HIV and have AIDS. I know I can still be gay, and be proud of that. I still want to be gay, consider myself healthy, take precautions, and protect myself because I value life. I know how precious life is.
What We Need From the Adult Community
As the conversation began to end, people offered opinions on what the adult queer community could do for them.
Carmen: Don't kill yourself. We need you around.
Austin: We need to see more depictions of older gay men and women who have successful jobs and partners, so we will have more positive images of what we can become some day. So we can be proud of ourselves. I think that the adult and younger community can work together toward a common goal: helping younger people develop a broader identity of ourselves so we see that we can be ourselves in a variety of different ways.
Sheena: They definitely should advocate more for us. They should get more involved in our immediate lives. Since they've "been there and done that," they can guide us through the years to come. It's hard being gay. Maybe they could shed light on how to get through these times. I think that would help us a lot.
As lines of identity are drawn along lines of sexuality, this generation is thrust into having to test the new frontier. During their lifetime, hopefully, sexual diversity will be viewed as common as that among the rest of nature, more accurate media representations of sexually diverse lives will be business as usual, safety issues will no longer need to be a part of the discussion, and they will outlive the long shadow of HIV. It's apparent that we adults hold the key to their future. Yes, there is a great deal of responsibility that we must assume to manifest the new frontier. Those who came before us helped to make it easier for us to be gay, lesbian, bisexual, transgender, and whatever else time may uncover about sexuality. Now, we are the warriors for ourselves, the current young generation, and those to come.
Back to the June 1998 Issue of Body Positive Magazine.