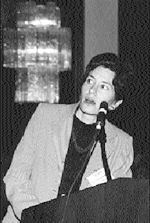 To people from elsewhere in the country, a mention of New Jersey conjures up a variety of images, and the state does seem to have its own identity crisis. To New Yorkers, it's the suburbs, and indeed New Jerseyans often bristle at being lost in the shadows cast by the big city's lights. To schoolchildren, it's the Garden State (in Geography class) and the site of the Battle of Trenton (in American History). It has been the butt of jokes by late-night television comics. It is now officially the home of the Statue of Liberty, thanks to a recent court decision that took that distinction away from New York and New York's license plates. It is the state that gave us Woodrow Wilson and Bruce Springsteen.
New Jersey is also home to a small but enduring organization of women helping women cope with HIV and AIDS.
Network of Women
The New Jersey Women and AIDS Network is housed in a small brick building in New Brunswick, a university town tucked into the "waist" of the roughly hourglass-shaped state. But the modest headquarters -- "We like to call it 'cozy,'" says Network Coordinator Kiameesha Evans -- and full-time staff of two belie the organization's statewide reach.
Advertisement
NJWAN was founded in 1988 by a group of women who were already active in HIV/AIDS work who felt the need for an independent voice on behalf of women and HIV. This was at a time when most people considered AIDS a gay white man's disease, but these women recogized the importance of helping women understand that they too were at risk.
It was slow going at first. The fledgling organization struggled along with some support from the New Jersey Association on Corrections for a year and a half before its first grant, from the Fund for New Jersey, allowed it to open a two-room office and hire a half-time secretary and half-time coordinator in late 1989. It was not until mid-1991 that the coordinator became a full-time position.
Despite its limitations of time and money, however, NJWAN has been able to launch an impressive array of programs over the years, and to build the kind of word-of-mouth network that has extended its influence. Today, according to Evans, "We serve as a clearinghouse for educational programs, peer support programs, and social support programs. And we also do referrals for direct concrete services."
NJWAN boasts a membership of well over 800, including women living with HIV, those affected by the virus, service providers, women's advocates, treatment advocates, and others interested in issues of concern regarding women and HIV/AIDS.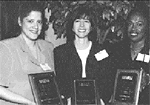 Sister Connect
NJWAN's programs over the years have been designed for women living with HIV. A case in point is Sister Connect, an educational and peer program that has been in operation since 1994. "We educate women that are living with the virus about HIV," says Evans. "We teach them public speaking skills, and they're trained to be peer educators. Then they can go out in the community, and talk to the community that they live in, and provide both the educational piece and also the experiential piece of being a woman living with the virus."
To become a part of the Sister Connect program a woman must successfully complete an intense training program. Classes meet once every two weeks for six months for four hours each. Participants learn about the female anatomy, treatment options, legal issues, how to read lab results, and effective ways to communicate with healthcare providers. Graduates become part of NJWAN's Speakers Bureau and conduct outreach presentations. The women receive a small stipend for each class they attend, and a somewhat larger one for each workshop they conduct.
The Sister Connect training sessions feature a broad array of guest speakers, experts in their fields -- lawyers, nutritionists, lab technicians -- all of whom donate their services. The purpose is twofold: to provide the Sister Connect women with the knowledge they will need to become lay educators, and to establish a tie between the women in the program and resources upon which they can draw in the future. One of the presenters on legal issues, for example, is an NJWAN board member and Director of the Women and AIDS Clinic at Rutgers University. When a Sister Connect woman out in the field runs into an issue about child custody, or housing, or another legal issue, she has a name -- and a face attached to that name -- of someone who can help. No cold introduction is necessary, because the resource person recognizes the Sister Connect program, and may even remember the individual from the training sessions.
Sister Connect classes are small -- the current one has eleven women in it -- but graduates tend to stay with the program. Evans estimates that there are well over fifty women currently available as speakers, from the 73 women who have graduated from the program since its inception in 1994. In addition, NJWAN insists on a fully representative Board of Directors that includes not only healthcare professionals with expertise in HIV and representatives of the corporate and philanthropic worlds, but consumers as well. The two consumers now serving on the Board are both Sister Connect grads.
Not all grads, of course, can serve on the Board of Directors, and sometimes -- for reasons of health, or because of competing commitments -- women must drop out of the Speakers Bureau. This does not necessarily mean the end of their relationship with NJWAN. "Many of them write for our newsletter as Sister Connect graduates," says Evans, "as well as serve as good PR for us. A lot of it is word of mouth, which I believe is the essence of grassroots."
Still other Sister Connect grads go on to work in the HIV/AIDS field professionally in AIDS service organizations, a source of pride to Evans. "If they weren't employed when they found that they were diagnosed," she says, "and now they're working in an ASO, I like to think that opening their awareness about HIV through our Sister Connect program didn't hinder them in saying, 'Well, okay. Maybe I'd like to work for an ASO.'"
Evans describes how the Speakers Bureau works: "Someone calls the office and says, 'I want for our particular group someone to speak on this particular issue, and I want a woman. Do you have people that are actually living with the virus?' And we would work with them to tailor a presentation for whatever it is they want us to talk about. And we call one of our Sister Connect women and say, 'Would this date, would this time, would this location fit in your schedule?'"
Sister Connect sends speakers to anywhere from three to ten engagements a month, with a lot of variation. December, for example, is a really big month because of World AIDS Day. But so are September, which is Minority Health Month, March, which is Women's Health Month, and February for Valentine's Day. Speakers have given presentations at local high schools and community colleges and at Rutgers University; at community organizations such as the Community Outreach and Support Center and Healthy Mothers, Healthy Babies of Jersey City; and even in corporate settings such as Warner Lambert.
The presentations vary with the venue. In high schools the focus is on prevention. Rutgers students receive more of a clinical educational lecture, an AIDS 101. Sister Connect has even done in-service training for home health aides, who need a certain number of hours of clinical training to become certified by the state. "We came in with the HIV 101 piece," says Evans of that presentation, "and then we had an experiential speaker who was able to provide a psychosocial perspective that many of these aides will encounter when they go to service a client.
"We've also had women do presentations to other women that were diagnosed. So then it's, 'I've been diagnosed for quite some time, and for those of you who are newly diagnosed, or still in denial about your diagnosis, please don't think that once you find out you're positive that your life is over.'"
Sister Connect presentations to women who are newly diagnosed, says Evans, are "doubly empowering. For the woman who may never have given a presentation before, here's an opportunity for her actually to speak somewhere where they want her. They asked for her. So it's not her saying, 'Hi, can I have a few minutes of your time?' She's been given an amount of time. And then for the women who may not believe that they have options -- wow! There's a woman who is, according to all clinical senses, just like me, and look how she looks at it! And moreover, it breaks the stereotype of someone who's living with AIDS."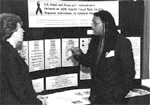 Sister R.I.S.E.
The newest addition to NJWAN's program menu is Sister R.I.S.E. -- Reach Initiative for Skills-building and Education. Its purpose is to increase knowledge and improve attitudes toward medication adherence and compliance and to encourage positive health behaviors among women living with HIV/AIDS, and it is based in part on the premise that social support is key to successful HIV/AIDS drug compliance. In this six-week training program, participants are encouraged to invite partners, friends or family to attend the program with them. "This one's based on the idea of peer support," says Evans, "but peer support within their existing relationships."
Participants are given a reduced AIDS 101, limited to one session. "This one's about medication adherence and treatment," Evans explains. "Whether you're currently on meds and you have no clue what you're taking, you're not on meds but you'd like to get on them and you just want more information, or you're not on meds and your doctor wants you to get on meds but hasn't told you what you're taking and why."
The problem of doctors failing, or even refusing, to keep patients informed about their own treatment has long been a serious problem in the healthcare field, especially for women. Evans offers an example from the program's first graduation ceremony, held in January: "We had one anecdote from one of our graduates who stated that she was taking sixteen pills a day and had no clue what sixteen pills she was taking. Her doctor just said, 'Here. Take these.' And so she took them. And seriously considered taking a drug holiday, because no one had really explained to her the importance of her medication. And our classes happened to start. She found the program to be very positive because it explained to her: This is a protease inhibitor. These are NNRTIs. This is called drug resistance. This is why you don't skip your doses. And what happens when you do that."
Evans continues: "The class gives simple ways that aren't expensive that allow you to make sure that you keep up with your medications so that you can remember every day -- these are without food . . . these are with food . . . this is with water . . . this is not with water . . . two hours before this . . . the whole gamut of how to take your meds. But to realize that your life is that important, that this is what you should do, and if you don't do this, this is drug resistance, that may be salvage therapy. And to introduce them to some names and themes that they had no clue about -- to understand that if she has CMV what it means."
Sister R.I.S.E. women come into the program at a variety of stages in their dealings with their virus. "We have women who have been diagnosed for almost ten years, but it's only been in the past year that they've really started to acknowledge the fact that they are positive," says Evans. "Then we have women that have only known for three months that they're positive, but they want the knowledge -- they want to know it right now! Or they may have found that a partner had died of AIDS and they knew that they are now at risk, so they started to do some reading, but they just need some more."
Sister R.I.S.E. is still going through some growing pains. Three women completed the required number of sessions in the program's first cycle and graduated in January. Another two who were unable to complete the program have signed up for the second cycle, scheduled for early March. And another who did graduate wants to come back.
Ironically, none of the women brought a social support person to the classes (although, coincidentally, two of the women in the class knew each other and wound up acting as social support for each other). Evans speculates that the reluctance to bring a support person was because some of the participants were so new in their diagnosis that they were uncomfortable letting anyone know.
Evans still considers the social support premise valid, however, and is optimistic that it will catch on. "I think there will be some for the second cycle, because it's gone by word of mouth and many of the people who've signed up for the upcoming cycle heard about it from people who were going through the program. It's a lot easier to bring social support once someone's told you that you can. When it's a pilot program and it's the first group and it's never been done before, and you're skittish about telling people that you're positive to begin with, the idea of bringing social support is a bit icky. But with Sister Connect, where we've been doing the program for so many years that word of mouth is out there, we don't have to go out on the street and beg for people to sign up; they come calling on us. It's the same thing with Sister R.I.S.E. We've had people enjoy the pilot program, and the idea of bringing social support will just start. It's like a wheel. Now that the wheel's started to spin and we've got it pushing along, people will be more willing to bring social support because they have some trust in the program. So I don't look at it as a negative that no one brought social support, although it was in our original goals. I understand that the first year is hard. I found it positive that, even though they didn't bring social support, at least they came."
The Warmline
Tied to the agency's referral system is the NJWAN Warmline, which is like a hotline, but not 24 hours a day. Until recently staffed by Sister Connect grads, the Warmline has stayed in operation even after losing the funding that enabled it to pay stipends. It is now answered either by Evans or by Kimberly Crosby, NJWAN's Health Educator and only other paid staff person. Because of the nature of the service, volunteers are not allowed to answer the Warmline unless they are trained Sister Connect grads.
The Warmline depends on a referral database of several hundred resources, classified by subject and location. Services can be located by New Jersey county (or sometimes out of state, particularly in New York City and Maryland), or by such subject areas as alcohol, clinical trials, disabilities, eating disorders, food pantries, hospices, or housing. In addition, resources can be located on issues affecting, for example, children, or gays and lesbians.
The Warmline receives anywhere from twelve to 25 calls a day. "That does fluctuate," says Evans. "There are times that we may get few calls because it's winter and people have more pressing problems, and then we get many in one day."
Annual Conference
NJWAN's eleventh annual statewide conference, "Confronting the Crisis 11: Still Fighting for Women's Issues," was held this past November. Although the agency charges for attendance at its conferences, scholarships are readily available so that as many women with HIV and AIDS as possible can attend.
The annual conference features eighteen different sessions running over the course of the day, on everything from HIV/AIDS 101, through advocacy and activism, through the criminalization of HIV/AIDS. Attendees include healthcare professionals, women living with HIV, and women's advocates. "Some of our participants are men living with HIV," says Evans, "because you don't have to be a woman to need the basic knowledge. Like wellness, and dealing with stress in HIV. Your stress may come from a different source, but it's stress just the same."
A highlight of the conference is the presentation of three awards. Each year awards are given for Outstanding Work in the Field of HIV/AIDS and Outstanding Work in the Field of Women and HIV/AIDS. In addition, the Karen Sofield Award for Outstanding Work in AIDS Awareness, named for an NJWAN activist who died of AIDS, is presented to the year's outstanding grassroots advocate.
Publications
NJWAN produces a quarterly newsletter, each issue of which features a lead article on an issue of importance to women living with HIV/AIDS, along with announcements of important developments in the field, job openings, and upcoming events. In addition, NJWAN women write the "In Her Own Words" column, which serves both as a forum for sharing experiences and as another mechanism for empowerment.
NJWAN has also published A Guide to Managed Care for Women Living with HIV/AIDS, which outlines managed care and how women with HIV/AIDS can obtain healthcare; Pregnancy and You, to help pregnant women living with HIV/AIDS and their service providers; A Woman Centered Approach to HIV/AIDS Prevention: Train the Trainers Manual, a curriculum for social service providers; and Me First: Medical Manifestations of HIV in Women, which discusses what is different and important about HIV infection in women, available in Spanish and English.
The New Jersey Women and AIDS Network is located at 5 Elm Row, Suite 112, New Brunswick, NJ 08901; (732) 846-4462 (voice); (732) 846-2674 (fax); (800) 747-1108 (Warmline); njwan@aol.com (e-mail).
Laura Engle is Editor of Body Positive magazine
Back to the March 2000 Issue of Body Positive Magazine.