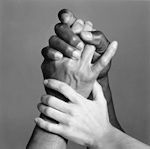 Located in New York's SoHo District, Friends In Deed's physical space is a beautifully designed and maintained loft. The large living room area is decorated in part with framed black-and-white photographs of the space when it was completely raw and in the early stages of construction. The juxtaposition of these photographs with the finished space is as good a metaphor as any for the experience of Friends In Deed. Over the organization's nearly ten years of existence, thousands of people have entered this place feeling alone and afraid, unsure of how to deal with a diagnosis of AIDS or cancer that has shattered their world and challenged all their beliefs. They have left with a feeling of connection, strength, possibility, direction, and hope.
Making the Transition
This does not happen overnight, and there is no magic box through which people are processed. What there is is The Big Group, the heart and soul of Friends In Deed. Every Monday and Tuesday evening Cy O'Neal, Friends In Deed's founder and president, leads a group in which people share their fears and dreams, their pain and joy, their triumphs and challenges. O'Neal's job, as she sees it, is to keep the room safe for everyone and to provide unwavering spiritual and emotional support. She does this by holding to nonsectarian spiritual principals that are universal to most spiritual traditions, by making sure that everyone agrees to keep what they hear confidential, and by sharing a seemingly simple philosophy that on closer inspection is really quite radical -- that peace of mind is found by living in the moment and that the quality of our lives is not determined by our circumstances.
"We have never been about fixing the circumstances," says O'Neal. "In fact, we're not much interested in them. When someone shows up with an HIV diagnosis, we don't care where they got it, when they got it, or who they got it from. The Friends reaction is, 'Ahh, okay. That's tough. Where are you with this and what do you need?' This creates a sense of safety, because we don't add more fear to theirs by agreeing that something terrible has happened. We encourage people to hold two levels of reality at once. On one level, we honor your feelings by acknowledging that something very painful and fearful is happening and that it is okay to feel that way. On another level -- at the same time -- we encourage you to see that nothing bad is happening, that this is just a part of your journey, and that it may in fact be the most valuable part of the journey you have ever had. The primary tool we offer people is the knowledge that you don't have to change your circumstances to change your life. All you have to do is change your perspective. And we support you in making that transition. It is very empowering to look at whatever is happening through new eyes instead of being overwhelmed or crushed by circumstances, to view whatever is happening as a phenomenal opportunity to change and to grow."
Advertisement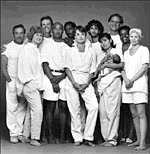 Deeds
In addition to The Big Groups, Friends In Deed offers one-on-one crisis counseling, body and energy work (including Reiki, Shiatsu, Polarity, massage, Reflexology, yoga, chiropractic care, and cranial-sacral therapy), along with a host of monthly workshops and seminars that offer information and support on a wide range of topics (see below). All services are free of charge, with no questions asked.
Friends In Deed also has an HIV/AIDS Educational Outreach program. In cooperation with the NYC Board of Education, staff and volunteers from Friends go out to high schools around the city and talk about living with AIDS. They also run a weekly after-school Open House at their facility, creating a safe space for teens to come together, hang out, and talk about whatever is on their minds.
John Juska, who leads this effort, says, "There is a critical need to educate teens about AIDS. Teachers and parents are often too overwhelmed with other responsibilities to spend a lot of time on this. Many of these kids also need tutoring, mentoring, coaching, counseling, and role models. We have a large community of volunteers who can provide all these things. It's not unlike the early days of Friends, when doctors were so overwhelmed by the sheer numbers of AIDS cases. Then we visited the doctors' offices with our brochures and asked them to send people to us for emotional, psychological, and spiritual support. Today we do the same thing, only it's high schools instead of doctors' offices. Who knows where we'll be tomorrow. But as long as there is an urgent need for support, Friends will be there."
From its beginning in 1991, Friends deliberately chose not to solicit government dollars, not to get caught up in all the reporting that government contracts require and the strings that come with the money. The organization chose instead to rely solely on private funding and on the kindness of their friends, many of them people of great accomplishment and generosity. Film director Mike Nichols, for example, has served as Chair of Friends In Deed's Board of Directors since day one. This nonreliance on government money frees Friends In Deed from having to ask all those questions about age, race, gender, sexual orientation, form of transmission, etc. At Friends these questions are irrelevant; in fact, they are antithetical to what Friends is all about.
O'Neal explains: "Friends is unique in that we do not segregate any groups. We don't have a separate support group for women with breast cancer or men with AIDS. We put them all in the same room. It gets people out of their specialness, out of that 'But you don't understand -- my tragedy is worse than yours' attitude. It's all the same. Being terrified of dying from AIDS and being terrified of dying from cancer are exactly the same thing. We try to join around our similarities rather than divide over our differences. Ultimately, everyone starts to see that we are all the same. It breaks isolation. Also, everything we do is aligned with the same philosophy. It's another part of what makes this a safe place for people. There is a consistency of message in what people will hear from a therapist in crisis counseling, or in The Big Group, or in a small support group, or at a workshop.
"And what we're doing here is not for absolutely everyone," she warns. "Some people come and say, 'Get me out of here!' There are many ways to work, and for some this is not the way. It's tough here. This is a very no-bullshit place; it doesn't get supported here. When people start bullshitting in The Big Group, I stop them. It's my job as facilitator to keep the room safe by keeping us all focused on the feelings we have now -- in the moment -- rather than on someone's 'poor me' story. I would say that people who don't get it, don't get it at all! But for those who do, working here can be a thrilling and phenomenal experience."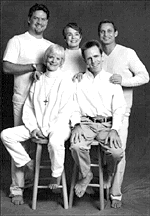 Friends
One person who does get it is Bill, both a client and a volunteer. "At first, I came here because I thought I was dying. I had helped a number of friends to die but had never dealt with the idea of my own death. I was in a lot of turmoil, even though I have a higher power and a pretty deep sense of spirituality. Also, because my health had begun to decline, I had to retire, which was a very difficult transition for me. Who would I be without my job? It was terrifying. But over time, about eight or nine months, my anxiety began to subside. There's no way to really tell someone exactly what it's like. It is impossible to describe precisely what goes on here because its very experiential. You have to come here. And yet there is a philosophy here at Friends which is very practical. They have a take on spirituality, life, and one's path that helps you throw out all the garbage and get on with your life."
Bill is one of the many volunteers at the center of all the work at Friends In Deed. The procedure for becoming a volunteer is the same as for receiving services: Come to a few Big Groups, see if this is a place for you, and then sign up. As Bill puts it, "There is a strong sense of community formed here because the people who use the services and the volunteers are one and the same. As I began to heal spiritually, I made friends here and watched them heal too. I began to have hope and to be more accepting about death. They're not afraid to talk about it here. It's an everyday issue. In the outside world you are an 'other,' but here you are just like 'Yeah, yeah, yeah. So you're dying. BFD. We're all going to die sooner or later.'"
"They are also very conscientious about taking care of people when they're in trouble," Bill continues, "physically or spiritually. They visit you in the hospital or at home. They'll even get someone to clean your apartment if you can't do it yourself. One friend was hospitalized while on vacation in Puerto Rico, and a staff person from here flew down to make sure that everything was okay. It's what keeps me here. Things have changed a lot for me with protease inhibitors. There are times when I am really pissed that I'm not going to die. I did all this work to prepare to die and now I'm not. It's like the rug was pulled out from under me. I had disassembled most of my life, and now to rebuild something that is me requires the support that I get here."
O'Neal adds, "We encourage everyone to volunteer. In a way, being of service to others is the most self-serving thing you can do. We have always maintained that an experience of community was essential to who we are. And that continues even if you are unwell and can't attend the groups. Also, our services are open to absolutely everyone, including the friends, family, and caregivers of anyone who faces a life-challenging illness."
The staff at Friends (only five including O'Neal) and their longevity with the organization are testimony to the power of the work. Both John Juska, Director of Programs and Volunteers, and Director of Outreach Cynthia Burke have been with Friends since the beginning. Both of them lead The Big Group in O'Neal's absence. Juska and fellow staff member Jon Read lead a Big Group on Monday afternoons, and Juska heads up the teen drop-in program on Thursdays. According to O'Neal, "Some administrative staff have come and gone, but the people who work directly with the clients stay captivated by the power of the work and the positive influence it has on their own lives. We can't imagine working anywhere else."
Even before she founded Friends In Deed, O'Neal had worked on the front lines of the AIDS epidemic. When asked what had changed and what had remained the same over all this time, she thinks back. "The main difference is in the population," she says. "When we started, almost everyone had an AIDS diagnosis. Now a large percentage still do, but other people have learned about Friends In Deed, and every week people arrive at our door newly diagnosed with cancer, leukemia, lymphoma, and other life-threatening illnesses. A lot of people dealing with grief also show up. The AIDS crisis is far from over and many issues remain the same, but we see more and more people who are looking for support around how to live with HIV and reinvent themselves."
O'Neal's focus is on today and tomorrow. "What's thrilling here is how we see people change," she says. There are people here today who are, in every sense, unrecognizable from the people they were when they walked in. The way they walk, the way they talk, their whole aura is entirely different, and very often their circumstances haven't changed at all! But what has changed is their perspective, and now their life is full of possibility. And this is the real constant: We have never been afraid to talk about dying, but we have never been about death. We have always been about life."
GROUPS AND WORKSHOPS
Friends In Deed's menu of services changes to respond to the needs of the people it serves. Here are some recent groups and workshops that have been offered by Friends:
Return to Work Issues
Creating Optimal Health with Polarity
Kundalini Yoga -- Attitude of Gratitude
Don't Take It Personally
How To Reduce Stress
Outreach Art Workshop
Journal Writing Workshop
Aromatherapy
Creative Career Design
AIDS Mastery Workshop
Strategies in HIV Treatment -- An Update
Unblocking Creativity
Reiki -- Taking Your Health into Your Own Hands
Body & Soul -- Body Image and Spirituality
Internalized Prejudice -- Homophobia, Racism, Sexism
Love and Letting Go
Exploring Past Lives
The Wisdom of Dreams
Managing Anger
BECOMING A FRIEND

Anyone affected by a life-threatening illness who is interested in Friends In Deed's services or feels moved to contribute his or her own resources of time and kindness is welcome to become a "Friend."

Drop-in groups meet weekly, and workshops meet on weekends and in the evening. No reservations are necessary for drop-in groups, and the same is usually true of workshops. It is recommended that anyone interested call ahead to verify when groups and workshops are meeting and to find out about additional services that may be offered.

Volunteers form the cornerstone of the organization's services. From home and hospital visits to support for family, friends, and caregivers, Friends In Deed reaches out to its community, working to see that no one has to face the challenges of life-threatening illness alone.

Friends In Deed
594 Broadway, Suite 706
New York, NY 10012
(212) 925-2009 (voice)
(212) 92l5-2688 (fax)
www.friendsindeed.org
Frank Abdale is a partner in Mitchell/Abdale Associates, a development consulting firm based in New York City. He is a frequent contributor to Body Positive.
Back to the March 2000 Issue of Body Positive Magazine.