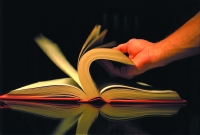 Living and Dying in 4/4 Time
By Paul Gallotta
Upstart Press, ISBN# 0-9701274-8-0, $12.95
Paul Gallotta has written a book about the AIDS epidemic from the previously rarely examined perspective of the social worker. Originally a journalist interviewing heavy metal rock musicians such as Axl Rose, Sebastian Bach and Ozzy Osbourne, Paul started volunteering at New York City's GMHC soon after the organization was founded. At the time, he was himself still struggling with coming out. Today as a proud, out gay man he lives in South Florida with his partner, with whom he is bringing up a child. He works as a Project AIDS Care Case Manager for Center One in Fort Lauderdale, South Florida -- one of the region's oldest AIDS service organizations. He won the Wansiki Foundation's Humanitarian of the Year in 1996 and the People With AIDS Coalition Unsung Heroes Award in 1997. For the last fifteen years he has kept a diary, which has now been published under the title, Living and Dying in 4/4 Time. Below, Paul provides answers for Body Positive readers to some questions he's commonly asked.
When did you start writing?

I've been writing professionally since I was 14, almost 30 years, mostly in the music press, but some political and hard news as well. I've written for publications like Circus Magazine, Billboard, in Florida The Miami Herald and City Link as well as a lot of travel magazines.
Advertisement
Is this your first book to be published?
Yes, but it's important to understand that I backed into this. It was never meant to be a book in the first place -- at least that wasn't my intent. I'd been writing an annual AIDS diary for a local newspaper, City Link, for about five years when a client of the agency I worked for said it would make a good book. I said, "Whatever." He did the legwork and proselytizing without my input or assistance.
What has the reaction of your family and friends been?

Gallotta: My family isn't dealing with it well for a number of reasons. I live in Florida, which is a very conservative state. My partner is a child abuse investigator who redefined the expression "bringing work home with you" four years ago. A few years back, they removed a little girl from her lesbian birth mother and gave custody to her ex-husband, a convicted murderer. For that reason, I won't discuss my immediate family. My family in New York is also concerned; my mother keeps saying, "Do you want people to know you did drugs and slept around?" I'm like "Gee Mom, I'd think that would have been obvious to anyone who's ever met me." My friends have been very supportive, provided I leave out most of the reasons why they're my friends.
How do you write? Do you aim to write every day, when the mood strikes, first thing in the morning, last thing at night?

I started writing as way of coping with things I didn't understand. I'm not much for confrontation, so when I find myself stuck in a situation that doesn't make any sense to me -- which is pretty much a daily thing -- I write it down. Again, it's not meant for general consumption, but helps me cope, and thus far it has prevented heading to the state capitol with an assault weapon (laughing).
What are you currently working on?

I am currently working on a play; it's a lighthearted old-fashioned screwball comedy about the end of the world. Then if anyone is still paying attention, I'm working on a novel about a hurricane and its impact on the eccentrics in a small Florida coastal town.
Where did you learn to write?

I don't really think anyone learns how to write other than by just sitting down with a pen and paper and doing it. I really don't think you can be taught. In fact, my old fiction-writing professor in college told me I'd never amount to anything and I was wasting his time by taking his class. And just look at me today, I'm an underpaid social worker who has both a book and a play published completely by accident . . . wait a second!
What authors had the greatest influence on your writing?

While I love reading, I don't think any authors truly influenced me. If I had to pin it down, my influences were more musical. You don't have to understand what Edith Piaf is singing and, for the most part, you can't understand what people like Bob Marley and James Hetfield from Metallica are singing, to understand what they mean. What I try to do is capture the spirit that I'm feeling at any given time through words. Writing about emotions is like trying to describe colors to a blind person.
What advice do you offer anyone out there trying to make it as a writer?

Believe in yourself. Don't try to capture the style of any other writers, because we are all unique. And either your uniqueness will work for others or it won't. But that doesn't make it any less valuable to you as a person. That, and if you are going to sell out, you had better make sure someone is buying.
What have you done in your working life alongside your writing?

I've held some pretty, errrr, educational jobs, I was a baker a restaurant run by the mob where I learned that sometimes the best thing you tell someone is nothing at all. I was a bartender in a neighborhood restaurant where I'd see men with their girlfriends during weekday nights and again with their wives on Sundays. That reinforced the first lesson I'd mentioned. I've worked in the complaint department at Macy's in New York City, and that taught me to learn not to laugh at people's foibles or self-medicate.
Do you find it easy to leave "AIDS at the office" when you finish the day?

I don't leave it at the office at all. That might be both my best and my worst quality as a social worker. What I have learned is acceptance. I view myself as sitting in the passenger seat of a speeding car with Jesus behind the wheel. (Although, in honesty, sometimes I feel like it's Charles Manson driving.) I don't really have much of a choice but to go along with what's happening to me and try and learn from it, then use what I learn to help the people I work for.
What is your family situation? Children? Partner?

I believe the euphemism is "I've been shacked up" for four and half years with probably the most tolerant man this side of Gandhi. He has temporary custody of a little girl who serves as a constant reminder that God does in fact have a killer sense of humor.
Where were you born and raised? Where did you go to school? What did you study?

I tell people I was born in Brooklyn because it's too humiliating (not to mention somewhat redundant) saying I'm from Queens. I was a product of a Catholic education for 8 years and I eventually graduated from Queens College with a degree in English Writing. I also did extensive fieldwork in the drug abuse and human sexuality fields. I only stayed in college to avoid the draft. Then as soon as I stopped drinking, I realized the draft had ended about 10 years earlier.
What are you currently reading?

I am currently rereading the Bible. I find it frustrating to see people who call themselves Christians but who apparently don't have the slightest idea what it was Christ actually said and who then espouse views that contradict what the Bible says. I take great consolation in knowing that Jesus is up in Heaven watching this and scratching his head in disbelief.
How long have you lived in South Florida?

I've lived in South Florida for 11 years. When I moved here I was one of those irritating New Yorkers -- "Oh, this isn't how they do it in New York! They have two speeds here, slow and reverse." Then it was like Invasion of the Body Snatchers. After about two years, I went to sleep one night and woke up wearing black socks and sandals, with my belt line two inches above my naval, and I couldn't see over the steering wheel of my car when I drove very slowly on I-95. (laughing) Now I wouldn't leave here at gunpoint.
You have a play opening soon. What is its title and what is it about?

The title is St. Francis' Adagio and it's a comedy based partly on an incident recounted in Living and Dying . . . One day I watched a client of mine hit her baby daughter in the face with a belt. I succeeded in having the girl removed, but only for two days or so. When I realized that I couldn't do anything about the situation, I did what I do best when I'm angry and frustrated. I sat down and I wrote. In an hour I had the outline of the play. That would probably explain why the humor, while hopefully very funny, is extraordinarily bleak and at times in horrible taste. I was going for a cross between Les Miserables and professional wrestling.
What do you hope to accomplish with Living and Dying . . .?

It's going to sound as pretentious as hell, but I'd die happy if it just got people to realize that ordinary people can do extraordinary things if they'd just try. Most of the old crowd I ran with expected me to be dead or institutionalized by now. While I'm light years away from being respectable, I do feel that I serve a purpose and that at the end of the day, I've done something to justify the space I take. I'd also be thrilled if my book simply got people to realize that the AIDS crisis isn't over yet.
Excerpts
June 5, 1995
It looks as if Hurricane Allison is here. It's raining so hard I can't even see the view across the street from this 14th story apartment. I'm waiting in the living room of a very difficult client named Jim. My mentor Terrie is doing the intake. I'm observing, although to be honest, I'm really nodding out. Jim is in his early 60s and is having some trouble adapting to his situation. First the meals on wheels weren't good enough. Then the food at the food bank was not up to his standards. He's fired three home-care attendants so far, for no valid reason. And I have to wait here for #4. I've already told him if he fires this one, he's on his own.
June 8, 1995
Karl, a 30-year-old recovering addict client of mine apparently made unwanted sexual advances at his personal care attendant. Then there's Annette, 23 years old, cute as a button, seven months pregnant and suicidal. Another lady went into respiratory arrest so I had to run to a neighbor's house to call the paramedics (she had no phone). We'll be drinking early tonight. Very early.
June 15, 1995
I celebrated turning 36 by having the Tasmanian Devil running over a smile face tattooed on my right hip. It seems appropriate. I spent the day delivering food and I intaked my first Hindu client. It was spacey. He's more American than Indian, an IV drug user. An Indian doctor and his family have taken him in without really knowing the guy all that well. I warned them to watch their valuables. The doctor said he was a Brahman and it was his responsibility to look after this guy. Go figure.
June 16, 1995
This has been one major suck-ass week. I've lost four clients in three days; I've added on six more. I'm beginning to think dealing with home-bounders isn't too bright an idea. I ran into one of my former clients, a 40-something Arab, at the gym this morning. He followed me from machine to machine telling me how he needed money for his rent. I kept telling him I don't work until 9 a.m. I wasn't his case manager, etc. But he only heard what he wanted to hear. Finally I yelled at him in a voice loud enough so everyone in the free weight room heard me. I told him to start steppin' or he'd be Shi'ite outta luck. I guess American idiomatic statements are a bit too complicated for him to comprehend.
June 18, 1995
I got an emergency page this morning -- I never thought I'd learn to hate anything that vibrated as much as I hate this friggin' pager. With good reason. A client I had scheduled for a Wednesday meeting had his entire family fly in from Pennsylvania, California and Orlando, and he needed me to help explain this situation to them. What he didn't tell me was that his father was a Pentecostal minister. And he never told his family he was gay or that his cancer was AIDS-related. When he let the cat out of the bag, you could feel the air leave the room. I've never had to help anyone arrange their own funeral with 8 family members watching us with Orphan Annie eyes. But miracle of miracles, a happy ending at last. They're all actually pulling together for him.
June 23, 1995
I swear, sitting here in the stillness of an early South Florida summer twilight, I can hear God snickering. I was in Pompano Medical Center, and quite by accident I ran into Oakie, the guy Jack had dumped me for. He was in with a high temp and some other stuff. I said hello and he gave me the evilest glare and said that he and Jack were a couple again, wasn't it wonderful? Then before I could politely excuse myself he handed me the telephone. With which I came within a millimeter of bludgeoning him to death. Two guesses who was on the other end. Talk about awkward. While Oakie sat there gloating, I was tempted to shoot back a dozen evil sentiments ("Why Oakie, those KS lesions on your face don't go with your hospital gown!") but I visualized a half dozen of my guardian angels clapping their hands to my mouth and dragging me out the door. So I told him no one was happier for them than me and I beat a hasty retreat, while humming "Time is on my side." Evil -- true, but he was gloating so loudly he didn't pick up on it.
June 25, 1995
One of the advantages of dating a guy in New York is that we're too far apart to ever get in each other's face. I saw Chris and we went to the Gay Pride Parade, but ended up back at his place by three. Then you want to talk about it being a small world, he told me he lived with another couple. Who turned out to be George and his lover Gary. I suppose I should have told him that I had been involved with George, but I couldn't. The timing didn't seem right. I'm sure George will tell him if Chris gives him enough info about the guy from Fort Lauderdale who he's been seeing.
July 3, 1995
The Fourth came a day earlier. What I've been treating as a stomach virus turned out to be hepatitis. I've dropped nearly 15 pounds in two weeks, and I feel like 150 pounds of chewed bubblegum. My eyes are yellow and my skin is orange. That makes it all but impossible to coordinate a wardrobe without resorting to earth tones. In Florida? In the summer? To make matters worse, even though I'm home-sick I've still got Mr. Happy. And he's vibrated non-stop for the last 3 hours and I just don't have the ability to drive around giving out diapers. Mr. DeMille, don't even think about a close up.
July 13, 1995
I felt the hand of God touch me today. Okay, it was an open-handed slap to the back of my head, but that's beside the point. My HIV test came back negative. Maybe I've learned a valuable lesson. Maybe not. It was one year ago today that I walked out on Dick. And I still can't get him to give me back my personal belongings. Why do we call them our "ex's"? He's more like a "why"? But with these test results, I know of at least one thing that he didn't give me. I should shut up and be grateful.
July 15, 1995
This was the worst one yet. Tim, an old friend of mine whom I met while criticizing a play about 4 years ago died at 3 a.m. this morning. Apparently they put him on a ventilator despite his living will's instructions to the contrary. Living wills are worthless unless you carry them around with you. Oddly enough, there was a benefit for him and Poverello, a local food bank at the "Bus Stop," a hustler bar. Despite feeling like downtown Bosnia and looking even worse, I dragged myself there to say goodbye. Another stupid move in a lifetime of 'em. A reporter from the "Miami Herald" was there asking people about Tim, and his ex was there playing the part of the grieving widow too well. I was tempted to ask him if he cried as much when he used to beat Tim up or sleep around on him. Unlike my usual decompression methods, I couldn't get drunk. I was advised not to smoke pot. Percodan, anyone?
July 17, 1995
I've always believed that whatever two consenting primates do in the privacy of their own homes is their own business. I don't understand some of the more exotic sexual practices, but hey, I'm willing to accept that as my problem. Until today! I don't understand what the turn on is when people urinate on each other, but boy did I get a golden shower from Rita, a charming Haitian lady who knows how to milk the system. She paged me at 8 a.m. sharp and told me that she didn't have enough food for breakfast for her children and that they would have to go to school without food. When it comes to children, I'll run. So I did. I shoehorned a trip in to Poverello, busted my still-operating-at-half-speed ass hauling 40 pounds of groceries up three flights of stairs to discover that she didn't want me to put the food in the refrigerator. I didn't just fall off the twinkie truck. She not only had enough food to feed a third world country, but she had the kind of stuff I couldn't afford. When I confronted her she started crying that I didn't know how fast children went through food. I told her if she tried it again, I'd get her cut from all forms of assistance. I can't do that of course, but she didn't know that.
July 21, 1995
I found out today that my mistakes shorten people's lives. Jim, whom I dismissed as being irascible because he kept firing all of his home care, is now in Pompano Medical Center circling the drain. It wasn't that he was a difficult man. He had dementia. After he dismissed his last personal care attendant, he didn't know enough to eat. I'm only required to visit once every three months unless I have reason to believe something is wrong, and every time I called he told me he was fine and to quit bugging him. I never had any cause to visit since the middle of June. Which was about the same time he stopped eating. Didn't this man have any friends? From the looks of his apartment, I'd pegged him for one of those A-list gays. Where did all of his friends go? Sometimes life is just a box of chocolate Ex-lax, and there's no toilet paper left.
July 22, 1995
I had just oiled myself up and flopped down at a friend's pool in Boca Raton when I got a 911. Loretha, a formerly pretty black lady in her early 30s had instructed her hospice workers to notify me when her breathing went chain-stoke. Meaning the curtain started to come down. Her 4-year-old daughter was kept in the adjacent room, while we held hands and she occasionally groaned. I couldn't think of anything comforting to say, and I couldn't even force myself to maintain eye contact. I just held her hand and put cool cloths on her forehead. She died around 4:30 p.m. and they came and took her daughter away, because her own family didn't want the responsibility. I picked a bad month to give up drinking. And I broke my #1 commandment: Thou shalt not get high while driving. I auto-piloted home and the rest of the weekend remains a bit -- mercifully perhaps -- hazy.
July 26, 1995
Today was a good one; it will heretofore be known as my Midsummer Night's Massacre. Between 5 p.m. last night and 10 a.m. this morning, I've lost five clients, including that guy who had forgotten how to eat. Then 20 minutes into our conversation, Keith, a new client from my old neighborhood in New York informs me he has TB, the one HIV-related illness which can be spread through casual contact. Keith lives in one of those places that people like me never get to see. Unless, I suppose, I became a crack addict. He says, every night you can hear guns going off. His mother says his dream is not to die here. I head back to the office to file the paperwork, and Tom the receptionist puts an emergency call through to me, because everyone else was outside smoking or at lunch. A junkie who is starting to become symptomatic has a pistol pointed at his head and he just wanted someone to hear it going off. Fortunately, I flagged down Linda Tatum, the head of our therapy department. I should have gone into proctology. Well, maybe I did and I just don't realize it.
Back to the
March 2001
Issue of
Body Positive
Magazine.