Mangia Bene!
Hearty, Hot, and Wholesome Italian Foods for Winter
July 2002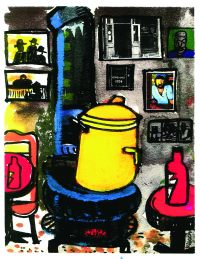 Art by Robert Leach
Winter has arrived, and it's my least favorite time of year. My body doesn't respond well to the season; no matter how many layers of clothing I put on, when I'm cold, I'm cold. Therefore, I tend to be out of doors as little as necessary until the temperatures start to rise.
Fortunately, I have a number of interests that I can pursue in the warm comfort of my apartment, one of which is cooking. And that bodes particularly well, because the foods of winter are my absolute favorites: a compensation, no doubt, for my general dislike of the season. Hearty, savory meals give me a sense of comfort and fulfillment during the cold months, and provide the pungent tastes I enjoy so much.
Hearty AND Healthy
However, I watch my diet to maintain good health, as well as because of my tendency towards high cholesterol. And, I'll admit it, I'm careful for vanity's sake -- I don't want all those years of working out to go rushing down the drain. So, I look to prepare meals that are not only satisfying to my palate but also healthy.
Advertisement
This may sound like a tough course to follow, but it really isn't. I'm of Italian-American descent, and food always played an important role in my household when I was growing up. My mother was a good cook, but she didn't really love the process. While she wanted to put a tasty meal on the table (and had to, or else she'd have heard loud protests from my father), she also looked for simple, relatively quick recipes to accomplish her goals. The faster she finished the preparation, the more time she had to sneak in an extra soap opera in the afternoon, or have a coffee session with her girlfriends.
I've inherited most of my mother's recipes and, over time as I've built my own skills as a cook, I've adapted some to make them either healthier or even easier to prepare. "Easy," by my definition, doesn't always mean "fast" but it does mean using simple ingredients and preparation steps.
Another thing about my Italian-American home, and most of the homes in the Bensonhurst section of Brooklyn where I grew up: there was a definite pattern to eating. In the winter, it went something like this: Monday night there was a homemade soup, usually chicken or beef, after which came a second course that followed the ingredients of the soup. Tuesday there was pasta with tomato sauce left over from Sunday, and the accompanying meats.
Wednesday was "American" night, as my mother called it, since we'd eat a one-course meal, often meatloaf, hamburgers, or hotdogs; Thursday was pasta again, this time with garlic and oil or a simple marinara sauce, often followed by veal cutlets breaded and fried. Friday was a meatless soup, such as macaroni and bean ("pasta e fagioli," the Americanized pronunciation being "pasta fazool") or lentil soup, followed by fish. Saturday was always steak night, and on Sunday, the midday meal was the well-publicized Italian staple: pasta with tomato sauce, meatballs and sausages, followed by a roast of some sort surrounded by vegetables.
Feasting With Flexibility
There was some leeway in the routine. For example, soup could be substituted as a first course on Thursdays, leaving Friday open for pasta. This was always good news, since that pasta often was linguini with clam sauce. Or, other interesting dishes could show up on a number of evenings. One favorite was escarole with beans; another was steak pizzaiola, a luscious concoction of steak cooked in tomato sauce with spices. The sauce was served over thick, long perciatelli pasta, and the steak came second.
On holidays, two changes occurred: we upped the ante a bit, having even more intricate, multi-coursed dinners. More importantly, my father took over the kitchen. He was a superb cook, and loved creating delicious "specialty" dishes.
Needless to say, certain recipes accompanied specific holidays. On Christmas Eve, there was a seven-course fish dinner that always started with a multi-ingredient seafood salad. On New Year's Day, we always had rice balls as an accompaniment to whatever else the fare was: cooked rice that had been tossed with egg and parmesan cheese then molded into balls, the center of which were stuffed with beef cooked in tomato sauce. The balls were then breaded and fried to a crisp exterior but as you bit into them, you tasted a moist, cheesy-gooey interior until your tongue reached the middle and savored the buried meat. All of these dishes took time and used lots of pots, pans and utensils. And invariably, my mother wound up yelling at my dad for "using everything in the house," since she was on clean-up duty when he cooked.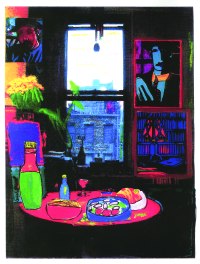 Art by Robert Leach
Continuing Tradition
And so, I continue to eat many of the foods from my childhood, although not necessarily in the proscribed weekly order. After all, my mother is no longer alive to make statements such as: "You're making chicken soup Ronnie? That's nice. But on a Tuesday night?" I do, however, still have a penchant for pasta on Sundays (well, really on any day but especially on Sundays) and I give in to it most weeks. I don't, as in the old days, have my meal in the mid-afternoon, since it kills too much of the day. But on a wintry Sunday evening at about seven o'clock, I'm ready to sit down to a steaming, mouth watering bowl of pasta, followed by a second course, just like in the old days.
Since we all have to eat, and usually have to cook our own meals, I thought I'd share some of the recipes I've known all my life. I've chosen five that will not only cover your Monday through Friday dinners (and you too can eat them in any order you choose), but will also yield some good leftovers for an occasional lunch or weekend dinner. My criteria for selecting the recipes were: good flavor, of course; good nutrition; simplicity of preparation; relatively inexpensive ingredients; and a nice balance of tastes and textures.
I chose dishes that make good main courses. You don't necessarily have to precede or follow these with anything else; you should, however, always accompany them with a vegetable and/or a salad. And while I'm on the nutrition soapbox, it's always good to have a piece of fruit as a finale to a nice dinner. It's healthy, delicious, and beats the processed sugars of traditional desserts. Save the cake and ice cream for once-in-a-while treats. I believe that the good metabolism I've maintained all my life is largely a function of having developed consistently good eating habits. It's never too late to start a balanced nutrition regimen, and if you're living with HIV, it's more important than for most people.
Try these recipes and see how they'll help you cope better with the cold weather, as they do for me. All of them serve at least two people. And if you like the way they turn out, invite your friends for a warm, wintry dinner. Mangia bene!
Recipes
Simple Macaroni and Bean Soup (Pasta e Fagioli)
1 19 oz. can cannellini (white kidney) beans
1 8 oz. can tomato sauce (salt-free if available)
3 Tbsp. olive oil
1 small onion, chopped fine
2 cloves garlic, chopped fine
1 cup small pasta (ditalini, small shells or small elbows work well)
Rinse the beans in a strainer with cold water to remove much of the thick packing liquid. Put the olive oil in the pot on medium heat and add the onion and garlic, stirring once they begin to sizzle. Stir occasionally until they become golden colored (NOT brown), then add the beans. Raise the heat and stir the beans until they begin to simmer, then add the tomato sauce. Fill the empty tomato sauce can with water and add that, too. Bring to a boil, stir, then lower to a simmer, cover, and cook 10 minutes.
All this can be done up to a day in advance. When you're ready to serve, bring the soup to a slow boil and add the pasta. Cook, uncovered and stirring often so there's no sticking, until the pasta is just short of cooked to your taste (usually, about 10 minutes, but this varies with pasta shapes and brands). I say "just short" because the pasta will continue cooking for a bit in the hot liquid once you've turned off the heat. When the pasta is cooked, drain the pasta and add salt and pepper to taste plus a sprinkling of grated Parmesan cheese.
Steak Pizzaiola
(Named thus because the sauce is prepared much like pizza sauce.)

1 and 1/2 lbs. chuck steak, or any inexpensive cut, preferably with a bone
4 Tbsp. olive oil
3 cloves garlic, chopped fine
1 28 oz. can of crushed tomatoes (I like Redpack brand, but any will do)
1 8 oz. can of tomato sauce (salt free, if possible)
1/4 tsp. dried oregano
1 lb. pasta (perciatelli or bucatini work best; else linguini or spaghetti)

Put the olive oil in a large sauté pan, turn the heat to medium high, and when the oil is hot put in the steak. Let it quickly brown on one side, then turn it and rapidly brown it on the other (it should NOT be fully cooked, just browned on the outside). Remove the steak, lower the heat, wait a few moments for the oil to cool a bit, then add the chopped garlic. Let it sauté, stirring, until it begins to turn golden (NOT brown). Add the crushed tomatoes, tomato sauce and oregano. Stir from the bottom, scraping up any bits of meat or garlic that may have stuck to the pan. When the sauce begins to bubble, add the steak and let it simmer very lightly, uncovered, for one hour. Optionally, if it's to your taste, add 1/8 tsp. of red pepper flakes.

Cook the pasta and serve it with the sauce as a first course, with a sprinkle of Parmesan cheese. Serve the piping hot steak as a second course.



Chicken Soup
1 whole chicken, about 4 lbs.
2 large onions, peeled and quartered
3 carrots, peeled and cut in large chunks
2 celery stalks, cut in large chunks
2 cloves garlic, peeled
3 MORE carrots, this time peeled and cut into 1/4 inch slices
2 MORE celery stalks, this time cut into 1/4 inch slices

Wash the chicken thoroughly; if it comes with the liver and gizzards, you may put them into the soup if you like, or discard. Put the chicken, onions, the first 3 carrots and 2 celery stalks (chunky cut) and the garlic into a soup pot. Add enough water to cover by one inch. Bring to a boil on high heat, then lower the temperature and let simmer, uncovered, for one hour.

Strain the soup through a strainer. Discard the vegetables and let the chicken cool a bit. While it's cooling, let the strained soup come to a low boil again, and add the second set of carrots and celery (sliced). Let these cook about 15 minutes, or until just about done to your taste (they'll continue to cook a bit in the hot liquid after you turn off the heat).

Optional: You may add other vegetables, such as one cup of diced zucchini or one cup of chopped spinach or escarole, when you add the second set of carrot and celery.

Meanwhile, pull the skin off the chicken, pluck the meat from the bones and shred it by hand into bite-sized pieces. Add to the broth. Add salt and pepper to taste. If there's a lot of chicken meat and you like your soup thinner, use some for the soup, and the extra to make chicken salad, or a plain chicken sandwich.

Healthier note: I always make chicken soup a day in advance. After it's cooked, cool it to room temperature then store, covered, in the refrigerator. The next day all the fat will have risen to the surface, and will be easy to remove with a spoon, so you can have fat-free soup. Also, the taste of the soup improves the next day.



Chicken With Mushrooms
1 lb. chicken cutlets, preferably thin-sliced
4 Tbsp. olive oil
3 cloves garlic, chopped fine
2 Tbsp. parsley, chopped fine
1 cup water
1 chicken bouillon cube
Optional: 1/2 cup Marsala cooking wine
1 8 oz. package fresh mushrooms, thoroughly washed and sliced, or 1 can sliced mushrooms

If the chicken cutlets are thick, you can slice them in half, on the length, before starting. Heat the oil on a medium-high flame in a sauté pan; add the chicken cutlets but don't crowd the pan (you may have to sauté them in 2 batches). Once they start to brown, and this will be quickly, turn and quickly brown the other side. They don't need to be fully cooked, they will sauté in the cooking juices. Remove chicken to a plate when browned. Lower the heat, wait for the oil to cool a bit and add the garlic. Sauté until golden (NOT brown), stirring. When golden, add the 1 cup water, raise the heat, and scrape the bottom of the pan as the water boils. Add the bouillon cube.

If using marsala cooking wine: add BEFORE the water, bring to a boil, and let it reduce by half. Then continue adding water and bouillon.

Put the chicken back into the hot liquid and add the mushrooms. Bring to a boil, uncovered, and cook 5 minutes. Lower heat to a gentle simmer, cover, and cook 30 minutes. Add chopped parsley. Add salt and pepper to taste, and serve.



Filet of Flounder and Potatoes
1 lb. flounder filets, or any other thinly filleted, white-meat fish
4 medium sized potatoes, peeled, washed and dried
3 cloves garlic, chopped fine
3 Tbsp. parsley, chopped fine
5 Tbsp. olive oil
3 plum tomatoes (also called "Roma" or "egg" tomatoes), chopped

Preheat oven to 375. Chop garlic, parsley and tomatoes before starting. Slice potatoes as thinly as possible and put in a baking dish. Toss with half the garlic, half the parsley, and 3 Tbsp. of the olive oil. Make sure the potatoes are well covered. Place in oven for 15 minutes.

While they are cooking, mix the rest of the garlic and parsley, place the other 2 Tbsp. of olive oil, and the diced tomatoes into a small pan, turn the heat to medium, and let cook about 5 minutes, until the tomatoes begin to soften. Then spread the tomato mixture over the fish fillets. After the potatoes have cooked for 15 minutes, turn them, scraping up any bits that may have stuck to the bottom of the pan. Cover them with the fish fillets, and cook for another 10 minutes. Serve piping hot.

Ronald C. Russo is a freelance writer living in New York City and a regular contributor to Body Positive.
---

This article was provided by
Body Positive
. It is a part of the publication
Body Positive
.
Advertisement