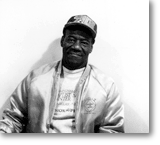 Willie Robertson remembers when he first found out he was HIV-positive. "I was given $15 to have my blood tested; I needed the money for a hit. When I tested positive I was told to follow up and to go to Jersey City Medical Center, but I didn't. I went into denial instead."
During the course of his 51 years, Willie has been in and out of prison. "I went into prison in 1989, got out in 1990, back in in 1990, and out in 1991." Yet, it was in prison where his life began to change for the better due to support from a chaplain and others associated with the facility. He started going to meetings that helped him understand and deal with his addictions and HIV status. After his last release from prison in 1991, he was determined to take care of himself and share what he had learned with other people affected by HIV and addiction.
Willie started drinking at age 16 and using drugs when he was about 20. "I was playing the game. I started with marijuana and pills, and eventually worked my way to heroin, my drug of choice." But he's been clean of all drugs for six-and-a-half years now as the result of a 12-step program that he says gave him a new life, and his first real family. "I make at least one meeting a day, maybe two. For it to work, you have to make it your life -- the most important thing in your life. You can't slack off. You gotta go to those meetings, and you gotta share and help others. By doing these things you also help yourself."
Now Willie takes very good care of himself by taking his medications and regularly attending meetings. However, there's one thing of which he's especially proud. "I speak to groups about drugs and HIV. I speak at high schools and colleges. I've spoken to kids as young as fourth-graders. The kids are very interested. They want to know everything. They give lots of feedback and ask lots of questions -- how, where, why. They want to know if I'd live my life the same way if I had it to do over, or what would I change. It's very satisfying. I really enjoy talking to kids."
Advertisement
Willie is on disability, and receives an additional stipend for the talks he gives at schools. "I can sure use the money, but my real reward is getting to know the kids. Lots of them have family members on drugs, and when I talk to them they understand why their uncle or brother or sister acts the way they do. I feel that somehow I help them to clear up things in their lives that they're confused or bothered about. When they understand a relative's or friend's behavior, it gives them a sense of peace, even if they can't change it. They know that they themselves aren't nuts; they're okay."
I asked Willie about his life now; what his days are like. "Well, I go to lots of meetings, of course, and give as many talks to kids as possible. I give talks in the county jail and the schools. I really have sort of a regular life except for the speeches. I had some very hard times with the virus, and I'm on new medication now -- a new combination of medications. I've gained 30 pounds and have never been heavier than I am now. I take medications twice a day. But I get up, have breakfast, take it easy, just like everybody else. I do a lot of phone work, calling recovering addicts and their families. Phone work is just as helpful for the addict, but for me it's more important to be there. I can see that I'm helping with that personal contact. I'm really big on helping people. I need to be around positive people; their company helps me, along with positive movies, books, food. I try to keep it all up.
"Now I live with five other people in a house furnished by Corpus Christi Ministry in Jersey City. I've been there four months. I love it, and plan to stay there the rest of my life. It's a big six-room house with three baths, and we all have our own room. Corpus Christi Ministries has three houses in Jersey -- two houses for single people and one for women with children. Everybody gives one-third of their income to help support the houses. There's a staff there to run the house and guide people, but there's a waiting list. They try to keep the racial balance constant, plus, there's lots of love and good healthy food. I love them like they're my family."
Regarding his own family, Willie explains, "I have an ex-wife, three sons, and two daughters. When I first told them about my HIV status, my older daughter rejected me. My youngest son was the only one who said he still loved me no matter what. Now my whole family is there for me; they're all very supportive, especially my ex-wife. I've come a long way. I have one son in prison on drug charges, and he says he's in a 12-step program. Time will tell. Everyone else is okay."
Looking back at how his life has changed since he was diagnosed with HIV, Willie concludes, "At first I thought the virus was a death sentence, but it's really given me a life. Now every day is precious to me. I have a reason to live. I'm helping people. I make a difference. When God decides to call me home, he'll have to catch me on the move because I'm moving a lot."
For more information about the housing offered at Corpus Christi Ministries, contact Elsie at (201) 521-9634.
Back to the March 1998 Issue of Body Positive Magazine.