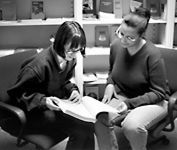 More than 3,700 women are inmates of the prisons of New York State, making it a national leader in female incarceration.
An additional 2,000 women are currently housed in New York City jails.
The majority of female inmates are incarcerated for nonviolent, drug-related felonies.
Approximately 80 percent of women prisoners have histories of substance abuse.
More than half of these women probably suffer from a major psychiatric disorder, usually post-traumatic stress disorder or clinical depression.
Approximately 75 percent of incarcerated woman are mothers, most with two or more children. More than 70 percent were caring for at least one child at the time of arrest.
In 1996, more than 7,600 children had mothers in prison in New York State. Children of parents involved with the criminal justice system are six times as likely as their peers to go to prison themselves.
Roughly 33 percent of women leaving the jails and prisons are homeless.
More than 18 percent of women incarcerated in New York State, and over 25 percent of women inmates entering city facilities at Rikers Island, are HIV-positive.
The picture that emerges is clear. Large numbers of HIV-positive women are confined to the jails and prisons of New York. Most of them also have other serious problems, such as substance abuse, psychiatric disorders, and homelessness. Most are mothers. And almost all will sooner or later be paroled or released back to the community, bringing their virus and their other problems with them.
Some will be helped on the road back by the Transitional Services Unit of the Women's Prison Association.
TSU's New Home
At first glance, the Brooklyn headquarters of the Transitional Services Unit could pass for the offices of a successful for-profit enterprise -- a consulting firm perhaps, or a small ad agency.
Advertisement
That's at first glance. Then a visitor might notice some differences: There's a basket of condoms on the reception desk. The magazine rack offers, not
Forbes
or
Fortune
, but
Body Positive
.
After seven years in more typical CBO surroundings, the TSU has just moved to its new digs on the ninth floor of an office building in Brooklyn Heights. The location, however, is more a matter of convenience than prestige. The offices are only a short walk from the courts and the parole and probation offices that are so much a part of life for most TSU clients. Likewise, on-site services benefit from these more comfortable surroundings. The well-equipped computer lab offers everything from GED prep to advanced word processing and spreadsheet training to women preparing for jobs. A small but well-stocked HIV library offers educational materials from safer-sex pamphlets to HIV nutrition books in two languages and for all literacy levels, as well as reference materials for professionals. Small and medium-sized meeting rooms allow for one-on-one counseling and group meetings that respect and preserve the privacy of participants.
The life of the TSU program, however, is not confined to these offices. It reaches into the women's jails and prisons, the parole and probation offices, the foster care system, drug and alcohol rehabs, AIDS service organizations, the medical and mental health systems -- all of the institutions that touch the lives of women caught up in and emerging from the criminal justice system.
The Women
The Transitional Services Unit was formed in 1992 specifically to serve the needs of HIV-positive and high-risk women as they make the transition from the criminal justice system to the community.
A year earlier, a new administration at the century-and-a-half-old Women's Prison Association had undertaken a major reexamination of the program needs of women in and leaving prison. This needs assessment coincided with an explosion of HIV and AIDS in communities of color and among women. It seemed clear that women in prison -- over 90 percent of whom are black or Latina, most with histories of intravenous drug use and/or exchanging sex for drugs -- were a population very much at risk for HIV and very much in need of transitional services aimed at their special needs.
Today, TSU offers a continuum of services, from jail and prison through release, including the stages of probation and parole, and in the community. These include HIV/AIDS education, counseling, and peer group support, coupled with comprehensive case management that helps to reunite women with their children and to obtain housing, medical care, public assistance, and drug treatment.
The System
To understand how the Transitional Services Unit operates, it is important to understand how the system operates, what happens to a woman from the time she is arrested until she returns to the community. The first stop after arrest is Rikers Island, a bleak chunk of land in New York City's East River, made bleaker by the several detention facilities that crowd its landscape. Here, unless she makes bail, the woman awaits trial (or, more likely, agreement on a plea bargain).
When the case is resolved, one of three things may happen: The woman may be convicted of a crime and sentenced to a year or more in prison, in which case she will be sent to an upstate facility -- usually Taconic Correctional Facility or Bedford Hills Correctional Facility. She may be convicted and sentenced to less than a year, in which case she will serve her time closer to home at Rikers. Or she may be released immediately -- acquitted of the charges, sentenced to time served, or placed on probation.
The Transitional Services Unit may become involved with a woman anywhere along the line, and the nature of its services differs somewhat according to her situation and her short- and long-term needs. There are three major components to the program.
Education Services
HIV educators work in five correctional facilities and four borough probation offices to provide information about the virus, do prerelease planning and counseling, and make referrals to community-based services for women leaving the correctional system.
The first phase of the program is primarily jail and prison based. When a woman is first detained at Rikers Island, she is likely to encounter an HIV educator from the Unit, either one-on-one or in a group setting. Most of the women coming in at this point have never been tested for HIV, and many are resistant to the idea. A primary aim here is to work with the woman to assess her risk of HIV and to encourage her to be tested. This part of the program encompasses basic HIV education, one-on-one counseling, and preparation for departure from Rikers, whether to an upstate facility or back to the community.
Upstate -- that is at Bedford Hills and Taconic -- the program takes a somewhat different form. ACE -- AIDS Counseling and Education -- is a peer-run program where inmates, assisted by one full-time Women's Prison Association staff member, provide the services. These include the same kind of HIV education and testing readiness services offered at Rikers, plus a variety of support services. These include not only the traditional support groups for HIV-positive and at-risk women, but special educational services for pregnant women, along with palliative services such as crafts and recreation. Counseling, including pre- and post-test counseling, and discharge planning are provided by professionals.
There are some peculiarities to being tested for HIV in prison. The rule has long been that anonymous testing -- where the identity of the person being tested is not known to those performing the test -- was not available in the prisons. Confidential testing -- where the person's identity is known to the tester, but the tester is required by law to keep all information about an inmate's HIV status confidential -- was the only option available to prisoners ... for all that "confidentiality" means in a prison setting.
Now, just as New York State is officially adopting names reporting for HIV surveillance, the prisons seem to be moving toward anonymous testing and recognizing prisoners' right not to disclose their HIV status to the authorities. Go figure.
Transitional Case Management
The second component of the TSU program provides short-term assistance to the same HIV-positive and high-risk population of women as they return to the community. Case managers and HIV counselors help them secure housing, public assistance, medical care, counseling, and drug treatment. If a woman has already tested positive, either before being incarcerated or while she was inside, a primary goal is to connect her with services on the outside.
Where possible, peer mentors -- many of them women who have themselves been incarcerated -- meet the woman literally at the jailhouse door. If that's not possible (and transportation can be an issue), peer mentors meet the train.
This is not simply a case of the peer mentors being nice. A woman emerging from incarceration is at her most vulnerable, often homeless and without resources. If she is HIV-positive or has other medical needs, she often is released without either her meds or a prescription.
She is typically released at night and put on a train back to the city, where she is dropped at the 125th Street/Harlem station in the wee hours. (The people who decide these things apparently feel it is less threatening to the community to dump these ex-offenders onto the street in the middle of the night than to have them visibly arriving in the light of day.) And, of course, it's not unusual for a woman's pimp or dealer to be at the station to greet her and welcome her back to the old life.
It is the peer mentor's first job to make sure that the woman has a place to go that first night. TSU has an arrangement for short-term transitional housing with the Greenpoint YMCA in Brooklyn -- not terribly convenient to the Harlem stop on the New York Central, but reachable by subway. Women can stay up to fourteen days while a longer-term transitional housing arrangement is sought. From there it's a matter of identifying the woman's immediate short-term needs and helping her meet them -- finding a doctor, signing up for public assistance and Medicaid, arranging for food, clothing, and safe shelter.
Community Follow-Up
Once the initial transition to the community has been made, the Community Follow-Up Program offers intensive long-term case management services for women, their significant others, and their families. Eligibility is stricter here, limited to Medicaid-eligible HIV-positive women who are on probation or parole or who have been recently released unconditionally. Incarcerated women and those on work release or day reporting are not eligible.
Case managers in this program link clients to medical, social, family, and support services that will allow them to become self-sufficient and keep their families strong. A three-person team of case manager, case-management technician, and community follow-up worker meet regularly with individual clients and groups for counseling, support, trouble-shooting, and concrete services.
Regaining control of her life after a period of incarceration is seldom easy for a woman. Although she is no longer behind bars, where staff and guards had absolute power over every aspect of her life, there are still a variety of official entities with the authority to make decisions for her that most of us deem no one's business but our own. The Community Follow-Up Program utilizes the many services of the Women's Prison Association to provide the services these HIV-positive women need.
Issue number one for many of the women coming out of the correctional system is to be reunited with their children. This may not be easy. The children may have been placed in foster care. Even if they were being cared for by a family member, social services has often become involved. The distance between New York City and the upstate correctional facilities is likely to have prohibited frequent -- or any -- visitation by the kids. Although every study ever done on the subject has shown that these women care about their children more than anything else in their lives, and that their historic role as primary caregivers to their children is a prime motivator to success and disincentive to recidivism, the courts and social service agencies often either resist or drag their feet when it comes to reuniting children with their ex-offender mothers.
The Incarcerated Mothers Law Project, run by the WPA in partnership with Volunteers of Legal Service, offers legal assistance to incarcerated mothers, runs workshops on parental rights for women before they are released, and provides one-on-one advocacy.
Other aspects of the Community Follow-Up Program also use the many resources of TSU's parent Women's Prison Association: long-term transitional housing at its two residential facilities, recreational and social services for clients and their families, and advocacy services.
Does Size Matter?
Given the enormity of the need in terms of numbers, TSU's caseload is small. Approximately 250 HIV-positive and at-risk women and their families receive services, in and out of prison, over the course of a year. About 100 of these are assisted with housing needs.
Given the enormity of the need in terms of the diverse and complex problems involved, however, TSU's program is rich. It boasts many successes, some of whom have gone on to work for TSU or become involved with other ex-offender and AIDS groups, including Body Positive.

The author wishes to thank the WPA's Director of Development & Communications Vicki Zubovic, Communications Manager Ariel Zeitlin Cooke, and HIV Counselor Marian Inguanzo for their assistance in the preparation of this article.
Back to the March 1999 Issue of Body Positive Magazine