Aaron and the woman were the ones who needed support. The two men who had shot drugs tested negative.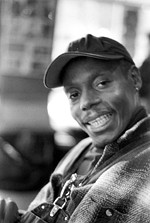 When I asked Aaron Greggs why
Body Positive
wanted to make him a Power of Example, he said he didn't know. Despite the fact that he himself had written articles for HIV publications, including Body Positive, he said he had no idea.
Then he told me his story.
Aaron found out he was HIV-positive in April of 1992, when he checked into a drug and alcohol rehab. His counselor suggested he take the HIV test, so he did, along with three others, a woman and two men. Aaron was unprepared for the result he got. The two other men had shot drugs, and he and the woman never had. Aaron was trying to pysch himself up to be supportive to them in the face of such devastating news, but it turned out that he and the woman were the ones who needed the support. The two men who had shot drugs tested negative.
His first reaction was denial. He simply didn't deal with it. But after a while, that became impossible. Aaron has had many physical ups and downs since his diagnosis. He's had viral pneumonia three times and bacterial pneumonia once. He has disordernomia, a rare form of neuropathy that sometimes makes walking difficult. He has a nerve disorder for which he takes a medication that brings his white blood cells down, so he has to take other medication to bring them back up. On the day we met, Aaron had just come from the doctor, where he found out he has three T-cells and a viral load of 70,000. The doctor wants to put him on new medication to boost his T-cells and bring his viral load back down.
Advertisement
This kind of life is not new to Aaron. "It really is a full-time job" just dealing with his HIV diagnosis and condition, he says. "It's been a battle, sometimes very scary." Aaron was so sick and weak and wasted at one point last year that he really needed help. "I had to ask friends to come over and help me wash and dress. I couldn't do it by myself." He thought it was over, but they took him to the hospital where he was treated, began regaining his strength, and made a remarkable recovery.
How does he go on?
"A lot of praying. I pray to my Higher Power, whom I call God. I don't believe God gives me more than I can handle. All this struggle has made me stronger and more determined. Maybe I'll be an example to someone else. This is a battle. AIDS will win in the end, but I'll fight to the very end."
There's been much to overcome in addition to Aaron's HIV-related health problems. There's been fear of rejection and discrimination because of the virus, both in the public sphere and in Aaron's personal and romantic life. There's been loneliness. "People who are HIV-negative can't completely understand,"Aaron says, "even though they mean to be helpful." There have been struggles with alcoholism and drug addiction, and Aaron has now been clean and dry for three years. And there has been much loss, both of friends and family members.
Aaron's older sister died of AIDS last year. She'd lost her sight and hearing, and Aaron was at her bedside, holding her hand when she died. "She inspired me," he said. "She never gave up. Then when she passed I could see she was at peace. She could see and hear again. She was in a better place."
Despite all of this, Aaron says, "I'm very grateful for each day of life. I can walk, see, hear, I'm in the right frame of mind. I'm aware of my actions. I don't feel crazy. I'm fortunate to have medication to extend life." Aaron feels life was unmanageable before rehab and the virus helped him focus. "What do I want from life? What am I doing? With this information I feel more able to work on my life."
Not all days are good. "Sometimes I cry. But I always get through somehow. A friend calls me up, we talk on the phone, and before I know it I'm asleep and it's a new day." And there's been an enormous amount of adjustment to go through. "I was the kind of person who wouldn't even take aspirin before, so now taking medication is a big change." Aaron currently takes twenty pills a day and must give himself two injections.
Aaron credits others with helping him get through. He has supportive friends and a family in Brooklyn. At Gay Men's Health Crisis he met a lot of people and took advantage of their services. At Momentum AIDS Project he participated in substance abuse and spiritual support groups. In Brooklyn he got involved with People of Color in Crisis and volunteered in their Buddy Program. He surrounds himself with positive people. He has his recovery. He has his faith. "Just never give up. Just hold on. Hold on to your faith. It'll get you through. It's gotten me through."
Any words of advice for the newly diagnosed? "Support groups can help. Identification with other HIV-positive people really helps. And don't think you can have unprotected sex . You don't need a double dose of the virus or a new strain. You still need the protection you needed when you were negative. Life is not over just because you have HIV. You can have fun and passion. Take care of yourself as long as you can. You just have to be strong."
Why did Body Positive want Aaron as a Power of Example? With those parting words, it's not too hard to imagine.

Photo by Fredda Tone
Tom Weber has worked for nearly ten years at Gay Men's Health Crisis, Inc., formerly as a Coordinator in the Volunteer Department and currently as Volunteer Coordinator of the Buddy Program.
Back to the March 1999 Issue of Body Positive Magazine