I, Thomas K. Duane, do solemnly swear or affirm that I will support the Constitution of the United States and the Constitution of the State of New York, and that I will faithfully discharge the duties of the office of Senator, according to the best of my ability.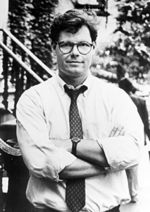 With these words and one hand on a copy of the Braschi decision (which protects the right of unmarried individuals to succeed their lease-holding domestic partners in rent-regulated apartments in New York City), on January 31 City Councilmember Tom Duane became State Senator Tom Duane. As the first and only openly gay, openly HIV-positive member of the state legislature, Duane is the lawmaker that much of the HIV/AIDS community will look to for representation in an increasingly hostile legislative environment.
Indeed, healthcare and the rights of the disabled figure prominently in Duane's senatorial agenda. In his inaugural remarks, Duane touched on many issues of concern to people with HIV and AIDS and to their caregivers, advocates, and loved ones -- expanding the Medicaid program to meet more fully the needs of low-income New Yorkers; ensuring that both public and private healthcare benefits include significant provisions for mental health services and the treatment of drug and alcohol addiction; and the development of programs to expand in meaningful ways the options available to people with disabilities.
These priorities are only part -- albeit a significant part -- of a liberal-to-progressive political stance that stresses what Duane characterizes as "compassion." His commitment has at its heart an end to the vilification of poor people, immigrants, labor unionists, people of color, lesbian/gay/bisexual/transgender individuals, and others targeted by many sitting comfortably in their seats of power.
Advertisement
Duane is a strong proponent of a civil rights bill to protect lesbian, gay, bisexual, and transgender individuals against discrimination in employment, housing, criminal justice, and healthcare. He is a vocal advocate of legislation that would not only punish bias crimes but would provide documentation of the nature and prevalence of hate crimes in New York State.
In his inaugural address, Duane also reaffirmed to his supporters a commitment to women's issues, such as reproductive rights and especially clinic access. He pledged to work toward reform of New York's infamous Rockefeller drug laws that contribute so much to the state's costly and counterproductive overuse of incarceration and to the huge numbers in its jails and prisons. In Duane's vision, public money would be better spent on education, both in the public schools and in expanded services at CUNY and SUNY, New York's city and state universities; on real investment in the arts; on services for the state's young people; and on other programs aimed at improving the lives of New Yorkers.
Duane has also turned his reformer's eye on his new legislative home, the New York State Senate. Besides pledging support for genuine campaign finance reform -- something everyone's in favor of, at least until the campaign finances being reformed are their own -- Duane favors opening the windows by allowing television coverage of the legislature at work.
The new senator has his work cut out for him. Where New York State was once a national leader in protecting the rights of people with HIV and AIDS, today the mood in Albany is controlling and punitive.
The New York State Senate is dominated by very conservative Republicans from largely rural upstate districts. The Senate Majority Leader is Joe Bruno of Rensselaer, outside Albany. Bruno is well-known for his anti-gay positions, notably his opposition to domestic partnership legislation and same-sex adoptions. He gained wider notoriety in New York City two years ago, when he led an assault on rent regulation that threatened thousands of low- and middle-income New Yorkers with the loss of their homes.
It's important to state, however, that anti-HIV/AIDS bias in the state legislature is not the exclusive province of upstate conservative Republican senators. The architect of the state's new names-based reporting and partner notification/contact tracing laws is Nettie Mayersohn, a Democratic assemblymember from the New York City borough of Queens. This legislation is covered in detail in the January 1999 issue of Body Positive, and an update appears on page 20 of this issue.
Assemblymember Mayersohn's new laws are only a part of a growing package of anti-HIV/AIDS measures on the state level. A bill sponsored by Assemblymember Steven Kaufman and Senator Serphin Maltese, also discussed in January BP, would make it a crime punishable by fifteen years in prison for a person who knows he or she is HIV-positive to have sex or share needles with another person without disclosing that fact.
The shift away from policies beneficial to people with HIV/AIDS can be seen too in the proposed fiscal 1999/2000 state budget submitted by Governor George Pataki. This budget would eliminate funds that support progrms that facilitate adherence to complex medical regimens and that underwrite permanency planning to enable HIV-positive parents to ensure that their children will be cared for if they die. Where has that money gone? In the governor's proposed budget, it has moved, picking up additional funds along the way, to support the controversial HIV registry, contact tracing, and administration in the state's AIDS Institute budget.
Specifically, $1 million of the AIDS Institute's budget for permanency planning would be eliminated, as would $1 million in patient education and case management services to promote compliance with treatment therapies and drug regimens. The budget to administer the newborn screening for HIV program, on the other hand, would be increased by $109,600, and another $590,000 would be devoted to administering the HIV surveillance and partner notification program on the state level. And a whopping $4.1 million would be allocated to municipalities for HIV surveillance and partner notification.
Yes, with few state legislators sympathetic to the growing and changing needs of people with HIV and AIDS, with a State Senate characterized by antipathy toward gay/lesbian/bisexual/transgender individuals, toward low-income people, and toward New York City in general -- groups overrepresented in the state's HIV/AIDS profile -- Duane does indeed have his work cut out for him.
Duane's record of activism, however, in and out of public office, holds out hope for a larger impact than we might expect from a single legislator, and a lowly freshman at that.
Tom Duane is a lifelong New Yorker, born in 1955 and raised in Queens. He has been a resident of New York's Chelsea neighborhood, part of the district he now serves, since the late '70s. He attended Lehigh University, where he earned a degree in Urban Studies and American Studies.
A long-time community activist, in 1982 Duane was elected to the first of four terms as Democratic District Leader. He was appointed to the local Community Board, where he served for seven years. In 1991, he was elected as the first openly gay member of the New York City Council and became the first openly HIV-positive elected official in the country.
As an AIDS activist, Duane co-founded the Chelsea AIDS Committee and is a member of ACT UP. His first legislative act as a Councilmember was his successful work toward the passage of two resolutions that strongly urged the Centers for Disease Control and the Social Security Administration to expand their definition of AIDS. The resolutions were passed unanimously in time to be included in the CDC and SSA comment period. During the administration of Mayor David Dinkins, he persuaded the city to join a boycott of Astra Pharmaceuticals in protest of that company's price gouging of Foscarnet, one of the few drugs that treats AIDS-related blindness.
In 1992, Duane successfully fought to increase by over $1 million the city's budget for AIDS and tuberculosis services. The following year, he led the fight to prevent a proposed $30 million in cuts to the Division of AIDS Services. This was followed in 1993 by his tireless work in the successful campaign to save DAS, which Mayor Rudolph Giuliani was threatening with complete elimination. In 1995, Duane campaigned to preserve HIV testing and counseling sites around the city that were slated to be closed.
In 1997, the City Council passed Duane's DAS legislation that, among other things, made the continued existence of the agency mandatory, increased its staff, mandated improved oversight of its management and operations, and created a Bill of Rights for DAS clients.
An outspoken advocate for human and civil rights for persons with disabilities, in 1992 and 1993 Duane organized a successful campaign against a Council bill that would have repealed part of the human rights law for people with disabilities. The Council also passed Duane's 1997 resolution calling upon the Taxi and Limousine Commission to initiate a pilot accessible tax and livery program. He marched in the first Disabled Independence Day March and has done so every year since.
Duane has also worked to save other programs on the city's budgetary chopping block. He has repeatedly fought to reduce proposed cuts to youth services, libraries, Legal Aid, and other social service programs. In 1995, Duane saved the funding for juvenile prostitution diversion contracts, which provide financial support for organizations such as the Hetrick Martin Institute, Victim Services, and The Door -- groups that are among the only organizations in the city that do outreach and provide services to street youths.
While on the community Board, Duane helped develop and advance the Chelsea Plan, the city's first community-initiated land use and zoning plan. The plan's aim was to preserve the low-rise nature of this neighborhood, protect affordable housing, protect Chelsea's historic districts, and encourage responsible development. Duane has since helped the contiguous neighborhoods of Greenwich Village on the south and Clinton on the north develop similar plans.
A long-time tenant activist, Duane was a leader in the fight to secure succession rights to rent-protected apartments for life partners and family members, serving as a spokesperson on this issue for the Tenant Unity Coalition. He has also actively supported the strengthening of current loft laws and laws and regulations regarding rent control and rent stabilization. In 1995 and 1996, Duane helped coordinate the effort to rid Chelsea of slumlords who housed DAS clients in illegal and dangerous conditions.
Duane also has a history of supporting women's rights, and has been active in efforts to establish sexual harassment guidelines and educational trainings for members of the New York City uniformed services. In 1992, when a female firefighter was assaulted during a routine medical examination, Duane and other feminists mounted a campaign that forced the doctor, an employee of the Fire Department, into early retirement. Duane was also outspoken in his criticism of then Police Commissioner Brown's decision to reinstate a male police office who was found guilty of sexual harassment.
Duane has defended women's health clinics under attack by Operation Rescue. He organized citywide escort training during the 1992 Democratic National Convention, when anti-choice demonstrators attempted to prevent access to clinics throughout the city. He followed up by organizing a similar training for Councilmembers later in the year. In the City Council, he introduced legislation calling upon the Board of Education to improve its sexual assault reporting and counseling systems. He is a co-founder of Chelsea for Choice and a member of the National Abortion and Reproductive Rights Action League.
As a defender of gay and lesbian rights, Duane has led large demonstrations in response to homophobic statements and actions by public officials (including his new colleague, State Senate Majority Leader Joe Bruno, recently defeated State Attorney General Dennis Vacco, and the infamous Congressional representative Dick Armey (R-Texas). During the national boycott of Colorado, which had recently enacted anti-gay legislation, Duane successfully forced the City of New York to cancel a multimillion-dollar contract that was pending with a Colorado corporation.
In the City Council, Duane authored a bill to codify domestic partnership benefits to which city workers and residents are entitled and to eliminate discrimination in city law between married couples and domestic partnerships. He has also pressed for legislation, modeled on San Francisco law, that would require businesses having contracts with the city to provide benefits to domestic partners of their employees if they provide benefits to employees' married partners.
Duane was officially sworn in to his new office, along with the rest of the state legislature, on January 6 in Albany. The January 31 inauguration in Chelsea, therefore, was more in the nature of a celebration, and a gathering of Duane's personal and political clan.
That the ceremony was the political place to be was demonstrated by the Who's Who of current and past city officials in attendance, along with several from the state level. The federal level was represented too, in the person of Representative Jerrold Nadler and newly minted U.S. Senator, d'Amato-slayer Chuck Schumer.
That the ceremony signified a personal milestone was attested to by the many members of Tom Duane's family of origin who shared the stage, and by the presence at his side of his spouse, Louis Weber. It's way too soon, of course, to predict what impact the voice of one HIV-positive state legislator will have on the course of policy in New York State. But Tom Duane's track record on HIV/AIDS issues is good, and, anyway, it's one more voice than we had before.

Laura Engle is Editor of Body Positive magazine.
Back to the March 1999 Issue of Body Positive Magazine