In countries where no legal protections ever existed for people with HIV and AIDS, a lack of privacy is assumed, not lamented.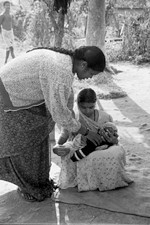 In the United States, people living with HIV and AIDS face a host of new challenges to living successfully with their disease. These challenges arise in the medical, social, and political arenas alike: Despite the promise of today's drug therapies, the price of HAART (Highly Active Antiretroviral Therapy), both financially and physically, is prohibitive to many Americans. Meanwhile, legal changes in state-level AIDS reporting threaten our collective sense of social and personal security. We watch our rights to privacy progressively slip away from us and into the jurisdiction of state governments only too eager to assume responsibility for notifying our "contacts" of our serostatus.
But in the less developed countries of the world, where the vast majority of HIV infections are occurring, the perspective on "living with HIV" is much different. HIV-positive people in less developed nations also face challenges from the medical, social, and political arenas, but these challenges are lumped together into one giant "development" problem of macroeconomic proportions, to be addressed by archaic bureaucracies.
This idea may sound familiar to Americans with HIV and AIDS and to AIDS service providers who have been frustrated time and again by their dealings with federal and state governments, insurance companies, and hospital associations. But in the less developed world, the state of AIDS service delivery in the United States sounds like a dream come true. American "problems" embody an enviable state of political and social development, never mind their indications for health service availability.
Abroad, the AIDS pandemic is causing such massive economic and social devastation that the "hot issue" is not, for example, how to safeguard employment for people with the virus; rather, it is how to ensure that in ten years enough people will still be alive in a given country to fill the jobs available. HAART is utterly irrelevant in the three-quarters of the world where AZT represents the limits of sporadically available pharmaceutical innovation. And in countries where no legal protections ever existed for people with HIV and AIDS, a lack of privacy is assumed, not lamented.
Advertisement
Those Frightening Statistics: the Asian Example
Meanwhile, in the West, we've heard statistics from around the world that are so shocking in their magnitude that we cannot even fathom them. Last summer, South Africa admitted that nearly one-quarter of its population is estimated to be HIV-positive, recalling the horrors of the earliest AIDS stories from the African continent. Just two months ago, India heralded the advent of the nightmare proportions of HIV prevalence in Asia, estimating that up to four million Indian citizens were living with HIV.
The New York Times prints an occasional piece to illustrate these figures, but in this country, these numbers are simply incomprehensible. Reading a Times story in a Western urban reality, our collective perception is unavoidably skewed. Contrary to what we might think, the article about a Calcutta-based ASO does not indicate a strong presence of AIDS services in that mega-city; it indicates only the experience of one Indian ASO, with maybe one medical professional among nine staff members, serving Calcutta's fifteen million residents.
And Calcutta represents the best-case scenario: The majority of the developing world is rural, and poorly served by roads, telephone lines, and even post offices. Hospitals are spartan facilities, often depending on reusable syringes and offering only the most basic of medical services. Despite the skyrocketing numbers, there simply are no services developed specifically for people experiencing AIDS-related illnesses.
Extreme as this statement may seem, the experiences of HIV-positive people throughout the Asia-Pacific region only confirm its sad truth. The diversity of the region is fantastic, and its experiences with the AIDS pandemic are correspondingly varied. Yet one constant within all of this variety seems to be the lack of care for people with HIV and AIDS.
Thailand
Even in Thailand -- the country so often touted as the AIDS "success story" -- facilities for people experiencing AIDS-related illnesses are so overrun with patients that no new cases can be accepted. According to Brother Richard Bunch, Ph.D., who directs a residential center for people with HIV and AIDS in Bangkok, "One of the largest medical facilities for people with HIV and AIDS in Thailand, located in Bangkok, serves 500 people every Friday in its outpatient clinic -- but only thirty beds are designated for AIDS care on an in-patient basis."
Now that scores of Thais who were infected with HIV in the early and mid-1990s are progressing to AIDS, where are they receiving care? "Not at a hospital," Brother Richard responds simply. "Despite the well-known fact that if opportunistic infections are treated early, people with HIV and AIDS will live longer and healthier lives, hospitals accept only the most serious of AIDS cases. Unless you are in the late stages of chronic illness, you must seek care elsewhere."
And that care will almost certainly be on an extremely limited, outpatient basis. Even those who are lucky enough to live in Bangkok and can get to the capital's AIDS clinics are normally sent home armed only with a bottle of penicillin to aid them in their fight against AIDS.
While Americans lobby for the development of pharmaceuticals with fewer side effects, Thais gasp at the boggling array of medicines available in the United States. The national organization of Thai People Living With AIDS is indignant at the fact that American universities carry out research throughout Thailand, while no pharmaceuticals are regularly available from even the best Thai hospitals. For HIV-positive people who do not happen to be pregnant women involved in an AZT trial, access to even that archaic antiretroviral is an unattainable dream.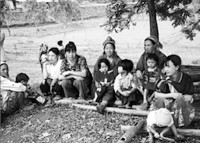 "As a community health practitioner in Thailand, pharmaceuticals are irrelevant to my work," agrees Brother Richard. "I've heard about 'the new drugs,' but I don't even really know what that term means, because we don't have treatment information services or easy internet access to web pages over here. Moreover, for the average Thai, those drugs are absolutely, categorically unattainable."
Throughout Asia, including the vast majority of Thailand's rural areas, the only "medicines" that exist are found in the local AIDS service organization's herb garden. While an increasing number of Americans and Europeans with HIV and AIDS are turning to herbs and Eastern therapies as complementary to their Western medical regimens, this "alternative" medicine is the only therapy to which most Asians have access.
Northern Thailand's ACCESS, an ASO that has been active in the fight against AIDS since the Thai epidemic's beginnings, has made a priority of training a cadre of Thai villagers to travel through the more remote areas of the North to teach people about herbs and home care for the HIV-positive. And spreading the knowledge isn't easy: Travel to these remote areas is often extremely difficult and can be totally impossible during Thailand's three-month rainy season, when mud roads are washed away.
What's more, the Asian financial crisis may be in the process of knocking Thailand's fight against AIDS back to its pre-"success story" levels. When the Thai currency crashed in June, 1997, international aid agencies had long since decided that Thailand was well on its road to development. Many agencies were in the process of dramatically curtailing their aid to Thailand, if not entirely closing their doors. By 1996, when mass prevention campaigns ensured that every Thai schoolchild had heard the word "AIDS," and when infections suddenly dropped among male army conscripts, the battle was thought to be won.
For this reason, when the economic crash occurred, few emergency measures could be implemented to offset the damage to Thai development efforts. Decisions to pull out of the country had already been made. With the Thai baht devalued and industries folding by the dozen, the Thai government lost any power it might have had to compensate for the closure of these agencies. Not only could the government not afford to fund new AIDS programs, but it lost the ability to support existing ones. Now, in 1999, while Thailand is still reeling from a two-year-old financial crisis, the outlook is again dark.
India
On the other hand, the Indian government suddenly seems to be receiving all of the attention and assistance that the Thai government recently lost. Because AIDS is considered a development problem, HIV/AIDS-related programs must submit to the volatile whims of politicians. Since the 1960s, voices from the health and social sectors have been raised against the capricious and unsustainable nature of bilateral and international economic development programs, which can include initiatives sponsored by the United Nations, the United States Agency for International Development (USAID), Family Health International, and a huge array of other international players. Yet even in 1999, no significant structural changes in the disbursement of aid have been achieved; one country's massive need for international aid must be served by the redirection of funds from another, "less needy" country. Because the perception of need is relative, there is simply no absolute measure of progress or achievement.
India paved the way for the shipment of truckloads of international AIDS-designated money when the current Prime Minister Atal Vajpayee publicly admitted in late 1998 that India indeed has a massive AIDS problem. This public admission was the result of months (if not years) of behind-the-scenes work by UNAIDS, the United Nations Joint Program on HIV/AIDS, whose charter is limited to the coordination of AIDS programs being carried out by other U.N. agencies in the developing world.
"Our role is often gravely misunderstood by local agencies and governments alike," comments one Geneva-based member of the UNAIDS team. "We are mainly a coordinating body -- we don't allocate money or implement programs, as our charter does not allow us to do so. Instead, we assist the programmatic efforts our six member U.N. agencies: UNDP [United Nations Development Program], UNICEF [United Nations Children's Fund], UNESCO [United Nations Educational and Scientific Organization], the World Bank, UNFPA [United Nations Population Fund], and WHO [World Health Organization]."
He goes on: "We sometimes sponsor a conference or a training session, but primarily we give needed support to these six 'implementing' agencies. We advise governments, promote the sharing of information, and carry out advocacy efforts on their behalf."
But in the field, UNAIDS's role is indeed misunderstood. Asian ASOs expect some level of support from the principal U.N. body responsible for AIDS programs, and are almost universally frustrated by the perceived lack of involvement on the part of UNAIDS. Although UNDP and others are supposed to seize the "AIDS mantle," the plethora of all types of international agencies working in the field leaves plenty of room for international workers to assume that somebody else is doing the funding and the programming for AIDS.
Most local ASOs have come to expect little from international funders. Even when money arrives, it is often severely restricted to direct programmatic costs -- excluding even the salaries of core staff. "General operating costs are virtually never covered," according to Dr. Ramesh Goud, the founder and director of the SOS Medical and Educational Foundation in Nasik, India. "On a line-by-line basis, we might ask for a reasonable salary for a staff member, or for funding to purchase the most basic computer. But if we do so, we can count on being grilled about these line items when the time comes for funding allocation." To offset these costs, Dr. Goud is currently pursuing a for-profit venture to produce money to support the activities of his ASO.
"The strategy is intended to supplement our international and national funding alike," Dr. Goud notes simply. "Despite the efforts of the government and NACO [the National AIDS Control Organization] there just isn't a lot of national money to access. The creation of a business venture, which feeds its profits directly into SOS Foundation, would provide us with a small but stable income to complement the money we receive from donor organizations. The need for new programs and new sources of funding is constant."
And the need is great, even in the richest areas of India. Nasik is a progressive city, a highly industrialized commercial center, located four hours north of Mumbai (Bombay). Yet no hospital in this city of several million inhabitants will serve a person experiencing AIDS-related illnesses.
"We have been working with commercial sex workers, truckers, and many other groups for almost ten years," says Dr. Goud. "Now we're training and sensitizing police officers to the AIDS situation in classes at the police academy. But what do I do when people actually test positive and need help? Where do I tell them to go? I can counsel them about what it means to live with HIV, and I can tell them everything I know about the Western drug regimens. But, in reality, even the most basic medical care is financially and logistically unavailable to them."
It is undeniable that local AIDS service organizations throughout Asia have created innovative care and support programs in the most remote reaches of many countries, but their chronic lack of resources and high levels of staff burnout constantly threaten their very existence.
Is it worth fighting?
In between the extremes of Thailand and India lies a spectrum of Asian countries and Pacific Island nations whose diversity in sociocultural and economic terms is reflected in the variety of their experiences with the AIDS pandemic. To cite a few examples:
Vietnam's rapid economic development in the last decade was accompanied by the explosion of its commercial sex industry, which led to the quick entry of HIV and its spread throughout the general population. Today, transmission among Vietnamese youth is of primary concern.
Bangladesh's huge population of overseas workers guaranteed the entry of HIV from neighboring Thailand and Malaysia in the early 1990s. The primarily Muslim population of Bangladesh has struggled to come to terms with AIDS education and prevention. Care for AIDS-related illnesses has not yet been addressed on any significant scale.
The Philippines benefited from its geographic isolation, which delayed the entry of HIV. However, the return of Filipino sailors and overseas contract workers brought HIV to the islands, and now the Catholic Church poses the biggest threat to AIDS-related service provision.
With such diverse problems to confront, the international AIDS scenario indeed seems a pessimistic one. But when appropriate allocation of funding is of such primary importance, Americans have a huge role to play in positively affecting AIDS abroad.
Western funding is critical to sustained AIDS prevention and support programs throughout the entire world. Yet many Western funders are simply out of touch with the day-to-day realities faced by people with HIV and AIDS and by AIDS service organizations in developing nations. In the best-case scenario, international funding agencies set their priorities according to the advice of Western researchers and academics -- but these academics often possess little, if any, on-the-ground experience with AIDS abroad. Their advice is therefore biased toward a Western view of the pandemic.
Dr. Ralph Frerichs, Chair of the Division of Epidemiology at UCLA's School of Public Health, represents an extreme version of this type of academic. He has tirelessly advocated for mass HIV testing in the Asia-Pacific region, bringing his viewpoint to settings as diverse as the Southeast Asia-based e-mail discussion forum on HIV/AIDS called SEA-AIDS, and a satellite session of the Fourth International Conference on AIDS in Asia and the Pacific held in 1997 in Manila.
Mass testing certainly assists researchers, and it can be argued that good statistics on HIV prevalence are a prerequisite to good HIV/AIDS-related programming. But in a situation of increasingly limited funding and dire need, is testing the most appropriate response? Individuals who test positive simply cannot live successfully with their disease if even the most basic medical services are not available to assist them. Is it worth spending millions of scarce international dollars to implement mass testing in the developing world, when no money will remain to fund those basic services?
There are notable exceptions to this bleak scenario of poor advocacy and bad funding decisions. The Ford Foundation, for instance, has a long track record of appropriate, sustained funding to local organizations in countries throughout the world. Ford's tendency toward multiple-year grants and its technical assistance to grantees are especially laudable features of its efforts to make AIDS funding more sensible and more sustainable.
But often agencies that are making poor funding decisions are doing so in a vacuum, without any external eye surveying them. In America, our eyes glaze over at the idea of "four million Indians infected," to the extent that we cannot even consider what a sensible approach to a problem of that magnitude would be. We assume, therefore, that someone more knowledgeable than we are is dealing with that problem.
Yet, while we stall, AIDS has already begun to force developing nations to forfeit all of the economic strides they have made in the last few decades. Without a doubt, this economic devastation and its accompanying political and social consequences will come back to haunt the Western world.
In the United States, the common perception seems to be that designating even one drop of funding to international AIDS will take away from our own needs. But international aid and domestic health and human services come from entirely different budget lines. Giving to AIDS abroad does not automatically mean deducting from AIDS domestically.
Advocacy for this type of international funding, however, is sparse and sporadic. An organization called GAAN, the Global AIDS Action Network, spearheads ongoing lobbying in Washington for increased international AIDS funding, but most advocacy occurs only in response to blatant attempts to cut foreign assistance.
In fact, USAID's overall budget of $900 million represents less than 3 percent of the entire national budget: the U.S. allocates a smaller percentage of its budget to foreign aid than any other Western nation. In 1998, only about 12 percent, or $121 million, of this foreign assistance was designated specifically to AIDS control and care programs.
USAID will actually receive a small $4 million increase in its overall budget for next year. Considering the state of emergency beyond our borders, however, this tiny increase seems almost more of an insult than a victory.
What a sharp contrast to our domestic commitment. In this long and dramatic American AIDS epidemic, we've witnessed campaigns, speakers, and advocates of every background render domestic AIDS funding an absolutely integral part of our national budget and concerns. Of course, the money is never "enough," but the commitment is there. If we had even a fraction of that type of sustained dedication to AIDS abroad, the U.S. would certainly contribute to a massive reduction in the impact of AIDS in the developing world.
This prediction can be substantiated by the fact that until very recently American foreign assistance funded only HIV-prevention efforts. AIDS-related care was categorically excluded from consideration. Yet, according to Paul Boneberg of GAAN, it was the National Association of People with AIDS, or NAPWA, that led efforts to put AIDS-related care on the foreign assistance agenda. NAPWA's leadership demonstrates the contribution that Americans can make to the international agenda simply by demonstrating interest and concern in their areas of expertise.
Funding is not the whole answer. Our skills and experiences, so ordinary in the context of American life, can greatly aid workers and HIV-positive people abroad. American ASOs, people with HIV and AIDS, and universities have much to offer their international counterparts in terms of technical assistance, educational exchanges, and other types of nonmonetary support. The National Minority AIDS Council, the Latino Commission on AIDS, and the Global Network of People Living with AIDS are all making strides in creating stronger cross-border partnerships.
Above all, it is our attention that is needed. Take a trip to a less developed country, and have a look around.

To learn more about international AIDS programs and/or advocacy for international funding, contact Body Positive, (212) 566-7333. bodyposedu@aol.com; the Global Health Council, (202) 833-5900, ghc@globalhealthcouncil.org; or the Global AIDS Action Network, (202) 677-6300, GAAN@aol.com.

Photos by Rachel Sacks
Rachel Sacks is Co-Director of Community Outreach and Education at Body Positive, Inc.
Back to the March 1999 Issue of Body Positive Magazine