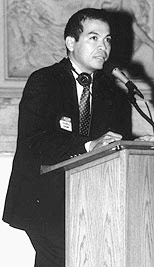 Throughout the 1980s, then dancer Doneley Meris heard cries for help from friends and colleagues in the arts who were devastated by HIV/AIDS. He was witness to dozens of close friends dying from AIDS--before AZT and protease inhibitors--and others who struggled to care for friends. "In the course of eighteen months," he recalls, "I saw 57 people die from this monstrous disease."
Hearing the Plea
By 1993, Meris had changed careers and become a bereavement counselor. Hearing the pleas of artists and dancers, he approached other concerned mental health professionals with arts backgrounds about the special needs of individuals in the arts. These professionals recognized that the HIV epidemic posed unique mental health and multiple bereavement concerns for artists, who had been so hard-hit by the disease, and that these required multidisciplinary and arts-focused supportive services.
Challenged by the minimal HIV-related support provided to artists in the New York City area, a group of gallery directors, playwrights, dancers, artists, and medical and mental health providers agreed to join with Meris to form what would become the HIV Arts Network, or HAN. HAN today is a not-for-profit volunteer organization that offers direct supportive services to individuals in the fine arts and performing arts communities.
Advertisement
Giving voice to artists and performers living with HIV and those who have been affected by the HIV/AIDS epidemic for two decades is the organization's main focus. Rosemarie Castoro, a sculptor and one of the founders who is still on the Board, joined "to continue the artistic legacy of my many artist and dancer friends lost to this horrendous epidemic." Hal Bromm, an interior designer and gallery director who has represented artists who have since died from AIDS, echoes her sentiments: "I saw the isolation of HIV-infected visual artists from the AIDS service agencies, and I wanted to help them have access to the supportive networks that others living with HIV were receiving."
Supporting the Artists
The founders' goal was to provide supportive programs free of charge to the creative individuals in the arts communities challenged daily by the ravages of HIV disease. HAN began meeting this critical need within the dance, theater, music, writing, design, and fine arts communities initially through its innovative, arts-engaged, and psychoeducational support groups. Recognizing that the creative process often disengages an artist from mainstream society, Meris and his team tailored support groups that incorporate music, movement, arts and crafts, poetry, and other creative media. HAN facilitators use these innovative techniques of sharing and combine them with traditional verbal psychotherapy, thus providing artists and performers needed services in familiar venues, increasing their comfort and access.
HAN support groups, which meet for two hours weekly for ten to fifteen weeks, are unique in that they are held in art galleries, dance studios, small theatres, and artists' lofts--workplaces familiar to artists and performers. "Being in the comfort of these arts spaces helps diminish a reluctance from artists to participate in verbal and multicreative exchanges with other group members," Meris points out. He adds that these support groups allow artists to express their HIV, other health, social, and career concerns through their paintings, choreography, identity collages, role playing, movement exercises, music appreciation, and other artistic enterprises, which eases the way for meaningful discussion. As one participant commented, "I get to explain myself through my art--many dance steps--and the group members know exactly where I am coming from. They have been there. They too live with this disease every day. The arts communicate our communal pain."
Supporting the Supporters
Today, HAN continues to offer these free support groups for HIV-positive artists, while also providing support groups directed to artists and performers who are HIV-negative but who have been heavily affected as caregivers by those who have died or are living with HIV. Besides these psychoeducational and arts-driven support groups, HAN also offers free short-term (three to five sessions) individual and couples bereavement and HIV counseling to its target population.
It is not surprising that the multiple losses experienced by artists over the past two decades often result in the need for clinical interventions. HAN relies on a special group of volunteers to provide special clinical counseling sessions. These volunteer mental health providers understand the grief process of artists because they are themselves former dancers, musicians, and painters who made career transitions and became mental health clinicians--psychologists, movement therapists, social workers, and creative arts therapists. They are committed to helping their fellow artists' healing, grief, and health processes.
Making the Voice Heard
In 1996, HAN began collaborating with the AIDS Services Division of The Actors' Fund of America. Together the two groups spearheaded a conference-format forum in which artists could share their HIV/AIDS concerns and challenges. Now held annually during June's Gay Pride observances, this one-day conference for artists and their social support networks explores the impact of HIV/AIDS on their lives and their creative work.
The first AIDS and the Arts Conference, "Surviving Multiple Losses: Artists Respond to HIV/AIDS," was organized with support from Dancers Responding to AIDS and Broadway Cares/Equity Fights AIDS. Since then other HIV/AIDS service and arts organizations, including PWA Health Group, Mayer-Avedon Women's Health Group, Alpha Workshop, the New York City Lesbian and Gay Community Services Center (CenterBridge program), and Friends In Deed have joined to co-sponsor the event, which features panel discussions, performances from renowned artists, and art exhibitions.
Last year's AIDS and the Arts conference, held at the Judson Memorial Church, gave individuals in the arts the opportunity to discuss and explore the theme "Riding the Wave of Optimism: What Happens When the Tide Turns." Performances at that conference included musical actors Karen Mason, Andre DeShields, and David Sabella; dancers Laura Glenn & Company, John Selya, and Ashley Tuttle; and readings from actors Ron Rifkin and Kathleen Chalfant and playwright Sidney Morris. Choreographer and dancer Laura Glenn dedicated a special performance to her husband, fellow choreographer/dancer Ted Hershey, who had died earlier in the year from AIDS. Beth Trevor, a dance-movement therapist who witnessed the moving performance, commented, "The commitment and strength that Laura Glenn and others at the conference shared inspire me to join in the bandwagon to fight this disease."
Cora Salanga, a former dancer who is now pursuing a career in the medical profession, has attended three of the annual AIDS and the Arts Conferences. At the 1999 event, she said, "It was great to be in the midst of a compassionate group of people, either living with HIV or caretakers like me, on a rare occasion to acknowledge and celebrate our healing energies." Another attendee, playwright Michael Bader, observed that "Learning that performers like Karen Mason, Randy Graff, Ricky Ian Gordon, and others have endured personal losses from AIDS while continuing their powerful artistry unites our community to survive."
The 2000 AIDS and the Arts Conference will take place during Pride Month, June 2000. See June Body Positive for details.
---
HAN, through the stewardship of Doneley Meris, gives voice to artists so they can live productive and creative lives and reduce the inherent stress of living with and being affected by HIV. For information about support groups and individual bereavement and HIV counseling and about participating in or attending this year's AIDS and the Arts Conference, call HAN at (212) 385-4945.

M.M. Felicity is a New York City fine artist and historic preservation activist who has written on global warming for several publications. This is her first contribution to Body Positive.
Back to the May 2000 Issue of
Body Positive
Magazine
.