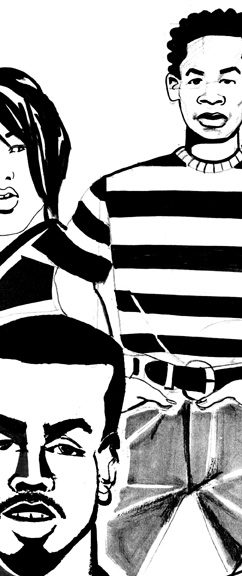 Illustration by Elton Tucker
This article, originally featured in the November 1996 issue of
Body Positive,
unfortunately remains highly relevant today.
Sheryl is a 15-year-old African-American youth from the Bronx. She is not preparing for her sweet-sixteen party this October when her birthday comes. Nor is she looking forward to getting together with her friends and family to celebrate this rite of passage into womanhood like many other girls her age. Sheryl will be doing none of this while serving time in a state-operated youth lock-up for juvenile criminal offenders.
She probably spent the time before her birthday in October, preparing for a court appearance to determine her placement in future months. Complicating her placement decisions, is the fact that Sheryl is one of a growing number of youths with HIV/AIDS living in youth lock-ups.
Sheryl comes from a family infected with HIV/AIDS, and is an orphan of the AIDS epidemic. While in the care of her custodial aunt, she turned to delivering street drugs for the neighborhood dealers rather than going to school. This course of events has brought her to where she resides now: under lock and key.
Advertisement
Many of us recall the struggles that characterized the period of our lives called adolescence. Imagine undergoing these struggles accompanied by the stigma of HIV/AIDS. Now add to this already troubling situation being incarcerated in the juvenile justice system, and one can easily see the traumatic plight of incarcerated youth living with HIV/AIDS. Each year the juvenile justice system continues to receive HIV-infected youths who, for various reasons, have wound up in group lock-ups.
Aside from providing an environment for the further spread of infection among inmates, these lock-ups fail to provide the necessary remediation programs for criminal youths.
The problem then becomes twofold:
the increasing rate of these teen infections, in turn, increases the rate at which children are born to infected mothers. This results in a potential second generation of HIV-infected youth; and
the youths who are removed from society eventually return unprepared to cope with a living environment that is affected by HIV/AIDS. As a helping community, this growing problem provides an opportunity to act on our commitment to our future generations.
HIV-Infected Youth
The problem is disguised by a statistical artifact: compared with other age groups, the number of adolescents reported with AIDS is relatively small. Because it often takes a number of years after infection before a person develops AIDS-defining symptoms, these figures underestimate the severity of the problem of HIV disease among adolescents. We can also conclude that most cases of AIDS diagnosed in individuals aged between 20 and 29 years were among people who were infected in their teen years.
For infected youths, chronic illness sometimes entails recurrent or chronic stresses, such as hospitalization, poor self-esteem, loss of peer status, decreased competence, impaired bodily functioning, and possible disfigurement. HIV-infected youths are usually exposed to other family members who are dying or have HIV/AIDS, and may react to the impending or actual loss with marked behavioral disturbance, despair, detachment, as well as helplessness, hopelessness and depression.
Alfreda, an 18-year-old Hispanic female, contracted AIDS while in a youth lock-up in her teens. She is one of many youths who are left only minimally supervised during the night shift in many lock-ups. She describes the sexual environment as one of experimentation and curiosity. "We did it to fight the boredom, to give us something to do," she describes. Alfreda returned from the lock-up to her neighborhood where the same problems existed with scars of incarceration, but also with the physical reminder of her unsafe sexual exploits while in the lock-up.
What is it about the teen years that puts this group at such risk for HIV infection? Engaging in high-risk behaviors, such as unprotected sex accompanied by experimentation with alcohol and drugs, increases the likelihood of spreading the infection further in this age group. Although intravenous drugs account for only a small proportion of the spread of infection, the use of other drugs and alcohol can lead to impaired judgment and unsafe sexual practices. These unsafe practices exert a differential effect on the sexes.
Among adolescents, there is not the same discrepancy in rates of infection between males and females as exists in adults. The infection rate is now greater among young adolescent females than in males of the same age. One reason for this is the role that heterosexual sex plays in the transmission of the virus among adolescents. The increasing rate of infection among teen women will, in turn, lead to an increase in the number of children born to infected mothers. This leads to an increased risk of infection for future generations.
Youth, HIV, and Incarceration
Youths in juvenile lock-up facilities suffer a loss in social status secondary to their removal from society due to behavioral disturbances that are criminal in nature (e.g., truancy, theft, drug trafficking and even homicide). Presently, our society favors removing troubled youngsters from the dangerous environments that are believed to give rise to the problematic behavior. They are placed in group settings where they can exist without the pressures of the street. These group homes have a low success rate due to the lack of necessary funding for remediation programs. Tragically for incarcerated youths infected with HIV, those few programs which actually offer remediation offer little in the way of support for their special needs.
Special help is what 14-year-old Carlos could have used while serving time for possession of stolen property. Looking back on this as a 20-year-old, he states, "No one told me what I should do to survive on those streets. I just knew that when I got out, I would need to steal again to survive." He did steal again, and became a repeat offender. He is not sure when or how he contracted the virus, and despite being in several lock-ups on several occasions, he received no education regarding HIV/AIDS, safer sex and needle use. "It's as if we are not going through any sexual stuff. It was ignored."
Carlos is not unlike others who have graduated from the juvenile justice system unserved, unchanged and left with too much to cope with on their own.
Below is a list of recommendations for remediation services for HIV-infected youth in juvenile lock-ups:
Mental health services, including bereavement counseling, for various age groups and cultural backgrounds: Serious mental health needs should be addressed during and after the period of incarceration. Many of these youths come from homes affected by HIV/AIDS, and could benefit from counseling designed to help them grieve their losses. Special attention should be paid to cultural issues and the means of infection, as these issues result in different clinical presentations in adolescents.

Transitional services for youths after discharge from the lock-up and aftercare planning with special attention to AIDS specific services: After serving time, many youths are not quite ready to return to their community or family of origin. Many should never return to communities and families that present ongoing dangers and result in recidivism. Transitional programs are needed to transition the youth into productive, responsible life situations.

Confidential testing, counseling and HIV-prevention services for the incarcerated to prevent the further spread of infection: In an attempt to stop the further spread of infection, education directed at prevention should be available for incarcerated youths. Confidential testing and counseling should be available for youths, pending consent from the legal guardian. The combination of education, testing and counseling will assist in quelling the spread of infection in these facilities.
If we, as a society, are truly committed to the future, as delivered by our children, we must address the needs of this growing population of infected individuals. We cannot let incarcerated youths become yet another forgotten part of the HIV/AIDS epidemic.
Dominic J. Carbone, Ph.D., is a psychologist and Chair of the Board of Body Positive, Inc.
Back to the
May 2001
Issue of
Body Positive
Magazine.