Myth # 1: Everyone can get the drugs.
In New York State, you can get the drugs (and viral load tests) through Medicaid, the AIDS Drug Assistance Program (ADAP), or most insurance programs. Few state ADAP programs pay for more than one protease inhibitor -- many can't afford any. Last year, New Yorkers pressured the legislature to fully fund ADAP. Should we worry about this year? "We have seen a major increase in the new combination therapies but within our projection of cost. If growth continues as projected, our current revenue will provide for this growth throughout 1997," says Lanny Cross, head of ADAP.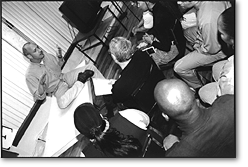 What if you don't qualify for ADAP or Medicaid?
"I thought once I got to Medicare, I'd save all this money -- no more insurance premiums!" said George Bolton, a PWA. "But Medicare doesn't cover drugs. I bought a supplemental policy, but the annual drug cap is $2,000." In New York, if you drop your COBRA before qualifying for Medicare (29 months after leaving work), and buy an insurance or health maintenance organization (HMO) policy, you can keep the policy (and drug benefits) after becoming Medicare-eligible. However, if you wait until you are on Medicare, your only options are to buy a supplemental policy (annual drug limit $1,000-$3,000), a Medicare HMO policy, qualify for ADAP or Medicaid, or pay cash.
Advertisement
If you've lost your Medicaid card, or are about to leave prison, you can apply for ADAP to cover you until Medicaid starts. Begin the paperwork as soon as possible -- prisoners can start before release. Ask your medical staff for applications, or write to request them from ADAP. (See Myth Busting Resources on page 23 to contact ADAP.)
Myth # 2: If your doctor is any good, he or she will automatically put you on protease inhibitors.
"We have a limited number of drugs and there are cross-resistant patterns between them. I'm thinking a step ahead -- 'What can I use if this drug stops working?' " says Dr. Michael Mullen, Chief of Infectious Diseases at Cabrini Medical Center. "I always remember, 'First, do no harm,' but if someone isn't taking the drugs properly, you really aren't doing harm -- the drug won't be useful for them if they need it later. I just got back from a meeting on a soon-to-be-released drug which can be taken with food, three times a day. Much easier for a lot of people."
"I consider disease stage, previous medications, and lifestyle. If someone is an active substance user," says Dr. Geoffrey Chazen, Chief of Infectious Disease at The Hospital for Joint Disease, "I'd probably start them on AZT/3TC and let them prove themselves. In a couple of months, if they are taking the drugs properly, I'd change drugs. I believe in class cross-resistance [becoming resistant to one protease inhibitor makes you resistant to others]. If protease has failed once, even if you're not resistant to the other protease inhibitors, you'll never get as prolonged a response."
Myth # 3: If your viral load is undetectable, you can't transmit HIV, so you don't have to worry about condoms.
An undetectable viral load just means that the amount of HIV activity in your blood is less than our current tests can measure. Undetectable does not mean that one is HIV-negative, nor does it mean one couldn't infect someone.
Last month, at the Fourth Conference on Retroviruses and Opportunistic Infections, Dr. David Ho of the Aaron Diamond Research Foundation presented a study of eight men who recently sero-converted (indicating they were newly infected), were taking protease inhibitors, and had undetectable levels of virus in their blood. All had undetectable levels of HIV in white blood cells within their semen. (Dr. M. Markowitz late breaker abstract, LB-8). Within semen, HIV can be found both floating free within the seminal plasma and also within the white blood cells (yes, there are white blood cells in semen). Other presentations examined the amount of HIV floating free in the seminal plasma (outside cells). The amount of HIV decreased in people who were taking protease inhibitors (abstract 202) or Crixivan and an experimental drug, DMP266 (abstract 726).
A small study of six-to-seven women on combination therapy (most were not on protease inhibitors) found that the amount of HIV viral load in vaginal secretions went down as the viral load in the blood went down. However, women who stopped drug therapy saw HIV levels increase in both blood and vaginal secretions (abstract 727).
"No one knows how much or how little HIV you need to be infectious. We don't know what a safe level of HIV is," says Dave Gilden, Acting Director of Treatment, Education and Advocacy at Gay Men's Health Crisis. "In Dr. Ho's study, he didn't look for free-floating HIV in the seminal plasma, but only HIV in the white blood cells. The technology for measuring viral load in semen is much cruder than for measuring viral load in blood. In blood tests, 'undetectable' means less than 25 particles, while in semen tests, 'undetectable' means less than 1,000 particles. That's a big difference. Also, Dr. Ho's study was looking at recently infected people. The longer you have been infected, the more your virus mutates, and the more varied HIV you have. With lots of different mutations, you are more likely to have strains that will not respond as well to different drugs. We are all different. You can't assume that because some people in a trial got a certain result, you will get the exact same result."
Dr. Chazen adds, "People are going to believe what they want to reinforce their ability to have fun. Some will assume that undetectable viral load in the blood is the same as uninfectious. Anecdotally, I have heard of clients with undetectable viral load and declining T-cells. They found virus replicating in the lymph tissue of the rectum. As people feel better, their libido comes back, and they are more interested in sex. That's great. Just do it safely."
Myth # 4: No one follows those Crixivan food and drug schedules. It's not humanly possible.
"Crixivan has to be taken every eight hours. You can't eat for two hours before you take it, or for an hour afterwards," says John Hatchett, director of the PWA Leadership Training Institute at AIDS Risk Reduction for IV Users and Ex-Offenders (ARRIVE). "I take my first dose when I get up, and an hour later eat breakfast. Lunch is 1-2 p.m., so that at 4 p.m. I can take my afternoon meds (medications)".
"I fear developing resistance, but I could make myself nuts. If something comes up to interfere with my scheduled meds, I give myself an hour's grace period. My goal is to get back on schedule as soon as possible. Say I wake up late, and take the first dose at 9 a.m., an hour later than usual.
Using the grace period, I'd take my afternoon dose at 4:30 p.m., rather than 4:00 p.m., eat dinner from 5-10 p.m. and have my midnight dose on schedule. It's weird to feel incredibly normal, while keeping my food schedule in front of my mind."
"If you are having nausea or gastrointestinal problems, ask your doctor about adjusting dosage, drug interactions, or prescription antacids," says Russell Saray, a senior executive at Clinique International. "I also find it helpful to have many small meals through the day."
Myth # 5: Now you should get out the want ads and start back to work.
This is a complex and difficult decision. One important source of help is Multi-Tasking Systems (MTS). Multi-Tasking Systems can provide sensitive support to help you think this through. Their services include counseling, vocational testing, career exploration, and some training. They also run a temporary service with flexible hours and employee benefits. They are especially helpful for people who have a substance abuse background or little work history. (See Myth Busting Resources on page 23 to contact MTS.)
The Office of Vocational and Educational Services for Individuals with Disabilities (VESID) is a state agency helping people with disabilities return to work. To qualify, you must be disabled, but ready to return to work, even part-time. VESID will assess your skills, and work with you on a plan. They can help you switch jobs if your health would keep you from returning to the same field. Depending on your finances, they may subsidize tuition in a vocational school or even a four-year college (only state and city colleges). Transportation, fees, books, and materials can also be supplemented by VESID.
Disliking your former job is not grounds for retraining. If you disliked your job, maybe vocational counseling and testing could help you choose another. Columbia and New York Universities offer both to the public. (See Myth Busting Resources on page 23 to contact VESID.)
Myth # 6: You shouldn't worry about your disability check. You're cured.
If you're on Social Security Income (SSI), as soon as you earn more than $484 a month, SSI and Medicaid end. In New York, you can reapply for Medicaid alone if your income is below $575 a month. Call the Social Security Administration (SSA) Infoline for information on other states (See Myth Busting Resources on this page to contact SSA). You can earn up to $65 a month without having your check trimmed. After that, your check is decreased by $1 for each $2 you earn. Once your income is more than $484, SSI stops. In the next 12 months, if you need to return to SSI, call the SSA, and (in most cases) in two months your checks will begin.
On Social Security Disability (SSD), you have a one-time trial work period of nine months. During that time you can earn as much as you want while receiving your total SSD check. In fact, you are entitled to receive your full benefit for three months after your trial work period ends. You can start and stop your nine months just by calling SSA. After nine months your file will go into suspension for three years. During this time, any month your earnings fall below $500, you get an SSD check; if you stop work, call SSA to restore your benefits within two weeks.
Can you receive disability coverage from previous employment? It varies, so read your policy carefully. Usually, a return to your former job will cause payments to end. If full-time work is too strenuous, within the first six months you can usually just get back on disability. If you return to w ork with a new employer, your coverage ends permanently. If your new employer has disability coverage, you will probably be covered, but read the policy. All new employees have to work for a certain period, generally a year, before qualifying for coverage. Once you qualify you'll face an additional pre-existing condition waiting period, which could be another year, before being eligible to go out on disability again. If you try to make a claim before both periods are up, you'll lose out completely.
Private disability coverage you buy yourself, independent of any job-based coverage, is the simplest. When you are working, you pay premiums. When you aren't working, you get checks. Check your policy for "partial disability coverage." This allows you to work part-time and receive a partial benefit, maintaining your income level as you try to work.
Not sure what's in your policy? Contact an AIDS service organization or a certified financial planner to look over your policy. They can contact your disability company and get the answers you need without making them suspicious that you are considering a return to work.
Myth # 7: Going back to work will be easy.
"Start slowly," says John Hatchett. "It's one thing to have normal energy when your time is your own. I worked part-time for two months, which was a great way to check it out." Russell Saray agrees. "I really never was on disability. My employer is extremely supportive. They allowed me to take the time I needed, which gave me great peace of mind. I set my own pace in coming back to a full day."
John was on disability for a year. "When I started working again, the first month I was very tired in the evening. I really needed to rest. Decide what you're capable of, and do half of it. It's better than attempting three-fourths and failing. Don't underestimate what you're attempting. Be good to yourself about time off, and guard your weekend."
These are just a few of the myths that have been floating in the minds and spoken from the lips of people living with HIV -- and a few of the responses that address them. If you have a myth that you would like to bust, or have anything that you would like to add to help to deflate the ones mentioned in this article, feel free to write Body Positive. They will be published as space allows. In the meantime, don't believe everything you hear -- or read. When you can, use reputable resources to gather your own evidence and conduct your own research.

Karin Timour is a freelance writer, trainer, and consultant. The former Director of Education at Body Positive, she is now Director of the Empire Blue Cross Conversion Project at New Yorkers for Accessible Health Coverage.
Back to the May 97 Issue of Body Positive Magazine.