For someone with a mental handicap, HIV/AIDS presents a special challenge that often results in an uphill struggle. People with mild handicaps are able to adjust and function in all types of competitive employment and with little modification to their work environment. Many are independent and function well in communities living side-by-side with their neighbors who do not have mental handicaps. People with more severe mental handicaps typically have more difficulty functioning in both work and non-work settings. Whatever the level of mental handicap, they are people who engage in sexual activity like everyone else. This article explores the factors that make HIV prevention, diagnosis, and treatment challenging for people with mental handicaps and the professionals who serve them.
---
Challenges to the Mentally Handicapped Consumer:
Prevention, Diagnosis, and Treatment
Prevention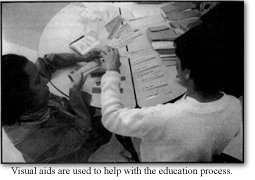 Advertisement
Prevention efforts for the mentally handicapped are twofold: (1) to prevent the HIV-negative client from becoming infected; and (2) to prevent the HIV-positive client from spreading the infection. Prevention efforts are typically executed by AIDS educators. Some efforts have been made to address prevention with a sensitivity to people with mental handicaps. According to Pat Sutherland-Cohen, an AIDS Educator and Coordinator of Education and Training at Young Adult Institute (YAI), National Institute for People with Disabilities, prevention efforts for this population must have an individual perspective. "We start with what the person already knows and then ask them, 'What is it that you would like to know?' "says Sutherland-Cohen. "Many of our clients already have the information. They've seen the same TV shows, news programs, magazines, etc. that we have all seen. The first step is getting at how they've encoded these messages. The second step is then correcting the distortions. This is no easy task, unless you're specially trained to work with this population."
Great pride is taken by YAI in practicing the belief that the client should have the majority of the control in the learning situation, so that the role of the AIDS educator is that of a facilitator in the discovery process regarding HIV/AIDS. "We value the entire person," says Sutherland-Cohen. "AIDS education is not just about safer sexual acts, but also about what's going on in a person's life and what sex means to them. Without this information, you're not helping them fit the information into their lives. They won't retain it."
The critical difference in AIDS-prevention education in this population is that the facilitator must really be sure that the person understands the information and is not merely compliantly agreeing with the educator. To help them to retain the information, AIDS educators for the mentally handicapped make use of visual AIDS and role playing. These concrete devices assist the facilitator in illustrating important points about prevention. Those in the prevention field that employ this technique are considered leaders in their field -- YAI is in the forefront. With the creation of videos, training manuals, and two theater troops, YAI's AIDS Education Program has tailored prevention efforts to meet the needs of the mentally handicapped consumer.
Diagnosis
Even the decision of whether to take the HIV test is more complicated for the person with a mental handicap. This decision must be made with a full understanding of the consequences of both diagnostic possibilities. A person with a mental handicap will most likely struggle with the decision because of their misunderstanding of these consequences. When the person receives an HIV-positive diagnosis, and necessary social support is not available to them, their capacity to function is often diminished.
It's during times when a HIV-positive diagnosis is given that the person is least likely to understand and retain information due to the volume of information given and the stress associated with the diagnosis. The source of the stress is rooted in popular misconceptions about HIV/AIDS. (1) a diagnosis of HIV/AIDS is a death sentence; and (2) you can become ill at any moment and quickly die the next day. While persons without mental handicaps might maintain these misconceptions, they most likely have the cognitive resources to work through the issue and come to a more realistic evaluation of their situation.
Another source of stress is the shame and stigma associated with being mentally ill, mentally retarded, developmentally disabled and/or learning disabled and having HIV/AIDS. The loss of status accompanying the HIV-positive diagnosis is compounded by other diagnostic problems. As most people are, those with mental handicaps are very terrified of social stigma. Stigma results in people being ostracized, ridiculed, and ignored. And perhaps the worst result of stigma is that the issues associated with HIV/AIDS are not discussed. Information is not shared and prevention, treatment, and support services are not accessed.
Treatment
There are two principle treatment modalities offered to most consumers: pharmacological and psychological. While the infected person typically elects the former and refuses the latter treatment, it is widely accepted that these modalities are intertwined. The decision is very complicated for mentally handicapped individuals because of the unique thought processes related to their decision-making. Most decisions in their lives are marked by lack of information, and in many cases, are impulsively made. Their interpretations and responses to even instinctual experiences, such as pain, are in many cases different; thereby leaving them in a precarious situation. For example, if they do not report pain they might be missing out on needed treatments. If they elect to use pharmacological treatments, this presents situations such as information overload, confusion, and non-compliance with self-administration.
In many instances these consumers are also the victims of too much information. There is a significant amount of information in the news regarding treatments, drugs, alternative cures, etc. Disabled consumers are often left confused and overwhelmed and they need outside help to process the information. In many instances the help they receive is not good because it lacks a sensitivity to their compromised condition.
Gary Casella, the Senior Case Manager at Geel Services for AIDS, states that "a major problem with the services for this population is that they are funded through Medicaid, which places restrictions on services and will not pay for all of the new treatments. The information given by the medical doctors is unclear and not given in a form that is understandable to the mentally disabled consumer. They're not able to make sense of their laboratory reports and the lab values reported. The majority of clients who are mentally disabled are served by Medicaid doctors who spend only a few minutes with clients conveying a dearth of information in a short span of time. The consumer is left to digest all of this medical information with limited cognitive resources."
One of Casella's patients misinterpreted her lab results, mistaking the amount of her viral load by 100,000. She, and many other patients like her, could have benefited from a concrete, simplified version of the information. Casella wishes that there existed an "AIDS Made Simple" guidebook for persons with such cognitive impairments. In the meantime, he uses examples from his own experience as an HIV-positive man with his clients. "This is the best way to be concrete with them, by being an example," he explains. From a counseling perspective many indigenous counselors find that using their own experiences as HIV-positive persons is helpful in putting clients at ease. While this by no means specifies that all HIV/AIDS counselors be positive, it helps to put a face on the condition and offers the mentally handicapped individual a visible person living with HIV/AIDS as a role model.
Information overload is complicated further by confusion regarding the information. Since many clients are in denial about the seriousness of their condition, they are not informed consumers about their health care. "They are an easy sell for alternative remedies and treatments such as teas, herbs, mega-vitamin therapies, etc." Casella reports. "I have to help them unpack and sort the fiction from a set of facts which are changing every day. I have to keep up with what is out there. Even I'm confused sometimes. I can only imagine what's going on for them."
Aside from the glut of confusing information, the issue of treatment compliance is compounded by the information-processing deficits and the nature of the treatments themselves, especially the powerful side effects. Casella states, "It's difficult to convince someone who is mentally ill or mentally retarded to continue taking medications that make them feel ill when they were not feeling that ill beforehand." This type of consumer needs supervision and constant environmental support in order to foster compliance. Too often these support services are not out there or not easily accessible to someone who is not used to advocating for themselves.
Another problem with HIV/AIDS services for mentally handicapped people are the limited amount of services. More services that serve this particular population are needed: case management services to advocate for them; special testing counselors to address their special information-processing needs; and a case manager who can follow them from testing and diagnosis to treatment, and then living with HIV/AIDS.
Clearly, HIV/AIDS presents a special challenge that often results in an uphill struggle for prevention, diagnostic, and treatment services for those with mental handicaps. The lives of mentally handicapped people are often further complicated by social conditions that occur along with the mental disabilities. For example, a "downward drift" phenomenon typically occurs in the chronically mentally disabled as a result of the worsening of their condition over time. This results in job loss and a decreased ability to self-preserve. Hopelessness, poverty, drug and alcohol abuse, and a life of crime sometimes accompany this downward drift.Clearly, more services with a special sensitivity to the needs of this population are needed since they represent a high-risk group. Along with more services, the most important thing that they need, according to Gary Casella, is "hope."

Dominic J. Carbone, Ph.D., is a developmental psychopathologist based in New York City at YAI, National Institute for People with Disabilities, Greenwich Village Multiservice Center, 320 W. 13th Street, NYC, NY 10014. He can be reached at (212) 645-1616. He has worked for over ten years with people with mental disabilities and their families. He is on the Board of Directors of Body Positive and is an active volunteer as well.

Editor's Note: The people in the photographs are not PWA's. They are assistants helping to demonstrate an HIV Education game used by YAI's AIDS Education Program.
Back to the May 97 Issue of Body Positive Magazine