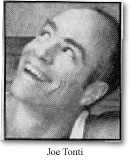 Have you ever met a friend or acquaintance (or even a family member) on the street who enthusiastically and effusively exclaimed: "You look fabulous! You look wonderful!" -- and you immediately became suspicious? Does this person know I've been depressed, stressed out, recovering from chemotherapy, stuck on the toilet half of my day, and swallowing more drugs daily than were available for recreational use in all of the '70s and '80s? Does this person really mean what they say or are they sending me a psycho/spiritual subconscious message that I look like hell but to keep on fighting for life. You could make yourself crazy trying to figure out these exchanges.
My personal experience is that people who know I have AIDS mean well by expressing their support; forget their motive. Support is support is support! Be gracious. Smile. And then tell them you feel like shit -- or that you're in a spectacularly cool place due to the steroids and Prozac. Chances are they are speaking honestly and are correct in their observation that you do indeed look wonderful.
From my perspective as a long-term survivor there is tremendous reason for hope in the accelerated progress which science, government, and society are making. Less toxic treatments, more effective treatments, friends and buddies living longer and healthier are all powerfully persuasive arguments not to "bag it" and lose your humor -- and hope. Yes, we are in a period of time of this devastatingly prolonged epidemic when a slow rate of physical deterioration can be excruciating and painful to fully experience and live through. Sometimes your inner dialogue is: "Well, do I surrender the fight and give up the ghost?" or "Damn this disease, I will not give up my life, not a chance!"
But fifteen, ten, even five years ago, those poor souls didn't have much of a chance that they could see. They got sick once or twice, their spirits were broken and they were gone.
Advertisement
We now have reason to believe that we do look wonderful or fabulous. After witnessing the early carnage of AIDS, experiencing our own nip-and-tuck skirmishes with
opportunistic infections
and the very real and positive outlook for the near future, we all have every reason to believe that we do look fabulous. We are all living proof of the progress and luck that has taken place over the past 15 years. We are all in the middle of a period of time of accelerated progress, evolution, and hope.
There will always be unfortunate elements of society that want us to die, that could take pleasure in causing us pain. But we can be immensely proud of who we are, where we've been, and where we're going. And don't underestimate your own powerful impact on those newly diagnosed persons who are in the grip of extreme fear and emotional upset.
We have a role to play in the epidemic just by virtue of our continuing lives: our courage, stubbornness, tenacity, and continued willingness to witness our own evolution as humans is ample reason to be proud -- proud of who we are as individuals; proud of what we are as individuals; and proud as contributory medallions for our commitment to a glorious human spirit.
So when somebody comes up to you and says "You look fabulous!" believe it. You do!

Joe Tonti was a musical comedy entertainer, night club performer, personal fitness instructor and trainer, AIDS volunteer, and Body Positive facilitator. He was a long-term survivor, and a devotee of life.

Editor's Note: Unfortunately, I have the task of informing you about the death of Joe Tonti from AIDS-related illness. The title of Joe's column this month, "You Look Fabulous," has to do with feelings about how others perceive you and how you perceive yourself. In the relatively short time that I knew and worked with Joe (since August 1996) I had the pleasure of getting to see just how "fabulous" he was on the inside. For those of you who have been reading his columns, you know that he loved life, had a real zest for it, and wanted to pass along his enthusiasm for life to you. He was completely dedicated to this column. In fact, he often sent in his columns well ahead of their due date -- sometimes three or four at a time! If you knew Joe personally, you knew that in the midst of his personal storms, he could be calm and steady. I often wondered how he could project such peacefulness in times of difficulty. Maybe I was just never exposed to his explosive side (if it existed). I invite those of you who personally knew Joe, or those who did not but were personally touched by his columns, to send me letters about your experiences concerning Joe. Body Positive will print as many as possible in our "Letters to the Editor" column. I love you, Joe.
-- Val Hoskins
Back to the May 97 Issue of Body Positive Magazine.