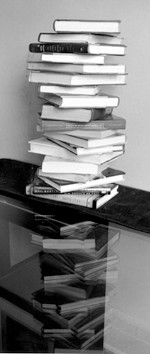 Feel like curling up with a good book? Or maybe you want to do some serious research? Few people have the money, or the house room, for an extensive private book collection, and some people with HIV and AIDS have impaired eyesight or other physical problems that make it difficult to use traditional books or get to the library. There are some services, though, that can make it a lot easier, whether your reading needs are for research or recreation.
"Books may seem like a small program to many, but I can tell you without a doubt that reading encourages dreaming and visioning and believing that life can be better." So writes Cathy Oldham Sanders, Executive Director of the Ryan White Center in Little Rock, Arkansas, about BookAIDS.
Now celebrating its fourth year of operation, this unique program supplies 5,000 books every month to thirteen AIDS service organizations across the United States. It is a project of the Publishing Triangle, an organization of gay men and lesbians involved in the publishing business -- writers, editors, agents, booksellers, and others -- whose other activities include annual awards for lesbian and gay writers.
The concept is simple: Book publishers ship overruns of their books, at their own expense, to participating AIDS service organizations. BookAIDS also supplies the organizations with posters advertising the program and bookmarks (pictured) to be distributed with the books. The operation is coordinated by the Publishing Triangle's Stanley Ely, who says of his role, "I'm the shepherd."
Advertisement
There are a few rules and guidelines, some designed to make the program as useful as possible to the people who use it, and some to protect the rights of the publishers -- and keep them donating. Ely encourages publishers to donate a wide variety of general-interest books and such specialized items as large-type books, books on health, reference books and dictionaries, Spanish-language books, and books with African-American themes. On the other hand, he discourages bodice-rippers and other books that are in less demand.
Agencies receiving the books must agree that they are to be given away free to their clients, and they must be defaced in some way so that they cannot be sold as new or returned for credit. Someone has to be in charge during the time the books are distributed, and books that are not taken cannot then be used in fund-raising bazaars or as raffle prizes.
New York City's Gay Men's Health Crisis has been receiving BookAIDS contributions almost since the beginning, and the 300 books the agency gets each month are snapped up by clients. The program is overseen at GMHC by client/volunteer Robert Searcy, who not only organizes the donations and their distribution but writes mini-reviews of titles that are received in quantity for the agency's client newsletter. "The wide variety of books made available through donations encompasses every level and interest," says Searcy. "A few of GMHC's clients refer to me as a 'bookie' because I push books. The gamut runs from self-help inspiration to sci-fi fantasy, from horror/mysteries to novels/romance, hardcovers to paperbacks, and the list goes on."
BookAIDS has doubled in size since it was begun in March 1995, and is becoming more geographically diverse as it grows. "We started with the obvious cities," says Ely. "I have tried to get away from the big seaboard cities and into the heart of the country, because those places tend to be ignored."
The agencies that now receive books, and occasionally books on tape, are AIDS Project Los Angeles, Los Angeles Gay and Lesbian Center, San Francisco AIDS Foundation, the AIDS Resource Center in Dallas, Boston's Fenway Community Health Center, Little Rock's Ryan White Center, the Howard Brown Health Center in Chicago, Washington's Whitman-Walker Clinic, Denver's Colorado AIDS Project, the Positive PWA Coalition in Provincetown, Gay Men's Health Crisis and Callen-Lorde Community Health Center in New York City, and Aid for AIDS of Nevada in Las Vegas. Children's books from D.C. Comics and Simon & Schuster are distributed through a Day Care Center at AIDS Project Los Angeles. BookAIDS Canada has just set up shop in Toronto, with guidance from the U.S. project.
Most of the publishers who joined BookAIDS at the beginning have stayed in the program, and their numbers have grown. Publishers contributing on a semianual basis today include Putnam Berkley, Doubleday Books, Ballantine Books, Bantam, Avon Books, Dell Publishing, and Penguin/Putnam. In addition, Turtle Point Press, Kitchen Table Press, and Alyson Books of Los Angeles make occasional contributions. The audio division of Dell Publishing contributes books on tape. As BookAIDS enters its fifth year, Ely is hoping to recruit other publishers to contribute to the project, with a particular eye to expanding the availability of books on tape.
Andrew Heiskell Library for the Blind and Physically Handicapped
From the front, there's nothing to distinguish the Heiskell Library on Twentieth Street in Chelsea from any of a dozen other branches of the New York Public Library. Inside, some differences emerge: The reading rooms house substantial collections of large-print, braille, and recorded books, along with high-tech (and some medium-tech) equipment to make print more legible and to convert text to speech.
Behind the scenes, though, this is definitely someplace special. The huge shipping and receiving area seems more suited to a large mail-order catalogue company -- L.L. Bean, say -- than to even the busiest neighborhood library. It is from here that up to 5,000 books on tape are shipped out to readers every day.
The Heiskell Library is a branch of the New York Public Library, and its services are a program of the National Library Service for the Blind and Physically Handicapped, operated by the Library of Congress. It provides books on tape, primarily by mail, to residents of all five boroughs of New York City, plus people who live in Nassau and Suffolk Counties on Long Island. (This alone sets it apart from other branches of the New York Public Library, which services only Manhattan, the Bronx, and Staten Island; Brooklyn and Queens, although part of New York City, maintain separate, independent library systems.)
Books on tape are available on loan to people who are legally blind or have difficulty reading because of a visual impairment; to individuals who are physically unable to handle standard printed material, such as someone who has had a stroke or is paralyzed and cannot hold a book or turn its pages; and those with organically caused reading disabilities. Braille materials are also available on loan. Eligibility must be medically documented before library materials may be borrowed.
Books on tape require special playback machines, which are issued to registered library patrons on extended loan, along with instructions for their use. Like all library materials and services, the machines are available free of charge.
Some 2,200 books are recorded every year, including works for adults, young adults, and children. Textbooks and scholarly works are not included in the program, which concentrates on bestsellers and recreational reading. Talking Book Topics and Braille Book Review list new titles and are sent to library users bimonthly. The library also maintains cumulative catalogues and bibliographies of braille, large-print, and recorded titles on specific subjects. In addition, patrons may specify their reading preferences, when they register or at any time, and librarians will select materials to send them on a regular basis.
The machines and the tapes themselves all have tactile cues to guide the reader. Each side of each tape (there are several tapes for each book) are numbered so that the user knows the order in which to play them. The odd sides are numbered in large print and braille, while the even sides are smooth.
The National Library Service for the Blind and Physically Handicapped operates similar programs around the country. Most states are served by state or regional programs, and some states -- those with large populations in need of its services -- have subregional programs; Florida, for instance, has twelve. Information about libraries that offer these services is generally available from the state library in the state capital. In addition, the Library of Congress's website -- www.loc.gov/nls -- has links to all libraries for the blind and physically disabled across the country. Individuals who are registered with one of the libraries in the program can have their registration transferred, and keep their playback machines, if they move.
Those who live in the New York area and are able to get to the library in person can avail themselves of a variety of other services. They can browse the reading rooms, of course, and playback machines for the books on tape are available for use in the library. In addition, there are viewers that can magnify type and even change foreground and background colors to accommodate differing visual needs. There are computers with enlargers that enable people with limited vision to use the Internet, and Reading Edge machines -- scanners that convert the written word into synthetic speech.
In the children's reading room, a special effort has been made to ensure that visually impaired children can nonetheless grow up with a love of books. Some of the little kids' books, for instance, are "illustrated" with items having different textures where sighted children's readers would rely on bright colors.
The Heiskell Library also presents events of special interest to its patrons. It has recently sponsored a forum on "Public Transportation Options for New Yorkers Who Are Blind or Visually Impaired," an afternoon performance by The Disabled in Action Singers, and a reading from his memoir Planet of the Blind, by Stephen Kuusisto, with his guide dog, Corky.
The Andrew Heiskell Library is located at 40 West 20th Street. It is open to the public, and applications for its mail services are available by calling (212) 206-5400 or (212) 206-5458 (TDD) or at any branch of the New York Public Library.

The author wishes to thank Kathleen Rowan, Head Librarian, Andrew Heiskell Library, for providing information for this article.
HIV/AIDS Information
Since the beginning of the epidemic, people with HIV have been trying to learn everything they can about their disease and its treatment. Individualsfrom all walks of life, most of them not involved in the healthcare professions and many with little beyond high school science, have sought to educate themselves about retroviruses, the immune system, nutrition, holistic medicine -- anything and everything that may lead to improved health and longer life.
In the early days, very little was known about HIV . . . and much of what was "known" was wrong. Today, although we are very far from knowing what we need to know in order to find a cure, the amount and complexity of information about HIV could overwhelm the most dedicated and highly educated scholar.
The answer, as in other complex and information-rich fields, is the reference library.
In part thanks to some grants a few years back from the National Library of Medicine, the New York Public Library has managed to amass an amazing amount of HIV/AIDS resources, geared to a variety of audiences. In every branch library in Manhattan, the Bronx, and Staten Island (Brooklyn and Queens have their own separate library systems), you will find a section of shelf space or a kiosk devoted to Community Information Services, with a special section on HIV/AIDS resources. There are resource directories, such as the AIDS Treatment Data Network's Clinical Trials Directory. There are materials in English and Spanish providing information and sample applications for various disability and benefits programs. There are periodicals -- Newsline, SIDAhora, and, of course, Body Positive. As part of the circulating collections, there are pamphlets aimed at helping young people avoid contracting the virus, and books ranging from elementary school level to very sophisticated.
Some material circulates, and some is for on-site use only. All resources can be checked by the online catalogue, LEO -- for "Library Entrance Online" -- available at every branch library. A check of the listings under the subject heading "AIDS" will show the location of materials in collections citywide. If the desired resource is not available at a particular branch, a request can be made to have it sent there.
The most comprehensive of the New York Public Library's HIV/AIDS collection is housed in the Health Information Center at the Mid-Manhattan Library on Fifth Avenue. No, not the one with the lions. Whether you were born in New York, moved here from somewhere else (like so many of us true New Yorkers), or stayed where you were and learned about our city from movies and TV, when you think of the New York Public Library you probably think of the large, graceful structure whose entrance is guarded by the stately statues of Patience and Fortitude, the library lions. Well, the Mid-Manhattan is across the street, in a nondescript box.
What Mid-Manhattan lacks in architectural excellence, however, it makes up for in the quality of its reference collections, like the Health Information Center. Taking up a quarter of a floor, the Health Information Center has shelves of health-related reference works, textbooks, and teaching aids, alongside computer terminals and reading tables. There are materials dealing specifically with HIV/AIDS and others on more general health topics that are also of importance to those trying to learn about the virus.
A wall rack contains lists of the most important resources in several categories, and the titles of the lists give an idea of the scope of the collection -- "HIV/AIDS Information Resources," "Health and Medical Statistics Resources," "Alternative Medicine Resources," "Nutrition Resources."
In today's world, though, "information" doesn't necessarily mean "books." We have the Internet.
Through the Internet, the New York Public Library can tap into libraries and other information resources around the world. It can make its collections available without geographic restriction. Users who have access by computer are not at the mercy of hours of operation dictated by ruthless city budget cuts.
All branches of the library now have computers with Internet access available for public use. Some branches have only a few terminals right now, but the library's citywide administration is working on greatly expanding that number within the next few months.
Depending on the branch and the demand, though, it may not be so easy to get web time. Library patrons have to sign up in advance for half-hour appointments, and it's best to make an appointment before noon or you may miss out. On the other hand, some people who only have to look up something small, or check their e-mail, may only use a few minutes of their half hour, and you could be the beneficiary.
Generally, your half-hour Internet appointment also entitles you to ten free sheets of paper on which to print items of interest. You are not allowed to bring your own paper; too many people have brought too many different kinds of paper and caused paper jams. It is recommended, though, that you bring a disk with you to download what you may want to keep. If you forget, you can buy a disk from the library for $1.00, or e-mail the information to yourself.
Whether you have your own computer with access to the web, or are using the one at your branch library, or paying a commercial computer center for the time, the New York Public Library's homepage can be your gateway to HIV/AIDS information. First, go to www.nypl.org., then click on "Electronic Resources." This will lead you to a page that offers a variety of databases. The two at the bottom, NOAH (for New York Online Access to Health) and MedLine, do not require a New York Public Library card to use and are full of information and links to other health-related websites. NOAH is in Spanish and English. To use the others, you must have a library card.
One of the most valuable is ProQuest Direct, which contains, among other things, access to full-text versions of dozens of newspapers. To use this database, or any of the others that require a library card, click on the desired icon, then follow the directions to enter the number on your library card below the bar code.
Another Internet site of interest is the library's own consumer health information system, called CHOICES. You will find not only specific websites on HIV/AIDS, but also a calendar of consumer health programs throughout the city.
If you are having trouble finding what you want on the 'net, the librarian can help you. If you're a real novice, though, it's a good idea to sign up for one of the free Internet classes now available at all branch libraries.
As the epidemic continues, empowered people with HIV and AIDS need all the information they can get about the disease and its increasingly complex treatment. The printed and electronic resources of the New York Public Library -- and of other libraries around the country -- can go a long way.

The author would like to thank Jean-Paul Michaud, Coordinator of the Office of Reference and Information Service; Greg Kallenberg, Community Information System Specialist; and David Veinot of the New York Public Library for their assistance in the preparation of this article.
Photo by S. Fredda Tone
Laura Engle is Editor of Body Positive.
Back to the May 1999 Issue of Body Positive Magazine.