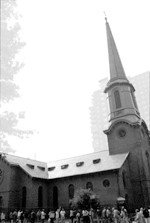 At God's Love We Deliver, the workday begins at 3:00 a.m.,when chefs begin heating the soup and preparing the entrées for that day's meal. At 6:00 a.m., the first volunteers arrive and begin packing salads and desserts. Drivers report to work at 7:00 a.m., and by 9:30, the organization's nineteen vans are navigating New York traffic, delivering hot meals to people with AIDS throughout New York City and Hudson County, New Jersey. Meanwhile, back in the kitchen, staff and volunteers work throughout the day and into the evening to prepare the next day's meals.
At lunchtime, sun pours through the skylights into the large, comfortable dining room at Gay Men's Health Crisis. In GMHC's meals program, the inviting and friendly atmosphere is almost as much a part of the meal as the menu itself. While diners enjoy the hot, wholesome meals the program offers, they can share not only food, but information and their own experiences, their friendship and support, with other people with AIDS.
On Ninth Avenue, 81-year-old Jimmy Novak sits at a table outside the Holy Apostles Soup Kitchen. He is giving out courtesy passes to people with health problems, some of them HIV-related, that make it difficult to stand in the long line waiting to be served. During the Depression, Novak ate at soup kitchens, and he promised himself then that someday he would repay the debt he felt he owed. "I never made enough money to pay back financially," he says, "so I do this." He has been a volunteer at Holy Apostles since it opened sixteen years ago, until recently (when failing health forced him to cut back) virtually running the place.
Three days a week, people leaving any of the ten neighborhood meals sites run by the Momentum AIDS Project can take with them pantry bags -- nonperishables and/or fresh fruits and vegetables -- so that they can make and serve nutritious meals in their own homes. It's all part of Momentum's multi-pronged approach to HIV nutrition, which includes using both its congregate meals program and its pantry to encourage people with HIV to use the agency's nutrition counseling services.
Advertisement
Almost from the beginning, individuals and organizations concerned with helping people with AIDS realized the importance of food and
nutrition
programs.
It was hard not to realize it. Wasting syndrome was one of the most visible manifestations of the disease -- indeed, AIDS-related malnutrition was often a direct cause of death.
And then there were the economic factors. Rampant AIDS-phobia cost many people their jobs and their homes, making it next to impossible for them to eat regular nutritious meals.
Things have changed a lot -- but not enough.
Although it's not as virulent, HIV-phobia is still with us. Federal, state, and local antidiscrimination laws offer some protections, but their effectiveness varies and obtaining relief can be cumbersome and time-consuming.
We've learned a lot over the last two decades about HIV nutrition. We have weapons against HIV-related malabsorption and medication-induced anorexia. Extensive research and aggressive programs of early nutrition intervention and counseling have gone a long way toward helping people with HIV maintain their nutritional health.
And there are food programs.
If today we seldom see the gaunt faces and emaciated bodies that used to be everywhere, it's not all due to increased public awareness, better laws, and broader knowledge. A large measure of thanks must go to the programs that take the direct approach -- they feed people.
The four New York-based programs featured here differ from each other to some degree in approach, in history, in resources, and in clientele. But they have one thing in common -- an understanding that food is basic to human survival, and that feeding others is an expression of our own humanity.
Beginnings
GMHC's meals program, and a long tradition, began almost by accident. In 1986 the agency's fledgling recreation program had just gained its first staff member, Ori Caroleo, and met in the only place that would rent to it, a basement in Greenwich Village. The rec program had started informally, with GMHC clients getting together to socialize with each other at a time when having AIDS was almost synonymous with social isolation. The "program" part consisted of bowling on Wednesday afternoon and a Friday night movie, and people brought snacks to munch on.
This Friday, Caroleo and the clients decided to get a little more elaborate, to have a real meal. One of the clients was a chef, and he offered to prepare something special using the only cooking equipment available in the program's modest quarters -- an electric frying pan.
All was going well until the guests started arriving, and it quickly became apparent that there would be about twice as many people as expected. The chef attempted to stretch the food, and found a second frying pan to do it in. He plugged it in. The lights went out.
Caroleo was dispatched to the store, returning with a new fuse (no circuit breakers in those unmodernized quarters), and -- just in case -- some Chinese take-out and some candles.
The new fuse was installed and, with a judicious use of electricity, the cooking was completed and the meal served and eaten by candlelight. Thus was born not only GMHC's meals program, but its Friday candlelight dinners.
The origins of the other meals programs may be less colorful, but they have in common the recognition of a need, and a response to it.
In 1985, Ganga Stone, a volunteer at Cabrini Medical Center, brought a bag of groceries with her when she visited the patient to whom she had been assigned. But the man told her that her generosity didn't really help. He was too sick and too weak to cook the food she had brought. Stone immediately went out and bought a hot meal at a local deli and brought it back to the man's apartment. And she realized that this man was not unique, that there were many people with AIDS who were not only homebound and unable to go food shopping for themselves, they couldn't even cook the food they had.
She recruited some friends with bicycles who were willing to deliver to people in their apartments. She found restaurants that were willing to donate prepared dishes from their menus -- no unsold food from the day before. In a very short time, Stone's creation had outgrown its bicycle-brigade origins and graduated to preparing its own meals and sending them out across the city. Stone, a Buddhist with deeply held spiritual beliefs, named the nonsectarian program God's Love We Deliver.
The moving force behind the Momentum meals program was Peter Avitable, a benefits volunteer at GMHC in that agency's pre-food-service days. In 1985, he was among the first to recognize the importance of nutrition intervention early in the disease process. His idea was to offer food, not only for its own sake but as an inducement for people to come to a place where they could receive nutrition counseling and other services.
Although Avitable was affiliated with GMHC, he realized that his early-intervention idea could not be realized at an agency that served only those with AIDS or symptomatic HIV. He formed Momentum, which started at St. Peter's Church and eventually grew up to be today's scattered-site meals/pantry/counseling program.
Holy Apostles Soup Kitchen was born from a different need -- homelessness. In 1982, the numbers of homeless people on the streets of New York had exploded. Members of the Church of the Holy Apostles could not help but see the men and women living in Chelsea Park, across the street from their church, and they responded to their need. On October 22 of that year, the church served its first 35 meals and dedicated itself to serving every hungry guest for as long as the need existed.
For eight years the Soup Kitchen was housed in the church's mission house, where seven tables were crammed into a space about the size of a large living room and no more than 69 diners could be served at one time. Nevertheless, by 1990, HASK was serving an average of 933 meals a day, and guests had less than ten minutes to eat and move on to make room at the table for the next hungry person.
That year a disastrous fire destroyed much of the historic church and made it, at least for a time, unusable. But homelessness and hunger can't be put on hold, and the day following the fire a small army of volunteers, working without electricity, managed to provide food for 943 people who lined up outside for what might have been their only meal of the day. The Holy Apostles Soup Kitchen record was, and is, intact -- since the day it opened its doors, it has never missed a single day of serving meals.
Today
Since those early days, needs have changed -- or at least been clarified -- and programs have grown and become more sophisticated.
Health codes and the requirements of public and private funders have mandated the purchase of cooking and food storage equipment that rivals that in the best restaurants. Safety and sanitation rules are strictly enforced, to prevent the spread of the food-borne illnesses to which people with HIV and AIDS are so vulnerable. Staff and volunteers in paper hats, hairnets, and latex gloves work at huge stoves. Warming ovens keep food hot until it is served, preventing the growth of bacteria. Perishable ingredients and leftovers are stored in huge refrigerators with automatic timed temperature checks.
Menus are planned by nutritionists and chefs, and all of the programs use the cycle-menu system. Meals are planned in cycles of anywhere from four to six weeks, with an eye both to variety and to using every last bit of food. Leftover meat is turned into meatloaf or becomes the basis for a spaghetti sauce. Veggies are simmered into vegetarian soup stock, and fish becomes the basis for a fish chowder. Nothing is wasted.
This isn't to say that the menus are carved in stone. If, say, Holy Apostles gets a big donation or a great buy on cauliflower, well, for the next few days guests will be eating steamed cauliflower and cauliflower lyonnaise and cauliflower au gratin. And next week they can expect to see some cauliflower soup.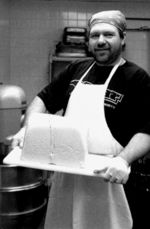 Momentum now serves meals seven days a week, operating twelve programs out of ten sites located around the city. Meals are still served at St. Peter's, the agency's first home, and all of the programs operate out of houses of worship, from Friendly Baptist Church in the Bronx, to Stephen Wise Free Synagogue in Manhattan, to Brooklyn's Our Lady of Loreto. Demand for meals has grown steadily since the program's inception, and during the last six months of 1998 the agency served a record 22,304 meals and distributed 16,068 pantry bags.
All food preparation is done on site by Momentum's Executive Chef and Prep Chefs. Meals are served buffet-style, usually in a basement fellowship hall or other large room. Tables are set up beforehand with tablecloths, utensils, and flowers.
Socialization is an important part of the philosophy underlying Momentum's congregate meals program, and each dining room is set up to promote dinner-table conversation. While the actual number of people served at any one meal varies according to the capacity of the site, the basic setup is the same, with six to eight people seated at each round table and ten at each oblong table. According to Edwin Krales, Momentum's Coordinator of Nutrition and Outreach, "It's part of the psychology of eating. We've had people come in who suffered from taste changes or anorexia, but by the end of meal service they were eating."
Individuals who want to sign up for Momentum's meals program can call (212) 691-8100, ext. 326, and receive a meal that day. They will be asked to choose a "home site" -- usually close to where they live -- where they will then go through an intake process that includes verification of an HIV diagnosis. It is at the home site an individual picks up her or his pantry bag regularly.
Momentum has stayed true to founder Avitable's vision of a package of services. Participants in the meals program, for example, can receive pantry bags of foods to prepare at home. One type of bag contains canned goods and other nonperishables, while the other offers fresh fruits and vegetables when available for individuals whose living arrangements allow for proper food storage. Each person or family can receive up to three pantry bags per week -- one from the individual's home site on its day of operation, one from either of the two sites that serve on Wednesdays, and one from one of the sites that offers meals on the weekend.
Nutrition education and counseling remain important parts of Momentum's menu of services. Nutritionists work with clients to help them learn the importance of nutrition and exercise in health maintenance, while they monitor their weight and body composition using Bioelectrical Impedence Analysis. Clients may also attend discussion groups on such topics as eating habits and food supplements, preventing wasting, food and water safety, medication interactions, menu planning, and stretching a limited food budget.
Momentum's harm-reduction counseling offers nonjudgmental support for clients with drug histories. It includes counseling on relapse prevention, the effects of drugs and alcohol on HIV disease, treatment programs, harm-reduction techniques, and secondary prevention and safer sex. In the agency's treatment and health education program, professional nurses assist clients with such treatment education and health-management issues as nonacute preventive care, medical referrals, and help understanding their tests and medications.
Momentum's Social Worker offers one-on-one and group counseling for women and families on domestic violence, health and safer sex, drug and alcohol relapse, children in foster care, disclosing HIV status, and future custody planning. A Housing/Entitlement Coordinator helps clients negotiate benefits and entitlement programs and helps them secure housing, income support, and legal services, while teaching self-advocacy skills. Finally, Momentum's interfaith chaplains help clients reconcile their relationships with themselves and others and find new sources of courage and hope in the face of their illness.
At Holy Apostles, the disastrous 1990 fire was in some ways a long-term blessing in disguise for the soup kitchen. It took four years to restore the 150-year-old church, and the restoration was done with the needs of the food program in mind. The church opted for "cathedral seating" -- movable chairs -- in the sanctuary, rather than the old fixed pews. This allowed the space not only to be used for worship services but to be converted to a dining hall where 125 people at a time can enjoy a balanced, nutritious meal -- a far cry from the cramped quarters and hurried dining of the old mission house days. (The church building, by the way, is also home to Congregation Beth Simchat Torah, New York's well-known gay and lesbian synagogue.)
The number of guests served by HASK has climbed steadily over its sixteen years of existence, from about 350 a day during its first months of operation to 1,000 or more a day for the past five years. Meals are served in one continuous operation from 10:30 a.m. to 12:30 p.m. Monday through Friday, and diners begin lining up much earlier.
There are no days off, no holidays, for the soup kitchen. Meals are served as usual (with, when possible, a little something extra) on Thanksgiving, Christmas, Fourth of July, you name it. The only slight exception is Good Friday, when the church is using the sanctuary for services during the soup kitchen's regular hours of operation. On this one day a year, there is no hot food service, but bag lunches containing a variety of sandwiches, along with fruit and dessert, are prepared and distributed outside the church.
HASK is not an HIV-specific meals program. The population it serves is indigent, largely homeless or underhoused, with drug histories common -- a population generally considered "at risk" for HIV. While some who are physically unable to stand in line and obtain courtesy passes do so with an AIDS diagnosis, no one really knows what percentage of the program's guests have the virus. The likelihood is that the number is fairly high, but that most have never been tested.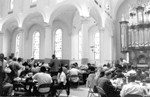 There is no real intake procedure at Holy Apostles. Hungry people show up. They get fed. A big water bottle asks diners who want to and who are able to contribute money to the program. Each day the take -- much of it in pennies -- is counted and added to the soup kitchen's budget.
Menus are planned to be nutritionally sound, with each meal consisting of an entrée, two vegetables, bread and butter, dessert, salad, and donated juices or tea. They are also planned in recognition of the fact that for many this will be the only real meal they eat that day. The menus weigh in at 2,000 to 2,500 calories per meal. Casseroles are the most common entrées, consisting of noodles, pasta, or rice, with tuna, chicken, turkey, or beans. Pork is served only rarely, in deference to the religious dietary rules followed by many of the program's guests. Vegetables may be fresh, when donations can be obtained, canned, or frozen. For salad the program serves lots of slaws; they are nutritious, inexpensive, quick and easy to make, and popular with the guests.
Service is a no-nonsense affair. Diners line up outside the church and are brought in a side door and given their meal on a compartmented combination tray/dish, then proceed to the sanctuary-cum-dining room where they eat. Beverage and bread-and-butter stations are set up here, and diners may take as much of these as they want -- a particularly happy situation considering the good, crusty bread that is served, a daily donation from the Tom Cat Bakery. Guests may -- and many do -- finish eating, go back to the end of the line, and obtain a second meal.
Food is served by a corps of volunteers -- thirty to forty a day -- under the supervision of Clyde Kuemmerle, Coordinator of Volunteers, and Muriel Moore, a warden of Holy Apostles who has been a volunteer with the soup kitchen since 1992. Many are members of the church, many are retired people, many are residents of the neighborhood, and many are just people who see a need.
While the basic services offered by God's Love We Deliver remain the same as in the beginning, the program has changed with the changing epidemic. It no longer serves only those defined as "homebound," but now offers meals to "men, women, and children who cannot shop or cook for themselves."
God's Love occupies its own building in SoHo, named the Geffen Building in honor of entertainment entrepreneur David Geffen, who donated $1.5 million toward its renovation. (The building was originally a machine shop, and had been most recently the home of the Andrew Heiskell Library for the Blind and Physically Handicapped, described in "Read All About It")
The food is prepared in the agency's large industrial kitchen by professional chefs with the assistance of volunteers who prep the ingredients. The finished meals are packed into special tubs that keep them hot and fresh, and the tubs are loaded into unmarked vans for delivery to neighborhood distribution centers -- community-based organizations, churches, and synagogues -- around the city. From here, local volunteers make the deliveries, by foot or by car, to the nearby homes of God's Love clients. In parts of the city where there is no neighborhood distribution center, the food is delivered directly to the recipients.
God's Love serves approximately 1,400 people with AIDS every weekday, providing each with two free, well-balanced meals. Recipients who request it -- and 60 percent of them do -- can receive double rations on Fridays so that there is food in the house for the weekend. In households with children, all children are entitled to meals, regardless of HIV status. Women with children are the fastest growing segment of God's Love's client population.
A hallmark of God's Love's program is flexibility. Meals can be modified from the normal menu to meet special dietary needs -- diabetes, for instance, or lactose intolerance, or religious restrictions. Clients can go on and off the program as need dictates, a particular boon at a time of new medications with often unpredictable results, when an individual's health and ability to shop and cook can yo-yo.
God's Love makes sure that holidays are special for its often isolated clientele. Thanksgiving and Christmas dinners are special, featuring the traditional foods. At both holidays, the agency will provide an extra meal -- one per household -- so that the recipient can invite a guest to dinner. At Thanksgiving, each client receives a gift basket -- an attractive wicker basket containing such goodies as cheese and crackers and cider. At Christmas it's a gift bag filled with age-appropriate toys; "age-appropriate toys" in the case of adults may mean CDs or the like.
With a $9 million annual budget, God's Love receives funding from a variety of public and private sources. It sponsors two major fund-raisers every year. The Race To Deliver in September is a run through Central Park that both raises money and helps keep the need for meals for people with AIDS in the public eye. The spring Sunday Night Supper honors the organization's beginnings and the restaurants that first donated food while it brings in money. On a designated evening, those who make reservations at participating restaurants and mention the Sunday Night Supper will have a portion of the proceeds of their evening meal donated to God's Love.
The meals program at Gay Men's Health Crisis has come a long way -- from an electric frying pan and dinner for 25 to an industrial kitchen serving 55,000 meals a year. And there've been a lot of changes along the way.
First the agency obtained a small government grant to underwrite a modest meals program -- and that meant having to have a stove and refrigerator to comply with the funder's requirements. And gradually it grew, steadily acquiring more, and more sophisticated, cooking and food storage equipment, dining room furnishings, and cafeteria-style serving items such as steam tables. (Much of this was contributed by the family of Peter Kreuger, in whose honor the current dining room is still named.)
It's part of writing grant applications to demonstrate the need for the service you want funded, and GMHC made the decision early on not to restrict its definition of "need" to lack of finances. Noting that social isolation is a major recognized factor in malnutrition among the elderly and chronically ill, the founders of the meals program sought to create an experience that satisfied the hunger for companionship as well as for food, and that offered a safe place where people with AIDS could share their experiences and their knowledge with others in the same situation.
Frank Abdale, who ran the meals program for three years until leaving GMHC in March, explains: "Congregate dining gives people the opportunity to nourish the mind, the heart, and the spirit, as well as the body. It allows people to come together and experience community, to know that they are not alone."
That does not mean that nutritional factors are ignored. GMHC's meals are planned to be well-balanced and nourishing, with the special needs of people with HIV in mind. Choice is emphasized, and each day's menu (lunch Monday through Thursday, dinner Friday) offers three entrées -- one meat, one fish, and one vegetarian. The daily menu also includes a soup (usually vegetarian), a vegetable, a starch, at least one type of salad, a choice of desserts, bread and butter, and a choice of beverages. The ethnic diversity of the guests is honored with dishes representing various cultures, and holidays are observed with traditional fare. Birthdays are celebrated once a month with special desserts for the birthday boys and girls and the singing of "Happy Birthday."
It hasn't all been growth and community at GMHC, though. The agency's well-publicized budget woes have taken their toll even here. The flowers are gone from the tables, and Friday's candles have gone out. The menu has less variety and more chicken.
Even without the niceties, though, some critics claim that this meals program offers too much to people who are not "needy" enough. Nonetheless, the volunteers and staff who serve the food at GMHC refuse to let their program devolve into a Dickensian vision of people with downcast eyes lining up for bowls of watery gruel. Their creed is still that once voiced by Frank Abdale -- "Every meals program participant is an honored guest."
The Future
The four meals programs visited here are not necessarily experiencing the same thing at the same time. Holy Apostles, for instance, has found the demand for meals to remain steady at a little over 1,000 a day over the past few years. GMHC's program, with its reliance on Ryan White funding and no immediate prospect of increased support from its parent agency, cannot expand beyond its present level.
Both God's Love We Deliver and the Momentum AIDS Project, on the other hand, are experiencing huge increases in the number of people seeking food. Why?
At God's Love, the speculation is that it's a combination of circumstances. The welfare "reforms" enacted a few years ago have come into their maturity, and people are receiving fewer food stamps or losing them altogether. With the new medications, people are living longer, but they are not necessarily enjoying health improvements sufficient to let them return to work, or perhaps even to shop and cook.
In addition, the agency conducted a major outreach campaign last year, getting word of the program's existence into neighborhoods with high HIV populations. They have even opened a neighborhood satellite kitchen in the Bronx to bring the service closer to home for the people who live there.
Robert Bolton, Program Operations Coordinator at Momentum, offers similar explanations for the growth in demand for his agency's food services. He points out that more people are being diagnosed with HIV, and at younger ages, than in recent years.
Like the people at God's Love, and like those involved in social welfare programs across the country, he blames ill-advised welfare legislation and loss of food stamps for increasing hunger among people with HIV. He also cites Momentum's beefed-up outreach over the past two years and increased word of mouth as to contributing the rising demand for Momentum's nutrition services.

While these four meals programs are all based in New York City -- the city Body Positive calls home -- there are similar programs in every major city, and many not-so-major ones, across the country and around the world. From Washington, D.C.'s Food & Friends, to Project Angel Food in Los Angeles, and north of the border to Vancouver's Loving Spoonful, food programs for people with HIV and AIDS are helping to meet a need that hasn't gone away, and that won't go away until the epidemic is over.

In addition to those named in the article, the author wishes to thank Carlos Sousa, Communications Coordinator at God's Love We Deliver, and Jenny Traslavina, Development Assistant, and Sam Soffer, Administrative Assistant, at Holy Apostles Soup Kitchen, for their assistance.
Photos by Neville Hughes (Holy Apostles Church), Courtesy of God's Love We Deliver
Laura Engle is the Editor of Body Positive.
Back to the May 1999 Issue of Body Positive Magazine.