| | |
| --- | --- |
| | (clockwise from top left) Ray Smith, Liz Hirky, Bob Remien, Joyce Hunter, Michael Dentato, Dominic Carbone, Sheri Kirshenbaum |

On Friday, September 8, an exceptional group of psychologists and social workers gathered to share their thoughts with the readers of Body Positive. Four mental health clinicians and researchers provided insights both from their counseling work directly with people living with HIV/AIDS as well as from their research into the psychological impact of HIV. These four, all from the HIV Center for Clinical and Behavioral Studies at the New York State Psychiatric Institute and Columbia University, were joined by Body Positive's executive director and board chair as participants and the editor of Body Positive magazine as roundtable moderator. Body Positive is grateful to all the participants in the roundtable, as well as to the Community Liaison Program of the HIV Center for hosting the event and to Van Morrow of Type-Right, Inc. for providing free transcription services for the audiotape. The edited transcript of the roundtable follows.
Introductions
RAYMOND A. SMITH, Ph.D.:
I'm Ray Smith, the editor of
Body Positive
as of the October issue, and I also have done research work here at the HIV Center.
ROBERT H. REMIEN, Ph.D.: I'm Bob Remien, a clinical psychologist and researcher with the HIV Center. I've been involved in community and clinical works since the beginning of the HIV Center. My studies have been mostly looking at and working with people living with HIV, whether it's individuals themselves or couples living with HIV, specifically serodiscordant couples where one person's infected and the other one's not. So I focus a lot on quality of life issues, mental health issues, living with the disease and living as a couple.
Advertisement
SHERI KIRSHENBAUM, Ph.D.:
I'm Sheri Kirshenbaum. I'm a clinical psychologist and a researcher here at the HIV Center. I'm new to the HIV Center. I've been here for a year and have newly become the Project Director of the Health Living Project here. Before coming here, I was doing some research on disclosure issues with HIV, working with HIV-positive women around disclosure issues to children. My current project involves studying how people living with HIV are affected by their HIV status in terms of medication use, sexual behavior, drugs, etc. And also testing the efficacy of a 15-session randomized behavioral intervention.
A. ELIZABETH HIRKY, Ph.D.: I'm Liz Hirky. I'm also a clinical psychologist. I've been here at the HIV Center for about three years, first as a research fellow working on an intervention study with methadone maintenance patients who were clinically depressed and also substance using. Many of those patients were HIV-positive. More recently, I've also worked on the Healthy Living Project. I've also done clinical work and research work, including as a group leader at GMHC for five years for social support group therapy.
DOMINIC CARBONE, Ph.D.: My name is Dominic Carbone. I'm a developmental psychopathologist. I serve a dual role: I'm the chairman of the board of Body Positive, but I also work at the Young Adult Institute Center for Specialty Therapy. I administer pre-test/post-test HIV programs there that specifically look at and help people who have learning disabilities and developmental disabilities. It helps them get the pre-test and post-test counseling that they need in order to get tested for HIV. And then we do follow up with them for treatment. My area of interest and research is in looking at the dually diagnosed population of people who are developmentally disabled and have some kind of mental illness, and the role that prevention and intervention services for HIV play in their lives.
MICHAEL DENTATO, C.S.W.: I'm Michael Dentato, the executive director of Body Positive. I'm a social worker by trade. When I was in graduate school I had my internship at Body Positive, so I'm kind of coming around full circle, back to the helm at BP, where I've been since June.
JOYCE HUNTER, D.S.W.: I'm Joyce Hunter. My role here at the HIV Center is as Director of the Community Liaison program. I'm also a researcher and principal investigator of the "Working It Out" Project, a program that was developed to help kids develop coping strategies. I also do a lot of work with the community and the International AIDS Society's Women's Caucus. I'm still doing that work and I've been doing it for about nine years.
Mental Health: The Major Challenges
SMITH:
I've deliberately not given you too many guidelines ahead of time for this roundtable because we'd really like to draw on your experience and get your spontaneous reaction to some questions that I have. I hope that this will be an interactive roundtable. It may, in the beginning, start out with individual statements and responses to the questions, but cross-talk is also encouraged.
So, let me ask you the first question. It's a very broad one. Based upon your current work, what do you see as the single biggest challenge facing people living with HIV/AIDS right now in terms of their mental health? In the population you work with, what's the single biggest challenge? I know there are many and it's not easy to choose, but what would be the one thing, to you, that really stands out as something that looms above other issues?

REMIEN: Let me first comment. I think that when you asked about the single biggest issue -- I think that's really not an answerable question in that way because there are many issues. And what's the single biggest issue for one person is going to be very different from the single biggest for the next person. So, I think all of us can talk about the challenges and issues that people are facing.
To try and give a broad kind of response, to me, it's coping with sort of long-term chronicity of illness and HIV disease and the treatments associated with HIV and its related conditions. What feels a little bit different from in the beginning [of the epidemic] for me, is that people now are really challenged by the incredible uncertainty and chronicity of living with the disease, feeling some effects but also feeling some of the symptoms wax and wane.
The treatments have their own, as we know, side effects, both short-term and long-term side effects. There's great concern about that. There's a lot of uncertainty about stopping treatment and when to or even whether to start treatment. I think we're seeing more and more that there are psychiatric symptoms and conditions that are associated with the treatments that we're just beginning to learn more and more about. And there's interaction across medications including medications that psychiatrists might prescribe versus what the medical internist is prescribing for infectious disease.
And people are impaired in a lot of ways and their quality of life is affected by living with HIV. And there's a lot of resentment that there's an attitude out there that there's this idea that "the cure is here" and it's treatable and no big deal, just like diabetes. But it is a bigger deal both, I think, medically and psychologically.
SMITH: Does that resonate with anyone else?
HUNTER: Yes. I think that it is very hard for us to answer that question so broadly, because I think the quality of life issue is very important. And I can speak as someone who is just coming back from [the International AIDS Conference in] Africa and being for a whole week with HIV positive women, working with them, and the issues that came up were quality of life and treatments. Also, the uncertainty about the drugs themselves now because people are feeling anxiety. I mean, if you want to talk about mental health issues. There's tremendous anxiety over whether to start treatment early and whether to continue the treatments as they were ordered because some of the women now are having real problems with lipid distribution. And so the depression around this -- women also worry about body image.
And I've seen depression. At least I felt it in that room when this particular discussion was going on. So, I think some of the things that bother people are how to cope with all of this in a knowledgeable way so as to not put yourself in harm's way any further than what you already are. I think those are some of the quality of life issues. While treatment is available for some people, it's not for many. The other issue that came up for women is a lot of anxiety is dealing with their children. It's one of the other issues about what's going to happen with their children later on and trying to plan for that. And even though they may plan for it or be in some kind of a program, it's not working out as well as some people think. Just to start off.

HIRKY: You know, with the men that I've worked with and I'm working with right now, there's also, again, a lot of anxiety about the treatments, about making decisions about whether or not to ask their doctors about structured treatment interruptions and there's a lot of information and a lot of it's unclear. So, there's a lot of anxiety around that.
A lot of people also have new illnesses or new conditions. I'm thinking of people with cardiac conditions. There's a lot of concern about whether or not the cardiologists that they've been referred to really understand HIV. So when they're prescribing cardiac meds is that going to be okay with what they're taking. So there's continuity of care issues. You know, going back to their internist and saying, "I don't really like this cardiologist" is a hard thing for people to do. They have a relationship. This is the person they trust. Anxiety pervades.
REMIEN: That's a good example, cardiac conditions. I think people are dealing with other advanced cancers and other conditions that they weren't facing before and it's like, well, how much of that is, in part, related to the medications, the intense medications that they're on? How much of it is just the longer that someone lives with HIV and the longer someone has the opportunity to develop other infections because the immune system is still impaired. And so people are struggling with that and these are really serious other illnesses and conditions. So the partnership and the care is often very challenging in terms of how our medical establishment is so specialty-oriented and often is not talking across the care team, and so people are really contradicting. The holistic approach, treating the patient as a whole with everything they're being challenged by, is often ignored. Everyone's focus is on, "I'm treating your liver, I'm treating your heart, I'm treating this or that," and often it's not the best treatment.
KIRSHENBAUM: Another thing for women is GYN (gynecological) issues, which kind of fall into that same realm. Some of these newer clinics that are opening are really trying to become more holistic care centers where they have dentists and they have GYNs and they have a series of specialty care people to come in and treat their patients in a center that is focused on primary care for folks living with HIV. But it might really speak to the need for everyone to become somewhat familiar with issues related to HIV as people are living longer and coming up with different medical problems either related to compromised immune systems or related to side effects of medication.
DENTATO: I think all this has a profound impact on the mental health issues, especially not only thinking or believing that the cure is here, but then having to deal with the fact that, oh, I don't like my heart doctor, I can't do this or I can't do that, but if I do this then I'm doomed again. It's kind of like riding a roller coaster and I think that's incredibly devastating to many, thinking they're making so many strides, but then having so many setbacks at the same time along with trying to just live a normal life, if that is even possible.
HUNTER: You know, you brought up something that I think is very anxiety-provoking and it's managed care and people who are HIV-positive. How do they get to be able to see a counselor and to be seen in a holistic way. That's a very big issue, that is the major complaint that I hear from the women, that nobody's looking at them holistically. So, I think that's a theme I'm hearing so far here that people need to be seen a holistic way and that managed care is going to interfere with that. And managed care will interfere with mental health treatment.
But, if you can get all these people in the same room -- your cardiologist, your psychologists and social workers, whatever -- get the different disciplines talking about how we could help out HIV-positive folks. So, to me, that's a very big issue. Everything is in a little box. And that could be very stressful. I don't know how many trips some folks have to make to go to a doctor. It's doctor this, doctor that, you know, for one thing or the other. And that's very stressful.
I'm just thinking about a couple of the women I know here in New York who have children. And just trying to go from one doctor to the other with the kids. Finding out if this person has health care. Can I leave my kid here? And then at the same time worrying about medications and a lot of them are very poor women too. So poverty comes in as an issue. And the stress of trying to raise your family the best way you can. And the fact that they're living longer because of the medications, on one hand, and then on the other hand they're getting sick in different ways . . . It's hard enough for somebody who is feeling really healthy [to advocate for themselves] and then consider somebody who's coming in not feeling well and has to negotiate for themselves and their families and their children. Or even for a partner having to help negotiate a system that they've probably never understood before.
AIDS: Still a Stigmatized Disease
CARBONE:
I'd say the major stressor in the population that I work with is the layers of stigmatization that they experience. Stigma is still a real chronic stressor, and they're stigmatized on several levels. Either they've found out they're positive or they're well into the disease process and most of them have become infected by sexual contact that was not consented to in the majority of situations. So all these layers of stigma.
And then they go and, you know, sit before a medical service delivery system to try to get services. And they either have to be their own advocate or there's someone there advocating for them that really may or may not be in touch with their needs. And there's the service delivery system that doesn't take people with developmental disabilities seriously as sexual beings, as human beings, and they wind up talking to the advocate rather than the patient. So it's just repeated injuries. And what we try to do is work with them in psychotherapy on providing some kind of healing environment for them where they can, you know, feel like they can advocate for themselves. And it's very hard to undo all these multiple stigmatizations that they experience in the course of their illness.
SMITH: One of the things I wanted to ask is: Do you think that the nature of the stigma associated with HIV and AIDS is as great as use to be? Has it changed? What do you think about that issue now?

HUNTER: I think it depends on where [you are]. I mean, I just came back from South Africa. Human rights in developing countries, and even here in some places in the US [are limited], and AIDS is still a very stigmatizing disease. And I think people are denied their human rights, access to care and healthcare, even here in this country. But in other countries it's abominable.
When you think about South Africa, our major focus was on human rights and gender roles, I mean, when you're talking about women. But the men who came there said it was very difficult for them too. A lot of them were gay men feeling like because of the culture they need to get married or are being forced to marry. Some very interesting issues came up. But I think it depends. I mean, if it's here in New York City and if your family is very supportive and you have a support network, maybe you could deal with the stigma. I think it's less stigmatizing now than it was '81, '82, during the 80's, but it's still there.
REMIEN: It's changed with different geographies and different sub-populations, but it hasn't gone away. So, it still remains a stigmatizing condition. And I think everyone deals with that. And as I think people are also saying, the populations affected are still populations here who are dealing with stigmas as well as other discriminations.
HUNTER: People of color mostly now.
REMIEN: Whether it's drug use, whether it's people of color, whether it's gender, whether it's homosexuality, people are still dealing with that. And the stigma has not gone away, even in, say, New York. If you look at gay men in New York City, you know, you could say in some ways there's greater support, it's more accepted, it's more known, but then there's like the whole different stigma about "You got infected now?" When you got infected in the beginning or you found out you were infected when the virus was first discovered, it was like, "okay, you didn't know." But now you know, so there's this whole stigma about disclosing HIV positive status now in that population. Each one has its unique peculiar stigmas.
HIRKY: Just to follow-up with another concrete example, I've seen the men that I work with start to feel almost guilty about the fact that they're still alive. They're getting a sense from people, "Well you're still on disability. Did you really need to not be working?" So, again, the character of the stigma has changed, but it's definitely still there.
HUNTER: But the stigma is really associated with mental health. So that certainly hasn't gone away. If you want to know what the major issues are, I would still say human rights, discrimination and all of that is tied into mental health.
Mental Health Approaches That Work
SMITH:
Well, we've obviously identified a very broad range of issues. No one single issue dominates or ever will dominate. And given the stigmas as well, what approaches or strategies do you find work for people? What can people do who may find themselves dealing with a mental health issue like depression or anxiety, what can they do to help themselves? What steps would you urge them to take?
HUNTER: Coming to Body Positive could be a start. I think trying to join a group or trying to get into support groups or to get into advocacy groups where you don't feel like you're helpless. I wanted to just say something because somebody has AIDS and they're depressed, doesn't mean that they are clinically disturbed. I mean, they have a right to be depressed. And I think with the stigma attached to this disease and everything else and trying to negotiate all these different health systems, one would be -- at least appear depressed. And I think the way to get over that is to get angry, and join a support group, get into an advocacy kind of group, unless the person truly has some kind of a disorder that would require treatment. But, if that's not the case, then I would say that it would be very good and healthy for somebody to get involved in support groups and advocacy groups and feel like they're able to do something. And those that can work can go to work, but if they can't, not to feel guilty about it. So they're going to need support.

DENTATO: I agree. I don't want to blow Body Positive's horn, but I think one of the major bonuses of coming to a support group or seeking services through an agency like Body Positive is to feel that acceptance of working with peers and being with peers and that feeling of "you know, it's not just me." Although AIDS has been around for many years now, it's still affecting a lot of people. A lot of people are still becoming HIV-positive or living with HIV AIDS. So that type of support, I think, is very important as well as empowering oneself to run a support group or to volunteer at an agency and work with other people with HIV and AIDS.
I think there's an added level to the reason why people are either feeling alone or not seeking the services and I think it's the sense of passivity that's going on now. I'm not sure if you all would agree with that, but I just think there's a common sense of, you know, "the cure is here," so to speak, and everything is fine. There's no need to bang down the pharmaceutical doors and say, "Why aren't you doing more?" or "Why aren't you helping us more?" in the way that there was at the beginning with ACT UP. Where is ACT UP? And is there a need for that now? Or is there a different need for that? And so I think that that has a profound impact on people seeking services and people kind of reaching out to others.
KIRSHENBAUM: I think that depends on the group of people that are seeking services, because I'm thinking about women that I've worked with maybe who weren't involved or maybe were diagnosed after the ACT UP era and weren't affected or touched by that advocacy. And when you said the word "isolated," I was thinking about the relationship between stigma and isolation, which is another aspect of [stigma]. Many women that I've worked with contracted HIV in relationships they thought to be monogamous relationships, marriages. And these women are isolated. They don't know any other women that are HIV positive. So, some people might be feeling like maybe there's nothing left to be done and things may be okay at this point, but some people really need voices and need advocacy for their specific groove. And I think the approach needs to be different.
HUNTER: I think it's different for mothers too. One of the things that I noticed is that if women have children, they want to be, to a certain extent, isolated. They don't [want to be identified as HIV-positive], for the child's sake, so that there's no stigma attached to the child going to school. And that becomes a concern. "Oh, is your mommy sick?" You know, that kind of thing . . . Do the women you're working with talk about wanting to be with other women, mothers, who are going through the same thing?

KIRSHENBAUM: I don't know that they've specifically stated that that's something they wanted. I don't know if they've gotten to the point where they could picture being with lots of other women that are living with HIV. I think a definite concern for them is the concern about their children and their children knowing about their illness and kind of opening their children up to a whole community of people living with HIV and what that entails -- whether the kids know or don't know about it.
CARBONE: Your question, Ray, made me think of some of the post-test counseling sessions where you have to tell the person that they're positive. And then from that point on we begin planning the subsequent therapy, because we do try to keep people in therapy afterwards so they can begin to do, what I would consider, the first thing -- before they even get to thinking about a group or about a center or about any kind of service -- [which is figuring out] "how do you make sense of this?" You just found out you're positive. What does it mean to you? What kind of meaning? How are you writing this story? That's, I think, really the first thing that someone has to chew on. And that's true with any diagnosis.
And then, you know, within a cultural context, you have to look at what are the present ways that a person copes with anything and builds upon those. So if someone culturally is not a group person because they come from a culture where you don't talk about your problems, you certainly don't tell the neighbor, you may tell a priest -- you know, you have to design the kind of intervention that you're going to do with this person along those lines. At every point [of service], choice is built in where they can see what's on the menu and try to figure out what works for them within how they already cope with things. I think the problem comes when you have mental health issues that exist pre-morbidly, prior to the HIV diagnosis. You may already have a compromised coping system where the person just doesn't have those resources so you don't have much to build on. But I think that for me when I think about these people who are newly seroconverted, that's usually the first sort of thing that I start to think of. And then we get to the groups and to the centers and to all the different places that they can access services, the social workers and stuff like that.
HUNTER: Well you know, there's also, even in this day and age, I think still some stigma attached to going to a therapist and getting treatment. I think that there was an old saying about three classes of groups. If you were rich, you were eccentric. If you were middle class, you were neurotic. If you were poor, you were crazy and really disturbed. And so, I think that still holds today. You know how one carries themselves and deals with any type of stressful event in their lives and how they handle it. Stigma really plays a large role with mental illness, with HIV disease. It's a lot to deal with I think. And, again, I think you have to look at it holistically. Also, within a cultural context, you're absolutely right because people have different coping mechanisms and strategies depending on the cultural group that they come from or were raised in.
REMIEN: I also think it's important that we draw a distinction between some of the ways we are talking about stress and distress and dealing with all these stressors and these challenges that we're all talking about. But to differ slightly with the way Joyce framed something earlier, when one has a clinical disorder, when one has depression or a post-traumatic stress disorder, anxiety disorder or whatever it is, that needs some attention and serious consideration. What I'm differing slightly with is when Joyce says, you know, you're living with HIV, you have all these things going on in your life, of course you're depressed.
I mean, our early research with our group up here showed that depression as a clinical state is not the norm for someone living with HIV, even back in the days when most people were getting sick and dying. And it's still true today that it's not the norm to be depressed in a clinical sense when living with this condition. And I think we always have to be careful to not let people assume that, well, I've got all this going on, depression is just something else I have to put up with. But rather, it needs some attention. It should be treated just as anyone from any other subset of the population, any other target group, to go in and treat this disorder in a serious way. I think that's a problem with our health care system, and as we were talking about earlier, people are dealing with so many medical conditions that often what will go unnoticed and untreated are the psychiatric conditions [that predate their HIV diagnosis]. I'm including substance use disorders and mood disorders. But to seek it out, to diagnosis it and to treat it and to pay attention to it, not just let it go.
HUNTER: I agree with you. I didn't mean to make light of it, but somebody can get depressed once diagnosed. And it doesn't mean that they had a pre-condition disorder or something. And that could be treated. Not to say that it shouldn't be treated at all. That's not where I was coming from, what I was trying to say is that that doesn't mean that this person has been clinically depressed all their life and that they came with a pre-condition. To understand that and how you treat it is a little bit different, maybe not.
REMIEN: But it's worthy of treatment.
HUNTER: Yes. And in the event that person should be in care.
REMIEN: I think it's certainly worthy of treatment especially from the re-infection standpoint. You know, if a person continues to be depressed, there are a lot of behavioral issues that get played out as well as compliance or adherence to treatment. You know, if someone's depressed, you're talking about a different person that's making different decisions.
SMITH: So, if someone were reading this now and thinking that maybe they are dealing with some other mental health issue in their own lives, how would you suggest that they think about this and maybe take a first step towards looking at whether or not they might need more help?
REMIEN: Certainly you could start by talking with your primary care provider. At least bring that to the table and have a dialog about everything that's going on in your life. And there are many good primary care providers who would pay attention to that and refer [someone to a mental health professional]. But, unfortunately, many wouldn't. A lot would be dismissive of it. They would be more focused on physical health and really not care about the impressive symptoms that you're telling them about.
So, then I think we have to empower the people themselves to go some place where they can talk to a counselor of some sort. Someone with some kind of mental health background because the primary care physician may not go far enough with them to consider these issues. So, talk to a counselor. I mean, it could be at a community-based organization. It could be a counselor in private practice. It depends on your setting and what you have access to, but find some way. It could start with a peer counselor who is savvy to these mental health issues who could help direct the person into care and into treatment whether it be support groups or whether it be one-on-one counseling. Even family counseling sometimes is a help.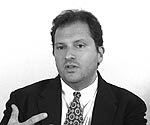 CARBONE: I think even a step before that too, Bob, would be to kind of look inside and to say -- kind of pass your own test of your emotional stability and saying, "Well, have I been sleeping more lately? Have I not been sleeping enough? Am I eating too much? Am I not eating enough? Have there been a lot of changes in my life? Am I blaming it on my HIV status? Am I blaming it on having AIDS?" And then take that step to pick up the phone and say, I need help. I need to get a help line. I need to get some kind of doctor, and perhaps not a medical professional, but some type of clinical help.
HUNTER: I agree with you about going to a counselor or something, but to make sure -- I think that one of the problems is we have a lot of peer counseling and people not trained enough or well enough to do an assessment to be able to diagnose or to refer this person to someplace where he or she can be assessed more appropriately.
REMIEN: I agree. I mean, I think that's really important that it be a professional who can do some diagnosis. I guess the reason I threw peer counseling out on the table is I was thinking about the person who is so far removed from beginning to talk about these kinds of things, that they can't imagine going to a professional. That the first entry for some of those folks is to be able to talk to a peer who's at least sensitive to mental health concerns and would know where to refer to, but not for that person to make the diagnosis. But it's kind of the first step for some people because some people -- We were talking about stigma. I mean, for so many people there's a stigma around talking about something like depression as if it's something that you create or you're supposed to rise above or you're supposed to grin and bear.
CARBONE: It's very characteristic of someone who is depressed to not talk about it. I would just say to simply reach out to somebody. Talk about it to somebody, anybody.
HIV Prevention: Always an Uphill Battle
SMITH:
I'd like to return to a theme that came up a little bit earlier, but this time more in the context of HIV prevention. This notion that people may be becoming more comfortable with the idea of AIDS or more complacent or careless or less careful about HIV prevention as a result of new therapy. What's your perception of that?
HUNTER: Well, I could say something a little bit about what young people are thinking. I don't think that the information is being transmitted into the next generation. So you always have a new group of young gay people coming out or realizing their sexual identity. And, of course, being teenagers, the hormones are dancing and all of that. And maybe they haven't heard about AIDS that much. You don't see much of it on TV these days and schools have certainly dropped the ball. So, you know, you can't be blaming these young people for not being safer than they can be because they're not even talking about STDs. I mean, the sexuality education and prevention in this country is terrible. You understand what I'm trying to say is that we have a new generation coming out and becoming sexual active. And teenagers in general -- that goes for both boys and girls as well, heterosexual kids. You know, they're in that same kind of ballpark. Although I think that the gay kids, particularly the gay males and kids of color, are particularly at risk. And so I think that we have to do a whole lot more. And certainly this country's become very complacent about prevention.
DENTATO: I can't believe we're still talking about how to clean needles. I can't believe we're still talking about how to put on a condom. It's amazing. What's working? Nothing's working. I don't mean to be a pessimist or negative by any means but I don't know what prevention efforts have been successful. And I don't -- I certainly think that the teenage and adolescent population is in crisis, but I think every population is in crisis. I think we're just kind of glossing over it.
HUNTER: I don't think there's any prevention education in America today.
REMIEN: But I think we have to be careful not to sort of be so dismissive. I mean, a lot of prevention has worked.
HUNTER: Oh, we're not saying that it doesn't work. I'm saying that they're not doing the kind of education that we know works. Those of us in this room, we know that it works. We've been doing AIDS prevention for what? For ten, fifteen, twenty years already.
REMIEN: And we know elements that work. We know what's worked in some specific populations and not in others. It's about applying that. But I don't want to be just dismissive of that.
HUNTER: No. But I think what he's saying is that the government -- you know, we're still talking about prevention when it should be automatic they should be having this in their schools and they should start them younger.
DENTATO: And it's hard to think of it outside of the New York City perspective. You know, what's really going on throughout America.
HUNTER: Right. If it's bad here in the city -- I mean, please, if you go to Staten Island or come to my borough, I live in Queens -- you're not going to hear about sex education there.
CARBONE: I find I get the most information about prevention from the people who just seroconverted. And the thing that they say is they have the information, they had it all along, they had it when they were younger. I believe the piece that's missing in prevention is getting people to the point where they feel good enough about themselves to use the information right. I can't think of someone who sat across from me who seroconverted saying that they didn't know about prevention. It's always I didn't feel good about myself. I got drunk that night. I took this. I took that. Or I just didn't care. And I think that's the piece of prevention that's missing, because I think the information is out there. It should continue to be out there, but, once again, it's more of a self-esteem issue. The issue is that you can give people things but unless they're going to use them and unless they feel like they have to use them, they care enough about themselves to use these instruments of protection . . .
HUNTER: I think with teenagers and young teenagers and kids that are pre-adolescent -- I mean, there you have not only the issue of self and self-esteem, but developmentally you have to look at them in terms of how they cope and what kind of coping skills that they have.
SMITH: What advice would you give to people who already have HIV but are interested in protecting themselves from possible re-infection with HIV or from STDs and protecting their partners, but don't always find that an easy thing to do? Sometimes it's a very difficult thing to do. What thoughts do you have about that? And particularly in terms of the mental health issues that you've just raised.
DENTATO: Thinking before you act. This comes up again and again about individuals, again, who are HIV positive and kind of take on that attitude of: "I just don't care" or "It's everyone's responsibility to take care of themselves." And I think looking back to some of the reasons why you seroconverted or how you've been coping and dealing with your HIV status, kind of looking inside again to say, you know, I better think about this right. I better really kind of teach others or reach out to others. That's the first thing that comes to my mind.
HIRKY: And I think also in terms of looking at like return to risky behavior, to kind of look at it in terms of a model of relapse prevention where you could look at triggers of risky behaviors and get people to become aware of what those are and how to kind of negotiate when those things come up for people.
SMITH: What do you see in your support groups?
HIRKY: I actually don't see a lot of sexual behavior in the support group. I see a lot of people who'd like to be in relationships but feel very ambivalent about that. So there's sort of been -- people have been withdrawing from these kinds of situations. The people I'm working with, they're still working on issues and how much of a future orientation it is okay to have. And there's the emotional risk of getting to know someone.
REMIEN: I want to underscore something Dominic said because I think a lot of it is about sort of what we call self-esteem and self-efficacy and how one feels about themselves and what's going on in their lives. You know, Michael, you said "think before you act "and while that's true, the problem is, you know, sexual activity is often not a thoughtful act. We act upon emotions and something other than thought is going on very often . . . I think that prevention is about getting to the place where one doesn't sort of have to stop and be rational when they're in the midst of sex. But that it's more of an automatic thing. And that's the challenge. And that's why it's so hard. It's not just a rational, thoughtful thing, but it's really going back to how one feels about themselves.
CARBONE: In terms of self-esteem and getting people to prevent the re-infection issue as well as just prevention in general, I think that an important part of prevention is teaching people to recognize when they don't feel good about themselves and when they're at risk not to practice, you know, safer sex, or whether it be also in terms of needle use. I think that's an important skill that people be able to recognize that self-esteem is not a continuous thing, that it fluctuates. We all at times feel less worthy, more worthy, less attractive, more attractive and teaching people to know when those times exist that those are triggers for when you may not feel good about yourself and then go out and do something risky.
REMIEN: And that's why it's so important that prevention be individualized. You know, you can't make generalizations like "what's the right form of prevention." It's identifying one's own personal triggers. You know, what are the triggers for me. What are the triggers for my partner. And that takes time and work and energy to individualize it in that way, to work with people at that individual level. What are their personal triggers.
Also, it's my feeling that when people say that they're maybe engaging in risky behavior because there are treatments out there or cures or that they're less likely to transmit the virus if their viral load is undetectable I see those as more rationalizations after the fact. In other words, if you're asked, you may say, "maybe that's why I was being more risky." But I don't think it's really what determines risk. I don't think it's like people are sitting there thinking, oh well, there are treatments and, you know, so I'm going to be more risky now. I just don't think we operate that way.