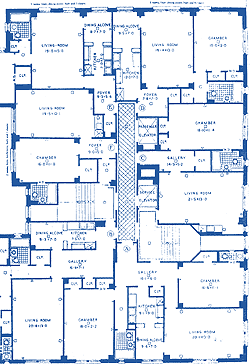 "This is a mature population. They're highly motivated. And when we talk about independent living, we're really talking about independent living. We can support our clients to do whatever they need to do, but they need to have a sense of what it is they have to do. The type of case management we're providing is supportive rather than invasive. There are no rules around guests. There are no rules around people staying in the apartment."
John Palmer is Program Director of a HOPWA (Housing Opportunities for Persons with AIDS) program for people over the age of 55, and he is explaining what sets this program apart from so many others. Here, he says, the clients are treated as adults "because they are adults."
The SUS/HOPWA Program
Run by a multiple-program human services agency called Services for the Underserved, or SUS, the inelegantly named SUS/HOPWA Program is an independent living program for older adults who are eligible for services from New York City's Division of AIDS Services and Income Support, or DASIS. The program's mandate is to provide long-term supported housing services to HIV-positive people over 55 so that they can live in a safe, secure, and nonjudgmental environment. SUS received the HOPWA grant from the U.S. Department of Housing and Urban Development in September of 1999, and the first tenants were moved into their new homes in January of this year. When the program reaches full capacity, it will have thirty apartments in the Crown Heights and East New York sections of Brooklyn. The first fifteen apartments are already occupied; the second fifteen are in the process of rehabilitation, and prospective tenants are being screened.
The small staff (three people besides Palmer) divides its time between locating apartments that meet the program's and DASIS's standards; getting the apartments ready for occupancy; finding and screening appropriate tenants; and providing a variety of supportive services to the program's clients.
Advertisement
The Tenants and the Services
The SUS/HOPWA Program is designed to provide supportive housing for older PWAs who are homeless, at risk of homelessness, or only marginally housed. Many have histories of drug and alcohol abuse or mental health problems.
Before coming to SUS/HOPWA, Senior Case Manager/Social Worker Carlos Bristol worked for an organization that ran several transient hotels. "The hotels were mills for people who were using drugs, for people who had no way out, for people who had no hope," he says. "I realized that there were a bunch of folks in there who were ill, who needed help, who needed more than transient shelter." When Bristol joined SUS/HOPWA, he got in touch with people he knew at these hotels to let them know what the program had to offer and enlisted their aid in identifying people who could benefit from it.
The response to these and other outreach efforts was instantaneous. "This program is specifically for people who are 55 and above," Bristol says, "which makes their situation a little bit more desperate and sensitive. They're at an age now where they're saying, 'Hey, I'm getting older. I don't have a place to stay. I really need to start getting a grip on my life.' They know that we understand drug use. We understand homelessness. We understand how precarious living situations can endanger people and exacerbate their health problems."
Key to the services provided by SUS/HOPWA is the coordination of clients' healthcare needs, the responsibility of the program's part-time nurse. She visits or telephones each client once a week, makes referrals, and where necessary advocates with healthcare professionals. Other supportive services provided by the program include hooking clients up with food and nutrition programs, substance abuse services, support groups, legal services, and programs that can help them obtain benefits or other concrete services.
As with most programs, specific needs are identified at the initial screening interview. According to Palmer and Bristol, this interview itself can be a very positive step for many prospective tenants. Many applicants have histories of drug and alcohol abuse, but, according to Bristol, "It's now in remission because of the interview. When we see them, they're not going to be drugging." Palmer agrees, "What happens is, the break comes during the initial interview. The bottom line is that this age group is a mature population. Many of them have histories related to substance abuse and mental health, but there seems to be, besides wanting to get and maintain their housing, a certain amount of stability. There's an incentive."
The Apartments and the "Kits"
The bedrock of any housing program is, of course, housing, and everything else the SUS/HOPWA program does is dependent upon providing its clients with decent places to live. The apartments and the buildings they are in have to meet safety codes; they must be clean and well-managed; they must be convenient to transportation; they must be suitable for older adults in less-than-perfect health.
And they can't be too expensive. Although the rent is largely subsidized by DASIS, that's not exactly a license to splurge on doorman buildings or dishwashers. The price of the apartments, like their conditions, must fall within DASIS guidelines.
As anyone who has apartment shopped in New York City within the past few years (okay, decades) knows, finding something that is clean, safe, reasonably comfortable, with a monthly rent that's not in a Trump-like stratosphere, can be a daunting task.
When a likely apartment has been located, it is the landlord's responsibility to do any rehabilitation that is necessary to bring it up to DASIS standards. This means at minimum that it must be cleaned and freshly painted. It can also mean any number of other things: Plaster may need to be repaired; wiring may need to be repaired or upgraded; pipes may need to be replaced. A maintenance crew comes in and adds a second lock to the door and security gates on the windows. Before the apartment can be occupied, both SUS/HOPWA and DASIS will inspect it to be sure that there is adequate heat, that the windows aren't broken and that they open and close, that there are no holes in the plaster or peeling paint, that the lights and the plumbing and the gas are all in working order and meet safety codes. Building security must pass muster, as must sanitation and vermin control.
The rent for a one-bedroom apartment usually runs between $600 and $650 per month, of which the tenant pays somewhere between $200 and $300, based on a DASIS formula. The lease is in the program's name, and it pays the rent to the landlord and is reimbursed by the tenant and by DASIS. The program also pays telephone and utilities up to a combined maximum of $50 per month.
An apartment that has passed inspection, however, is still just four walls, and a homeless or near-homeless individual isn't likely to have the things necessary to make it into a home. The program, therefore, provides what it calls a "start-up kit." The kit is put together based on a room-to-room walkthrough of the apartment to see what is needed.
Basic furnishings are the bulky part of the kit. The living room is furnished with a sofa and chair or loveseat, end tables, a coffee table, and a lamp or two. The bedroom is outfitted with a bed, a dresser, and a night table with a lamp. The kitchen gets a new stove and refrigerator. The apartments leased so far have that rarest of New York commodities, an eat-in kitchen, and a small table and chairs are part of the kitchen segment of the kit.
Besides furniture and appliances, the kit also contains other necessities of independent apartment living. The goal, according to Palmer, is to enable the new tenant to "walk in with the clothes on his back." The bedroom gets sheets and pillowcases, the bathroom towels, soap, and a shower curtain. Kitchen supplies include not only pots and pans, dishes, and eating and cooking utensils, but dish towels, cleaning supplies, and dish detergent. Each apartment is equipped with such essentials and a mop and a broom, light bulbs, and laundry detergent.
Food, of course, is an essential no matter where you live, and the program stocks each apartment with staples and, if necessary, refers the new tenant to local pantry and meals programs. Staff also look at any special immediate needs, and may hook the individual up with an emergency clothing program or even go out and buy, say, a supply of underwear and socks.
The Program in Operation
The Crown Heights/East New York section of Brooklyn, where the program works, has seen a lot of changes. Parts of the area were once very affluent. Parts were once very poor. Parts have seen both extremes. Today, while there are still some rundown buildings and graffiti-marred fences, the overall impression is that of a neighborhood in which the residents take pride. The sidewalks are swept and free of garbage, the row houses on the tree-lined side streets show signs of recent or ongoing refurbishment, and the large apartment buildings on the avenues, while perhaps not restored to the grandeur of their glory days, are clean and well-maintained.
Body Positive visited three of the program's apartments, two in which tenants were already living (see "Harry" and "Edward Jackson") and one that was being readied for occupancy. All three are in the kind of pre-war buildings that New Yorkers confined to the paper-walled, square-roomed structures of more recent years covet. While not luxurious even by modern standards, and definitely modest for the era in which they were built, these apartments are clean and in good repair, with up-to-date electricity and plumbing. Circuit breakers have replaced fuse boxes, and their number attest to the adequacy of the wiring. Plumbing fixtures are new and the water pressure good. The floors are in good condition, with no water-damaged areas under the radiators. On a more subjective level, the apartments are distinguished by small touches that make them inviting -- graciously proportioned rooms, separate entryways, picture moldings.
The equipment and furnishings also are in keeping with the program's philosophy of providing real, permanent homes suitable for adults. The furniture is sturdy and comfortable, without the student/dormitory feel or flimsiness of that provided by many housing programs. The sofas and chairs are well-upholstered, the living room and bedroom tables made of wood. The beds are full-size, with mattresses and boxsprings. The kitchens feature regular four-burner stoves with ovens and full-size, free-standing refrigerators -- no toaster ovens, glorified hotplates, or built-in combination units.
The program, of course, has its share of problems, many of them anticipated. Most of the people served by the program have troubled histories, and it's part of SUS/HOPWA's job to help them take advantage of their new opportunities. "We have people who are involved in substance abuse programming, who are in NA and AA," says Palmer. "A good percentage of them have a lot of time in recovery. They continue to deal with those issues." In the event of problems, he continues, the program is there to help. "Along with independence comes triggers. One of the main triggers is that you end up taking care of your own money, and money is a trigger. So we have incidents where because people are in control of their money they make inappropriate decisions related to rent and their own personal care. For instance, they use their money to buy drugs. But because we do visitations on a regular basis, we're able to look at the environment and the individual and determine whether something has gone wrong."
SUS/HOPWA is a small program as HIV/AIDS services go. It is aimed at a relatively small, and overwhelmingly ignored, segment of the population of people with the virus. Social services programs, and not just those dealing with HIV/AIDS, are often accused of paternalism toward their clients, and often that criticism is justified. The tendency to infantilize individuals based simply on their need for services can be particularly pronounced, and is particularly offensive, when those individuals are older adults.
This program is a work in progress, and it is too early to assess how valuable it will prove to be. Many factors will enter into that ultimate judgment. A hallmark of these early days, however, is the respect it has for its clients and its determination to treat them as the adults they are. Maintaining that respect and that treatment will be vital to the program's overall success.
One of the first wave of tenants, 69-year-old Edward Jackson came to his SUS/HOPWA apartment from Manhattan's Barbour Hotel, the last in a series of transient hotels he had lived in after losing his home in a fire. "I almost died in that fire," he recalls. "I was in the bathtub. I could smell smoke, but I didn't pay much attention because you'd smell that from the basement. So then this fellow comes in, says there's a fire. When I get up, it hits me. When the Fire Department came, they put a mask on my face, and I had no clothes on!"
And so this former machinist found himself shuffling from one "seven-day" hotel to another -- an experience he does not remember fondly. "They sent me to one downtown. I took one look at that, and I went back out onto the streets. I couldn't stay in there. They got a room with no windows in it -- absolutely no windows! And I said, 'No!' Absolutely no way! Bathroom in the hallway."
Jackson's experiences with hotel living illustrate how stress, including that caused by homelessness, exacerbates the effects of HIV. "When I was staying at the hotel, my viral load went up, very high. I had some bad experiences. My son died in May last year. I had the fire in November. And being in the hotel, that was depressing."
"All I wanted to do was get up in the morning and get out, leave that hotel, leave the area period. Everybody there seemed to be getting high, even though everybody there was HIV-positive. The things they do and the way they act, you'd never believe it. They even had this special police force, police tactical force, to raid the hotel it was so bad."
Since moving to his SUS/HOPWA apartment, things have been somewhat better. "There's much less stress," says Jackson, "because since I've been here my viral load went down. I believe my viral load will continue to go down, because when I get up in the morning, I don't have to see nobody."
The only downside Jackson sees to his present living arrangement is that it's in Brooklyn instead of Harlem, where he was born and where he lived for many years. "It's all right," he says, "but it's like being in a foreign country. Not because it's Brooklyn, because I've lived in Brooklyn before, but 125th Street is my neighborhood."
But Jackson hastens to make it clear that he is very glad to have this home. "The program is the best thing that could have happened to me," he says, "because I'd have still been in that hotel. But now I'm home. There were people who had been there a year. I was lucky to get out as quick as I did."
Harry (who asked that we withhold his last name) is one of SUS/HOPWA's first tenants, having lived in his apartment since January. When he came to the program, he had been homeless for about a year and had been living in a transitional placement at the Davison Avenue Hotel in the Bronx for about three months. When he heard about the SUS/HOPWA program, he was eager for the chance at having a home of his own.
"I was downstairs talking to this counselor, and they had just started the program. She said, 'You're in luck. They're looking for people your age and they want to give housing to them.' And so I met with them a couple of days later, and they asked me questions and whatnot. Am I using drugs? Am I able to maintain my own house? They weren't that hard, not for me anyway. About a week later I was accepted."
Since he moved into his apartment, Harry has made it very much his own home. It is hospital clean and scrupulously neat, despite a profusion of things that never came with the program's start-up kit. "They gave me the sofa and chairs. The rest of the stuff I found. I'm a scavenger," he says. The "rest of the stuff" includes a giant stuffed Tweetie Bird occupying a chair in a corner of the living room and a giant stuffed teddy bear in the bedroom, along with cabinets, knickknacks, framed pictures, a radio he got working, and assorted other decorations.
There is also, in a place of honor, Harry's "diploma" -- a certificate from the rehab program he had completed two weeks earlier. His long-term drug use was a big part of his homelessness. "It goes back, to the '50s, different drugs. I was diagnosed as an alcoholic. I didn't have my own place because I'm not a very responsible person. All my money was going on the drugs and alcohol."
Today, he says, "I feel good, because, like they told me, it's mine for as long as I want it. I do what I'm supposed to do, it's mine. I don't have to worry about nobody taking this from me. That's what I like about the program. They don't just get rid of you. If you have a little financial problem, or using drugs or whatever, they work with you."

Laura Engle is a former editor of Body Positive and is actively involved in advocacy work for the HIV-positive 50+ community.