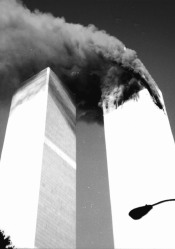 Photo: Michael Dentato
Our Executive Director relates his personal experience, and the response of the BP staff, during the attack on the World Trade Center, a handful of blocks away from the office.
On Monday, September 10th after leaving a meeting in midtown Manhattan, I began my journey to the BP office on Fulton Street. As usual, I had to make several stops, one which included a trip to the shopping mall underneath the World Trade Center (WTC). I was on my cell phone as I entered the mall at 10:30 am and told the colleague with whom I was speaking, that I would likely lose reception soon. To my surprise, I walked throughout the entire mall and was able to complete my conversation. I walked through the concourse of the WTC as the shadows of those two huge buildings towered over me.
The next day, on a typical Tuesday morning, I boarded the A train from Washington Heights in Upper Manhattan to take the 40 minute trek to the Body Positive office in the South Street Seaport at the far tip of Lower Manhattan. As usual I read the paper and reviewed my palm pilot for the day's meetings and events. A busy week had begun as I approached my office on Tuesday, September 11th. While leaving the subway at 8:53 am, a man ran down the street screaming, "Someone just bombed the World Trade Center." Those around me screamed and shouted "No!" in disbelief. However, being an amateur photographer, and thinking that somehow and in some way that I might be able to help out, I ran directly toward the World Trade Center (WTC).
Advertisement
Falling "Angels"
I stopped just short of the WTC at the corner of Liberty and Church Streets and looked up. There before me stood the gaping hole and fire that had taken over the first building. I stood there in shock taking pictures, wanting to run even closer to help out, but I could not move. Soon I saw what looked like little angels floating down from the top of the building. I began to cry when I realized that these "angels" -- in fact, desperate office workers -- were coming down, some one-by-one, some even holding hands with another. Could I actually be seeing this disaster unfold with hundreds of people around me crying, screaming and running for safety?
Photo: Michael Dentato
As I watched in horror, another white airliner came from the south and took aim at the South Tower. As the plane entered the building, there was an explosion and fire and soon debris began to fall around me. It was then that I realized that we were being attacked and that this was just not a terrible accident. Yet, I still could not move, until I was pushed down by the crowd on the street, many now in a panic running toward the water, as far from the WTC as they could possibly get. I got up, was pushed down again, and attempted to help a woman who was being trampled by the crowd. Yet again I was kicked and pushed until I found a police van. As I huddled half beneath the van, shaking, I thought that my next move should be to get inside a building for shelter. I also felt tremendous guilt for leaving that woman trampled on the street. All around me were the visual reminders of hundreds of people running in panic. There were shoes, hats, briefcases, pocketbooks, newspapers, and other personal items dropped as hundreds of people ran for safety.
I tried to call the BP office to tell my staff to stay where they were for their own safety and to call those on their way in and tell them to stay home. Within one split second I was torn between running into the WTC to help evacuate people and running back to the office to make sure staff were safe. I attempted to call the office several times on my cell phone. I had no luck calling and decided that I should run to the office to see how everyone was. I ran and ran, and could not look back on the horror behind me. I made it to the office to find three staff members and a volunteer trying to piece together what was happening just a few blocks away with ears glued to radios. We had no idea how bad this day was about to become.
A Storm of Dust
I was in shock, crying, and trying to reach my family and friends on the office phone and my cell phone. I could not get through to anyone, and then I was able, sporadically, to get through to some people. One by one I found out that all those that I loved were alive. My father, who works in the city, was safe, my friends were all okay but very panicked and afraid of what was potentially coming next. Thankfully, BP staffers were either safely stuck on buses or subways, at home, or had taken shelter. The nightmare continued as rumors were flying about Washington, D.C. being attacked and other planes being hijacked.
Two staff members decided they would run out to the street to see what was happening. At that time, the South Tower collapsed. Soon, a storm of dust came hurtling toward the Seaport. The staff members ran into the office in shock. At this time, the BP office went into action with the rest of the building and helped in setting up a makeshift first-aid station in RED, the restaurant located on the street level.
As the second tower collapsed, thousands came running toward the Seaport, where Body Positive is located, and others crossed the Brooklyn Bridge to escape the chaos. Covered in dust and debris, many people appeared ghostly as they made their way running through the streets in search of safety. The offices in our building started bringing bottled water down to the restaurant as hundreds came in for safety, to wash their eyes and faces, drink water, use the phones and restrooms, or simply to sit in shock attempting to understand what was happening to our city and our nation. Many sat hugging one another, crying and shaking; others just sat expressionless staring at the television or out the window. The cloud of dust from the collapsed towers hovered over lower Manhattan and what appeared to be a constant stream of "snow" from the debris fell upon us. Although nothing in my clinical training as a social worker could have fully prepared me for this, I knew that it was important for us to be supportive of the wide range of reactions that people would be having.
Emergency Action
The phone rang in between the hundreds of people trying to make outgoing calls. It was the manager of the restaurant, with whom I have established a relationship over my time at BP. She calmly called to tell me, "Use my restaurant in any way you can. Tell my staff that you are in charge and that they are to give you whatever you need to help anyone coming in." I assured her that I had already been working with her staff and that they could not be more helpful.
Soon, some people came in with first-aid needs. The injuries ranged from a sprained ankle, cuts and abrasions, debris in the eyes, asthma attacks, panic attacks; there was even an old bulldog who had collapsed from all the running and panic. BP Staffers Diana Marrero and Sharon Stevens remained on the third floor in the offices, assisting all those who came up to use the phones or for respite from the insanity. Staffer Brian McGrath, volunteer Scott McManus, and I hit the local streets around the office calling out to all those in need of help to come into the restaurant for safety. We screamed out through the streets, "Does anyone need water, first aid, a telephone or bathroom?" We continued throughout the morning, all the time listening to the radio and television for word from the Mayor on how to proceed. At 11:45 am, Mayor Rudolph Giuliani requested that lower Manhattan evacuate, as there could potentially be gas leaks, fires or collapsing buildings.
We made the announcement to all those resting in the restaurant that the building had to be closed and advised them to begin walking north or to cross the Brooklyn Bridge. The BP staff split as half of us headed north, the others to a car to drive out of the city into Brooklyn. I was among the half that began the trek north, breathing through makeshift masks made from cloth restaurant napkins. I was prepared to walk the many miles to Washington Heights that day. I just wanted to be home again... safely at home again.
As we walked the streets finding our way out of the darkness on such a sunny day, fighter jets circled above the city. The army and national guard patrolled the abandoned streets with machine guns in hand, and those north of Canal Street seemed to have no real sense of the destruction that had occurred at the WTC. Soon the whole world would know the extent of the devastation. With my legs and knees in pain, and still suffering from shock and fear, I made it the nearly three miles to 34th Street and found the A train that I came to work on just about four hours earlier taking me home again.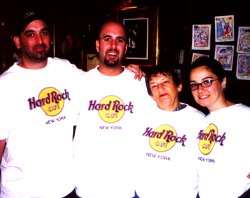 Body Positive staffers helping out at the Hard Rock Café. From left to right: Tim Wearne, Michael Dentato, Shirley Scully and Dana Levin. Photo: Michael Dentato
A Month-Long Week
The remainder of the week would seem to last more than a month with the recounting of my story to friends and family. At times I was glued to the television, watching over and over again the scene playing out on every station. I had to get out of my house and away from the television. One way in which to shut out the horror that I experienced was to take control. The BP office was not accessible for the remainder of the week. With our phones, email and Web site not functioning, and without electricity or water, we decided to give a helping hand in the disaster relief.
Starting on Wednesday, BP staff, board, consultants and volunteers helped all over the city. While I attempted to offer my clinical services, the outpouring from social workers, psychologists, and others was so tremendous that I was placed on waiting lists for those seeking clinicians. Some BP staffers made sandwiches or sorted clothing and food donations by the thousands at the West 57th Street offices of the Hard Rock Café, which worked on distribution with the Red Cross and Salvation Army.
Our Benefits Counselor Marty Kraushar, a mental health professional, counseled family members in Queens, while our Information Coordinator, Brian McGrath, actually went down to the disaster site digging through the rubble with his friends who are steel workers. When speaking about his experience, Brian said, "You have no clue what the site is like unless you were actually there. It's impossible to describe seeing four ton beams twisted and broken, feeling the heat rising from the wreckage, smelling smoke mixed with concrete that had been pulverized into dust."
Brian spent from midnight Wednesday to 8 pm Thursday working on a "bucket brigade" moving rubble down a line to make way at the disaster site for teams with sniffer dogs searching for survivors. Although they would later face sheer exhaustion, Brian's team barely let up for 20 hours. "We were running on pure adrenaline at that time, still hoping to find people alive." Unfortunately, no more survivors were located after that time; in fact, few of the corpses were anywhere near intact. The team did recover the mangled but recognizable body of a young girl however, a memory which has continued to haunt Brian.
"I worked on the 97th floor of one of the Towers, and felt that it could have easily been me up there, just as innocently going to work that day as anyone else," said Brian. "I felt it was my duty as a capable human being to help out."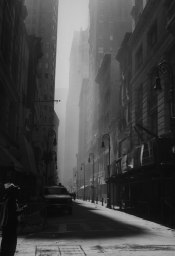 Photo: Michael Dentato
A Visit to "Ground Zero"
The response from New Yorkers was astronomical. Hundreds of people poured into the Hard Rock Café with bags full of clothing and food. Local Gap and Duane Reade stores were emptied out as many people purchased needed items to donate, such as t-shirts, socks, toothbrushes and first-aid supplies. One woman pulled up in a station wagon full of loaves of bread. When I asked if she worked for a bread company, she responded, "No, I just emptied out two supermarkets on 57th Street." Two volunteers came from as far away as Michigan and Florida. When they heard about the disaster, they got into their cars and drove to New York to assist in any way they could.
On Thursday, I was asked by the Hard Rock staff to help supervise a busload of volunteers that were heading down to the Armory, site of a center for those with missing loved ones, and then to Chelsea Piers to distribute food and supplies to workers and families. On the way downtown, we were informed that both locations needed no more donations. We were then asked by the police to head to the World Trade Center to feed the workers at what was now referred to as "Ground Zero." Panic raced through my heart as I could not imagine being back in the area which so changed our world just days before. As we approached lower Manhattan there were fewer and fewer civilians, and more and more members of the military and police. Street corners were filled with piles of bottled water for the workers and many buildings were plastered with photos of the missing. We were given a police escort through various barricades. The bus was silent and volunteers just stared out of the windows as we approached the former site of the World Trade Center.
The cloudy smoke seen lingering over the city enveloped our bus; the smell of fire and burning steel made most of us cough. An eerie calm prevailed over what was utter chaos just days before. A light rain fell as we emptied the bus and were surrounded by workers in need of our supplies.
Photo: Michael Dentato
The devastation seen on television cannot parallel what was actually happening amidst all the rubble and debris scattered over lower Manhattan. Buildings darkened and covered with soot and dust; fruit stands and coffee carts stood abandoned yet full of food covered with that same dust. Starbuck's and McDonald's had become work and relief stations for the emergency crews despite blown-out windows and glass everywhere. In many ways, that day and entire week became so surreal that at times it was like being on a movie set or the back lots of a Universal Studios tour. It seemed as though time stopped for many of us on that Tuesday morning, and it has taken a long time for the clock to begin to tick once again.
As we pulled up, Con Edison utility workers, police officers, firefighters, and members of the military approached us for sandwiches, water, Gatorade and first-aid supplies. I cannot tell you how grateful they were for our help and for us taking the risk to come down to help them. Some of the workers shook our hands, some hugged us, others just wanted to chat about anything else but the disaster. The most amazing part of the experience was that they could not stop thanking us. As we returned the thanks, they returned it once again, causing some laughter amongst so many tears. We were soon asked to move a block away as the façade of a building next to us was unstable. Calmly and collectively, we all moved down the block.
Ironically, across the street was an old cemetery covered in debris and thousands of pieces of paper from the destroyed offices, visual reminders of the thousands of missing workers from the WTC. We were able to stay in the area for about a half hour and then given a police escort out of the area. For the remainder of the week and weekend I stayed at home. I had to be alone for a while to begin processing the week and all that I had been through with my fellow BP staffers, New Yorkers, and Americans.
But the disaster did not stop our volunteers from running support groups or our peer educators from providing workshops and street outreach. In fact, by Thursday, September 13th, our staff reached out to the AIDS community as if it were "just another day." This is critical as we think about the needs of our community every day and also in the midst of the disaster. How many people with AIDS are suffering even more emotionally? How many forgot to take their meds? How many engaged in unsafe sex or relapsed with drugs or alcohol to cope with the stress? Regardless, the staff, peer educators and volunteers put their grief aside and proved their commitment to the AIDS community is stronger than ever.
Photo: Michael Dentato
This is just one story among the hundreds that you have heard or told yourself. However, this story is about the comaraderie, courage and team effort displayed by the staff of BP. That sense of caring and going "above and beyond" stems from the daily work with the AIDS community. Similarly, it was so rewarding to hear the stories of how our sister AIDS organizations also lent a helping hand. Together, as our history has proven, we can succeed in overcoming situations of tremendous pain, loss and grief such as this one. Together, there is little that seems unachievable. Together, for twenty years strong, the AIDS community has moved ahead.
Much has been written about the disaster already. We have learned so much in such a small amount of time about appreciating life. Many parallels can be drawn between this disaster and the AIDS crisis from the multitude of losses to the bravery and courage displayed. Yet, we have only begun to fathom what Tuesday, September 11, 2001 will truly mean to all of us. As I move forward, I am haunted by the images I witnessed, as much as I am so blessed to have been part of the deluge of helping hands that came to make a difference.
In some way we must move forward, bury the dead, build a memorial for those lost, and begin the coping and healing process for the survivors. But healing takes time. Some have been able to head right back to work, others seek counseling, while others remain walking through the streets with expressionless faces. However, we are all united in our grief.
Michael P. Dentato, Body Positive's Executive Director, is a clinical social worker.