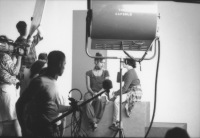 Behind the Scenes
The script of "Working It Out" was drawn from intensive research interviews with lesbian, gay, and bisexual teens.
This year's Academy Awards were important and groundbreaking, but the best film I saw in 2002 -- actually a video -- was seven years old. Made on a shoestring with unknown actors and a single set, it contained fourteen simple vignettes that all together ran about half an hour. Still, this video managed to be one of the most powerful, most complex, and, more than seven years later, one of the most urgently relevant documents I have ever seen. And I'm not alone in feeling this.
Over and over, this video has stimulated hours of discussion and revelation among those who watch it. And while it was never even intended for commercial release, it is now playing in, more or less, fourteen U.S. locations. The video is called "Working It Out: Scenes From the Lives of Gay and Lesbian Youth." These fourteen brief, two-to-three-person scenes -- between parent and gay child, between gay friend and straight friend, between older man and younger man, between young homosexual lovers or lovers-to-be -- were scripted based on detailed interviews with gay teens.
The video, funded by the Keith Haring Foundation, now serves as the centerpiece of an extraordinary HIV-prevention program targeted to lesbian, gay, bisexual, and transgender (LGBT) youth.
Advertisement
Community Collaborations
Both the "Working It Out" video and the resulting program began as the vision of Joyce Hunter, D.S.W., Director of the Community Liaison Program at the HIV Center for Clinical and Behavioral Studies in Manhattan. In 1995, the Office on AIDS at the National Institute of Mental Health (NIMH), began providing seed money to behavioral research teams that were attempting to diffuse HIV-prevention programs in their communities.
At the HIV Center, Hunter and another researcher, Dr. Sutherland Miller, wanted to develop community partnerships and a relevant curriculum for a set of interactive group meetings for LGBT youth and their service providers. They would build these sessions around the heart-rending scenes of "Working It Out," which Hunter had created in collaboration with Sandra Elkin and The Media Group, Inc. Elkin had held auditions to find the eight young performers. Most were professionals; some came from Manhattan's Hetrick-Martin Institute and its Harvey Milk High School (both of which Hunter helped to found), and from the Youth Enrichment Services (YES) theater group at the Lesbian, Gay, Bisexual & Transgender Community Center in Greenwich Village. Most of the funding would come from the Ford Foundation, the Paul Rapoport Foundation, the H. van Ameringen Foundation, and the New York Community Trust.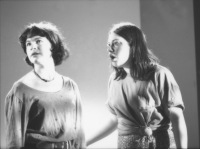 Mother and Daughter
In this scene, a lesbian daughter seeks support from her mother, only to be told that she can "change."
To plan this series of youth group meetings, each one based on one of the video's scenes, Hunter and Miller rounded up leaders from six New York metro area centers serving LGBT youth: Brett Schneider of Manhattan's Neutral Zone; Richard Haymes of the HOTT (Health Outreach to Teens) program of The Callen-Lorde Community Health Project in Manhattan; Jill Schreibman of The Center Lane of Westchester Jewish Community Services; Joleen Scarella of The Hetrick-Martin Institute; David Kilmnick of Long Island Gay and Lesbian Youth; and Bridget Hughes of YES.
This was a true research-community collaboration. "We wanted to create a curriculum that would be based in reality," Haymes says, "that would be useful for those dealing with queer youth. We didn't want it to be just theoretical; it would be coming from practitioners, not scholars or researchers."
The group had a grand time working this out. "It was a big round table," Bridget Hughes recalls. "We had these wonderful, lively discussions. We'd watch a video vignette, talk about the themes and issues we wanted to address, and what skills our young people would need to address them. We knew the video would capture young people's attention, because it captured the reality of their lives. We had to decide how to structure the workshops so they'd focus on the skills young people needed to help them in those situations."
Before "Working It Out" began helping queer teens build positive relationships, it helped its own planning team to network. "This was an opportunity for the six of us to work together and build relationships," Hughes says, "and this carried over into the implementation, people calling each other up, asking for advice, gathering to plan ... Some exciting collaborations came out of it."
"We had meetings on Wednesdays," David Kilmnick remembers, "and I swear, it snowed every Wednesday! Coming from Long Island, I had the trek up through the subways to Columbia, but none of us cared, because we were doing something so inspiring and so motivating."
Into the Community
Since 1997, various editions of "Working It Out" have run from ten to fourteen weeks, one session per week. The curriculum is highly adaptable; at the LGBT Center in New York, facilitators added a session on queer history, with video clips featuring Stonewall participants.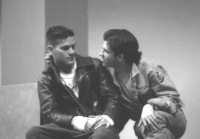 Navigating Adult Relationships
In this scene, an inexperienced younger man is attracted to an older man, but worries about being exploited.
Most sessions, though, address issues raised by scenes in the video. All sessions feature an "after-group," with dinner ordered in and one-on-one counseling for those upset by issues raised in the session. "It's a whole other dynamic at dinner," says Jill Cerino, an MSW candidate who ran her first "Working It Out" workshops at Manhattan's LGBT Center in fall 2001. "It's more casual, and that's there intentionally, as part of the design. And almost every night someone wants one-on-one counseling."
Of the sessions geared toward the video, a typical one might begin with a group check-in exercise -- such as the "feeling thermometer," a chance to express your emotional state on a scale of one to 100; or the sharing of something that no one else knows about you. The leader would then show one of the video episodes to the group. A discussion would follow to help build participants' critical thinking skills: what were the feelings of the people in the video segment?; what were the major themes? Participants also share their own feelings about the vignette.
"Adolescents are in the process of developing coping strategies for dealing with stressful life events," Hunter says. "'Working It Out' helps develop these strategies, and facilitates cognitive development. That way they'll be less likely to engage in risky behaviors and will feel much better about themselves."
Tackling Tough Issues
After discussion, the balance of the session is spent on group exercises based on themes from the segment. An exercise based on the "Working It Out" sexual harassment scene provides a powerful example. (See the cover of this issue for a photo from this vignette.)
In the scene, a strutting, (presumably) straight boy approaches two girls, demanding to know why one of them won't date him. "Every time I see you, you're with her!" he sneers. Looming over the girls, he thrusts his pelvis toward their faces, saying, "You need a real man to show you what it's like." (Keep in mind, "Working It Out" is based on exacting research, i.e., repeated real-life experience.) Then he hisses at the girl who spurned him, "How about I tell your brother what's up with you?" End of clip.
One exercise geared to this clip asks participants to write (but not necessarily send) letters to people who have harassed them. Another exercise invites participants to stand up silently if certain statements related to harassment are true for them:
Please stand up silently if you have ever been physically injured by another person. ... if you have ever been sexually touched in a way you didn't like by an older person. ... if you were ever told not to cry. ... if you were ever hit to make you stop crying. ... if you were ever pressured to have sex when you didn't want to.
About seventy-five percent of Jill Cerino's group stood up for most of these statements, with a hundred percent rising for, Please stand up if you have ever been afraid you were not attractive enough. ... if you have ever been called names. ... if you ever stopped yourself from showing affection because of how it might look to others.
Cerino cites this as one of the two most powerful "Working It Out" sessions. The other, for her group, was the session based on the suicide vignette, near the end of the tape. Here, a young lesbian and young gay man, each alone, speak their thoughts aloud from separate sides of the screen, going from panic to hopelessness to the decision to commit suicide. "My life is over because I love someone!" the girl laments, and both conclude that they will be invisible in death, "Better not leave a note." Cerino remembers the after-group for the suicide session as perhaps her most intense.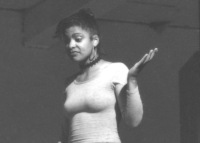 "I'm Just a Lesbian Living My Life"
In a monologue of self-empowerment, a young Latina issues her own personal declaration of independence.
Not All Happy Endings
It is interesting that most vignettes in "Working It Out" end unhappily or inconclusively. Some play cannily against the simple messages we might expect from them. One scene cautions young men about older ones who may use them. But the older man in the scene is sweet and gentle, and appreciates his young friend in terms that any one of us would love to hear.
Watching the scene, we may even cheer for this couple -- until the older man suggests cocaine. Still, he promises the younger fellow that he won't have to do anything he doesn't want to do. The young man is definitely interested, but has reservations. The scene ends before we find out what he will do.
Some scenes are sexually frank. The one on condom use features a close-up of a hand going for a belt buckle. This is, of course, not sensationalism. Isn't it precisely as of that hand-on-the-belt-buckle moment that we find it both most essential and most difficult to stop and raise the issue of protection?
Another scene has a young gay man proposing sex to a lesbian friend. What about protection? He says she won't need it because, well, she's a lesbian. End of scene. Issues raised by the video vignettes form an essential part of "Working It Out." This is, after all, the stuff of young queer lives, as reported by members of that community to Hunter: "I wish I could be myself and not pretend anymore"; "My life is over because I love someone"; "Where am I going to go?"; "I can't stand myself anymore."
But lessons learned from the video must reach a wider audience in order for "Working It Out" to be an agent for social change. This "diffusion" depended on community involvement from the top, and on the quality of the "Working It Out" group experience -- the discussions, exercises, and after-groups -- and on the bonding of the participants.
A bonded group will go out in the world and live those uplifting messages, long after "Working It Out" has ended. "They were my little family after," says Faith, 20, speaking of others who graduated the program with her. "I'm friendly with all of them to this day." This little family subsequently helped Faith work through a sexual assault, strife in her family of origin, and other challenges of the out life in Salt Lake City, Utah.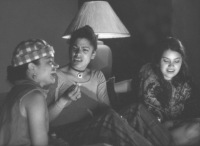 Just Say Yes?
Not all of the scenes revolve around sexuality; here a young woman resists peer pressure to join her friends in drinking and doing drugs.
From New York ... to Utah
Yes, "Working It Out" has reached that far, thanks to an alliance between Joyce Hunter and Dr. Patti Reagan at the University of Utah. Gay life in Utah takes place, as we might expect, against a backdrop of religious and social conservatism. The Church of Jesus Christ of Latter-Day Saints (also known as the "Mormons") prefers you make "extensive changes," and they stand ready to help. But Salt Lake City has about a fifty percent non-Mormon population, and an independent-minded mayor, Rocky Anderson, who in 2000 signed an antidiscrimination bill that covers sexual orientation.
The Gay and Lesbian Community Center of Utah draws clients from across northern Utah, as well as parts of Idaho, Colorado and Nevada. "Working It Out" began there in 2000 and has continued with great success, though so far only with participants over 18. Parental consent is required for minors, and in Utah, parental consent for this kind of activity is hard to come by.
"One particular thing appealed to me about 'Working It Out,'" says Lisa Diamond of the University of Utah, who has run several groups, including Faith's. "Many support groups for youth are limited in what they can do. Kids drop in, drop out, they get immediate support, but these programs don't serve long-term needs. 'Working it Out' creates a space for intensive work, for kids to analyze their relationships and the social issues universal to all kids: family, friendships, substances, safer sex. Issues universal for adolescents take on greater impact for LGBT kids." Diamond points out that, because "Working It Out" has closed groups, young people get to know each other and feel safe with each other. This allows them to do more serious thinking and working on their social skills, and it helps create the family of choice that Faith describes.
Follow-up interviews with "Working It Out" alumni in Salt Lake City have shown that the bonds formed in the groups have a stronger impact on the participants than do any individual bits of information.
Most gay kids lose friends when they come out, and fear this will keep happening. By giving them the resources to form strong, healthy relationships, "Working It Out" keeps diffusing its messages of hope, self-determination, self-esteem, and self-care. Or, as Faith puts it, "It helped me through a lot of crap. It was a total growing experience."
We have moved West, from New York to Salt Lake City, for a reason. The early pioneers moved West, across mountains to a the ocean, often in search of personal freedom and happiness. All those connected with "Working It Out" are certainly pioneers. Having crossed their personal mountains, their horizons now are limitless. If storms arise, their ships are secure from having "worked it out" with peers.
The "Working It Out" program is now surveying the horizon, too. Already in fourteen agencies across the country, the program has just finished an edition for MSMs (men who have sex with men) ages 18-24 at Manhattan's William Ryan Health Center. The LGBT Center in Greenwich Village is planning an edition for transgendered youth, on which Hunter will consult, and there is even international interest.
"We're starting to submit articles to journals," Hunter says, "that can help us get dissemination money. We have a good project, we've demonstrated that organizations will use it, and we want to disseminate it throughout the country. I'm very proud of the program and I'm very proud of all the people we work with."
Sounds like a fitting acceptance speech for the award for "Most Moving and Effective Gay and Lesbian Youth Video Ever."
Project Participants
Center Lane, a program of Westchester Jewish Community Services, is a community center for gay, lesbian and bisexual adolescents. Center Lane offers educational and creative workshops, support-term individual and family counseling, social events and community education. Located in White Plains, Center Lane opened in 1995.
Greenwich Village Youth Council provides numerous educational, health/drug prevention, recreational, athletic, and social programs for youth in New York City, formerly including the Neutral Zone, a program specifically for gay, lesbian, bisexual, and transgender youth, many of whom are homeless and street-oriented youth.
Health Outreach to Teens (HOTT), a program of the Callen-Lorde Community Health Project, is a free comprehensive primary health care program for lesbian, gay, bisexual, transgender and homeless and street-oriented youth. Community Health Project was founded in 1983; the HOTT Program began in 1988. Since its beginning, the HOTT program has delivered health care, mental health care and related services to over 1,700 youth.
Hetrick-Martin Institute, founded in 1979, is a social services, education and advocacy organization dedicated to meeting the diverse needs of lesbian, gay and bisexual youth, with several programs: after-school drop-in center, individual and family counseling; Project First Step, a street outreach program; the Harvey Milk School; and a training and technical assistance program for professional and community people.
Long Island Gay Lesbian Youth (LIGALY) is an educational, advocacy and social services agency that serves Long Island's gay, lesbian, and other minority youth, through a variety of programs: a drop-in center; mental health counseling; youth groups; speakers' bureau; college services; and social and recreational activities. The organization was founded in September 1993, and serves from 300 to 500 youth annually.
Youth Enrichment Services (YES), a program of the Lesbian and Gay Community Services Center, was founded in 1983. The program, the first substance abuse prevention and intervention program for lesbian and gay youth, focuses on the arts and serves 300 regular attendees annually with a wide range of activities.
David Pratt is a freelance writer living in New York City.