"It's important to insist on having gratitude for all the people who helped me out through all these years, both as professional and as friends."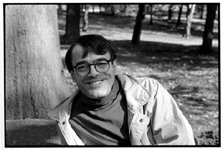 "Life is the most incredible gift we have, and we should enjoy that gift in whatever way it comes to us." Juan Sanchez speaks those words as one who knows, having traveled a winding road since his HIV diagnosis several years ago.
Juan was a writer and activist in law and human rights and a published novelist when his doctor, who knew he was gay, suggested he be tested for HIV. He waited almost a month and a half to get the results, and when he did he found out he was HIV-positive.
His doctor tried to reassure him that it was "not the end of the world." But that's not how Juan felt as he left the doctor's office. "I was very scared," he says. "It seemed so unreal. I went to work and felt that everything had changed."
Advertisement
Juan didn't tell anyone, at first, about his status. Then he told his brother and sister and some friends. No one came through. The friends he lost, and even his own family, did not prove to be caring or supportive.
Juan was on a roller coaster. "Everything led me to believe I was dying. I was like the stock market -- always going up and down. T-cell count, energy level -- everything was always up and down."
Juan began to feel pressure at his office. Tired and depressed, he felt he was an easy target -- gay, Spanish, and sick. "It was an extremely difficult situation," he remembers. "I had a nervous breakdown."
Juan became emotionally and physically ill and even more isolated. "Even my best friend of 17 years walked away from me."
Finally, when it seemed things couldn't get much worse, Juan began to look for outside help. And got what he calls "the most amazing support of lots of people, all of them strangers to my life before." He started with the legal team at GMHC and social workers like Selma Torres and Bill Hedrick, to whom he is very grateful. "They gave me confidence and hope," Juan says. "They helped me to understand my own reality. They helped me fight against a system of bureaucrats that are not sensitive to a person with AIDS."
But it's not been easy. "It is a 24-hour-a-day job taking care of your health, going to doctors, lab tests, etc. And also fighting those who want to take advantage of your situation."
Juan has especially mixed feelings about protease inhibitors. He worries that they have created an impression among the general public that HIV disease has become a manageable chronic health condition and that AIDS service organizations no longer need money. He worries that people are having unsafe sex because they think protease inhibitors are an antidote to the virus. "People are less careful. They don't know how hard it is to do this. They don't know the side effects of the drugs. Taking forty pills every day can destroy the liver, stomach, pancreas, etc. It's very difficult to live like this and take these pills."
Unwilling to be part of an experiment, and worried about developing resistance, Juan himself resisted taking the cocktail for a long time, and his present relationship with his protease inhibitors is not trouble-free. He's had side effects like fatigue, skin problems, and stomach problems, and has had to switch drugs several times. "I use them because I don't have any choice. Without them I would die. But my quality of life is not as good as a normal person's."
Still, Juan tries to hold onto what's good in life. "Life really changed because I have a positive attitude. I am not so worried about my health. I try to help my community. I do volunteer work. I don't cross my arms and sit around waiting for miracles to happen or for people to help me. I'm writing a book about my life. I'm painting." As a member of Straight from the Heart, a group of HIV-positive artists, Juan has seen his work exhibited at the West Side Arts Coalition and the Times Square Gallery. He teaches Spanish to a group of GMHC volunteers.
Life is not perfect. Juan still struggles with the side effects of the drugs, and he remains sad about the family and friends he has lost. His living situation has been problematic. But like other long-term survivors, he makes the best of it. "I look to the future, which is in the hands of God. I'm stronger, more spiritual, enjoy more of life. Simple things like a walk in the park, good conversation with friends, listening to music."
And what's most important to Juan in life? "Gratitude. It's important to insist on having gratitude for all the people who helped me through out all these years, both as professionals and as friends."
As they say, what goes around comes around. Just as Juan is grateful to those who have helped him, others are grateful to Juan for the same reason.

Photo by Fredda Tone
Back to the November 1998 Issue of Body Positive Magazine