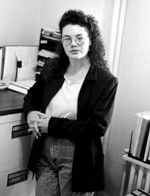 Between phone calls, the young artist explained why she volunteers for New York's only 24-hour suicide hotline. "It is a simple gesture, like holding the door open for someone," she said with a level gaze. "It is a nice way of belonging to the community."
The Samaritans of New York is a fourteen-year-old suicide-prevention program. Its pool of ninety volunteers offers a compassionate ear ready to listen at any hour of the day. There are no shortages of callers -- the Samaritans will handle roughly 40,000 phone calls this year, ranging from people who are facing serious illness, such as HIV and cancer, to people despondent over the loss of a loved one. Every call is strictly confidential.
"We try to get our callers to take a step back from the edge," says Eileen Fitzmaurice, the hotline project coordinator. "When someone is in the middle of a crisis, they can't think straight. We cannot change the situation if the person has cancer or AIDS, but we can help them look at their options. It is really about connecting with people.
"With the hotline, a caller can be sure they will get a warm, nonjudgmental voice on the other end."
Advertisement
This warm voice could also be a chance for help. According to information provided by the Samaritans, 75 percent of people who attempt suicide first tell someone that they are going to kill themselves. Every year, though, 30,000 Americans die by their own hand.
The road to becoming a Samaritan hotline volunteer isn't easy. "We interview 300 people to get a class of thirty new volunteers," reports Fitzmaurice. "We look to see not where volunteers have been, but where they are now."
New volunteers undergo thirty hours of training over three months. "We look at what are your biases. You look inside yourself: What makes you capable of helping a person. We also look at your 'buttons'" -- the things that may upset volunteers.
"It is easy to say that you are open-minded," says Fitzmaurice, "but to actually hear something that gets under your skin, and to remain empathetic and compassionate, is a difficult task. You may have sexual issues. You may be talking to someone who has AIDS, someone who beats their wife, men who are women-haters. We hear every scenario on the hotline. The volunteers are trained not to take it personally, not to take the hit." Restraint is essential: Even with difficult callers, volunteers can't raise their voices or hang up the phone.
During the training, a wide variety of potential situations are addressed. Volunteers also receive special training in such long-term illnesses as HIV, and sensitivity education on, for example, New York's gay and lesbian community.
Tea and Sympathy
Alan Ross, the executive director of the Samaritans of New York, started as a hotline volunteer for the group when it originally came to New York in 1984.
The roots of the Samaritans, however, are much deeper than its New York office. The suicide prevention group has affiliates in 32 countries and 400 cities and areas, with 30,000 volunteers. Though it is not a religious organization, it was founded in 1950 in England by a minister and psychotherapist named Chad Varah. Varah held office hours to tend to his congregation's personal problems.
"People would go to the office to see Varah. While waiting, the church ladies would make them tea and would ask them, 'How's it going, dearie?'" The minister found that many of his congregants were actually coming to see the church ladies. The warm, compassionate feeling that these women extended to people in trouble was what had such appeal. The Samaritans seek to recreate that same warm, nonjudgmental listener in their volunteers.
Educational Programs
The Samaritans have held numerous training programs for public and private organizations on how to deal with people in crisis situations. "We do a lot of work on sensitivity and active listening," says Ross. "We confront people's preconceptions and get them to focus on the crisis at hand, not their own judgments or values. You cannot let the social and political agenda get in the way." Volunteers at Body Positive's own hotline have received training from the Samaritans.
In addition to the hotline and its educational programs, the Samaritans run a suicide survivors' group for people whose loved ones have killed themselves. The Samaritans operate on an annual budget of $250,000 and have a paid staff of four.
The Samaritans of New York occupy a suite of offices in Manhattan that are full of natural light, with a coffeepot for use by the volunteers. Ross asked that the hotline office location not be divulged, both to protect the confidentiality of the callers and for the safety of the volunteers.
Wide Variety of Callers
Callers to the hotline come from all ethnicities and backgrounds, according to Fitzmaurice. "We had a caller who just lost his partner of fifty years and was dealing with all aspects of the grieving process. We have an agoraphobic caller, who is so afraid of going outside that she calls for support to go to a doctor's appointment. We have people who are despondent over a breakup and feel that they can't go on."
Sexual issues play a large role in phone calls. "We've had callers that have tested positive and did not know how to tell a spouse or lover," she says. Hotline volunteers have handled callers with sexual identity crises, like the woman who was taking hormones to become a man and was having second thoughts.
Motivated Staff and Volunteers
Ross, who is in his mid-40s, was trained as a journalist. His motivations for running the hotline are both personal and political. "We are a helping network. We do not talk about action -- we do it. We are available 24 hours a day. I see it as a social-political action. We are responding to people when they are most vulnerable."
Though she grew up with close family and friends, Fitzmaurice's exposure to suicide came at school. "When I was in high school, there were eighteen completed suicides of students there." She joined the hotline first as a volunteer, then left her job in publishing to become the hotline director. "I found that my volunteer work was becoming more important than my paid work."
The young artist volunteer also has personal reasons for being involved in the hotline. "My cousin tried to commit suicide in high school," she says. She joined the Samaritans in Rhode Island when she was in college, and has worked on the hotline in New York for eight years.
Volunteer Retention
Fitzmaurice says that the hotline volunteers range in age from 21 to 75 and come from all walks of life and backgrounds. "We have successful musicians and artists as volunteers, as well as people from Wall Street. We joke that we are a virtual U.N."
The demands on volunteers can be heavy. Volunteers must give fifteen to twenty hours a month in shifts that range from five to nine hours in length. Volunteers are also required to do overnight shifts, to ensure that the Samaritans' phones are covered 24 hours a day. Fitzmaurice says that the Samaritans have used volunteers who are HIV-positive.
"We are always recruiting new volunteers," she says. "We put ads in The New York Times, the Voice, and community papers."
Fitzmaurice stresses that volunteering is very demanding. "We joke that volunteers leave the hotline either when they end a relationship or start a new one.
"None of our volunteers are clinically trained," she says. "We do not attempt to diagnose people or to provide them with solutions."
When callers are going through their options and want help, however, hotline volunteers can refer callers to other groups. "We specifically refer people to groups we have a strong relationship with, like the Gay and Lesbian Switchboard and Victim Services. We explore with the caller what they want to do, how they might get support. It is more than just a number."
Though it is hard work, the rewards for the Samaritans may be great. One volunteer quit her corporate advertising job to become a Samaritan staff member at half the pay. "The type of work we do is effective," she says. "It is rewarding to set aside your problems for someone else. It is a great chance to help them."
To contact the Samaritans of New York's hotline, call (212) 673-3000.

Photo of Eileen Fitzmaurice by Dylan Foley
Back to the November 1998 Issue of Body Positive Magazine.