The old adage says, "There's no place like home," and I believe most people would agree. But what happens when a person has no home, particularly a person living with HIV/AIDS?
"There are 47,000 people with AIDS in New York City, and 31,000 of them are on the HASA (HIV AIDS Service Administration) caseload," says Regina Quattrocchi of the residential facility Bailey House. "Plus there are another 15,000 collateral people, such as family members. The projection is that another 100,000 New Yorkers are HIV-positive. Many of them need housing but aren't getting it." To qualify for HASA benefits, a person must have an AIDS diagnosis. "The HASA caseload has increased by seven to ten per cent each year for the last decade."
The reason: a combination of an increase in the number of AIDS cases, plus a general decrease in economic status. Many PWAs who are not technically homeless are still inadequately housed, with many moving from friend to friend, family member to family member, with no permanent residence. Combined with an increase in HIV infection, there has also been an increase in AIDS deaths. "In the early days, 50 to 60 clients per year would die; in 1997, the death rate slowed. Now it's picking up again. Four clients died in the past two months; this hasn't happened in about five years," said Ms. Quattrocchi. I asked her why. "Some secondary infections, such as hepatitis C, are causing death; also, there are people who can no longer sustain the treatments."
Of course, everyone needs a roof over his or her head in order to survive. But the value of permanent housing for PWAs seems vitally important. As Patrick McGovern of the community-based organization Harlem United explained, "Today with the treatments that are available, supportive housing is the foundation for living well and long. Supportive housing must keep pace with the epidemic. When most of us first became housing providers, our challenge was to provide a safe and secure place to fend off the angel of death. An individual cannot tend to his health and be well without safe and secure housing."
Advertisement
Housing is expensive under any circumstances, but particularly in New York City. Frank Oldham, Jr., Citywide Coordinator for AIDS Policy for the City of New York, cited cost as well as other problems. "Because of the population impacted -- not only are we dealing with AIDS, but many people also have substance abuse, mental illness and poverty issues -- the challenge is to create and maintain housing to meet all these needs."
"The debate is whether you build units specifically for this purpose, or have scatter housing," Oldham continued. "Most important is that you need overall case management for the clients. People in AIDS housing have to be connected to primary care."
While it's an overwhelming task, Mr. Oldham was optimistic in his outlook. "The value of housing is not being underestimated. The Commissioner (of the Department of Health and Mental Hygiene), Thomas Frieden, has actually treated AIDS patients in his earlier days as a physician. Having had hands-on experience makes him quite aware of the problems. Housing and primary care for PWAs are two of his large concerns."
HOPWA, HASA and Housing
HOPWA -- Housing Opportunities for People With AIDS -- is a federal program, established 12 years ago, within the U.S. Department of Housing and Urban Development (HUD). It distributes funds nationwide to help with AIDS-related housing issues. New York City's last grant from HOPWA was $60 million, the largest of any city in the United States. The Office of AIDS Policy Coordination monitors and oversees the use of HOPWA funding for housing and support service programs.
Matthew Lesieur, HOPWA Administrator in the Office of AIDS Policy Coordination, gave more details. "The number of cases in New York City is the largest in the nation: 55,000 people diagnosed with AIDS, 26,000 HIV positive, and as many as another 25,000 who are probably positive but don't know their status. One half of the population getting infected is in communities of color."
The HIV/AIDS Service Administration (HASA) is the New York City Agency that has responsibility for housing issues, and is part of the Human Resources Administration (HRA). HASA would be the first point of contact for PWAs who needed housing; the organization would connect these individuals with all benefits to which they are entitled. It is funded by city and state tax money; on occasion, HASA may use HOPWA money for people with special needs: mental illness, drug abuse, or undocumented immigrants. HOPWA funds are meant to be gap-fillers, when there's no money left in municipal and state funds. Compared with HOPWA's $60 million grant, HASA spent approximately $900 million in the same fiscal year to provide services. HOPWA funds, generally, pay the salaries of case management staff in HASA.
Lesieur described how HOPWA funds also pay for outreach in SROs. "We do case management; we also do harm reduction, where we meet people 'where they're at' without judgment, educate about harmful behavior such as unsafe sex practices, and monitor for lessening of those behaviors. We also have teams that go into SROs, actually knock on doors, and ask clients what they need: everything from medications and mental care to basic toiletries."
He continued: "There's a lot going on for us now. We've got the strongest based community organizations, such as Housing Works and Bailey House. In addition to having the largest HOPWA award in the nation, New York City also has the largest Title I (Ryan White) award." Title I provides emergency relief to metropolitan areas heavily affected by HIV/AIDS. It targets both medical care and supportive services. In 2003, New York City received $104 million in such funds.
Still, many of the housing needs for people living with AIDS are not being met. To support and extend services that the government provides, agencies such as Bailey House and Housing Works exist.
Bailey House provides supportive housing to 200 individuals and families throughout New York City. In order to qualify for Bailey House programs, a client must first go to HASA, be certified for eligibility, and then be referred. Holt House, on Christopher Street, is the first housing effort in the nation exclusively dedicated to PWAs. It is owned and run by Bailey House; they encouraged the city to buy it in 1986, and provided the funding to operate supportive programs. (In 1999, Bailey House purchased it from the city.) Holt House has forty four units, all single rooms with private bathrooms. The dining room serves three meals daily, and enhanced services are provided: case management, substance and mental health counseling, health-care coordination (such as accessing primary and secondary medical care, transportation to and from medical appointments).
Bailey House also runs 90 units of scatter-site apartments, which are located all over the city. This program started in 1984, and is the first model of AIDS-supportive housing, according to Regina Quattrocchi. "Of course, we're virtually priced out of Manhattan these days," she explains. "So we're spreading to the Bronx and Queens. We've always had sites in Brooklyn, but these days we're moving into newer areas."
The city only reimburses housing providers $480 a month for singles and $1100 a month for families. Clients are supposed to contribute thirty per cent of their SSI or income, and then Bailey House puts in the rest. Needless to say, the differential is staggering.
Harlem United is a multi-function service provider for people living with AIDS who are chronically homeless, often due to mental health and/or substance abuse issues. Patrick McGovern views his agency as a portal, providing access to health care. To date, the housing is scatter-site, because it has been efficient and has offered independence to clients. But some clients, he stated, benefit from group, or congregate, housing. To that end, he was delighted to inform me that Harlem United has begun work on a new building that will provide 25 studio apartments, with kitchens and baths, for clients. Each unit will be approximately 400 square feet, which is a decent-sized studio for Manhattan.
Mr. McGovern exhibits great passion for his work. He said, "At Harlem United, we have found that when supportive housing and comprehensive health care are actively integrated, amazing change is possible in relatively short periods of time. This experience moves us to play an ever more active role in our residents' health care access and adherence." He believes that a sense of community has been lacking for many clients, and strives to integrate them into a social community as a first step towards healing.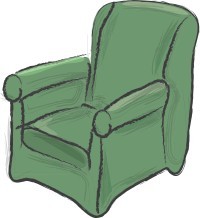 Harlem United was created in 1988 as the Upper Room AIDS Ministry to serve the needs of homeless persons living with AIDS who either because of active substance use or mental health struggles were not always at home in other service settings. It started with a drop-in center in a church basement offering a non-judgmental welcome and a meal to all comers. In 1992, the agency offered 20 scatter-site housing units. As HIV/AIDS treatment has evolved, so has the agency. That early drop-in center is now an Adult Day Health Care and Primary Care Center offering one-stop-shopping for folks whose AIDS diagnosis is complicated by substance use, homelessness and/or untreated mental illness.
"Yet, as important as all these services are in their own right, the most important thing we do is still the non-judgmental welcome," Mr. McGovern states. "We welcome persons into a healthy and healing community. That experience creates hope, which is far more important than any discrete service. Folks come for the belonging and while they are here, providers across a full continuum of care have unique access to them. In this way, I say that it is not so much that our program members have access to the continuum (many full-service centers exist), but that at Harlem United practitioners across the continuum have unique, excellent access to the members." The average client comes for health care four times a week, for about three hours per stay. "This is not perhaps critical for the broad community of persons living with AIDS, but makes the difference for folks who have been disenfranchised."
Everyone with whom I spoke was visibly concerned with their work. Different opinions prevail, but if there has been any consensus on the issue of housing for PWAs, it's been twofold: that more need exists than is being addressed; and that the benefits of proper housing go far beyond providing the basic need for shelter. A house may not be a home, but it is certainly an essential move in that direction.
Ronald C. Russo is a frequent contributor to Body Positive Magazine.