I am a person who has AIDS; I am not a person living with AIDS, because AIDS is living with me. Everyday I live a positive life being positive, and I live every moment of my life to the fullest, and battle this disease with the heart of a warrior.
Although I am visually impaired from an opportunistic infection (cryptococcal meningitis) and at times things can be a little difficult, I strive to be as independent and productive as I can be. This was the primary reason that this July, I attended the 15th International AIDS Conference in Bangkok, Thailand. I participated as a member of the New York HIV/AIDS Delegation (NYHAD), a group composed of people active in the AIDS movement, including some people living with AIDS (PLWAs). The delegation solicited a private sponsor to fund the trip. I was awarded a technical assistance scholarship from Interfaith Hospital in Brooklyn for registration fees, and South Brooklyn Legal Services (SBLS) assisted in the processing of the scholarship application. Body Positive was instrumental in providing me with media credentials, so that I would have total access to all events and author this article.
The delegation wanted to attend the conference so that there would be a representation of PWAs and allies from New York City, and to be part of learning and sharing experience with PWAs worldwide. I was particularly interested in attending the conference was to find out what the international community is doing for PWAs who have become visually impaired or blind, hard of hearing or deaf, or otherwise physically challenged from the effects of HIV/AIDS.
Attending the conference was also a long-time dream of mine that came true, because not only was I able to go, I also was able to spend time with some very special people who are now very special friends. Antionettea, Craig, David, Jeannie, Ofelia, and Orbit attended for many of the same reasons I had. They wanted to bring back information to the PWA community in regards to what the international health community is doing to reduce the rate of new HIV infection worldwide. The delegation is hoping to form a national/international pen-pal network for PWAs. (If you're interested in participating, drop me a line at Body Positive!)
Advertisement
Bangkok Bound
On July 6, I departed from John F. Kennedy (JFK) airport on a 747 jetliner bound for Tokyo, Japan which would be in flight for 13 hours before heading to Bangkok, Thailand, which would take an additional six and a half hours. Prior to my departure from JFK, I had a feeling that things would go awry since my Access-A-Ride pick-up was late, and the morning was hot, hazy and humid. I thought that I would have to rush and maybe forget something, but all turned out well and I met the rest of the delegation party at the terminal. And that is when my I.A.C. experience began.
Upon my arrival at the Bangkok International airport I was welcomed into the country by a greeting party of the I.A.C., who were very friendly and accommodating. The greeting party handed out information packets and did pre-registration. The people of Thailand are very friendly and hard working. Unfortunately poverty is a worldwide problem, and there was a woman panhandling on the street with her two young children. I would give her my spare change to every morning, with the hope that I was able to help her survive another day.
I learned from the hotel staff manager that there is a great need for HIV/AIDS education and medication for people who are infected. We were told stories about infant mortality and people dying while trying to travel from the hills to the city hospital for medical attention. What is puzzling to me is that there are people dying in Thailand and other parts of the world wishing that they could get HAART (highly active anti-retroviral therapy). Yet some people in the United States who have access to medications refuse to take them because they don't like taking all of the pills every day or because the medication gives them diarrhea. If people who refuse to take their medications knew what their peers on the other side of the planet would do to be able to have access to the medications that they refuse to take, then maybe they would have a different outlook on how very fortunate we are. It is our hope that the New York HIV/AIDS Delegation can assist our fellow PWAs in the near future, and that we will be able to go back to Bangkok to educate and comfort our peers.
The Conference Begins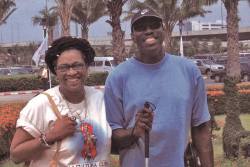 The author (right) with fellow delegation member Antoinettea.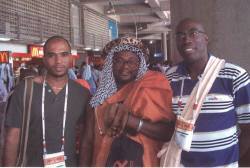 The author (right) with fellow delegation member Craig and Dr. Edward of Cameroon (center).
On Saturday July 10, 2004, one day prior to the official start of the conference, the New York HIV/AIDS Delegation received our official registration. The International AIDS Conference was held in the Impact Center, which is a sprawling, modern, state-of-the-art convention center just north of downtown Bangkok. After being registered, members immediately started networking and were introduced to media correspondents from Holland, Thailand, and the Black Journalists of America. Members of the delegation were ecstatic after they received praise for attending the conference with plans to report back to our peers in New York City.
The opening ceremony the next day was terrific, and it introduced the conference's focus on worldwide "Access For All." We met many of our peers from around the globe and immediately started making new contacts. My friend and fellow delegation member Orbit and I were able to participate at several meetings and had the opportunity to participate in the question-and-answer portion of a meeting with the Crown Princess of the Netherlands, who spoke about a greater increase in global funding for access for all citizens of the globe who suffer from HIV/AIDS.
While Orbit and I did our networking, many reporters asked us about some of the work Body Positive does on behalf of their clients, and we provided them with copies of SIDAahora and Body Positive magazines. Many of the reporters were very impressed, but unfortunately we ran out of copies, so we got their names and affiliations and told them that we would be getting back to them.
The NYHAD split into two groups so that we were able to attend as many workshops as possible. Delegation member Antoinetta had the opportunity to co-facilitate a workshop for transgender PWAs, and go to a skills-building workshop for women and children. Orbit, Craig and I went to the workshop on men who have sex with men (MSM), where a new international definition was discussed on the subject, and a new prevention and education protocol was discussed. Every day, food was provided for all PWAs in the PWA lounge and ironically I got food poisoning from one of the dishes served and was laid up ill for the evening. Luckily, I was taken care of by Rick, our nurse on staff, and my friends of the delegation.
On Thursday, July 15, former South African President Nelson Mandela addressed the conference and the world with a powerful and heartfelt speech about the need for the international community to focus more the plight of PWAs who are co-infected with tuberculosis and HIV/AIDS. There was also a little excitement at the conference when there was a demonstration led by PWAs about the cost of HIV/AIDS medication.
There is a dire need for more resources for those in need, especially in sub-Saharan Africa, where over 14 million people have died so far from AIDS-related tuberculosis. Bill Gates announced that he would donate $45 million in an initial grant to help combat the problem. That evening, the delegation decided that we needed to take a break from the conference, and we went to popular nightclub in downtown Bangkok, for a little relaxation and entertainment. The ambiance and the crowd were reminiscent of New York nightlife, and we had a great time.
At Conference's End
Friday was the last day of the conference and we looked forward to the closing ceremony, because we would again have the opportunity to hear Nelson Mandela speak. Again, Mr. Mandela gave a powerful closing speech and moved the audience with a plea for more resources for co-infection of tuberculosis and AIDS.
Prior to the start of the closing ceremony, the delegation had the privilege of meeting a tribal king from the country of Cameroon in West Africa. Named Dr. Fai Fominyen Ngu Edward, he informed the delegation that there is a need for HIV/AIDS education in his country and would like for the delegation to come to Cameroon to educate a minimum of 200 of his tribe's women, who are the most at-risk population, about HIV/AIDS prevention. Dr. Edward is a spiritual healer as well as a conventional doctor. When the closing ceremonies was over we were invited into the spiritual village were we were given a lesson in some of the herbal and medicinal remedies that the doctor uses to treat his HIV-positive patients. Dr. Edward made the delegation honorary nobleman of his tribe and asked if the delegation could draft a letter of invitation so that he could make arrangement for us to come to Cameroon. Prior to our leaving the village, the doctor gave each of us a root that he uses to make a spiritual cleanser that can also be drunk to cleanse the vital organs, such as the kidneys and liver.
Although NYHAD is young and still in the formative stage, we felt that our presence at the conference was a coup for PWAs from New York City. From the accolades, attention and praise we received, we feel that with continued support from sponsors the delegation will be able to grow and more PWA's will have the opportunity to attend conferences throughout the country and the world. The NYHAD is working on trying to recruit more PWA involvement from various sources, so that our peers might have the opportunity to attend the next International AIDS Conference, which will be held in Toronto, Canada in 2006.
Anthony Richardson, a member of Body Positive's Community Advisory Board, is Executive Director of Positive Perceptions for People with Disabilities.