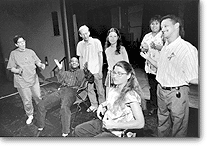 The room is dim and depressingly institutional. The last vestiges of sunlight fight their way through grimy windows to compete with fluorescent lights that cast harsh shadows on all the occupants of the room except one. Kevin Frazier seems to glow from within. His energy is not diminished by his surroundings and his smile draws smiles from those around him. A tall, striking man, he pauses dramatically before he speaks. He has the poise and self-confidence of an actor, which is not surprising, because that is exactly what he has become.
"I just want to say one thing." he says. "I just want to say it's really nice to be able to say good-bye to someone in this company and feel good about it. It's nice to say good-bye to someone who is not on the inside of a coffin." He grins and the room fills with the kind of laughter edged with bitterness that often comes with harsh realties.
This a first for the AIDS Theatre Project, and those members who are gathered in the Educational Alliance Building are glad to pay tribute to the first member who is leaving their fold for all the right reasons.
"When you first came to the company you were the most awkward little guy," Kevin continues, holding his hand up to silence the rest of the chattering group. "You were afraid to open your mouth, you couldn't walk straight, you couldn't even hold your head up. You were nervous and knock-kneed and you have evolved into this thing -- Miss Thing."
Advertisement
David Boyd, who has been with the company for five years, is moving on. He has just been offered a job with the American Red Cross in Washington, D.C. and though it is a wonderful opportunity he realizes the change is going to be hard. "Over the years I've struggled with being part of the company. We've had some real good times and some real hard times but the one thing that happened is that the company became my family."
Letitia Guillory, ATP's artistic director and self-proclaimed den mother, is fierce in her determination to create that feeling. "I'd like to believe I have created an environment where you understand that you are walking into a family. I can't just say you are in. The company members need to see you and feel you out to see if you belong...this group is not just about going to rehearsals, doing your scene, and leaving. There's more to it than that. We are a family within a family and the work grows out of that."
Kevin, who is the oldest living member of ATP, agrees. "I have stayed in the organization because it felt very much like a home. This is a group of people that care about each other. People have stayed through the hard times -- and we have had hard times -- because people cared about the work and cared about each other. That has been the biggest strength of our organization ...but new members have to be prepared for that. You are a company of actors, but because of the subject matter this is not just a professional gig; you have to know how to support each other."
Life and Death On Stage
The AIDS Theatre Project, founded in 1987, was created to form just that sort of outlet for people with AIDS. For the last ten years it has become a type of drama therapy for the HIV-positive individuals who form its cast and crew, while offering AIDS education to high school and college students as well as community groups. The works performed by ATP are developed and written collectively by the Company, and over the past ten years ATP has completed three major works: "People With AIDS," "This AIDS Thing," and its current play, "Moment to Moment." The plays, which try to use general themes to get their message across, rely on a series of monologues. They are the stories of people living and dying of AIDS.
Speaking with an intensity that she seems to bring to everything, Letitia stresses why ATP's educational program works so well. "There is always a great deal of truth happening here because all the monologues are based on cast member's, lives and that's very provocative. Young people want to talk about you. We are not trying to get into their heads; we are just saying, 'ask me anything you like and I'll answer it.' This is a portrait of the truth and that's what makes it very powerful, and one of the main things that separates us from other theatre companies that do this kind of work."
But can you really reach an audience as notoriously difficult as adolescents? Kids have at times greeted the first line of "This AIDS Thing," where the character admits that he/she has AIDS, with a resounding "Who cares?!" Letitia realizes that it is not the fault of the kids that they react to the cast of the Project in this way. They are, she feels, uneducated and uninformed. In her mind, it is the fault of the school systems. "Schools really aren't prepared to do the work to make their students' experience with us the most powerful thing it can be. They don't do any preparation before and they don't take care of their kids after. If the same kids had gotten some HIV education or maybe just a rap session we may not have gotten that response. I would love to be in residence in a school for three or four weeks and talk to the kids about condom negotiation and abstinence. Let the kids create their own theatre projects. No one has asked us, but that's my dream!"
Black, White, Whatever
Perhaps one of the actors best equipped to reach out to the high school- and college-aged kids for which ATP performs regularly is Veronica Mas, who at nineteen ("but about to be twenty") is their contemporary. With a flip of her long hair she reveals that she has little patience for the kids who don't want to hear what she has to say. "I just want to tell them it doesn't matter how old you are, if you are black or white or whatever, this [AIDS] is something that can get you. It's out there to get you if you are not careful! And if you don't want to listen to me, someone who has had experience with living with HIV, then all I can say is good luck!"
The members of ATP are dedicated to the belief that they can get those kids to hear their stories and they never stop trying to challenge prejudice and ignorance.
David believes that you really can see the results "when the kids come up to you after the question-and-answer period and say 'Thank you, you really touched our lives.' 'You made a difference,' and 'I'm going to think before I have sex.' I think we make AIDS real to people, and what people can see is that there is such a diversity in our company. It's not gay white males. It's not black females. We have a little bit of everything..."
Letitia laughs, "Well it's not quite that diverse! I would love to have straight men in the company. It would really complete the picture. At this point, we are intergenerational, multiracial, multiethnic, and multisexually-oriented. Our youngest member will be twenty next month, and the oldest, well, she won't tell us."
Perhaps the only thing that all the actors do have in common is that none of them are professional actors and all of them are HIV-positive. Many of them (like David, a waiter who unlike typical waiters had no star aspirations) talk about their transformation from shy awkward wallflowers to professional actors. Even Letitia's husband likes to tease her, "My husband said to me, 'You took people who were not actors and not only turned them into actors but you turned them into divas' and that is really rewarding."
When Wilma Rivera joined ATP, she was too shy to even consider appearing on stage. Relegating herself to crew member, she "never thought I could act or get on stage, but through ATP a lot of me has come out that I didn't know was in there."
Even Kevin, who seems born to the stage, remembers weak knees and sweaty palms. He readily admits that the material helps. "These plays are a type of drama therapy that gets a performance out of people who are not accustomed to acting. It gets them to speak words they very much identify with and to tell a story that is very similar to their own. It makes it easy to get a visceral performance out of them."
Like the proud momma she is, Letitia swells with pride as she says, "For me the most rewarding thing is to watch people let go of their fears, do a monologue, and completely commit to it emotionally with no fear whatsoever. The average person that walks through these doors has never acted before, maybe has never written anything, and might even have issues about reading out loud. Watching people grow is very exciting."
Though ATP spends most of its time and energy creating pieces that are age-specific, there is a need to let people grow as artists as well and to offer them space to unfurl their wings. ATP Unplugged has been designed as a safe, supportive, intimate space where emerging playwrights and poets can introduce themselves and their work to a more varied audience. The reading series, which has taken place at the Coco Bar and the Next Stage performance festival, has created a forum where more 'adult' and personal issues can be discussed. By implementing Unplugged, Letitia has been able to offer her actors a limitless space to create their art. "It doesn't even have to be about AIDS. It can be about anything, any aspect of your life, but some how or other it always gets back to AIDS."
Suddenly a rich, oozing wedge of chocolate cake makes its way into Letitia's hand. She looks up at the person who presented it to her and the people all around her who are hugging and congratulating David. "I'm so lucky," she says, and smiles at her 'kids.' "Some people get Oscars, some people get Tonys, but I get to know that I gave the audience something to think about that might just save their lives. I help people really know that they are not living or dying or being ill in vain. Their lives are such a testament to the powers of humanity, and being part of that for me is really phenomenal."
If you are interested in joining the AIDS Theatre Project, please contact Letitia or Lisa at (212) 475-6200, ext. 305. The ATP is also looking for an office. If you or anyone you know may be able to offer them space, please contact them as soon as possible.
Back to the October 1997 Issue of Body Positive Magazine.