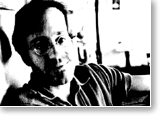 In the teenage community, AIDS is there because they don't think it is their problem," says Scott Fried, an HIV educator who works with adolescents. To reach an audience wider than the 1,000 kids he lecturers and talks to every month, Fried has published a book, "If I Grow Up: Talking to Teenagers about HIV and AIDS." The book draws from his experiences as a person living with HIV, and it includes poetry and stories from some of the kids he teaches.
"When I started the book five years ago, I thought I was going to die from AIDS," says 33-year old Fried. "I was going to nine funerals a month, and protease inhibitors were not even a concept. It was not enough to dance on the street on Gay Pride Day -- I wanted to be remembered."
Fried's evolution into an HIV educator was a long one. Fried believes that he became infected in 1987, when he was a young actor. "I let someone have sex with me without a condom," said Fried. "I was not able to articulate my needs. When I tested positive, I found this strength I'd never had to call on before. I said, 'I'm going to stay alive. I'm not going to let AIDS get me.' When I spoke to my AIDS counselor, she said to me, 'AIDS is not going to kill you. Not knowing how to say 'no' is going to kill you.'"
For five years, Fried fought feelings of despair and self-pity, becoming a self-proclaimed therapy junkie. "I was into everything -- individual therapy, support groups, healing circles." Fried said he was eventually frustrated by going over the same ground and wanted something different.
Advertisement
In 1992, an opportunity for change came up. A speaker was needed for World AIDS Day at a Long Island high school. Fried went and found that he loved talking to students. Right after that, he found out that an HIV educator working for the Jewish Board of Family and Children's Services had died of AIDS. Fried applied for the job and got it.
He started a whirlwind lecture tour of synagogues, high schools, and universities. "I'd ask the kids if they knew how HIV was transmitted, and they said they knew. Then I'd ask them to name the four fluids that transmit HIV, and no one would know. The demand for these lectures grew quickly. "I'd sing and have the kids write poetry," he said. "The theme was, 'If I Grow Up,' which has an ironic twist. It makes kids think about what it would be like if AIDS were part of their lives." The teenagers' poems and stories form the core of Fried's book.
Two years ago, Fried quit his high-paying job as a legal assistant at a law firm to become a full-time HIV educator and motivational speaker. "I gave up a good salary and the 401K, and my pay was cut in half," said Fried. "But would you rather fax a letter for a lawyer or save a kid's life?" Fried said the lecturing gigs that take him across the country are all word of mouth. "I've never sent out a resume." Fried, a wiry and energetic man, mostly talks to university groups, with as many as 500 students at one time attending. "I love to perform. I am still an actor at heart."
Freelance lecturing is not without pitfalls. Fried carries out 70 to 100 talks a year, but the work can be as draining as it is invigorating. Getting paid is also a problem. "If I don't get paid upfront, I don't get paid," he said. Fried begins his lectures with an "AIDS 101" topic about transmission and safer sex, but then moves on to emotional issues. "I teach about feelings; we talk about love, death, and suicide."
"The book itself is for teens, their parents, and anyone who is interested in what teens think about AIDS," said Fried. "Teachers are afraid to teach about AIDS, and no one writes truthfully about sex. Here is the truth."
Fried received 35 rejections from publishers to whom he'd sent his manuscript. He then borrowed money from his family and published it himself. "I've printed 2,000 copies and I've already sold 400. I have a built-in audience."
"There are kids with normal, raging hormones who know nothing about AIDS, and no one gives a crap about them. I'm going to get on Rosie O'Donnell and Oprah if I have to. I'm going to get this book out there."
For information about "If I Grow Up: Talking to Teenagers about HIV and AIDS," call Fried at (212)465-2646.
Back to the October 1997 Issue of Body Positive Magazine.