Many medical treatment origins are rooted deep in cultural healing traditions from many geographic areas. It has been common in conventional medicine to minimize the value of its founders -- traditional healer practitioners. Today, at least in Uganda, traditional healers are working along with conventional medical practitioners to minimize the effect of HIV.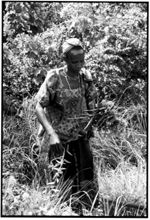 In the United States, physicians and proponents of alternative therapies often eye each other with suspicion. Herbal and other traditional remedies have been used by native peoples around the world for centuries, but it is only within the past few years that members of our medical "establishment" -- the National Institutes of Health, for example, and mainstream medical practitioners -- have begun to look at whether these approaches are effective, and when, and why.
The picture is quite different in Uganda. There, notwithstanding the advent of modern medicine, the vast majority of people continue to seek traditional health care as they have for generations. Since 1992, the two types of care providers work side by side in an organization called THETA (Traditional and Modern Health Practitioners Together Against AIDS), which calls "a mutually respectful collaboration between traditional healers and conventional health practitioners in the fight against AIDS and other diseases."
Advertisement
A Partnership Borne of Necessity
Nowhere has HIV/AIDS hit harder than in sub-Saharan Africa, which today is home to an estimated two-thirds of the world's 30.6 million PWAs. By 1992, almost one of every three sexually active adults living in the urban areas of Uganda was infected. Uganda is a poor nation, where few people have access to Western-style health care and sophisticated pharmaceuticals.
In 1992, with the encouragement of the World Health Organization, three public health professionals from three continents came together to form THETA. The idea was to tap into existing resources by enlisting traditional healers in the struggle against AIDS. Traditional healers are a vital part of community health care in Uganda. Vastly outnumbering modern physicians, they are consulted by about 80 percent of the country's population. Their roots in the culture are deep, as is the respect in which they are held. Their holistic approach to health care is combined with a rich oral tradition, and they often have broad and detailed knowledge of their patients' physical and mental health histories and their family and community backgrounds.
Getting Started
A joint project of Doctors Without Borders (DWB) (see
Doctors Without Borders
) and The AIDS Support Organization (TASO) of Uganda, THETA was founded by DWB volunteer Rachel King, MPH, Jaco Homsy, MD, MPH, and Sam Kalibala, MD of TASO. Exploratory visits to traditional healers found that they were already very aware of the AIDS epidemic through posters, word of mouth, and of course, the people they were already treating. What they wanted to know was how well their treatments were working. They were hungry for scientific investigation.
The three THETA workers set up a clinical study of two groups of 500 AIDS patients: one receiving herbal therapies from traditional healers and the other being treated with available modern drugs at the national hospital. The study, that evaluated treatments for diarrhea, herpes zoster, and wasting, was very encouraging, showing results of herbal therapies that were comparable to -- and in some cases better than -- those achieved by the more sophisticated biomedical drugs. A second phase follow-up study confirmed the earlier findings.
A key factor in this start-up phase was gaining the trust of the traditional healers. This was done in part by the project's respecting healers' rights of ownership over their herbal formulas. Like their counterparts in the biomedical community, traditional healers are also business people, and their herbal recipes are their livelihood, not to be shared.
Building Bridges
This early collaboration also helped define the challenges facing both traditional healers and modern doctors working with AIDS patients in Uganda and informed long-term planning for the project. It was important to incorporate the deeply rooted belief system of traditional healers. This meant combining herbal treatment and spiritualism while empowering traditional healers to educate their patients about caring for themselves, and about preventing the spread of the virus.
A two-year pilot project was set up in Kampala, Uganda's capital, involving a selected group of traditional healers and modern medical providers. The group met for two or three days each month to share knowledge, experience, and materials on HIV/AIDS, other sexually transmitted diseases, counseling skills, and educational strategies. The traditional healers received practical training on such things as demonstrating the proper use of condoms, and how to educate and counsel their patients and the community. At the end of the two-year period, the healers organized a ceremony that combined the presentation of formal certification as AIDS educators and counselors with traditional celebration and drama.
The Partnership in Practice
A primary goal of THETA's initial work was to build a sustainable partnership between traditional and modern approaches to AIDS prevention and treatment. The next step, therefore, was a two-year follow-up of the trained healers to see how the new information and skills were being integrated into their practices.
The results were very positive, and in some cases, surprising:
The founders of THETA had originally envisioned the project's prevention efforts as being provided one-on-one through counseling that most closely resembled healers' practices. The healers, however, saw the need for a broader public education effort within the community. They organized their own education program that emphasized the importance of condom use, encouraged young people to delay becoming sexually active, and promoted a reduction in the number of an individual's sexual partners.
An elderly, blind healer graduate of the THETA training built a clinic and persuaded a local doctor and nurse to join him and his wife in providing a range of traditional and modern HIV/AIDS treatments under one roof.
Another traditional healer built a school for orphans of the epidemic.
Yet another graduate healer organized a group of eight traditional healers into an educational association in Kampala. It utilizes the healers' standing and respect within the community and their oral traditions to get the prevention message out.
The project encountered much less resistance in Uganda than might be expected in a more developed nation. While the early days of the epidemic were characterized by fear, stigma, and misinformation, today's very high rate of HIV infection means that there is little if any stigma associated with AIDS. It's hard to stigmatize almost a third of your population. The hospitals and conventional health practitioners have been so overwhelmed by the scope of the epidemic that they do not see the THETA approach as offering competition to be feared. Indeed, some doctors and hospitals are now making referrals to traditional healers. In addition, the Ugandan government has supported THETA through the Uganda AIDS Commission and the Ministry of Health.
Moving Ahead
Besides sustainability, a major goal of the project was to design a model of collaboration between traditional healers and the biomedical system that could be replicated throughout Uganda and, eventually, elsewhere in Africa. At the end of the two-year follow-up, THETA took what it had learned and set up similar collaborative efforts in rural areas. It is now working in seven districts across Uganda, involving about 30 traditional healers in each district. The last two were established just this year. As of now, THETA is the longest-lived (and perhaps the only) collaborative project between traditional healers and bio-medical workers in sub-Saharan Africa. In addition, the organization has begun to provide training to other health care organizations working with traditional healers.
Another creation of THETA has been the Resource Centre for Traditional Medicine and HIV/AIDS in Kampala. It provides a forum for the exchange of ideas and experiences, and a central information, documentation, and training facility on traditional medicine medicine and HIV/AIDS. Meetings between traditional healers, conventional health practitioners, and their clients are held monthly.
Today, THETA's plans for the next five years include strengthening its training capacity and expanding its program to other parts of Uganda; working with healers and conventional health practitioners to screen, investigate and disseminate useful herbal treatments for opportunistic infections; to develop a membership base to provide community support; to promote the acceptance of traditional medicine among biomedical practitioners; and to help the two groups share their experiences and ideas. THETA is also working with both traditional healers and conventional health practitioners to find ways to develop more rapid clinical screening of patients.
A long-range goal is to develop a deeper anthropological approach to learn how traditional healers are integrating new information into their long-standing traditions. For example, one THETA graduate's healing rituals had always made use of a spirit medium. Today, that medium recommends the use of condoms.
---
Doctors Without Borders (DWB; known internationally as Médecins Sans Frontiéres, or MSF), one of the founders and supporters of Uganda's THETA project, is a private, nonprofit organization that provides emergency medical relief to populations threatened by war, civil strife, epidemics, or natural disasters. It was founded in 1971 by a small group of French doctors determined to respond rapidly and effectively to public health emergencies independently of political, economic, or religious pressures.
Today, more than 2,000 volunteer doctors, nurses, and other medical professionals from 45 nations work in 80 countries each year, restoring health and hope to millions. DWB provides primary health care, performs surgery, rehabilitates hospitals and dispensaries, runs nutrition and sanitation programs, and trains local medical personnel. DWB volunteers work in frontline hospitals, refugee camps, nutrition centers, and remote health clinics.
Working in the most remote and dangerous parts of the world, DWB volunteers are often the first to arrive at the scene of an emergency, dedicating six to twelve months to each assignment. Teams arrive at a project site with prepackaged medical kits custom designed for specific field situations, geographic conditions, and climates. A kit may contain a complete surgical theater, for example, or all the supplies needed to treat 500 cholera patients.
Wherever DWB works, its aim is to meet patients' needs and ensure the sustainability of its programs. Volunteers train and work closely with local staff and adapt the delivery of aid to the local context.
When medical assistance is not enough to save lives, DWB will speak out against human rights abuses and violations of international humanitarian law that its teams witness while providing medical relief. The organization periodically publishes Populations in Danger/World in Crisis, a report on the world's most acute humanitarian crises.
DWB also publishes a variety of handbooks for doctors and other health professionals working in precarious and isolated environments. The manuals are updated frequently and issued in English, French, and Spanish.
The organization also operates Epicentre in Paris and Aedes in Brussels as centers for surveillance, applied research, and training in epidemiology and public health.
DWB looks to the general public for the greatest part of its operating funds to maintain its operational independence and flexibility. They are located at 6 East 39th Street, 8th Floor, New York, New York 10016. They can be reached by telephone at (212) 679-6800.
Back to the October 1998 Issue of Body Positive Magazine.