A few people were asked, "What comes to mind when Sweden is mentioned?" ABBA, social welfare programs, pornography, and Ingmar Bergman films were the answers. HIV is not something that people associate with Sweden. Actually, two of the things mentioned by the people who were queried have some connection to HIV: Pornography (if sexual activity is occurring without the use of preventive measures) and social welfare programs (since the Swedish government's health care system is a gem for people living with HIV). Bertil Falkenström, an HIV-positive gay man who is president of RFHP, Sweden's association for HIV-positive people, sheds some light on what it's like to live with HIV in Sweden.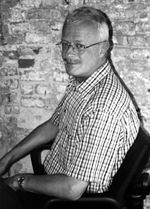 BP: Can you share with us your personal background?
BF: I was born in a middle-class family in southern Sweden. I teach languages -- Swedish and German and I've been teaching for about 20 years. I'm a gay man. I realized my sexual identity at a early age, but I didn't know how to define myself. At 18, I "came out," and it really hasn't been a big problem for me. I've been open with my family about it. As I recall, I told them in 1971 when I was 21 years old.
I tested HIV-positive in May 1986, and believe that I became infected at the beginning of the 80s. Of course, it was a disaster. It was to everybody in those days, and even today, it is still thought of as a disaster. At the time of my diagnosis, my future seemed short. I expected to live for another two, maybe three years. I'm still here, rather healthy, after 12 years, and that's a very good feeling. But it's also a difficult situation, because I experience survivors' guilt over the fact that there have been so many losses during these years. So many friends have died from HIV.
Advertisement
After I tested positive, my work as a teacher became very important to me because it gave my life some stability, and I could forget about HIV for a couple of hours every day. For several years, I had the feeling that HIV was ruling my life, and that I wanted to be in charge of my own life. I needed a way to express some control over my life, so in 1990, when I was 40 years old, I decided to take a job in Prague, Czechoslovakia. I taught Swedish at the University in Prague for two years. When I returned to Sweden in 1992, I felt much stronger and in charge of my life.
My T-cell count would rise and fall, and I began to realize that teaching was going to be too stressful for me. Children who are 15, 16 years old are very demanding. Actually, in 1987, I told my students that I am gay, and it was a very positive experience. We had wonderful talks about sexuality, about life, love, things that are really important. I believe that these discussions were very helpful to many of my students. They were at an age where they were exploring their sexual identity.
Around 1993, my attendance was not constant as usual, and rumors began about my HIV status. Then, in January 1995, after Christmas vacation, an incident happened. I was only working part-time, teaching Swedish literature, when one of the students got irritated about the lesson and asked, "Why the hell do we have to learn about these things?" Suddenly, without warning, my feelings just came up, and I replied, "Why the hell do I have to stand here trying to teach?" I started to cry, and had to leave the classroom. Of course, the students were shocked about what happened.
There were several reasons why I reacted that way. That particular winter was very stressful for me. Several of my friends were sick, one of my friends had just died two weeks before, and I was facing some turning points in my life and my career. For some reason, my passion for teaching just disappeared, vanished, and it never came back.
After the school incident, I needed to stay at home for about four weeks just to recover. When I returned, I learned that the students were very concerned about me because they thought they had caused my reaction. They couldn't have known that what came out were many feelings that had been accumulating for almost 10 years. My colleagues at the school informed me that one of the rumors about why I over reacted concerned my HIV status. At this point, I had not discussed my HIV status with my colleagues, but because of the rumors and the uncomfortable situation that existed for everyone, I decided to talk about what I was going through and why. I had no idea what the reactions would be.
At first, they were shocked. All of a sudden, HIV was in the middle of the classroom and in their lives. However, we began to have wonderful discussions about life, what life is about, why we are here, about sex, about many things. Disclosing my status was one of the best things I've ever done.
Currently, I'm on sick leave, and I am trying to figure out what I am going to do for the future. I receive letters and postcards from some of the students, saying, "How are you?" or "I saw you on TV," or "I read about you in the newspaper." It's such a great feeling that they care. It's unfortunate that I can't go back to work as a teacher.
I have been on the board of directors of the Swedish Association for HIV-positive people since 1993. I used to be the secretary, but it was taking up too much of my energy. My colleagues on the board began a campaign to convince me to become President of the board. They were very convincing, so I've taken the position for one year.
BP: What kind of services are available in Sweden? Are there barriers to people receiving these services, and if so how can they can be reduced or eliminated?
BF: Sweden has a general health care system that is very different from the American one. Every Swedish citizen or person who has residence in Sweden also has access to health care. The system is quite favorable for people with HIV. Visits to the doctor are free under the Communicable Diseases Act. So, by law, every HIV-positive person is entitled to regular treatment by a doctor. The Swedish medical system is not burdened with an exceptionally high caseload. In Sweden, in total accumulation to date, there are 4,800 cases. Currently, there are about 3,600 people living with HIV, and most of the cases are concentrated in one of three main geographical areas: Stockholm, the capital; Gothenburg, on the west coast; and Malmoe in the south, just eight miles from Copenhagen, the capitol of Denmark.
The services for people with HIV living in these areas are quite good, but there are some difficulties in areas outside of these. Geographically speaking, Sweden is a large country, and many people (especially those who live in the North) are isolated. People in these areas are usually very afraid to meet other people who are HIV-positive, and most of the doctors are concentrated in the cities, not all over the country.
It's difficult to reach these people. RFHP launched a project a couple of years ago, where we tried to reach every HIV-positive person in the country through the doctors, nurses, counselors, and social workers. It had some good success. We inspired the formation of some self-support groups that are now members of RFHP.
BP: Is RFHP the only organization that's providing services to people?
BF: No. RFHP is an umbrella organization for self-support groups, and we have six-member groups. These support groups are only for HIV-positive people, but there is another organization called Noah's Ark, that provides services to HIV-positive people. Basically, RFHP is voluntary. In Noah's Ark, there are many people who are not HIV-positive working for people who are HIV-positive. Many of them are affected in some way by HIV because they have friends or a family member who is infected or who has died from AIDS.
BP: Is your organization and Noah's Ark the primary service providers in Sweden?
BF: Yes, we are. RFHP's focus is more political that service-oriented. We are trying to influence policy and public awareness, to have a positive impact on legislation drafted by Parliament, and people who make the laws in the country on local and national levels.
BP: What are some of the challenges concerning treatment. You've stated that your health care system pays for visits to the doctor, so tell us how people access and pay for treatment.
BF: This is a total health care system whereby anyone in the health care system that needs medicine has access to it, that is, with one exception: people who are active drug users -- intravenous drug users. It is believed that drug users will not be able to maintain adherence to taking medicines regularly, so these people don't get the treatments. They do get it when they are clean. Malmoe has a needle-exchange project that began more than 10 years ago. There hasn't been one single case of HIV spread among IV drug users in Malmoe since 1989 due to needle exchange. So, that's very good. Of course the state says it's illegal and should be stopped, but they don't stop it because they see the benefits. So the state -- how do you say -- they look between the fingers ...
BP: We say, they look the other way.
BF: They look the other way, yeah. They know it's there, but they tolerate it.
The same factors that concern people in the U.S. are the same ones that concern HIV-positive people in Sweden: resistance, adherence, and side effects. Many people experience side effects. Many people can't tolerate the medications, or do not respond to them. It's very frustrating. On a personal note, I've participated in several studies that were dead ends. Every time that happened, I was disappointed. So now, I really don't know if I can trust the medicines. How long will it be before I become resistant? What side effects will I experience? Will my kidneys be destroyed? What will happen while I'm on long-term treatment?
As to payment, as I said previously, doctors' visits are free, and medication is covered by the general regulations detailing what the patient has to pay. Nobody has to pay more than $150 during a 12 month period for medications. The limit for visits to the doctor is $110 for a 12 month period. By law (the Communicable Diseases Act), people who are HIV-positive must regularly visit the doctor from whom they are receiving treatment. Since people are forced by law to have this contact, people who are HIV-positive don't have to pay for these visits.
BP: This is regardless of the amount of time that you have to take the drugs?
BF: Yes. When I get my medicines for the first time, the cost is way above $150. Immediately, I get this free card. I get what I need until my card expires after 12 months. Then, the process starts all over again, but I never pay more than $150.
BP: Let me restate what you just said to make sure that everybody will understand this. You pay $150 one time. Every 12 months, you need to reapply for a new card, but you don't have to pay $150 again.
BF: Yes, you do. Every year, you pay $150 for the year.
BP: Are clinical trials widely available to a variety of people who are HIV-positive? Can anyone participate?
BF: Anybody who meets the criteria for a specific trial qualifies, and you also get counseling before it. This counseling is an important component because when clinical trials first were introduced, we didn't receive information that we needed about every aspect of the trial. We began to demand this information, so now, we get it.
BP: Here in the States, one of the vital issues today concerns how people who are successfully responding to the new treatments are adjusting to their increased health and well-being. Many people did not expect to live a long life, were preparing for death, and expected to live out their remaining years on disability. How has this affected you -- and other people living with HIV in Sweden -- psychologically, socially, and practically?
BF: I finished my career as a teacher three years ago, about more than a year before the new medicines came. When I started using protease inhibitors and a couple of others, I didn't really expect very much. My feelings were: I'll try it, and let's see what happens.Now, my viral load is undetectable, my CD4 cells are up to the level where they used to be five years ago, and my doctor has said, "I could almost consider you as healthy!" Then, I told him, "Well, in my kitchen on my table, there is something telling me that this is not a fact. There are three big bottles filled with pills that I have to take every day." I take about 17 pills every day.
Currently, the public insurance agency that has been handling my case wants to discuss with me whether it is possible for me to go back to work part-time, or some other work situation close to it. This is a problem for many of us who, late in life now, are supposed to be healthy enough to go back to work and lead a normal life.
Okay, I could go back, but there are emotional and psychological aspects of my life that have not been treated. There are so many things that I would need to talk about before deciding whether I could go back to work. I feel that I would need therapy with somebody who does not know me, a neutral person, because my relationship with my doctor and my social worker is too personal. I've known them for so many years that it's impossible for me to make them understand that I need some help to get rid of that sick part of my mind, to be able to go on with the healthy part of my life. So much of the grief and disappointment that I've had to deal with has not been treated. It's so difficult for me to explain.
BP: It sounds like there are conscious mental and emotional obstacles, and ones of which you may not even be aware.
BF: True.
BP: Other then treatment, what challenges do people living with HIV and AIDS face?
BF: One of the main challenges is discrimination in the workplace. People have been forced to leave their work, though HIV was not given as the official reason. Employers found some other way to get around the problem.
BP: What is the situation in Sweden concerning pediatrics and children?
BF: In Stockholm, there used to be some kind of kindergarten or day care center for HIV-positive children, but they had to close it for some reason. HIV-positive children are a very anonymous group. I've only met one child with HIV. He is 5 years old, and is being taken care of by his family and friends. They do not want to have any contact with RFHP. There is a woman in Stockholm who has sponsored a support group to address women's and children's issues, but the group is brand new, so we haven't come very far in this area yet.
BP: Is your group primarily for men, or is it for men and women?
BF: It's for men and women, but basically, it was formed by gay activists in the 80s, like the process occurred in the United States, when gay men realized the problems or that problems that would arise. Therefore, gay men are the most active. Support from the heterosexual community is difficult. Most of them don't want to be associated with the gay community or anyone who's HIV-positive.
BP: In order to deliver effective prevention strategies to a diverse range of individuals in the U.S., it's important that prevention and support services be provided in cultural formats to which people will respond favorably. These people include intravenous drug users, women, young people, men who have sex with men but do not identify as being gay, lesbians, immigrants in this country. There's been some difficulty designing services and supports to individual cultures. Added to the cultural barriers are the service providers who exhibit internalized homophobia, or some other form of discrimination toward clients. Are similar problems experienced in Sweden?
BF: I think it's quite similar because we have a lot of immigrant groups. For instance, we have people who seek political asylum in Sweden, so we have people from sub-Sahara Africa, many people from Uganda, from the western part of Africa, from Iran, Iraq and many people who came to Sweden in the 70s from Chile, and other countries in South America. So unfortunately, there are many HIV-positive people from many different immigrant groups.
There is prejudice among the average Swedes that Black people have HIV. This prejudice causes problems for Blacks, who are stigmatized. Since the Black immigrant population is quite large, it's difficult to tailor programs -- education and information programs -- for them. I believe that they can get information at hospitals -- if not printed, at least orally -- with the help of an interpreter.
RFHP finds it very difficult to reach them. We've tried to though. One of our member organizations for gay and bisexual men published some information in Spanish. I think the publications reached the population, but it's difficult to know if this was effective.
BP: One of the lessons that we've learned here regarding designing program resources for different cultures, is to recruit people from the culture for whom the programs are being designed to participate in the planning, development, production, delivery, and evaluation processes as much as possible. Often, community leaders are approached who can help to facilitate the inclusion process in communities in which project developers might normally not have access.
BF: I don't think they [program designers] have the contacts to reach these people. That's a very big problem. For instance, there are many people from Uganda in Sweden. Some of them are HIV-positive, and most of them are quite sick, so they don't have the power to work with these issues. Plus, they're not willing to be open about their HIV status in their own community. This is a major problem affecting most, maybe even all, immigrant groups. People are not willing to be open about their HIV status. If they tell the community that they are working on an HIV project, of course they're going to be asked, why are you doing that? So, it's very difficult to involve them in the work.
BP: You're saying that they will be discriminated against in their own communities, and they fear becoming an outcast in their community?
BF:Yes. There is fear. They're not afraid to be open to me, as a Swede, but within their own community, they're very afraid to be discriminated against. Unfortunately, these groups are not like the Chinese people in New York, where there are huge numbers of them. We are talking about relatively small groups. So, the main problem in Sweden is how to reach all these different, small groups. We've been trying to reach people through health care, the doctors, and social workers, but if they don't want to come, we can't force them to do so.
BP: Do immigrant populations have the same access to health care?
BF:If they have permission to stay in Sweden, they do. There is a small group of immigrants who should be expelled, but they are in hiding, somebody's hiding them. There is a group of doctors and nurses at a hospital in Stockholm who are taking care of and treating the immigrants in hiding who are HIV-positive. It's illegal, but they do it because, as doctors, they feel obligated to help people who are sick.
BP: What kinds of testing systems are in place? Does Sweden have anonymous testing, or mandatory testing? Is there an official system through which they notify the partners of people who have tested positive? These are controversial issues in this country.
BF: Yes, they are controversial issues in Sweden, too. We have anonymous testing, but if your test result is positive, you have to reveal your name. You can request to remain anonymous and will be given some kind of a code on lab tests if you don't want your full name in the laboratories. Yet, you have to reveal your identity to your doctor and he is obliged to report it. Not your name, but your coded name. In Sweden, we don't have social security numbers, but issue a different personal number, one with your birth date, plus 4 more digits. They use parts of this number; therefore, nobody can say that it is exactly me. Yet, this code must include the year and area where you were born.
There is a partner notification system. You have to sit down with counselors, or social workers to discuss your whole situation -- with whom you have had sex or other risk-behaviors -- and then try to track your contacts. They notify partners very discreetly by using a very anonymous white envelope, and writing the name manually. They let the person know that it has been brought to their attention that they may have had engaged in an HIV-related risk behavior, and they ask you to contact them. Most people respond, and when they come into the office, they are offered the HIV test and counseling.
BP: Would you say that this system is useful or effective, or that people have problems with it?
BF: In one sense, I feel it is effective because a person gets to find out their status. One difficulty is that people don't want to tell about the partners they've had. It tends to be sensitive for one reason or another. People tend to forget or lie.
BP: Are there struggles in Sweden with how funding resources get directed to services? There are so many agencies here that need to compete for a limited amount of money.
BF: We have exactly the same problems. This year, the government has planned to cut the funds earmarked for HIV prevention. We fear that this money will go into the general budgets of the different communities, and will not be used specifically for HIV. I don't see it as a big problem for RFHP though, because we are the target group, so to speak. We are the HIV-positive people, so it would be very difficult for them to cut too much funding for us. At least, I hope so, because we don't know what the situation will be next year.
BP: So, the funding will not be cut for support groups but will be for prevention. In this country, there's a term called "secondary prevention," which says that people who are HIV-positive need regular positive reinforcement to continue practicing safer sex, and other forms of prevention to minimize the potential for transmission and personal reinfection. What's your situation with this?
BF: I hope the Institute of Public Health will realize the need to provide psychological support for HIV-positive people, especially since we are supposed to live longer now, which increases the already difficult goal to always practice safer sex. Sometimes it's easier to avoid having sex altogether. Using a condom is not as fun as they try to show in these condom campaigns. We don't have any formal policy on this issue, but we're trying to address the psychological issues facing HIV-positive people. It's become very important as the number of HIV-positive people in Sweden is growing. For several years it didn't grow because people were dying.
BP: Have you had any public health education campaigns, and if so, did they have any impact? Were they geared toward all segments of the population, or were they just targeted toward people who are perceived to be high risk groups?
BF: There have been different educational programs in Sweden, plus the gay and lesbian organizations have their own campaigns in their magazines targeted to men who have sex with men, or women who have sex with women. The Institute of Public Health has had only general, but I think they have been too general because nobody felt that the campaign related to them.
BP: They didn't recognize themselves in the campaign? They felt no identification?
BF: Yes, and that's a big problem. The campaigns developed by gays and lesbians are effective in reaching other gays and lesbians. Mr. average Svensson does not think that he can get infected, nor does Mrs. Svensson. They cannot identify with it. The media signals in the society create the impression that there is a cure, there is a treatment, or maybe you don't get cured, but you can get treated. It's a communicable disease, but it's still for gay men, IV drug users, and a few immigrants who have HIV. They really don't see it as a problem for themselves. Actually, HIV transmission has gone down, among IV drug users, gays, and bisexual persons. It's gone down, it's ... how do you say? ...
BP: It's leveled off?
BF: Yes, it has leveled off. But among heterosexual men and women, it's still going up very slowly. This is the biggest group at risk for infection today.

Photo by Scott Cotenoff
Back to the October 1998 Issue of Body Positive Magazine.