The Geneva Conference. It was a mix of bungee jumping, whitewater rafting, the state fair, and a family reunion -- people I was thrilled to see, and others I would rather have avoided. It was both a dignified medical conference and a 42-ring circus.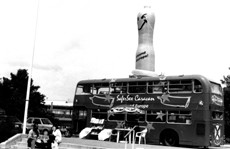 The conference was held in two huge buildings -- so large that workmen setting it up used bikes and motor scooters to get around inside them. One building contained the auditorium for the plenary sessions, media center, several lecture halls (each holding 300+ people), a huge space for poster sessions, two cafés and commercial booths for the drug companies, book sellers, testing labs, and more.
At the end of this building was a pedestrian walkway about a city block long (the span of a six-lane highway) to get to the other building that included three more poster areas; 12 lecture halls; more booth space (this time for 300 "non-governmental organization" groups like Gay Men's Health Crisis and Project Inform); the Web Café (for internet access); the "Talking Trees" (e-mail to other delegates); an exhibit of the Quilt; an art gallery; a medical clinic; a post office; bank, and several restaurants. Because I was staying next to the airport, every so often a plane would take off or land, and it sounded like it was going to come through the building.
This conference was different this year because of its size (13,000 people, 6,000 studies presented), but also because in addition to doctors and researchers, a broader range of people attended than in previous years -- people with HIV, nurses, social workers, sex workers, and every type of person whose life is touched by HIV from around the world.
Advertisement
What Was Presented?
The conference was divided into four "tracks" or interest areas. Track A was basic science: the study of how HIV lives, reproduces and dies. Track B was clinical science. This covered subjects such as the effectiveness of medications -- both antiviral and against opportunistic infections. Track C was epidemiology, prevention and public health. Track D was everything else related to HIV that didn't fit within the other tracks -- law, ethics, economics, politics, psychology, sociology, human rights, human sexuality, et al.
Research was presented three ways: 1) through plenary presentations given in the auditorium to thousands of people each morning; 2) oral sessions given in lecture halls seating 300-500 people that ran throughout each day in lecture halls seating 300-500 people, and 3) all day poster sessions. Oral sessions and posters were divided into the four tracks, and there were usually one-to-three oral sessions in each track happening simultaneously. Oral presentations were supposed to be more important or thought-provoking research, grouped by a common theme, like "Hepatitis C" or "Mother-to-Child Transmission." Most of the time this was true, but sometimes the research was so basic or off-point that I wondered if back-scratching had influenced the selections.
Every day there were 200 different posters presentations in each of the four tracks. Researchers posted their research on bulletin boards, and were available at these sites three times a day to answer questions. Posters from the developed world were often laminated with full-color pictures and professional lettering, while those from the developing world were simply typed or even handwritten on pieces of plain paper. In Track D ("everything else" subject matter), many researchers from the developing world stayed all day at their posters, eager and thrilled to meet anyone interested in their work. This facilitated discussions between researchers from geographically distant countries.
There were also skills building workshops ranging from "Vitamins and Their Use in Fighting HIV" to "Use of the Internet as a Vital Link between Countries." Also, each day there were 10-15 breakfast and dinner presentations sponsored by pharmaceutical companies, or groups like UNAIDS or the World Health Organization (WHO).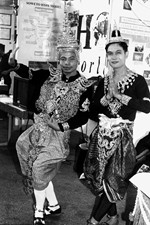 "Bridging the Gap"
This was the theme of the conference, and it rapidly became ironic. The gap in treatment and care between the developed world (Europe, Canada, and the US) and the developing world (everybody else) was so stark it was as though there were two conferences being held in the same place. In the developing world, many countries spend $10 per person per year on health care, so a drug that costs $10,000 a year might as well be on the planet Mars. The developed world was holding sessions discussing treatment adherence to combination therapy, cross resistance, and what combinations to use in what order. The researchers from the developing world were giving presentations on topics like, "Better Diagnosis of Blood Poisoning." A particular example of the stark contrast was a presentation given by a doctor from Vietnam, who presented data on opportunistic infections. In the developing world, 98% of people with HIV catch Tuberculosis and many will die of it. Blood poisoning, leprosy, malaria and pneumonia are also major killers. The developing world can be further divided into those countries who can provide drugs to treat or prevent opportunistic diseases and those that can't afford anything more than aspirin.
Breastfeeding
In many countries, there is no safe water to drink. There is a huge controversy ranging now because the World Health Organization (WHO) recently changed it's stand on breastfeeding in the developing world. Formerly, they recommended that HIV-positive mothers breast feed their children in response to the lack of clean water and the large number of infant deaths from diarrhea disease. They felt that breastfeeding would be safer than using formula mixed with poor water. However, they have reversed this policy based upon the increased number of HIV infections among women, and the possibility of babies becoming infected through breastfeeding due to this increase. Emotionally charged arguments between government officials, HIV-positive women, funders and doctors broke out in hallways throughout the conference concerning WHO's policy change.
New Prevention Materials for Women
Two companies presented new prevention methods for women -- a larger dental dam, designed for use in oral sex (size is 6" x 10"), and underwear with a built in condom. Both are being reviewed by the Federal Drug Administration for sale approval in the US. The dental dam is in use in both England and Australia.
"AIDS is Real"
Three hundred booths from AIDS agencies around the world were in the main hall, stocked with materials in languages from Arabic to Zulu to prevent HIV, and to explain treatments, and side effects. There were also some strange booth mate combinations, like the Christian AIDS Network located between the Network of Sex Workers Project and the New South Wales Users Group (an Australian organization for active substance users). Since the booths were grouped by country, the stark contrast between the developed and developing world, again, was evident. Agencies from the developed world offered free newsletters, posters, while those from the developing world sold beadwork, picture frames, carvings, and pictures made with seeds to finance their trip to Geneva. The South African People with AIDS group erected a tin shack and sold picture frames and beadwork.
The national differences in values and epidemiology were also fascinating. Deutsch AIDS Hilfe, the German government agency, famous for explicit posters of naked men and women, laid them out on the floor in front of their booth and invited people to help themselves. Talk about an instant feeding frenzy! AIDS Infoshare/Russia was selling T-shirts at discount if they were purchased with US dollars. In Nigeria, the first step in AIDS prevention is to convince people that AIDS is a disease, that it exists and that it can spread. Many people think this is not true, and so the Nigerian prevention workers wore buttons that said "AIDS is Real."
As the host country, the Swiss had an elaborate booth demonstrating their response to AIDS. This included a vending machine offering a drug injection kit and syringe for 2 SF (about one dollar). These vending machines are available in a wide variety of public locations. Condoms and clean needles are available in most Swiss federal prisons. An elementary school "AIDS Answer Wheel" was displayed. Shaped like a 5-foot wide sunflower, questions about AIDS are printed on each petal. You lift the petal, and find the answer. The sex workers' outreach unit produces small booklets containing safer sex information along with tips on how to be a better prostitute. Pink Cross, the Gay/Men Who Have Sex with Men outreach unit, has billboards with beautiful crotch shots (in bathing suits) with the headlines, "Think With Your Head" or "Protect Your Jewels" and the text: "If you can't be faithful in love, be faithful with a condom." The religious right has been vandalizing these billboards, replacing the bottom line with "Be faithfully married and monogamous with your wife."
Demonstrations
Five hunger strikers set up a protest vigil outside the conference site to make their point that HIV is not the cause of AIDS, and that everyone around the world should stop taking their AIDS medications. ACT UP Paris demonstrated to demand that a PWA from the developing world be allowed to speak at the opening ceremony. This was accomplished. A coalition of ACT UP Paris, Golden Gate, New York and London staged several demonstrations in the commercial booth area, most notably completely trashing the European Community booth because funding was decreased for projects in developing countries and shifted from treatment to prevention. Their flyer said, "European Community Members and the European Commission will be responsible . . . if in two years . . . AIDS is considered to be another exotic illness particular to the developing countries . . . and if the epidemic continues to expand."
On July 1, Canada Day (the equivalent of July 4th), Canadian treatment activists, along with several ACT UP members, protested the slow drug approval process. They wrapped the Canadian booth in red tape and held a press conference urging approval of Viramune, Rescriptor, Viracept, Fortovase and Combivir, all of which are not approved in Canada.
A small group of French activists dressed up as AIDS drugs, and accompanied Marie Antoinette in a gown with dollar signs on it through the conference chanting, "Let them eat cake, not AIDS drugs," and singing parodies of children's songs about lack of drug access in the developing world. On the last day of the conference, women from around the world linked arms and snaked through the conference chanting "Who'll bridge the gap? The women will close the gap."
Pharmaceutical Companies
It is important to realize that the International Conference is also a trade show. People go to get information on new drugs, and to connect with drug companies who are an increasing source of funding for AIDS-related projects, both in the United States and throughout the world. Sponsorship by drug companies paid for most of the conference, and everything from the conference workbooks to the free bottled water had a corporate sponsor. The commercial drug booths were positioned so that everyone had to walk through them to get to the other half of the conference. Something most people did several times a day. They were noticeably less grand and elaborate than the Vancouver conference. All of them gave away bags, pens, and water bottle holders.
In my opinion, Merck was giving away the most useful gift -- CDs of the conference abstracts. Many booths had small Swiss chocolate squares with the names of their drugs on them. "Compliance with 16 chocolate Fortovase a day? No problem!" said Donald Rhoan, a PWA from Canada. But after a while I started to think about how cruel this was for the PWAs from Uganda, Nigeria, India. This conference was full of the companies that make the drugs giving discussions about these lifesaving resources. They were giving out bags, pens, even chocolates with the name of the drugs, but not the drugs themselves.
For me, it was too easy to simply say that the drug companies are all evil and should be stopped. There are some serious issues that need to be addressed. For instance, what responsibilities should governments and international organizations share in negotiating prices with drug companies? A Malaysian delegate was quoted in the conference newspaper saying, "We should tie the prices to the Gross National Product of each country. That way they'd be affordable and it would be equitable." The gap is a chasm, growing wider daily.
Vaccines, the orphan stepchild of funding, must play a vital role in the future. However, most treatment advocates believe the current vaccines will be failures or will work poorly. At the end of the conference UNAIDS announced that they had brokered a deal between several drug companies to provide antiretrovirals and opportunistic infection drugs to Chile, Ivory Coast, Uganda and Vietnam. In a separate meeting, the Under Secretary of Health for Uganda stated that they would be receiving combination drugs for 1500 people. Uganda has more than 3 million infected citizens.
Each day, 16,000 people are infected worldwide, 90% of them in the developing world. UNAIDS deserves recognition for their leadership in getting a commitment from key players. It is clear that the governments of developing countries are unable to cope with the AIDS epidemic alone. Governments of the developed world and international funding organizations must sit down with the business community, the pharmaceutical companies, advocates and medical providers in the developing world to address real-world solutions. If they don't, the gap will widen to swallow the bridge.
Web Sites for More Information on the Geneva Conference
Geneva Conference Abstracts:
www.aids98.ch
Geneva Conference Reports:
AIDS Treatment Data Network: http://www.atdn.org/trs/aids98/reports.html
AIDS Treatment News: http://www.aegis.com/scripts/atn98.ig?Citit=AIDS+Treatment+News
Being Alive: http://www.mbay.net/~bngalive/index2.html
Critical Path AIDS Project: http://www.critpath.org
Johns Hopkins AIDS Education: http://www.hopkins-aids.edu/geneva/hilites.html
Positively Aware (the Test Positive Aware Network): http://www.tpan.com
Project Inform: http://www.projinf.org
Treatment Action Group: http://www.aidsinfonyc.org/tag/taglines/9808.html
University of California, San Francisco: http://hivinsite.ucsf.edu/img/soc/geneva98.html

Photos by Karin Timour
Back to the October 1998 Issue of Body Positive Magazine