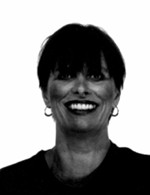 My name is Carolyn, and I live in London, England. I am the mother of three grown children, and will be celebrating my 52nd birthday in October. I was diagnosed HIV-positive in October 1993, when I was 47 years old, and progressed to full-blown AIDS in October 1995. I began triple drug therapy in October 1996, and have stayed well on the original regimen for almost two years.
London has been my home for 30 years, though I was born in Los Angeles, California to an English mother and an American father. I grew up on the outskirts of Hollywood and worked as a fashion model. You can say that I was one of Hollywood's original wild kids, and a groupie in the 1960s. My home was in Laurel Canyon, and my neighbors were Jimi Hendrix, Moody Blues, the Doors, and Joni Mitchell. Those were amazing times -- the 60s. I lived with an English rock star, and we took every kind of drug. They used to call me "Crazy Caroline," because I was so wild.
In 1970, I moved to London where I continued my modeling career, traveling all over Europe. I married an English aristocrat in 1972, and was transported from a Californian hippie lifestyle to an English privileged one. I've even had tea at Buckingham Palace and met Prince Charles. Yes, I've seen it all. My marriage to the aristocrat produced two children, a son and a daughter.
After ten years of the country lifestyle, I got bored and moved to London where I got into hard drugs and met my second husband, a punk rock star. We used drugs together for 14 years. This marriage produced my 17 year old daughter, who travels around the world as a successful model. (She's not wild like I was.)
Advertisement
I wound up in a treatment center where I surrendered to a higher power and found the 12-step program of Narcotics Anonymous. I was 43 years old when I cleaned up. Last month, I celebrated eight years clean and sober. I'm so proud of myself.
In 1993, with three years sobriety, I was diagnosed HIV-positive with 130 T-cells. I wanted to give up but my strong belief in a higher power and spiritual principles by which I was living told me, "Don't give up. Keep fighting. It's not your time to die."
In October 1995, I had my first bout with Pneumocystis Carinii Pneumonia (PCP), and two more hospitalizations in February and October 1996. They put me on triple drug combination therapy in October 1996. My viral load reached undetectable levels within a month, and my T-cell count went from 50-200. I have stayed well with no opportunistic infections for almost two years, and my life has been given back to me.
Adherence hasn't been a problem for me. I never miss a dose. I have never experienced wasting or high cholesterol. I drink two liters of water per day and take loads of vitamins. So, the virus is suppressed and my immune system is healing.
I have had to seek counseling to heal emotionally. It's been a tough fight, but I think that I'm winning.
Currently, I volunteer for Positively Woman, an organization in London for HIV-positive women. New women are joining us every week. It's sad that the virus is still having such a devastating impact on women here. Also, I am on Body Positive London's editorial team for their newsletter, and am a member of a speaker's group through which I travel to help educate people about HIV. The epidemic is now a problem in Eastern Europe, so last year, I was a guest speaker at the first symposium on AIDS in Slovenia, and I also spoke in Prague.
As you can see, I am very open about my status, and helping others is important to me. The only thing missing from my life is a boyfriend, and I find it difficult to find one at my age, but I do have a great relationship with my children and many friends.
For those of you who are newly diagnosed, please don't give up. There is life after diagnosis. I'm open to hearing from you, so feel free to write me. I would love to hear from you. Write to: Carolyn Williams, 59 Barnes Ave., London SW139AA, England.
Back to the October 1998 Issue of Body Positive Magazine.