The faces and voices on the following pages are taken from
A Positive Life
, a collection of photos and interviews that capture the struggle and the strength of thirty women -- of varying ages, races, and backgrounds -- living with HIV and AIDS.
In interviews conducted by River Huston and excerpted here, these women discuss their reactions to finding out that they are HIV-positive, how the disease has affected their lives, and their hopes and fears for the future. Mary Berridge's photographs add faces and context to their stories.
River Huston is a poet, journalist, speaker, educator, and activist. She was diagnosed HIV-positive in 1991 and travels around the country speaking on HIV/AIDS and related subjects. She holds an honorary doctorate from Albright College, was named Poet Laureate of Bucks County, Pennsylvania, and has been recognized by Rutgers University as a Beacon of Hope.
Photographer Mary Berridge's work has appeared in the New York Times Magazine, DoubleTake, and Pleasures and Terrors of Domestic Comfort. Her photographic treatment of women living with HIV earned her the 1996 Ernst Haas Award from the Maine Photographic Workshop, a fellowship from the New York Foundation for the Arts, and a 1997 Guggenheim Fellowship.
Advertisement
River Huston and Mary Berridge received the 1996 Dorothea Lange-Paul Taylor Prize from Duke University's Center for Documentary Studies for their work documenting the lives of HIV-positive women.
A Positive Life was published in 1997 by The Running Press in Philadelphia. It can be ordered by telephone at (800) 810-4145 or through the internet at www.runningpress.com.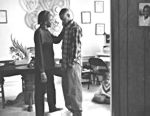 Bunny
Age 44, HIV-positive since December 18, 1990, infected through unprotected sex.
The hardest part was to tell my children. I didn't tell my son until three years later. When I finally did tell him, he already knew something wasn't right. He was worried about who would take care of him if I died. I explained that his sisters would take care of him. They all thought I would be dead in a year.
I stopped working in 1994. I never told people at work. I just resigned from my position. I receive $822 a month. It has been six years since I've had the virus, and the biggest problem that has come of it is that I don't make the money that I used to. The financial disability is always a reminder of the virus.
I don't think any of my friends know. Some of my kids' friends know. I gave them that option. I know how cruel people can be about AIDS. I didn't want them to take it out on my kids. I go to high schools and talk to parents. I also speak to teenagers.
About three years ago, I found out my uncle was dying of AIDS. It was awful. He was my favorite uncle. We weren't supposed to say anything because we weren't supposed to know -- it was not discussed. When I told my mom that I wanted to tell the family about my diagnosis, she said, "No, it's your business." I needed support, but I wasn't supposed to say anything.
What made me want to go out and speak is I didn't fit any category that people believe are at risk. I wasn't a homosexual, I didn't have a lot of lovers, and I never used drugs. I want people to know you can be straight and wind up with this infection.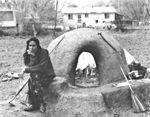 Shana Tenendah
Age 25, HIV-positive since January 1993, diagnosed on April 22, 1994, infected through sex.
James was conceived on Mother's Day and born on January 31, 1992. Shortly after he was born, [his father and I] started fighting a lot. I felt like I was going to get physically injured, so I left.
I checked into the psychiatric ward for depression. There was a man, Jeff, who was thirty-nine, Native American, strikingly handsome, and depressed like me. He became my knight in shining armor.
Before we became intimately involved, I asked him, "Is there any reason we need to use condoms?" Did he have any sexually transmitted diseases or HIV? He said, "No, I've been tested and I'm negative." I trusted him.
I noticed that he had a problem with alcohol. I knew I couldn't deal with the alcohol, so I asked him to leave. At the end of the argument he said, "Well guess what, I got AIDS and now so do you."
I was 22, and James had just turned two.
It took me a couple more weeks before I went to get tested. April 22 the results came back. I started crying and didn't stop for three weeks.
Then they told me that I had to test my son. For a good half a year that I was with Jeff, I had been nursing James. It put me beyond rage. If he had infected my son, I would kill him.
James's test came back negative. I felt a huge relief. I had made a promise: if my son was spared, I will deal with this.
I realized that having AIDS can be okay. I don't like how I was infected, but there's something to be learned from it. I started talking to my virus. I told it that I will welcome it to my body. It came unannounced, but this is my body and we need an agreement: "You will not replicate and take over my body. I will find a way for you to get out. I won't take drugs that will kill you. I will try to live in unison with you. If you try to kill me, you will kill yourself."
I wouldn't take AZT. I wanted to use native medicine. I wanted to find a friendly way to sing it out, breathe it out, sweat it out. It wasn't about killing or death. The last thing I wanted was to have death happening in my body. I went to native ceremonies. The elders said not all of my teachers will be humans, and this is one of them. They said, "When you have a teacher you listen to it, respect it, and don't step in front of it. Stay close to the native medicine and you will be okay."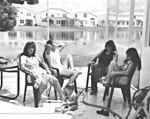 Debbie Diamond
Age 45, diagnosed HIV-positive September 30, 1992, infected through sex.
I lived with a man who was HIV-positive for two years. I took an HIV test every six months. One time the test came back positive. There was slippage and breakage of condoms from not using them properly.
My lover died two years ago July. He was a dynamic person. Always dancing, loving. We had our fights, but I loved him. I was with him up to the end with the exception of his death. We separated a month before he died. He had become angry and bitter. He was humiliated. The doctors had given us no hope. His family came down and they took care of him. I had to leave for my own sanity. I couldn't go through his death. Just a month before, in September 1990, I had lost my son, Frankie.
I couldn't go through it again. I was afraid to wake up and find Bobby dead. I had to leave. I guess HIV can make you selfish. The loss would have been too much. When I think about him I remember him when he was well -- a fun-loving and healthy man. I consider that a gift.
He was angry when I left. A part of him wanted me to stay, but I think a bigger part wanted me to leave. It's different when a significant other takes care of someone who is dying. It's so humiliating for a person who took such good care of himself to not be able to do the simplest things.
I can't comprehend why they haven't found something that can really make this illness manageable. Because it certainly isn't the new treatments that have come out. Most people can't afford the treatments, and side effects can be debilitating. It definitely isn't a cure. It's ridiculous. It gives false hope to the youth. They stop using condoms because, "Hey, there is a treatment now!" This is not pregnancy or the "clap" -- this is their life.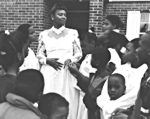 Tracie Ednes-Etheredge
Age 38, HIV-positive since 1989, diagnosed in 1991, infected through sex.
I know who infected me. He called for me to come see him in the hospital. I knew what he was going to tell me.
He said he was sorry and he wondered how many people's lives he messed up. He was using drugs when we were together. I don't know if he knew he was infected when he was with me. At this point it doesn't really matter. I was using [when I was seeing him].
I went into a deep depression for about six months. [Then] I started getting educated. I started to feel like I could live with this thing.
The first relationship with someone not infected was with a woman. It was inspired because I didn't think anyone would want me, and she accepted me as I was, HIV and all. It eventually became real crazy. I was not sure I wanted to live a gay lifestyle.
We ended the relationship. Now we are very good friends. I feel in my heart that if something happened she would be there for me.
Then I became involved with Ben. We were dating, but he was in early recovery. I thought it best that we end it so he could have a chance to get clean.
I was in another unsuccessful relationship, then Ben came back into my life. I dated other men but it seemed that it always came back to Ben.
We had a beautiful wedding, but on our honeymoon I lost it. When he pulled out the condoms and put them on the dresser I just burst out in tears. Here I'm married and I can never have unprotected sex with my husband. This was supposed to be the time to share precious and intimate feelings. Deep down inside I know that condoms don't take away from those feelings. You can still love intimately. Sometimes it doesn't feel real good inside -- just every now and again. I try not to dwell on it. Condoms don't stop anything really, except body fluids.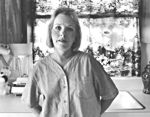 Patsy Stewart
Age 41, HIV-positive since 1988, diagnosed in April 1993, infected through sex.
I don't blame anyone. It was my own responsibility. I should have used protection, even though at the time I was infected there was no talk of women getting AIDS.
I have had my ups and downs. I had PCP. I also had a hysterectomy. I had cysts and constant bleeding. They didn't know if it was HIV-related. There has been no Ob-gyn that deals with HIV women in this area. All the positive women I know have gynecological problems and none of the doctors really understand the connection to HIV.
When I started to have problems I went to see a doctor. I told him I was positive and he put this big, red sticker on my chart. He said, "Remind me when you come in to tell us that you're positive so we can put hazardous material in a proper container." After the exam the nurse tells me to take the paper off the table and put my gown in a hazard bag.
I dressed and left my gown and the table paper right where they were. The doctor says, "I will need to see you in three months." I told him, "I will never step foot in your door again, and I will make sure every HIV caseworker in Pinellas county knows how ignorant you are so no woman will ever have to be insulted by you." And that is what I did. I get hit on all the time. I tell them right out I have AIDS. This one guy I was dating never used condoms before. All of a sudden he has to use a condom with me. It did not work for him. We tried the female condom. I hated it, he hated it. It's hard to use and it makes a lot of noise. It's like fucking a hefty bag. We couldn't have sex because he would lose his erection. But this wasn't the only reason the relationship ended. I've had my hysterectomy so I'm not going to have PMS ever again. (PMS -- Putting up with Men's Shit.)
Mortality-wise, I think I'm too mean to die.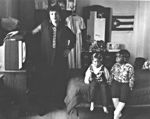 Sugar
Age 34, diagnosed HIV-positive in 1991, infected through IV drug use.
When I worked the streets, I always used a condom. I wouldn't go out on a date if people wouldn't use it. It wasn't about HIV as much as syphilis and gonorrhea.
When I used to get ready to go out, I would smoke angel dust. I would look in the mirror and say, "If you're HIV, you can take care, you can live a long time." When I went to get the results, I just wanted to take care of myself better. It didn't really bother me then and don't bother me now.
I don't think about it. Thinking too hard will kill you faster. All I do is thank God for another day of living.
I haven't worked the streets for four to five years. I haven't done drugs for two years because I want to live. My lover has custody of his two kids. They call me mommy. I stopped because of these children. My lover is positive. We both just happen to be HIV-positive. If he was and I wasn't, I would still be with him.
I'm a really lucky person. I have a good man. I live so much better now than I did before.
Back to the October 1999 Issue of Body Positive Magazine.