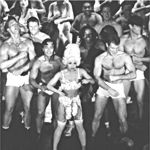 Have you been to a play, on or off Broadway, in the past few years? Or perhaps to the road show of a Broadway hit? If you have, at the final curtain call, one of the actors may have come forward and asked the audience to give money to Broadway Cares/Equity Fights AIDS. Then, as you were leaving the theatre, members of the cast were standing at the exits, greeting you and holding out cans for the audience's donations.
I'm not a theatre aficionado, but I do see several plays a year. After a few times of paying on the way out as well as on the way in, I had begun to think that BC/EFA collected at every single performance. This, I've since learned, isn't so. The organization actually only has two major in-theatre fundraisers each year -- in the autumn during the six weeks leading up to Thanksgiving and in the spring during the six weeks before Easter. Why these particular times? I put the question to BC/EFA's Executive Director, Tom Viola. "These are the heaviest theatre-going seasons in the year," he told me. "We do our fundraising when the greatest number of ticketholders will be present." I guess I'm one of those "in-season only" theatregoers.
Act I
Scene 1, Equity Fights AIDS. What is this organization with the name that sounds like separate entities? It is, indeed, a marriage of what were originally two distinct groups.
Advertisement
The story begins in November of 1985, just a few years into the AIDS epidemic, when its devastating effect on the theatrical community was beginning to be felt. A committee within Actors Equity, the actors' union, produced
The Best of the Best
at the Metropolitan Opera House. The revue-style show featured the talents of such luminaries as Bette Midler, Christopher Reeve, Lily Tomlin, Mikhail Baryshnikov, and the cast of
La Cage Aux Folles
. At a time when many people and organizations were afraid to have their names associated with anything to do with AIDS, The Best of the Best raised over a million dollars, which was contributed as the first large-scale donation to Gay Men's Health Crisis, the American Foundation for Aids Research, and the AIDS Resource Center.
Following on the success of The Best of the Best, Equity Fights AIDS was born. Created late in 1986 at the suggestion of an Equity member and with leadership from Colleen Dewhurst, then the president of the Council of Actors Equity Association, the new group's original purpose was fundraising for AIDS organizations in general. In 1987, however, Equity Fights AIDS entered into an agreement with The Actors' Fund, agreeing to provide ongoing financial support to help meet the needs of the ever-growing number of people with AIDS within the entertainment industry. Inside of two months, $2,750 was raised and granted to this initiative. Thus Equity Fights AIDS began to target the distribution of the money it raised.
Then the fundraising events began in earnest. In April of 1987, the company of La Cage Aux Folles presented the first Easter Bonnet Competition at the Palace Theatre. The 1987 event raised $21,000, which was granted to the National AIDS Network. The event is now held every spring. The wardrobe department of each Broadway show that enters makes the hats, and cast members chosen by their coworkers as models present them in song or skit. First, second, and third prizes are awarded for the best creations.
In November of that year, the first Equity Fights AIDS Week raised $73,000 from in-theatre collections, in New York and across the country. Also in November, as part of Equity Fights AIDS Week, the premiere Broadway Flea Market was presented by the company of A Chorus Line. Held in the world-famous Shubert Alley, just outside the stage door of the Shubert Theatre where A Chorus Line was playing, the Flea Market offered theatre memorabilia and donated goods, and raised a more-than-respectable $7,000. In the years that have followed, other Broadway shows joined in, and today approximately fifty shows join the annual Broadway Flea Market and Grand Auction, where you can buy a piece of theatre history at bargain-basement prices.
By the end of 1988, its first full year of existence, Equity Fights AIDS had raised a total of over $225,000 for The Actors' Fund AIDS Initiative.
Scene 2, Broadway Cares. The other partner to the marriage was founded by a group of producers early in 1988. A special event was held at the St. James Theatre to commemorate the new organization, and, as with the Equity Fights AIDS kickoff event, some big names turned up: Jerry Herman, Judith Ivey, Joel Grey, Penn & Teller, and Linda Lavin, to name a few.
Flush with its first success, in May 1988 Broadway Cares conceived and designed a "Tony T-Shirt" that featured signatures of over fifty Tony Award nominees. Some of the famous names on it were Patti LuPone, Hal Prince, Glenda Jackson, and Michael Crawford. The T-shirt quickly became one of Broadway's hotter tickets, with sales of over $80,000. More important, though, this became the first collaborative merchandising program between Broadway Cares and Equity Fights AIDS.
By June, Broadway Cares had raised enough money to distribute $174,750 to a large number of AIDS service organizations in New York City. Included in this was a $20,000 distribution to The Actors' Fund AIDS Initiative.
Step by step, Broadway Cares and Equity Fights AIDS were moving closer together. In November of 1989, the two organizations jointly produced the first Gypsy of the Year Competition. Chorus members from Broadway shows -- the theatre world's "gypsies" -- displayed their talents and vied for the coveted title. The event was hosted by Tyne Daly, then playing Mama Rose in a revival of Gypsy, along with the rest of that show's cast, and raised $64,000. The competition, which continues today, casts performers from current Broadway shows in musical numbers (newly created, not from their shows). As you can imagine, competition is stiff, and the result is a thrilling evening of song and dance.
In 1990, yet another joint venture in fundraising was undertaken: Under contract to Pocket Books, Broadway: Day & Night was conceived as a project of both organizations. Broadway: Day & Night is an insider's view of the arts and the crafts, and the people who practice them, that are integral to creating a Broadway show. The book was published in 1992 and sold more than 15,000 copies. It contains more than 100 essays by such theatrical celebrities as Angela Lansbury, Frank Rich, and Nathan Lane.
Hundreds of original photos offer theatre buffs and celebrity watchers a view from both sides of the footlights.
In June of 1991, the organization Dancers Responding to AIDS was founded as a joint fundraising project of Broadway Cares and Equity Fights AIDS. The new group's purpose was to organize a response to AIDS from the American concert dance industry, and the effort elicited the support of some stellar dance companies. The American Ballet Theatre, New York City Ballet, Paul Taylor Dance Company, Martha Graham Center of Contemporary Dance, and Merce Cunningham Dance Company all participated in early fundraising efforts.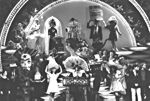 Act II
By 1992, the two organizations had been functioning in synch for so long that the inevitable happened: Broadway Cares and Equity Fights AIDS formally merged.
The merger plan had been proposed and recommended by Marty Bell and the Broadway Cares Board of Trustees, Broadway Cares Executive Director Rodger McFarlane, Equity's Executive Secretary Alan Eisenberg, and Tom Viola, then Equity Fights AIDS's Administrative Director. In March of 1992, the Council of Actors Equity formally approved the merger.
The first fundraising event for the newly formed group was Broadway Bares. That's exactly what it sounds like. Specifically, the company of The Will Rogers Follies danced "in rotation" -- that is, showing both front and back -- on the bar at Splash, a popular Chelsea watering hole. The new organization's first exposure, so to speak, raised over $8,000 . . . and a couple of eyebrows. Naked theatre stars tend to get reactions like that.
In May, BC/EFA moved into office space in the Actors Equity Building in the theatre district and established itself as a separate not-for-profit organization.
Fundraising went into high gear in 1993. In April, three performances of Company: The Original Cast in Concert at the Vivian Beaumont Theater in Lincoln Center raised $195,000. In November, what used to be Equity Fights AIDS Week was reincarnated as the BC/EFA Holiday Appeal. Fundraising efforts in 198 theatres across the United States raised $980,000. By the end of the year, BC/EFA's first full fiscal year as a unified entity, more than $1,600,000 was raised and distributed to The Actors' Fund AIDS Initiative, while $772,000 went out in the form of grants to a variety of AIDS service organizations. By the end of fiscal year 1994, over $2 million had been raised, with $1,791,000 going to the AIDS Initiative and $242,750 to various other organizations, channeled in the same manner as the previous year. By 1995, these amounts had increased to $2,010,000 and $553,000 respectively.
In the years that have followed BC/EFA's fundraising efforts have yielded increasingly better results. Corporate sponsorship has helped considerably. In March of 1997, for example, Target Stores came aboard as a sponsor for the Easter Bonnet Competition, donating $125,000, BC/EFA's largest corporate sponsorship until that time. When Target signed on again in 1998, it increased its sponsorship to $300,000.
Also in 1997, in September, Continental Airlines became a sponsor for BC/EFA's major annual events -- Broadway Bares, the Flea Market, Gypsy of the Year, and the Easter Bonnet Competition -- commencing what has become a successful long-standing partnership.
Today, Broadway Cares/Equity Fights AIDS is a thriving organization with thirty full-time employees. A large cadre of volunteers assist with fundraising, clerical work, mailings, and the like. And, of course, performers in the various events, whether Broadway legends or members of the chorus, contribute their talents and energies.
Exciting special events are constantly being conceived and mounted: in 1999 (so far), Betty Buckley at Carnegie Hall; a concert version of Sweet Charity at Avery Fisher Hall, and The Playwright's the Thing, readings from the works of Chris Durang, Wendy Wasserstein, and Terrence McNally by stars including Steve Martin, Swoozie Kurtz, and Whoopi Goldberg. These events have helped counter the AIDS apathy and donor fatigue plaguing so many AIDS organizations.
Of course, the annual events that have been around since the early days continue. As this is being written, the Broadway Flea Market is planning its thirteenth appearance on Sunday, September 26; last year, it yielded $500,000 in funds. The Easter Bonnet Competition and the Gypsy of the Year Competition are annual events. And twice each year, the in-theatre fundraising periods, six weeks each, send cast members into the audience to encourage theatre-goers to reach into their pockets for people with HIV.
Then, of course, there's Broadway Bares. Yes, to no one's surprise, that too became an annual event. Need I mention that it's a smash hit? Last year, it raised $226,000, and this year's take is expected to exceed that. Tickets run in the $35 to $250 price range, but it's no surprise that we're willing to pay a substantial price to see the handsome and beautiful stars of Broadway in various states of undress. If voyeurism reigns, it's for a very good cause.
Curtain Call
Where does the money go? At least half of all funds go to five programs affiliated with The Actors' Fund of America:
The AIDS Initiative provides a large range of supportive services, including case management, referrals, therapy groups, emergency financial assistance, and work retraining. The total client enrollment as of the end of 1997 was 598 nationwide. BC/EFA gave $2.3 million to the Initiative that year. The money was used for both direct financial assistance grants to clients and to pay social worker salaries, administrative costs, volunteer expenses, and other costs associated with case management.
The Aurora Supportive Housing Residence is located on West 57th Street and Tenth Avenue in Manhattan. The building was constructed as a high-rent residence in 1988 and acquired by the Actors' Fund in 1995; it is currently home to 178 people representing three populations of people who need affordable housing: people with HIV/AIDS; the elderly; and low-income working people. BC/EFA has pledged $750,000, to be made in five payments starting in 1996, to the Aurora.
The Palm View is a residence similar to the Aurora but located in Los Angeles.
The Phyllis Newman Women's Health Initiative, launched in 1996, addresses health issues, including HIV/AIDS, affecting women in entertainment. BC/EFA made its first contribution the year the Initiative began, in the amount of $10,000, to support its first special event, entitled Nothing Like a Dame, a musical revue with an all-woman cast. BC/EFA is clear about its support here: It strongly considers AIDS to be a women's issue. And BC/EFA is right; in the past seven years, the incidence of AIDS among women, especially in urban communities, has risen considerably.
The Actors' Work Program strives to ensure that work is available to all in the entertainment industry. BC/EFA has funded this effort since 1993, with an annual donation of $10,000 to be used for tuition grants for HIV-positive clients still working in the industry but wishing to make a career change to something less stressful or physically challenging.

The rest of the funds raised by BC/EFA are distributed to a large variety of HIV/AIDS supportive organizations. This year, the recipients of these funds can be found in 43 states.

Financially, things bode well for Broadway Cares/Equity Fights AIDS. At the end of 1998, nearly $4.2 million was contributed to the various receiving organizations; this year, the projected total is $6.7 million.

I asked Tom Viola what caused such a jump, especially when AIDS groups across the country are hurting financially.

"Primarily," he says, "an increase in corporate support. Our two largest donors, Target Stores and Bloomingdale's by Mail, significantly enhanced their contributions this year. The annual events and the special events are always successful. And, surely, the in-theatre fundraising continues to grow in success. People are generous."

What could be a better combination? Enjoying the spectacle of the theatre, and being able to support HIV/AIDS causes as a byproduct. Let's keep attending the star-studded special events that Broadway Cares/Equity Fights AIDS sponsors. Let's enjoy watching Broadway's finest wearing their skimpiest. Let's attend the theatre during the fundraising weeks.

And let's be generous.


Ronald Russo is a Training Director for a large communications corporation and a freelance writer who contributes frequently to Body Positive.




Back to the October 1999 Issue of Body Positive Magazine.