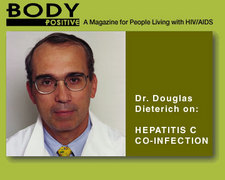 R E G U L A R C O L U M N S
F E A T U R E
A R T I C L E S
Hepatitis C -- The Newest Opportunistic Infection
HIV/Hepatitis C Co-infection in the Age of HAART
by Karen Weisz, C.F.N.P. & Douglas T. Dieterich, M.D.
Hep Alphabet
The "Other" Hepatitis Viruses -- A, B, D & E
by Raymond A. Smith, Ph.D.
Liver Dinner
HIV/HCV Co-infection, Diet, and Liver Health
by Sandra Goldsmith, M.S., R.D.
Picking Up the Insurance Bill
ADAP Programs and the ADAP Plus Insurance Continuation Program
by Karin Timour, M.A., M.Ed.
How Do You Keep Private Private?
The Confidentiality of HIV Medical Records -- Part II: Special Populations
by Robert Vázquez-Pacheco