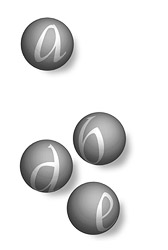 In recent years, the hepatitis C virus, or HCV, has received an ever-increasing amount of attention in the media in general and in HIV/AIDS circles in particular. Part of the reason is HCV's tendency to become chronic in those who become infected with it, and the large numbers of people who are believed to have it. But HCV is only one of five known types of hepatitis virus; there are also hepatitis A, B, D, and E viruses (not surprisingly, known as HAV, HBV, HDV, and HEV). Each can raise serious health concerns on its own, and all of the hepatitis viruses are even more dangerous in combination. For instance, HAV/HCV coinfection can raise the danger of "fulminant" hepatitis, a condition that leads to the massive death of liver tissue.
Because viral hepatitis and HIV are transmitted in many of the same ways, similar groups of people are at risk of infection by both, including healthcare workers, injection drug users, blood-transfusion and organ-transplant recipients, people with blood-clotting disorders, and individuals who have multiple sexual partners, particularly men who have sex with men. Thus co-infection with HIV and viral hepatitis is very common. Moreover, viral hepatitis co-infection can cause particular complications in people with HIV. The problems caused by the immune system suppression associated with HIV commonly lead to infection by other microbes that, like hepatitis, attack the liver, including cytomegalovirus, Epstein-Barr virus, and certain herpes viruses. In addition, long-term use of antiretroviral and other types of medications common in the treatment of HIV can lead to liver damage.
Here is a primer on the "other" hepatitis viruses:
Hepatitis A
Acute infection is characterized by jaundice, fatigue, abdominal pain, loss of appetite, intermittent nausea, and diarrhea. In the U.S., there may be as many as 125,000 to 200,000 infections annually, of which 84,000 to 134,000 are symptomatic and 100 of which lead to death from fulminant hepatitis. HAV does not lead to chronic infection, but the acute stage can be prolonged; there is a relapse rate of about 15 percent. One-third of the U.S. population is immune to HAV, which is evidence of previous infection.
Advertisement
HAV is transmitted primarily by oral contact with the feces of an infected person, or through contaminated food or water. HAV can also be transmitted via blood, but this is believed to occur rarely. At highest risk of HAV are those who have household contact with people who are HAV-positive (particularly people who work in daycare settings for children or the developmentally disabled) and those who have sex -- particularly any type of anal sex -- with people who have the virus.
HAV is particularly prevalent in certain parts of the world, including Latin America, Africa, the Middle East, South Asia, and some Native American reservations and Alaska Native villages. Residents are at high risk of infection, and international travelers to those regions may face increased risk. The United States, Canada, Australia, and most of Western Europe are areas of low prevalence.
Fortunately, there is a highly effective HAV vaccine, and immune globulin can also be administered to prevent infection even after an exposure. Those who think they may be at risk should consider being vaccinated. More generally, good hygiene and sanitation can minimize exposure to the hepatitis A virus.
Hepatitis B
Much like HAV, acute infection with HBV can cause jaundice, fatigue, abdominal pain, loss of appetite, intermittent nausea, and vomiting. There are believed to be between 140,000 and 320,000 HBV infections a year in the United States, of which 70,000 to 160,000 cause symptoms. Acute symptomatic cases cause 8,400 to 19,000 hospitalizations annually and 140 to 320 deaths each year. Unlike HAV, 6 to 10 percent of HBV infections -- 8,000 to 32,000 per year -- become chronic, leading to 5,000 to 6,000 deaths a year from chronic liver disease, including primary liver cancer. An estimated 1 to 1.25 million Americans are chronically infected with HBV.
Hepatitis B is transmitted in many of the same ways as HIV, although more easily. HBV can be transmitted via a variety of bodily fluids, especially blood, semen, and vaginal secretions. It can also be transmitted perinatally and by sharing needles. Thus the list of those at risk for HBV will be familiar to people who know HIV/AIDS -- injecting drug users, sexually active heterosexuals, men who have sex with men, babies born to infected mothers, and healthcare workers. Others at elevated risk are immigrants (and their U.S.-born children) from regions with high HBV prevalence, those who have household or sexual contact with people with HBV, and people who receive hemodialysis, such as for kidney disease. New cases were on the rise until 1985, then dropped 55 percent between 1985 and 1993, a decrease attributed to vaccination and decreases in sexual and drug-using risk behaviors. Since then, however, increases have been noted among the three primary risk groups -- sexually active heterosexuals, homosexual men, and injection drug users.
A vaccine for HBV has been available since 1982. Routine vaccination is recommended for infants with a booster at age 11 or 12, while "catch-up" vaccinations are advisable among members of risk groups of all ages. In addition, screening of pregnant women, infants born to infected women, and blood/organ/tissue donors is recommended. The vaccine for HBV has a proven track record of safety, with no evidence that it can cause chronic illnesses (although some people may have a short-term adverse reaction to the vaccine). The vaccine, which is given as a series of three shots into muscles, provides protection from HBV among more than 90 percent of the children, adolescents, and young, healthy adults who receive the whole series.
Hepatitis D
HDV is a defective virus in that it requires the help of HBV to replicate. Sometimes referred to as "hepatitis delta virus," HDV may occur either as a co-infection (being transmitted at the same time as HBV) or as a superinfection (being transmitted to a person with already has chronic HBV infection). Those with HBV/HDV co-infection may have more severe acute disease and a higher risk of fulminant hepatitis (2 to 20 percent of cases) compared with those infected only with HBV. On the other hand, chronic HBV infection seems to occur less frequently in persons with HBV/HDV co-infection than in those with only HBV.
People who have chronic HBV infection and who become superinfected with HDV usually develop chronic HDV infection. In long-term studies, 70 to 80 percent of patients with chronic HBV who acquire an HDV superinfection have developed evidence of chronic liver diseases with cirrhosis, compared with 15 to 30 percent of patients with chronic HBV infection alone.
HDV is transmitted in many of the same ways as HBV, although it is less efficiently transmitted sexually and appears rarely to be transmitted from mother to baby. Because HDV requires HBV to replicate, the best way to prevent HDV infection is to avoid HBV, particularly through vaccination. There is no product available, however, to prevent HDV superinfection in those who are already chronically infected with HBV.
Hepatitis E
Infection with HEV causes symptoms similar to those associated with the other hepatitis viruses. HEV is usually transmitted in fairly large outbreaks through fecally contaminated water. It is virtually unknown in the United States, except among travelers newly returned from areas of the world in which the virus is endemic, particularly Mexico, parts of Africa, India, China, and other parts of Central, South, and East Asia. The best way to avoid HEV is by drinking only bottled water when visiting affected regions.
---
Information obtained from National Center for Infectious Diseases, U.S. Centers for Disease Control and Prevention, http://www.cdc.gov/ncidod/diseases/hepatitis/index.htm.

Raymond A. Smith is Associate Editor of Body Positive and will become Editor with the October 2000 issue.