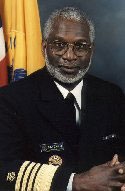 Surgeon General David Satcher
In June 2001, the Surgeon General of the United States, David Satcher, M.D., Ph.D., released a report on human sexuality that many hailed as the most important and far-reaching of any report released by a senior government official. Predictably, Satcher was criticized by many -- vocally from social consvervatives outside government, implicitly by many in government, including The White House. (Satcher was appointed by former President Bill Clinton and his term of office is due to expire next year.) HIV/AIDS organizations, on the other hand, praised the boldness of the document. Below are excerpts from Satcher's introductory letter to the report, which can be found in its entirety by clicking here.
It is necessary to appreciate what sexual health is, that it is connected with both physical and mental health, and that it is important throughout the entire lifespan, not just the reproductive years. It is also important to recognize the responsibilities that individuals and communities have in protecting sexual health.
We must understand that sexuality encompasses more than sexual behavior, that the many aspects of sexuality include not only the physical, but the mental and spiritual as well, and that sexuality is a core component of personality. Sexuality is a fundamental part of human life. While the problems usually associated with sexual behavior are real and need to be addressed, human sexuality also has significant meaning and value in each individual's life.
I would like to add a few words for the many thousands of persons living with HIV/AIDS in this country. We realize that you are not the enemy; that the enemy in this epidemic is the virus, not those who are infected with it. You need our support and encouragement. At the same time, it is also important that you realize you have an opportunity to partner with us in stemming the spread of this illness; to be responsible in your own behavior and to help others become aware of the need for responsible behavior in their sexual lives. Working together, we can make a difference.
Advertisement