Consumers Address Harm Reduction vs. 12-Step Abstinence Recovery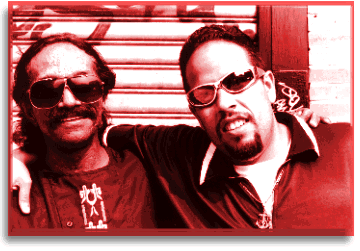 In New York City, prior drug users in Narcotics Anonymous' (&quotN.A.&quot) 12-step programs are usually content with quietly sharing their hopes, strengths, and experiences in their meeting rooms. But just the opposite proved true when five people were invited to a roundtable to discuss the pros and cons harm reduction and 12-step abstinence. The participants were: Harry Levy, a recovering addict in N.A. and a substance abuse specialist for the Black and Latino Aids Coalition (BLAC); Robert Collen, winner of &quotThe Funniest HIV-Positive Person in New York&quot contest and a recovering addict in N.A.; Bart Majoor, Associate Director, St. Ann's Corner of Harm Reduction; Eddie Santiago, a drug specialist with St. Ann's and a recovering addict; and a recovering addict. When it comes to approaches concerning drug usage, these guys had plenty to say. The following features highlights of an hour-long discussion that got pretty animated at times.

MODERATOR: Can 12-step abstinence programs like N.A. work together with harm reduction?
Harry Levy: In my experience dealing with people in 12-step programs, harm reduction is something new to people in the rooms. A lot of them don't have an inkling about it and think harm reduction means they can go back and use. A lot of people have really said that to me. I've read it in articles and as a matter of fact, Edith Springer [Clinical Director, New York Peer AIDS Education Coalition] said that people come up to her and say, &quotOkay, I know about harm reduction now. That means I can go back and use.&quot Some of them actually have that mindset. I'm in agreement with harm reduction, probably 99 percent, but I'm trying to figure out ( and this is a big question ( how do you reach those people who believe that harm reduction is the enemy for people who believe in total abstinence?
Eddie Santiago: Some people have the idea that we're promoting drug use. We're promoting abstinence. We're not promoting drug use. We're telling people that if they're using they should be taking care of themselves. That's not promoting drug use. It's accepting the fact that people will use. I can talk about my own experience in recovery and I've been in the process of recovery for six years. It took me four years before I actually was able to make the decision. I remember feeling totally isolated. For the most part, I was left to practice my own form of harm reduction in those four years. There was no room for harm reduction in the 12-step program model or any kind of support for a person who was having a difficult time. The 12-step program has little acceptance for users. Although relapse isn't a requirement, it's a big reality in the life of drug users. Just two days ago I was thinking about getting high. That shit can happen.
Advertisement
Robert Cullen:
I agree and I disagree. I don't believe that everybody who's using drugs has the power to get involved in harm reduction. If they're shooting drugs, they're not responsible for themselves, they're not going to hear what you tell them. I think it's a waste of time. I agree with giving out syringes, but I don't see how you can reach someone who's active and have them listen. I was involved in harm reduction when I worked at Housing Works. They started giving out needles and I used to agree with it.
Eddie: So you're saying that people using drugs are incapable of making decisions for themselves or that they can't be responsible for themselves. You think people share syringes because they're irresponsible? I mean, I know I shared syringes. It wasn't because we wanted to go and fuckin' use other people's syringes like some kind of ritual. It was a matter of me not liking to wait to get high. If I wanted to get high, I wanted to have my own shot. I wasn't trying to go and wait for the next person to get high. So, the only reason I'd have to wait at times or share somebody else's syringes is because I didn't have access to them; it had nothing to do with my not being responsible.
Harry: Can I take off on that? I'm going to share a personal experience about sharing syringes. I think it's when I got the virus. I remember being with three other people and that I was high on drugs. I used to shoot speedballs [a mix of heroin and cocaine], heroin and cocaine. I definitely agree with Robert because you couldn't tell me anything about clean syringes when I was high. I remember a guy who shot the dope first, passed it to the second guy and then after he used it, he passed it back to the first guy. I was on the end. The guy took the works [paraphernalia used to shoot drugs], threw it and stuck it in the carpet. I pulled the syringe out of the carpet and used it. I mean, that's how responsible I was.
Eddie: What if you had 10 new syringes located near you? Would you have picked that one up from the carpet?
Harry: No!
Eddie: Everyone here is an individual. The way I use might be totally different from the way you use. It seems like there's a common experience among people who live in a neighborhood like this one in the South Bronx. There's almost no access to syringes, no money, the whole bullshit. So we all pretty much end up doing the same shit most people do. It's like a trend but not everyone's the same. We all have different ways of doing things.
Harry: If somebody had offered me clean syringes, I probably would have taken them. I might haveused half and I would have sold the rest.
Eddie: You mean the sterile syringes?
Robert: I've sold them too.
Harry: I would have sold half to get me another bag.
Eddie: Right! You would've sold the syringes.
Bart Majoor: Can I say a few things? What you say about selling clean syringes, we call that secondary use of syringes. We know that a lot of our participants will sell at least part of what we give them. But we actually like that. We want them to do that because it means more and more people are using clean syringes in the community of the South Bronx and it's about time. What's more important in this discussion is the meeting of the three ways of life ( the drug-free life, the N.A. story and the other story about harm reduction. What is central to the discussion is the question about responsibility. Is a person living an active life of injection drug use capable of responsibility? As far as I know, he or she is absolutely responsible for their behavior, and if you explain to them the risk they're taking by not using safe equipment and you give them the material to behave in a responsible way, they will. If they can choose between the clean syringe or a dirty one out of the carpet, they know exactly what to do. It's about trusting them enough to say, okay, these people may be shooting up. They may have moments when they're absolutely irresponsible. Of course, I know these moments are there.
Basically, a lot of the injection drug users I met in Europe and here in the States are capable of responsible behavior as long as they have the right information and the right material. That's what harm reduction does. It gives the choice back to the individual by saying, &quotHere, you decide to use. Fine! Do it in a responsible way. &quot Harm reduction is much more then needle exchange. Harm reduction is a very positive approach to an individual who might be using dope, but who's still a citizen, an individual, your neighbor, a friend, a father, a partner, whatever. They all have beautiful parts that you can work with. Focus on the positive. Don't always go for the negative. He's in jail, he did this, he's shooting up. They always go for the awful draconian image of the junkie. You know, I think from what I've seen (and I've seen a lot of active drug users), there's a lot more to them than that negative, destructive part.
Moderator: How does N.A. deal with active drug users? Are active drug users capable of making decisions, being responsible for their families and themselves?
Robert: You can't share.
Eddie: N.A. says they want to hear from you and not the drug.
Robert: N.A. doesn't tell you not to come to a meeting high.
Eddie: But they isolate you which makes you feel like a piece of shit. N.A. says they want to hear from you and not the drug. In other words, you're not feeling, you have nothing to say because you're using drugs. And, that's the thing I have a hard time with.
Bart: Me too.
Robert: You can talk. There's no boss.
Harry: I can only speak for myself. If I couldn't feel, I couldn't be responsible. I couldn't make rational decisions. And I knew that because of all the insane decisions I made, like running into a bank with a check and forgetting where the check was. That told me I was out of my skull. If someone told me to make a decision, and if I had money, it was always wrong.
Eddie: You did a lot of speedballs. That was your choice, right?
Harry: Yes. My choice was heroin and cocaine. A speedball.
Eddie: A lot of people do shit like that. If I talked with you today and you were still on speedballs, I'd try to get you to see that maybe you need to check yourself on the amount of cocaine you do, try to get you to realize that maybe you need to slow down on that. I'd plant the seed just like N.A. does.
Harry: I started this discussion by saying I see harm reduction as the gradual introduction to total abstinence. We're not going to pressure you. You're told you can get some clean syringes if you're going to keep on using, but there are N.A. programs out there where you can get off drugs altogether when you're ready. I can't disagree with that. But when I was active, I couldn't listen to rational things. The only thing that mattered to me was the next two bags of heroin and cocaine. Therefore, I'll go to my grave saying a drug user can't be responsible.
Robert: Me too.
Mike Rivera: I remember when I was using. I could be responsible but it got to a point when I wasn't responsible for anything. I would have taken some suggestions when I started using if I had known about harm reduction.
Eddie: Again, I think that it depends on where you're at. I was raised in Brooklyn and things were different there. Some of us were responsible. We had a crew that would stay up 24-7 [24-hours a day/7days a week] using, and there were people that were coming out and using one bag and then going to work. I remember this old man who would come every Saturday to my place and do two bags of dope [herion] and a bag of coke [cocaine]. He also had sterile syringes. He would come to my place so he wouldn't have to get high outside. I saw this man for three years every Saturday and he had a nice job and family. He was responsible but he loved to get high every Saturday. I'm envious of that dude. How many of us here wouldn't do it if we could successfully get high once a week?
Robert: If I could get high, I wouldn't be here.
Eddie: There are people out there, believe it or not, who can do that. But most of the people we know have a hard time.
Bart: Well, our public image is very much influenced by a small group of heavy, hardcore, year-long users who fuck up in every way possible.
Harry: Like the way we were.
Bart: But there's the other 90 percent of cocaine, heroin and speed users who are perfectly able to control their addiction ( those who use every night or every other weekend and who are able to manage their life. There is interesting research coming from Europe where they're trying to study this. I remember research projects among integrated coke users in the Netherlands where they could actually measure drug use in a group of working people with families. They found there's a certain amount you can use each week and beyond that you get into trouble. People's troubles might be financial, the job, your partner, your kids, whatever. You should be very careful about making blanket statements concerning. You need to be clear and precise. If you're talking about your individual experience ( living like an animal and what you did to yourself and the people around you ( I can understand why it's hard for you to imagine a life where every Sunday you take your speedball at around 5:00.
Harry: I believe that once a person has reached a point of irresponsible drug use, they can't go back to responsible drug use because they've reached a state where that 5:00 cocktail on Sunday won't do it.
Eddie: I made a responsible decision to stop using drugs. I had come to a point where the drugs didn't work for me. The pain was outweighing the pleasure. I had enough. This is it. I don't want to do this anymore. But I was feeling. I felt enough to let go the love of my life who I had this long-lasting relationship with. It makes me feel bad. I didn't use drugs because it didn't make me feel good. I used drugs because it made me feel good. I'm not denying that.
Harry: Let me get in here.
EVERYBODY: Can we stop you from getting in? (Laughter).
Harry. How about me? How about the damage I was doing to Harry ( not just other people. I was sticking that syringe in my arm and I was slowly committing suicide. My liver is fucked up now. I got the HIV virus somehow. I set my body on fire taking a hot shot. I was actually destroying this shell, but I didn't have any feelings for it.
Bart: We have to be careful that our discussion isn't trying to convince people that drug use can be a healthy, good thing to do. We're not saying that. What harm reduction says is, if you want to get off drugs, we'll help you. Every specialist will be at your disposal and there are a lot of people who actually graduate out of harm reduction into treatment and abstinence. We don't ask or demand that they have to stop when they come to our service. But we will help them the moment they ask for it. For some people, N.A. is the perfect answer to make that next step into abstinence. But it isn't for everybody. For the majority of people out there who are still active and in the same risky circumstances, harm reduction starts working for them. It's not about N.A. being wrong or harm reduction being wrong. It's that N.A. is a way for quite a lot of people to get out of active drug use, and that's great. The danger is that N.A.'s philosophy says N.A. is the only way to be drug free.