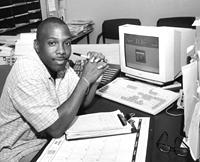 "I can get up and go to work, go to a job, and make it through the day. I can do that."
For Michael Walker, the major advantages of returning to work are measured in dignity and pride. In 1995, after three years on disability, Michael took the first steps back to work, taking part-time and temporary jobs through Mobilizing Talents and Skills (MTS). Since December 1996, he has been a full-time receptionist at Gay Men's Health Crisis.
Michael was diagnosed with HIV in April of 1990. He is 31 years old now. By the end of 1991, he began having health problems. "My body was going through changes like breaking out in hives, sinusitis. I had a couple of opportunistic infections and weight loss. Something was wrong." He decided to go on disability. "Back then, I felt that once you got sick it just meant a matter of time. So if you're going to get sick, you might as well prepare yourself. It makes the trip easier."
For Michael, who had worked full-time in mostly clerical jobs, going on disability meant some serious adjustments, financial and otherwise. "I had to swallow a lot of pride," he says. "You know, when you work, you can work overtime so you can make a certain amount of money. When you're on disability, though, you're on a fixed income. I was doing things like using food stamps, and going to the different offices like Division of AIDS Services (DAS) and Social Security, and having people treat me a certain way. I felt like I was doing something bad by not only having this disease but then coming and asking for help for it."
Advertisement
Indeed, the pursuit of benefits itself was almost like a job. "I would be there sometimes virtually all day, from 9:00 a.m. to 5:00 p.m. I would greet the DAS workers as they came in in the morning, and I would take the train home with them at night because I was there all day. So that was a job within itself."
Protease inhibitors were not yet available when Michael started thinking about returning to work, and he was not enjoying improved health, but he was becoming increasingly dissatisfied, especially since he was in a relationship with someone who was working. "I would just get frustrated and bored," remembers Michael, "because he was getting up every day, going out and having a life. I was home, and I wasn't doing anything. It even put a strain on the relationship, because he felt as if we both are getting incomes, but he was the one going out and working for it." It got worse: "I just got frustrated. I'm not dead. Whether I'm sick or not, I'm not dead. I just got tired of sitting around waiting to be sicker." Michael decided to re-enter the job market. "I could get up and walk to the store. I could get up and go downtown if I wanted. I could do what I needed to do if I put my mind to it."
Michael went cautiously at first, working at a variety of temporary and part-time assignments through MTS. He describes that first back-to-work experience as a nice but somewhat scary test of his physical and emotional readiness for a job. "Okay, I'm going back to work, but let's see if I hold up. I was testing the waters."
Well, he could, and he wanted to. "The problem with temp work is that it's temporary. When this job with GMHC came along, the biggest deal for me was that it was permanent and it was full time." The return to full-time work has meant the loss of his Social Security benefits (Supplemental Security Income and Social Security Disability Insurance), and Medicaid. He now receives medical insurance as part of his employee benefits package, and he was lucky enough not to have to change doctors.
Since MTS exists specifically to find jobs for people with HIV, the employers to whom Michael was sent knew his status. At GMHC, an AIDS service organization, he never felt disclosure was an issue. If he were to move to another job, he says he would not volunteer the information, but he would be honest if asked by either employer or co-workers. "I don't feel guilty about HIV," he says, "and who wants to be afraid of their secrets?" As far as discrimination is concerned, Michael isn't fearful: "I'm a gay man, and I've experienced that. I'm a black man, and I've experienced it. I'm kind of used to it."
Today, Michael is looking to the future. He is doing well on protease inhibitors, and is seriously pursuing his dream to be an actor. "I've been given a second chance, so I need to pursue my dreams. HIV doesn't run my life. It's just a part of my life. My life feels like it's just beginning again."
Back to the September 1998 Issue of Body Positive Magazine.