On a dimly lit stage strewn with urban rubble and waste sits a raggedy clown. The clown, with a sly flourish, performs a typical scarf trick, pulling from his sleeve a brightly colored handkerchief, followed by another and another and another until finally, dangling at the end of the line, a rubber tourniquet appears. Reaching into a pocket of his voluminous coat, the clown finds a syringe, wraps the tourniquet around his arm, scarves trailing like wilted flowers, and shoots up.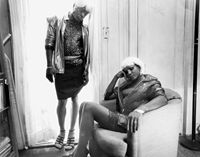 Like everything in the play "Burned Out City" there is an edgy sort of humor tinged with despair -- a kind of "Waiting For Godot" meets Ringling Brothers and Barnum & Bailey Circus. The actors, dressed in rag-taggle costumes, inhabit a bombed-out one-ring circus filled with oil drums, dismembered appliances, TV monitors blaring political and social commentary, and a wall graffitied with the names of the dead. The dead in this case are those who have lost their lives to AIDS, and the actor/clowns who memorialize them are clients at Housing Works, the social service organization dedicated to providing housing, advocacy and support services to homeless people with AIDS.
Well, How Did We Get Here?
In 1992, Housing Works, an organization that has provided supportive housing for over 600 people and currently provides a wide range of services to over 1,000 clients, wanted to establish a day treatment center in SoHo. The neighborhood did not welcome the idea of a treatment center, and the debate became nasty. In a last-ditch effort to establish the center and appeal to the neighborhood, Victoria McElwaine, the Artistic Director of The Theater Project, decided to try street theater tactics. She organized a group of Housing Works clients and helped them create a short play based on their own life stories. She wanted to give the client/actors a chance to speak for themselves and give the community a chance to understand the harsh realities that this group has to face every day.
Advertisement
"It was an incredible experience, and at the end we received a standing ovation," recalls Victoria McElwaine, "We didn't get the day treatment center (the center was established in the area five years later), but we did give birth to the theater project. The clients who had created that play were just beginning to explore their feelings of living with AIDS, discrimination and homelessness, and so they wanted to be involved and create more. It just catapulted from there."
From that inauspicious beginning, the Theater Project at Housing Works began, and ten productions later still continues to break new ground with every performance. Recently, one critic noted that the Project should be acknowledged as the founding force behind a new dramatic genre, "The Theater of Necessity" -- a title that describes the "necessity" of first person narrative as a tool to influence and educate audience members, the theater community, and create a support system for the actors themselves.
As Victoria points out, "The Theater Project was really started so that clients could find a support system, a new kind of family. The Project is really about finding a voice, a vehicle through which to talk about yourself and what you have been through. These people need to demonstrate that they are real people and not the marginalized community as they have been perceived for so long."
The first play that the group launched was, surprisingly, about love, not death, AIDS or homelessness. But the show called "Me and You" could not escape the difficult aspects of love in the time of AIDS. "As much as we started off making a show about love, and it was about love," Victoria recalls, "it was more about losing loved ones, because just about everyone in the cast had lost partners to AIDS. It became about the fear of loss and the fear of loving that living with AIDS can bring. Yet, there were so many beautiful stories of how love can survive homelessness and even death."
Over the next four years the Theater Project went on to produce eight more plays, including "After Us," which was written and performed by mothers living with AIDS and their daughters; "Release Me," a gospel rock musical; and "Mom in the Moon," written and performed by parents with AIDS and their children. It was in this play that Minerva Romero Lopez made her debut. Minerva, now the theater outreach educator, had taken her daughter Amanda to see "In Limbo," which affected both mother and daughter so deeply that they decided to audition for the next production. "I can't sing but I wanted to sing to my baby, and Victoria gave me a solo singing to my daughter."
And Minerva's daughter Amanda was able to ask to her mother questions that were impossible to ask under any other circumstances: Mom ... When are you going to die? ... I want to know what will happen to me. Who am I going to live with? No one will love me as much as you ... When you go I want to go with you.
"The Theater Project has been really wonderful to me and my family," Minerva says. "They have helped us learn how to deal with my being HIV-positive. The children in the shows have helped my kids learn to cope. The project has given us all a way to heal and empower ourselves."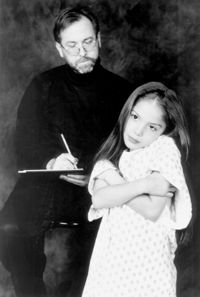 It's a Brave New World
Most of the actors in the Project, like Minerva, have never appeared on stage before, do not know what a monologue is and often can't read. Auditions, therefore, are not typical casting calls. Clients are asked to exhibit a talent which could range from singing to juggling or joke-telling, yet almost everyone who auditions is cast. The only real criteria are interest, desire and a willingness to expose your HIV-status.
As Victoria points out, "We don't approach this from a talent or production end but from people's need to tell their story. Through that process we have discovered some people who are enormously talented and could be working on Broadway if they had been born into a different set of circumstances."
Once casting is completed the group begins to brainstorm. Based on written exercises, improvisation, daily journals and video-tape work, the actors, director and client-based advisory board begin to formulate ideas about the play they will eventually create. Once these ideas and essays are compiled they will comprise the show. Victoria also tries to expose her actors to live theater. Most of the clients who have never seen a live production are awestruck, and it is Victoria's favorite aspect of the process. "I don't watch the show, she says. "I watch the clients watch the show, because it's so beautiful to see their reactions."
Because the actors are struggling with major issues like homelessness, drug addiction, and AIDS, rehearsals can be intense and explosive, so Housing Works provides as much support as possible. A buddy system is implemented and a weekly support group run by a psychotherapist is provided to help the actors deal with everything from stage fright to fear of disclosure.
"It's not drama therapy, though it is a therapeutic process," says Victoria on Housing Works' programmatic approach. "I think the thing that has made this program work is that I have approached it as close to normal theater as possible. I want to put on a good show about important issues and get a lot of support from the professional community and sell as many tickets as we can."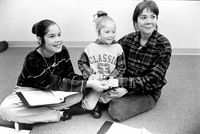 But You Gotta Have Friends
Support from the professional community comes in many different guises. Set and lighting designers work with the troupe to create an atmosphere that led one critic to say, "The ingenuity of the set put Broadway spectacles to shame." And, costume designers who have worked with top fashion houses volunteer their time, helping to make princesses and clowns from those who are very often without a change of clothes. Victoria seems to agree with the critic: "We put a lot of stock in the physical production because it is much more important for our performers than for professional performers I have worked with in the past. I think this is because the outside world wouldn't necessarily expect to come in and see a physically beautiful production around these stories. People in the outside world often feel that if the quality is considered that important it, the play, deserves their time. We put a lot of time and effort into everything so that the whole production is sacred and is as valuable as the stories. It makes the actors feel proud to put on a beautiful costume that a lot of energy has gone into."
The designers who work with the group also train apprentices, those who are often too shy to appear on stage themselves, and are able to impart valuable skills and knowledge. One apprentice stage manager was recently offered two professional gigs after the theater staff where the group performed noticed her skill and professionalism.
Professionals often help create the libretto and music for musicals. In "The Sad Dance," professionals actually took to the stage themselves -- professional poets that is. Six published New York City poets joined the group to create a production that used poetry, song and storytelling to explore the hope and anguish that often accompany living on protease inhibitors. The poets were matched with clients and became mentors, teaching their pupils how to write poetry from Haiku to verse. Poetry, Victoria says, is the "perfect type of articulation, and in this community there never seems to be the kind of satisfaction that comes with being able to really truly express yourself in a beautiful way. That's been the goal from the beginning: giving people the opportunity to express themselves and spend time crafting it and making it worthwhile."
On a simple stage, the poets dressed in all black and tucked in cubbyholes, wrote and recited poetry that relates to the actors' life transitions while the actors do the same. The play evolved because, "here was a group of people who had prepared to die and now they had to learn to live again," says Victoria. A bell rang on stage numerous times as a constant reminder of the inflexible schedule to which patients must adhere. While some addicts described the torture of having to abstain from narcotics while taking protease inhibitors, other actors talked about how protease inhibitors have made their disease undetectable. In an funny gesture, "Undetectable" became the name of a song written and performed by one of the actors. It was the first time a performer had written a song for a performance.
Often, support comes in the form of contributions from members of the theater community. Long-term supporters of the Housing Works project include Susan Sarandon and Tim Robbins, Ruby Dee and Ossie Davis, Stockard Channing, writer Kurt Vonnegut, and supermodel Christy Turlington. In fact, Susan Sarandon helped mount the musical "I Make Me a Promise," that featured songs by Jonathan Larson, the late author of the Broadway hit "Rent." "I Make Me A Promise" was written and performed by the children of formerly homeless people with AIDS and ran for three weeks in 1997.
Yet, even with all the support the Housing Works project receives, many performers battling drug addiction, homelessness and AIDS find making it to every show a challenge. Victoria says ruefully, "We can stage a performance with hundreds of people in the audience and there could be a number of actors that just don't show. Yet, the shows come off beautifully no matter how many hard hits they take and that is because of the people who are in it, the love that they put into it, and the realness of their stories. It survives no matter what."
To commemorate those stories the Project is in the process of creating a ten-year retrospective that will gather together all the actors from the years past and show where they are now, and memorialize those who have left this world. As one of the most bedraggled clowns cries in "Burned Out City," "I want to change the world, but I don't want to die." Through the Project's use of video, song, and storytelling these stories will never die, and therefore, neither will the actors that performed them.
If you would like more information about The Theater Project at Housing Works, contact them at (212) 966-0466.
Back to the September 1998 Issue of Body Positive Magazine.