Last month
Body Positive
took a look at the often horrendous conditions in New York City's commercial single-room occupancy (SRO) hotels that house 1100 of New York's most vulnerable PWAs. During this tour we saw how clients from the city's Division of AIDS Services and Income Support (DASIS) are placed in hotels in Manhattan and the Bronx that can be hazardous to their health -- filthy hallways and rooms, illegal construction and, in some cases, violent drug dealers who roam the buildings with management fully aware of their activities.
In the second part of this article, Body Positive shares the content of conversations held with housing specialists, PWAs who have lived in the commercial SROs, and others familiar with the hotels, asking them if the hotels can be made better and more safe, and what it will take to do so. Possible solutions to fixing the hotels range from aggressively enforcing existing housing laws to non-profits providing services to the SROs. Alternatives to housing people in SROs are also addressed as well as the need for PWA independence in all housing situations.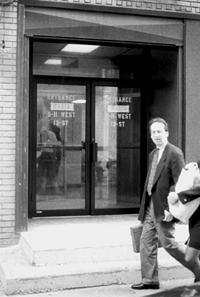 DASIS has given contracts to 33 hotels in New York to house PWAs. In the hotels, there has been a pattern of abuse where housing and safety violations are routinely ignored or ineffectively enforced. In an Upper West Side SRO in April, a fire killed a middle-aged resident after the sprinkler system was illegally shut off during renovations.
The SROs do have their defenders. "SROs are a viable type of economical housing, cheaper to build and operate," said Elizabeth Kane of the West Side SRO Law Project, a group that provides legal and other assistance to SRO residents, including PWAs.
Advertisement
According to Kane, the commercial SROs not only offer lower rents but the possibility of communal life for single adults and a front desk with a live person to take messages and to provide human contact.
Enforcing the Law is a Good Start
Kane said one of the first steps to improve the SROs would be effective enforcement of the housing and anti-harassment laws. Two city agencies, the Department of Buildings (D.O.B.) and Housing Preservation and Development (H.P.D.), do markedly different jobs.
"H.P.D. is a shadow of its former self," said Kane. "Citywide, they have been cut from 700 to 200 inspectors. We are lucky. The SRO units of H.P.D. do good work with what they have got.
"The Department of Buildings is another story," said Kane. "We have had a very hard time getting the laws enforced through the D.O.B." Kane noted that better SRO conditions for PWAs require more demands by DASIS. "DASIS should require more of the landlords they use," she said. "There should be a commitment to what the landlords provide and how the buildings will be used in the future."
Another basic thing that the city should do is to coordinate agency enforcement. At the California Suites, an atrocious SRO profiled in last month's Body Positive, the D.O.B. and H.P.D. issued dozens of fines against the owner for dangerous, illegal construction. Despite the dangers to its clients, DASIS continued to send PWAs there.
Other people familiar with the SROs are firm in their belief that they are not appropriate for PWAs. Karyn London, a physician assistant, has provided medical care to three West Side SROs while working as a volunteer for Citiwide Harm Reduction, a needle exchange that serves some SROs that house DASIS clients. "Inherently, the single best thing is to get the PWAs out of these hotels. The city is dumping people into ghettos," she said.
London also objected to segregating the drug-using DASIS clients into these dangerous hotels. "In other countries like Switzerland and Holland, drug users are part of the community." Putting these PWAs in these hotels is a statement, she said, of a lack of political will and caring.
Vampiristic Activities
Ken Roberts, a 48-year-old native of Guyana, spent eight hellish months in 1995 in a commercial SRO on 8th Avenue. "Living in an SRO was like living in a prison," said Roberts. "No cooking was allowed, and we only had a bed and basic bathroom facilities. They treated us like the dregs of society." He said staff became violent when the residents complained about unsanitary conditions. During Roberts' stay in the hotel, two men killed each other in a drug-related shooting. "I like to call the SROs 'vampiristic' activities. The hotels will continue to flourish with DASIS money."
Roberts is a muscular, intense man who was a labor organizer for two decades in his own country. He doubts that the hotels can be improved. "I don't think the city can have much impact on the commercial SROs. You can't control a private enterprise."
The politically astute Roberts now lives at a supportive housing residence for people living with AIDS in the West Village. He is a member of the Consumer Advocacy Subcommittee of the AIDS Housing Network of New York City, a resource-sharing, education, and advocacy organization for agencies that provide AIDS housing in New York City. "Housing is the most important issue facing PWAs," said Roberts, referring to the housing shortage at DASIS. Clients who go to the DASIS offices at West 13th Street are routinely turned away when they request emergency housing.
"We cannot accept the idea of next-day housing," said Roberts. "If we as PWAs are in the DASIS office, we must say, 'I am not leaving this chair until I get housing.' " Roberts said that the PWA community must use activism to secure adequate emergency and permanent housing.
"The reality with housing," noted Roberts, "is that most people want their own apartments."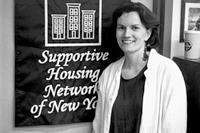 Supportive Housing for the Same Cost
Maureen Friar is the executive director of the Supportive Housing Network of New York (SHNNY), the parent organization of the AIDS Housing Network. The SHNNY represents 12,000 non-profits that provide 1200 units of housing statewide.
"The commercial SROs were supposed to be used as emergency housing for DASIS clients," said Friar. "The SROs are far from emergency housing -- people stay in them for years. The city is spending a lot on commercial SROs without services for the residents -- health and possible substance abuse issues are not being addressed. "For the same or less money, the city could have supportive housing," said Friar, referring to the $900 to $1200 a month the city spends to rent SRO rooms for DASIS clients. "The city could create services for people in the SROs by contracting with non-profits to go into the buildings."
Friar expressed concern that there is no citywide strategy to provide decent housing for homeless PWAs. "I don't think there is a real plan to deal with homelessness. We need to ask the city what is the plan to reduce dependency on the commercial SROs. There is no 'five-year plan' on how we are going to reduce homelessness. There is no leadership from the mayor on this issue."
At present, DASIS is facing a severe housing shortage because of a boycott of new DASIS referrals by commercial SRO owners, who claim they are owned millions in back rent by DASIS. The number of PWAs in the commercial SROs has dropped from 1800 in 1997 to 1137 as of May 1998. The city is dealing with this crisis, said Friar, by telling DASIS clients they are ineligible for emergency housing and must make their own arrangements.
Frank, 45, is a resident of a supportive housing residence on the East Side. "I think about setting up housing run by PWAs. The staff would be devoted to people living with AIDS and sensitive to the fact that people are coming out of homelessness, dealing with scrambled lives. We would be sensitive to people in crisis and would not turn away people who try to solve their problems with drugs."
Frank is a former philosophy graduate student and has been positive since 1981. When Frank finally went to DASIS in 1995, he was sent to an SRO in the West 20s in Manhattan. "The first night, a roach crawled into my ear. It was a hotel with rampant prostitution and drug dealing. I was trying to leave the world on an opiate cloud." Frank, however, succeeded in dealing with his drug use and has been sober for a year. He is also one of the changing faces of AIDS.
"I was dying of this horrible skin cancer, but I benefited from the miracles of modern science. Now healthy, Frank is teaching himself computers, and is looking for volunteer work that may lead to a job.
Unspent Federal Funds Gather Dust
Gina Quattrochi is the executive director of Bailey-Holt House, a supportive housing residence on Christopher Street in Manhattan. "At present, the city has adequate federal dollars to develop supportive housing for all DASIS clients currently in the commercial SROs," she said. "The city could do it very quickly by a widespread expansion of scattered-site housing. According to Quattrochi, $54 a day can provide housing for PWAs with "an array of comprehensive services."
"The city has up to $170 million in unspent federal funds earmarked for AIDS housing," she said. "It is a case of spend it or lose it."
Quattrochi said that there are presently plans for 16 group residences for people living with AIDS that will be built by non-profits. She also noted the many different models of AIDS housing -- rental assistance, independent living, housing placement assistance and scattered-site housing. "My position and that of other AIDS advocates is that the city should efficiently and quickly spend this federal money on homeless PWAs who need housing."
Concerns Over Confidentiality
Though supportive housing is vastly better than the commercial SROs for safety and services, there is still a need to ensure an environment of trust for its residents. One PWA, who spoke on the condition of annoymity, said that his new accomodations at a beautiful supportive housing residence were very good, but the environment left something to be desired. "I feel that residents are encouraged to spy on each other concerning drug use." Though caseworkers were provided, he did not feel comfortable being completely truthful with them. "The caseworkers are accountable to the administration," he said.
In contrast, Ken Roberts, who lives at a residence in the West Village, said that his house's active tenant council is effective in addressing conflicts between staff and residents.
Few Beds for Drug-Using PWAs
Some housing advocates have expressed concern over the group that is often left out in supportive housing programs -- PWAs that use drugs or have a history of drug use. "I am troubled by the number of program beds where abstinence or sobriety is required," said Jeanne Bergman, the executive director of the New York Peer AIDS Education Coalition, an HIV-prevention organization that works with street youths, many who use drugs. "There should be places where people still using [drugs] can sleep safely and have their possessions kept safe. The commercial SROs don't do this right now."
Bergman also argued that residents in supportive housing should not be forced to use services if they don't need them. "Services should be accessible for residents, but you should not make residency contingent on using them."
Bergman noted that in some scattered-site apartments, many residents may not need required weekly visits by caseworkers. The clients may resent the intrusion, but want to keep the apartment.
With the changing nature of HIV and AIDS, with people living much longer, Bergman noted the goals with AIDS housing may be changing. "The goal of maximum independence is critical to AIDS housing policy. Congregate housing often doesn't fit this model. A problem with big congregate housing is that people do not like to be identified as living in AIDS housing. HIV becomes the determining factor for everyone living there." As an alternative, Bergman pointed to examples of mixed housing, where PWAs live in subsidized buildings with other special needs clients, including seniorsi the disabled, low-income families and the mentally ill.
"In the past, when death rates were higher, people in congregate housing confronted pain and issues of death. Now people want to live in the world without HIV being the determining factor in life. Mixed housing and scattered-site apartments are important parts of the solution to AIDS housing.
No Compromise on Independence
"Housing for people living with HIV or AIDS must be a safe space," said Ken Roberts, the Guyanese labor organizer. "It must be a place where we are safe from homophobia and AIDS-phobia. It must not be like a reformatory. We must be treated with respect and dignity, and there must be respect between staff and clients."
Roberts set down some uncompromising views on his own and other PWAs' independence, including a freedom of desire. "We are adults, so we must be allowed guests in whatever kind of housing in which we live. We are not children, nuns, or priests. We are sexual beings, and are still human."
Roberts bristled at the term "AIDS patients" that is still sometimes used interchangeably with PWA. "We must not be seen as patients. A patient is confined to a medical institution. We are not in a bed in a hospital. We have the freedom to come and go."
Know Your Rights
In the commercial SROs, DASIS clients are often harassed by unscrupulous landlords. Prepared tenants can protect themselves. It is important to keep records of dates of harassment and to keep receipts and paperwork in a safe place. According to the West Side SRO Law Project, here are some basic rights that SRO tenants have.
You have a right to a receipt when you pay your rent. Receipts may be essential to determine when you started living in your hotel and to prove that you have paid rent.
If you have lived in your room for 30 days or have asked for a lease (see below), you cannot be locked out without the landlord taking you to Housing Court. The landlord must also win his/her case against you. You are entitled to due process. Illegal room closures by hotel management are a common form of harassment.
There are two ways to become a permanent tenant:
If you live in the hotel for six months, you automatically are a permanent tenant.

If you request a lease of six months or more (it is the request that triggers your rights).

The advantage to being a permanent tenant is that you get greater rights under the New York City housing laws. In addition, once you become a permanent tenant, you cannot be locked out even if you haven't been there for 30 days.

You have a right to stay in your original room. Hotel management is not allowed to move you without your consent, except under narrow circumstances.

You have a right to become a rent-stabilized tenant. This means that you only have to pay the legal rent on the room, which may be as low as $450.

There are complex laws governing the SROs and if you have questions, you should seek professional legal help. Resources and emergency complaint numbers are as follows:




Resources

The West Side SRO Law Project: (212)799-9638 (intake is Thursday, 4-6 p.m.)

The East Side SRO Legal Services Project: (212) 417-3850 -- The two SRO law projects give advice and handle cases involving SRO residents in Manhattan. They are well attuned to the problems of SRO residents.

The HIV Law Project: (212) 674-7590 -- This group handles a wide variety of legal problems and issues for people living with HIV and AIDS. If you call, ask for an intake interview.




Emergency numbers

If there is illegal construction or hazardous conditions in your building, you may call the Department of Buildings. There are different borough offices, and they are open weekdays from 9 a.m. to 4 p.m. They are:

Dept. of Buildings, Manhattan: (212) 312-8530
Dept. of Buildings, Bronx: (718) 579-6906
Dept. of Buildings, Brooklyn: (718) 802-3681
Dept. of Buildings, Queens: (718) 520-3402
Dept. of Buildings, Staten Island: (718) 816-2211

The 24-hour complaint number for Housing, Preservation and Development is (212)960-4800. To file a complaint with HPD's SRO Unit, call (212) 863-8266.




Back to the September 1998 Issue of Body Positive Magazine.