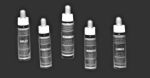 Some call them "Nature's Prozac," but depression is only one of many emotional imbalances they are used for.
To some, the idea seems just too good to be true: Take a few drops a day of a harmless, pleasant-tasting liquid, and your anxiety or depression or other negative emotions will just melt away. Yet for many people, including many PWAs, that appears to be just what happens.
They are flower remedies developed in the 1930s by noted British bacteriologist and homeopathic physician Edward Bach. These and other more recently developed flower essences -- and there are now hundreds of other lines of essences in addition to the original ones developed by Dr. Bach, made from flowers worldwide -- are still one of the best-kept secrets among natural therapies.
These gentle healers are nontoxic, nonhabit-forming essences of flowering plants that help to rebalance negative emotional states such as fear, anxiety, depression, and poor self-image. Flower essences have no floral scent or taste, and are not related to aromatherapy, which is closer to herbology. Rather, like homeopathy, they are classified as "vibrational" or "subtle energy" medicine.
Advertisement
Like many other natural therapies, flower essences act on the level of the individual's innate healing capacity, or healing intelligence. Taking them is rather like rebooting one's inner computer, restoring order to a system that has gone off course.
There is as yet no clear scientific explanation for how or why these essences work. Author Mechtild Scheffer, in her book Bach Flower Therapy: Theory and Practice, describes the action of the Bach remedies as "healing by restoring harmony in awareness." In one of a very few double-blind, controlled studies done thus far, a study conducted in California in 1979 by Michael S. Weinglas found that use of the Bach remedies enhanced creativity, deepened self-understanding and self-acceptance, and increased humor. Los Angeles practitioner Yolanda Lacombe believes that the essences help the immune system by strengthening a person's sense of protective boundaries, reinforcing the distinction between self and nonself -- which is, when you think about it, just what the immune system does.
Flower essences may be used in conjunction with any other therapy, and they can be especially effective when used along with psychotherapy. Each flower essence deals with a particular emotional state. In the Bach flower remedies, the original essences developed in England by Edward Bach, there are 38 different individual remedies. There is also one combination -- called "Rescue Remedy," "Calming Essence," or "Five Flower Formula," depending on the manufacturer -- that is particularly useful for coping with high-stress or emergency situations, such as accidents, exams, dentists' appointments, or temper tantrums. Rescue Remedy also comes in a cream form that is wonderfully soothing for burns, stings, cuts, and other skin afflictions. Flower essences can be used equally effectively with adults, children, animals, and plants.
There are two basic ways to use the essences. On an occasional basis, such as for temporary stress or anxiety, they may be administered by putting two drops (four in the case of Rescue Remedy) directly under the tongue or adding them to any beverage. For long-term treatment of more chronic problems, such as fears or trauma, a formula can be made up containing one or more remedies (up to a combination of six) in a one-ounce dropper bottle. The formula is then taken several times a day for a month or more. This method achieves much deeper, longer-lasting results.
Regulated under the homeopathic pharmacopia of the Food and Drug Administration, flower essences are classified as over-the-counter substances and are available at most health food stores and many pharmacies, or directly from the manufacturers. The Flower Essence Society, in Nevada City, California, offers training, research, and an extensive list of publications. Information is also available on the Internet at a variety of sites.
Information: Ellon USA, Inc., (800) 4 BE-CALM /(516) 593-2206; Flower Essence Society, (800) 435-3028, www.flowersociety.org; Flower Vision Research, (800) 298-4434; Nelson Bach USA Ltd., (800) 314-BACH/(508) 988-3833.
Sources: (discount/mail order): L & H Vitamins, (800) 221-1152; The Vitamin Shoppe, (800) 223-1216.
Reading: Mechtild Scheffer, Bach Flower Therapy: Theory and Practice; Edward Bach, M.D., and F. J. Wheeler, M.D., The Bach Flower Remedies.
Carola Burroughs is a holistic health and wellness educator/advocate and a flower essence therapist. She served for four years on the Program Advisory Council of the National Institutes of Health Office of Complementary and Alternative Medicine and is presently Executive Director of the AIDS Wasting Foundation, Inc.
Photograph by Judy Lawne
Back to the September 1999 issue of Body Positive magazine.