FIGURE 1. Estimated number of persons aged 13-24 years with HIV infection, by disease status at the time of initial diagnosis with HIV -- 25 states,* January 1994 - June 1997**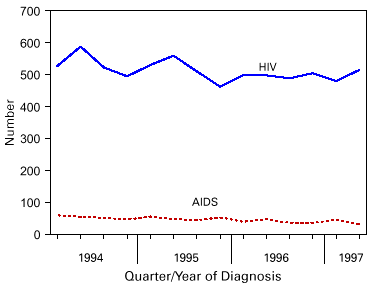 *Alabama, Arizona, Arkansas, Colorado, Idaho, Indiana, Louisiana, Michigan, Minnesota, Mississippi, Missouri, Nevada, New Jersey, North Carolina, North Dakota, Ohio, Oklahoma, South Carolina, South Dakota, Tennessee, Utah, Virginia, West Virginia, Wisconsin, and Wyoming.
** Adjusted for reporting delays.
Back to CDC: Diagnosis and Reporting
of HIV and AIDS Main Page

This article was provided by
U.S. Centers for Disease Control and Prevention
. It is a part of the publication
Morbidity and Mortality Weekly Report
. Visit the
CDC's website
to find out more about their activities, publications and services.